The hands were lengthening to the papers as to the bread. The press conference had finished and I also tried to get some of those printed sheets which –like bread- were not enough for everyone who filled the room. Neighbors, journalists, devotees, curious…
From the called Casona of Diez de Octubre, each early January the Letter of the Year predicts hardships and fortunes. At times ones are more common than the others and vice versa. Within hours the cabalistic predictions of Ifa become a viral phenomenon, even beyond the Yoruba religion.
"Look," a woman tells me while presenting me a tray with snacks. It is useless to decline the offer, nobody leaves without eating. I finally find the owner of the house, and she invites me to take a seat. But the interview does not start because Cuca, ensconced in her armchair-throne, constantly receives a kiss, a question: "Goodbye, my child," "blessings".
It seems that everyone knows each other: godparents, godchildren, sisters and brothers … The spiritual family is large. Smell of cigar, then coffee and a shot of rum to the closest. It seems that today is not going to be possible, it will be better tomorrow. "But get a snack, girl!"
On the Road of Jesús del Monte
Obdulia León is her name. "Don´t you dare to present me in the story with that ugly name", she demands, and shows that laugh of hers, delighted with life. On the wall there is a picture showing her young and beautiful wearing a narrow waist dress, as those Tropicana dancers, Cuca could be also called a 'fire brown girl'.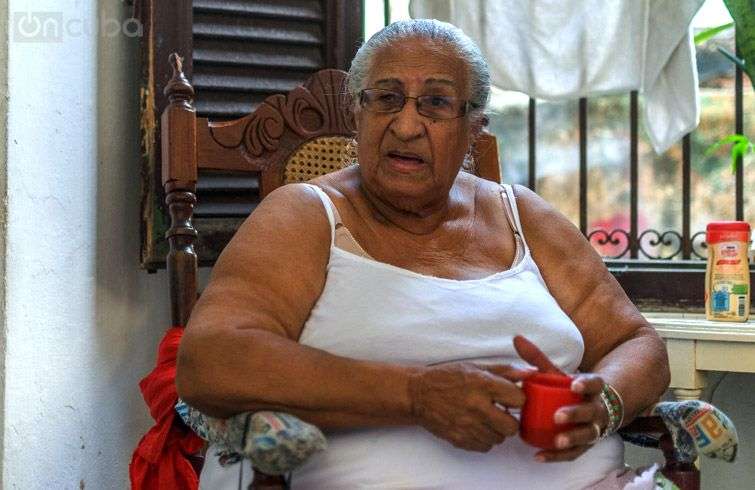 She adds some coffee to her cup and starts saying: "Days before the babalaos have a meeting, see the cost, what to do … They arrive early on December 31st, held a ceremony at the door, 'they feed 'Eleggua, play drum and put two candles, which are kept lit all the time, for him".
The anthropologist Natalia Bolivar explains that on December 30th it is offered a Catholic Mass at the "old": the ancestors and the great santero women, since the nineteenth century. "Some do not have their name even in Spanish. Sometimes there are lists of 100, 150 deceased ".
The rituals continue with sacrifices to all locations or "positions": the ceiba tree, the forest, the police station, the solar, market, railway line, river, hill … In the courtyard, in the background, there are several ducks and native hens walking that should not be confused with the animals used in the liturgy.
"Here, on December 31 there are normally about 200 people, who are not stable within the space -Lazaro Cuesta says, priest organizer of the Miguel Febles Padrón Commission. A group comes to make certain ceremony, then leaves and others come… Twelve o'clock is the critical time ". Heads of family, representatives from other provinces and the presidency of the Commission come at that hour.
The priests are all men, but Cuca says women also have participation. "Yeah, right: in the kitchen, plucking chickens, cleaning, serving them, serving meals, coffee …"
At 1509 of Diez de Octubre Street the phone rings every few minutes, as they also make events playing drums for the dead people and even for "sweet sixteen parties". Meanwhile, this is a house similar to any other one. "But it is never quiet, because I have many friends and this is always crowded. Because if not this is boring, too big, and I am alone … "Because all the relatives of Cuca" are far away. Here's one my grandsons, who is almost never involved in any of this. But I have many godchildren. "
She said her neighbors never complain about the movement or loud music. "No, this has happened by many years, girl. This house is visited by Yoruba Andabo, Lazarito Valdés, mariachis … The other day, Osdalgia, Vania and Raquel Hernandez attended a religious ceremony I was conducting. "
The opening of the year is probably the rite that more time and energy consumes. "After all that morning taking the letter out in there, at 6 in the morning a ceremony is made in the courtyard. It is only attended by the babalaos, I can´t participate on it. The problem is that this home has syrup: they come for four hours and stay for 10. When I think they are going to leave, then the thing starts again. "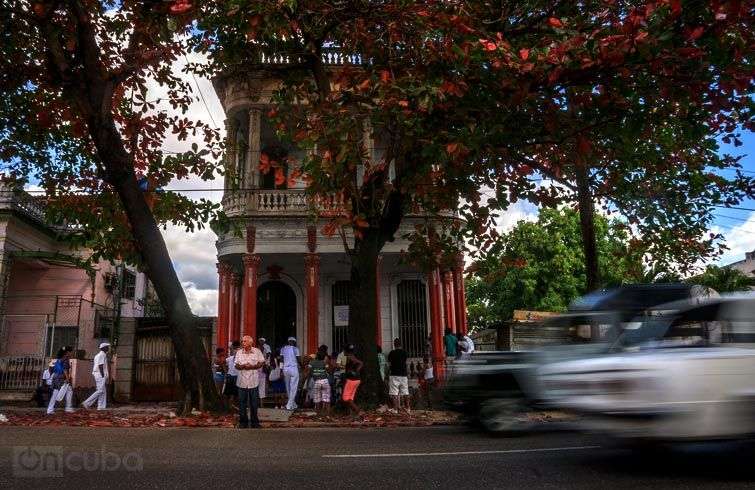 "The babalao is a public figure"
Lazaro Cuesta attends everyone who approaches him -many- to clear any doubt, make a comment or say hello. While talking, he simply maintains that philosophical, grave tone. "It is impossible that if a dog and a cat have sex, resulting in a dog or cat." He projects an air of dignity and fortitude, smiles few, but is friendly with everyone.
Frank Cabrera, Lazaro Marquetti and him reestablished the opening in 1986, "when no one in Cuba wore a religious necklace", after years of religious devotion. Reuniting the babalaos again was an idea cradled by Miguel Febles, follower of Bernardo Rojas, who for a long time led the opening of the year, until his death in 1959.
Thereafter the Letter "disappeared as a collective thing, and was developed in the family. That did not contain neither was depositary of what actually represents. "Febles died on December 19, 1986, 12 days before seeing served his purpose.
Although "no one can define the exact moment it was first performed", historical references date back to the nineteenth century. The prediction "has been done in different ways, at different times and by different people; in Palmira, in the city of Cienfuegos …"
Each year two different prophecies appear generating comparisons, even bewilderment. "Why?" "That must be asked to those who came later." This duplicity produces quite a few contradictions. The old Yoruba wisdom reads: "Respect for older people, an argument that becomes undeniable.
"They sit down to take the letter to the priest with longer consecration; we sat at the youngest. The older priest can betray the truth of Ifa, by fear as a person, because when having knowledge of an unfavorable sign, the psyche manages to influence decisively on his hands. Now the young man, even when taking the destruction of the world, believes that what he is doing is the best, and that's the purity of the message. "
Cuesta knows that "people come here, hear what suits them and disregards the rest. The man is the fundamental basis of everything. Through the letter, Orumila trace us a way forward. The rest is the man. "
Similar ceremonies are held in Venezuela, USA, Panama, Puerto Rico … by babalaos emigrants. "The Ifa priests living outside of Cuba were governed by this Letter, until one day someone wanted to make one there. Like everything in society, it has been marketed. Sometimes in the same place three and four letters are taken out, because it also begins the struggle for power, displacement of the right, lack of reason … It's all part of life, and therefore also of religion ".
December 31 is usually a homelike, holiday or resting day. However, this does not happen exactly like that with babalaos. "My younger kids never have sat down to dinner with me. The wife that I have today has spent 22 years with me, and we have eaten together here, at the time we could. "
Their criteria seem to be always rigorous, ascetic. "All religions, political, fraternal institutions… involve dedication, commitment. The babalao is a public figure, and must act as such, when getting dressed … even when drinking a beer. What he represents as an individual reflects what society makes of others ".
He recognizes that "unfortunately not all are an example." And yes, in his opinion there are still prejudices about Afro-Cuban religions. "Sometimes speech is one thing and reality is another, as in the racial question. When an offender is shown on television, he is usually wearing a religious necklace. "
Reporters make him a lot of questions. Many seek proportionalities between the Letter of the Year and politics, government, the country's destiny. "I have sometimes bothered by the way you make me the question because I assume any response, precisely that is why I'm there; but a question has to be accompanied, first of all, with respect, without trying to manipulate, compromising the word of the saints and me as a person ".
During the conference a child was filming and taking pictures with a tablet. His name is Victor and he is Cuesta´s grandson. He has been in these activities since he was a kid, accompanying his mother and father. Now he is 13, and has long been a priest of Ifa. "You have to study hard," he says. Really? "I ask him."I study in my house very hard: history, signs, prayers …"
He ensures that has a girlfriend, never, ever takes sweets from the kitchen, neither does tricks to Cuca. "If you want you can ask her." "He behaves well -his father confirms later-, but did not enjoy studying". He talks about school in a scolding manner: "He thinks because he will be priest must not have a career." Victor bows his head and smiles. I look at him askance. "You see, I got you".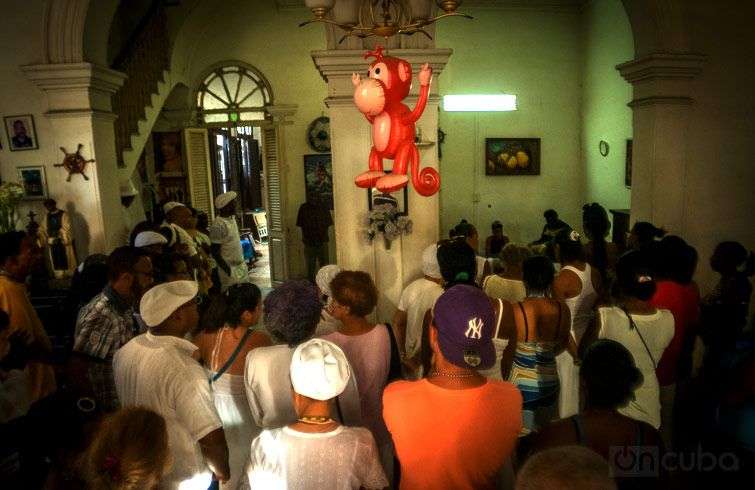 The throne is already ready, in honor of Oshun and Obbatalá, the regent and accompanying deities, in that order. They say when Rosendo decorates the rooms this way, they are always different. Facing the mat, the bata drums play the orum, a "musical tour" where they play to all the Orishas. "Through the sound of drums –Cuesta states- the message reaches Olofi". Later, those who want can dance and sing.
"I think this is a boom because people, spiritually, have to hold on to something -Natalia Bolivar notes. Everyone is looking for something to fill himself in order to live.
In recent years, I see that people are eager to talk, to discuss their problems; and yours are the same problems that I have, more or less serious ". According to the researcher, the blossoming of faith, hopes follow them in an era of limitations.
"Those of us here let us invoke God with the name we give him," Cuesta invited the first day. Very close, the cassock identified the clergyman. That's right, a Catholic father, whose presence painted a harmonious contrast. "According to his hierarchy, he is a priest like us. If you preach equality you cannot practice inequality, discourse must come according to the projection. He was invited and he was kind enough to sit there. I've been to activities he has conducted and have been given a space too. "
Outside, people copy the letter hanging in the window, they ask for "another for his godfather." But we know, there is not enough for everyone. A while ago they are waiting for the bembé (religious ceremony) to begin. In the end the drums start being heard.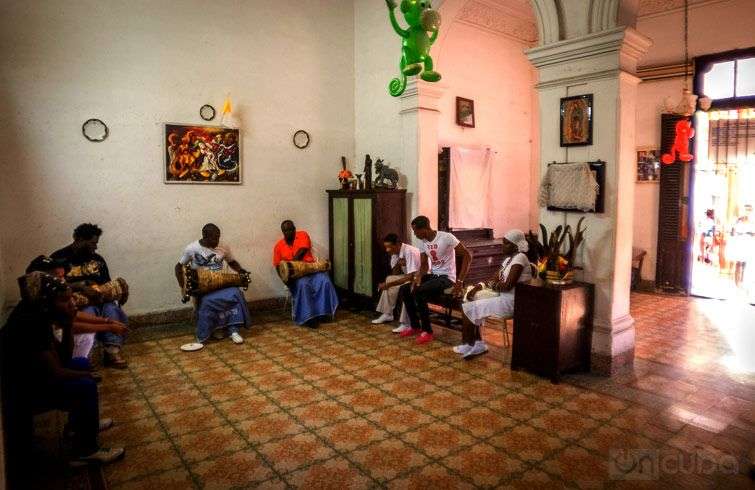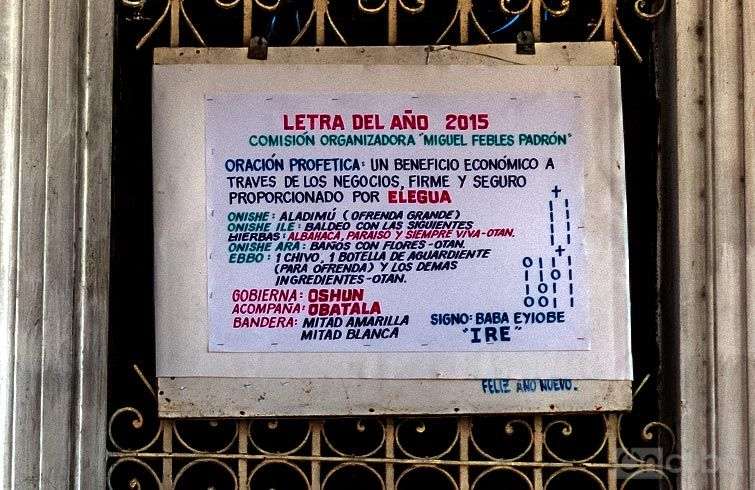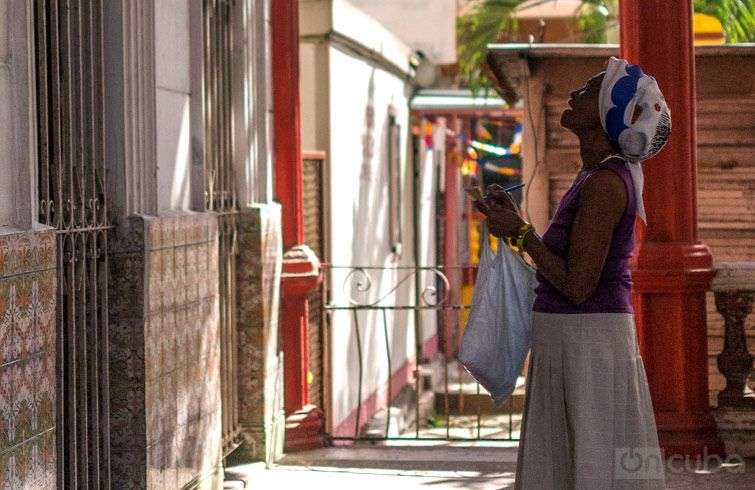 Then OnCuba reproduces the 2015 Letter of the Year:
Ifa´s predictions for 2015
Logo of the MIGUEL FEBLES PADRON Organizing Committee of the Letter of the Year
AWO ODI KA
For Cuba and the world
To the priests of Ifa, the Oriates, Babaloshas, Iyaloshas and Iworos brothers.
Religious people in general.
Following a tradition of 28 years the Organizing Committee of the Letter of the Year met on December 31, 2014 at the Temple House located on Diez de Octubre Ave. # 1509, between / Josefina and Gertrudis, Vibora, Havana City, Cuba.
This ceremony was chaired by the Ifa Priest David Cedron "Otura Sa" and supported by the Ifa Priests of all the families of Cuba and their descendants in the World, the youngest priest took out the letter.
Ruling Sign: BABA EYIOBE
Prophetic Prayer: An Economic Benefit through business firm and save provided by Elegua.
Ónishe to Elegua: aladimu, Otan
Ónishe ara: Bath with flowers, Otan
Ónishe ile: Washdown with the following herbs: basil, paradise and Siempre Viva, Otan
EBBO: 1 Goat, a bottle of Aguardiente and other ingredients
Ruling Deity: OSHUN
Accompanying Divinity: OBATALA
Flag of the Year: Half Yellow and Half White.
Extreme care diseases
Respiratory Diseases.
Cardiovascular Diseases.
Diseases of the skeletal system.
Possible epidemic outbreaks.
Interesting social events
Interpersonal Conflicts.
Disputes between nations that may generate conflicts.
Losses of religious, political leaders and elder leaders in general sense.
Serious disorders in family harmony.
Ecological imbalance and possible penetration of the sea.
Opening of agreements between countries using navigation as primary means of transportation.
Generational Struggle and its fatal consequences.
Recommendations:
The dialogue and respect for others criterion is the only way to avoid conflicts.
Special attention on ethics and moral education of their children is recommended.
Ifa recommends a social, political and economic organization for the benefit of the people.
Maximizing hygienic and sanitary measures to prevent the spread of epidemics.
Appropriate remuneration wage to pursuit of the activities.
Providing adequate care to seniors.
A Call for Unity respecting diversity.
NOTE: Taking as reference the positive models (progress) and negative models (errors) of the years 1959, 1989, 1995, 1998, 2004, 2011 and 2014 where this Odu had regency.
Behavioral Proverbs of Odù
The wise thought is the force that moves the earth.
The biggest mistake is not learning from mistakes.
While there is life there is hope.
The debts hang from our necks like heavy stones.
Divide and you will win.
The Commission after a thorough and comprehensive analysis agreed to endorse the recommendations of last year on the grounds that they are fully consistent with this year's regent sign.
Our committee thanks the Mass Communication Bodies that enable these predictions to reach all corners of the world.
The "MIGUEL FEBLES PADRÓN" Organizing Commission of the Letter of the Year wishes you a Happy and Prosperous Year 2015.
Authors