The symbiosis between state institutions and enterprises and self-employed people is a fact in Cuba. Different local and physical spaces that until recently were only used by the government begin to leased to small (and not so small) private enterprises to achieve mutually beneficial relations in terms of money.
In the "Jose Antonio Echeverria" Youth Center Recreation in the neighborhood of El Vedado in Havana, using their licenses as "trainers of sports"-the closest to their needs- Yaigel Rodríguez and Reinier Risco opened last February 14 their Paintball court, a new fashion among youngs that "shot to kill" with colorful ammunition.
They are there, in what was for decades was a real cathedral of entertainment and popular sport, a little rundown after the crisis of the 1990s. The Echeverria's facilities, fromer Vedado Tennis Club, offered Rodriguez and Risco a fragment of what were, long ago, the tennis courts that distinguished this ancient recreational "high society" club.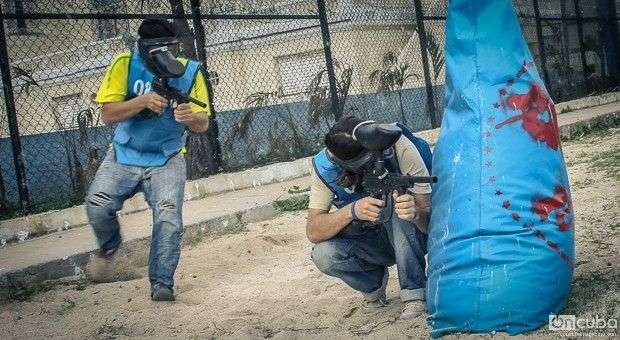 They provide services from Tuesday to Sunday from 10 am until the sun sets on the adjacent pier, at 7 pm. "The rent of the marker (like a shotgun) is 20 CUP each and the paint balls themselves are more expensive, 40 for 5 CUC, because we have to buy them out of Cuba," said Reinier Risco, a mechanical engineer.
Leasing and rental of premises and spaces in Cuban pesos (CUP) for different purposes, is included in Recreatur official purpose since 2011, the company under the Ministry of Domestic Trade and the Provincial Management Board (CAP by its Spanish acronym) in Havana, responsible for these contracts. The rental rates are set according to the type of area in which the premises or space is in, the square footage to be used, and kind of activity.
Reinier and Yaigel began in November 2012 modeling this project. After searching several sites and alternative ways of implementing it they arrived at the Echeverria where they could rent a plot of 1020 m² for their Paintball Club Arena, which is their business name.
"We rented the space to those we think can give us a benefit or service that we don't have," Alain Quintero de Los Angeles, director of the Echevarría says, a dependency of Recreatur, adding that he saw in this sport "the possibility to attract public and the Center's sales".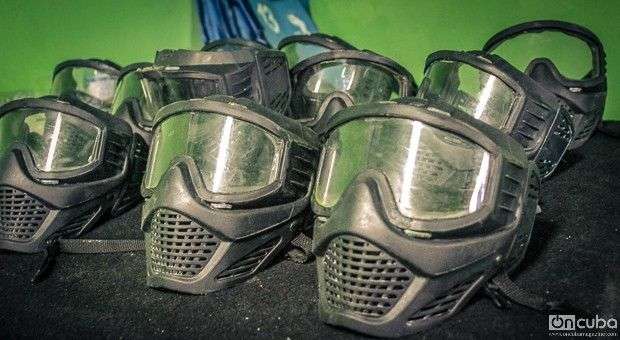 The Recreatur Assistant Director of Human Resources, Evelyn Carnet  Leiva, noted that, "we analyze the projects and then submit to the consideration of the CAP, for they are those who approve them". She adds: "Of course, depending on the level of success of the activity. Our company can increase the lease's value".
Places like Jalisco Park or Parque Almendares have this renting modality for private entrepreneurs (electric cars, inflatable playground) that become, at times, the main attractions in many of these areas. In the same Echevarría facility they also teach theater or Arabic dance classes in rented spaces on the same principle.
"The paintball field gives us enough to meet perishables costs, payrolls and recoup the initial investment in the long term because, among other things, balls the markers fire are expensive and we can only import small quantities", Reinier Risco said.
In December 2011, the General Customs of the Republic of Cuba established the boundaries "of the commercial nature of their imports by natural persons by type of item or product" in order to curb the informal market.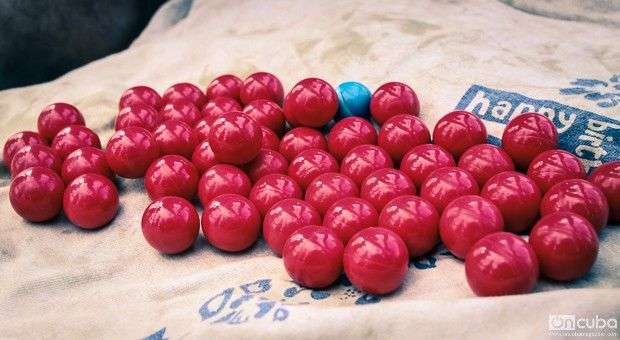 These restrictions, in the absence of other solutions for commercial importation by private individuals, end up putting the bar very high for certain businesses. Numbers don't lie, some say. Entrepreneurs of services like these should keep prices high, which segment the market and exclude sectors whose incomes do not reach even remotely to "shooting  color balls around."  Arianna Cruz, a college student of 21, who would love to "do battle", regretted.
Reinier and Yaigel say that they based "prices on perishable costs, plus some profit, but making sure we don't go to high to be close to the average purchasing power of the population … medium-high". The Paintball Club Arena field achieves a weekly influx of between thirty and forty people that "can keep playing while they have balls to shoot."
"We will open a field in the Marina Hemingway, we divide the attention to both fields, and perhaps with the Tourism Ministry we can solve the supply of inputs," Reinier announces.
These agreements between state entities and individuals gradually cease to be news. Soon consumers will be less amazed when they see private people running traditional government places. If they prove to be efficient and have affordable and quality choices, many of these experiences will be gratefully received by consumers.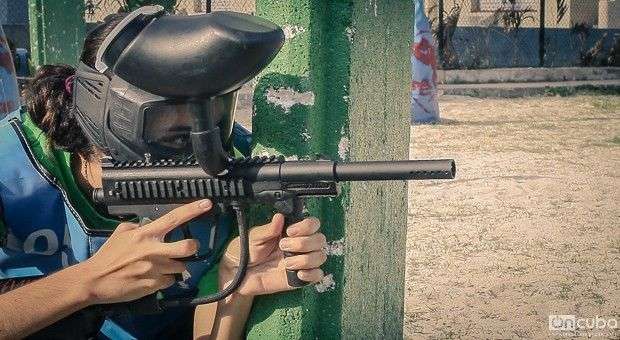 Examples like Paintball abound throughout the country with greater or lesser chances of sustaining and retaining future. Institutions and state enterprises, with express caution, apply the provisions so far and begin to deal with these new forms of management and their accounting systems.
The Cuban government, although acting without haste, proves to be interested in stimulating self-employment, not only exercised by private individuals, but also from non-agricultural cooperatives, many of which could draw income from property or the purchase of tools or different supplies.
Article 6 of Decree-Law of the State Council No. 305 provides that agricultural cooperatives can be formed of first degree "from means of production of state assets such as buildings and others, it is decided to manage them in a cooperatively way and it can be transferred to these, through lease, usufruct or other legal forms that do not involve the transfer of ownership."
These and other courses are still in the implementation process. Some in very experimental phase, others, such as Paintball, are active and noting that it is possible and desirable to operate in the Cuban economy from different forms of property, provided that these are articulated in a positive way for the whole society.
In the near future, Cubans expect, some more than others, that we not only preserve social ownership, but for it to be used more efficiently and linked to the renovating energy and the new potential of private operators to run public spaces that belong to us all.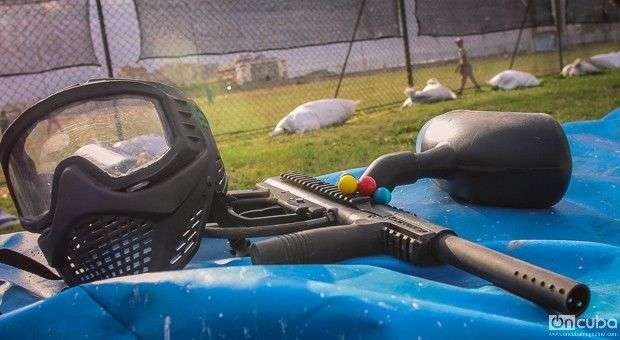 Photos: Iroko Alejo
Author