The Holguín publishing house brought out and presented at the 2016 International Book Fair the volume El mundo y mi Cuba en el Diario (The World and My Cuba in El Diario) by Cuban resident in Miami Uva de Aragón, which is a compilation of 60 journalistic chronicles by the also writer for El Diario de Las Américas.
Compiled and selected by Vitalina Alfonso, these chronicles will have a U.S. edition published by Books and Books and will come out in the United States next November 2 with the presence of the author and compiler.
Uva de Aragón (Havana, 1944) started publishing in the 1960s in U.S. newspapers and since then she has maintained an extensive journalistic production, including her blog.
De Aragón has made incursions in all the literary genres and resides in the United States since 1959. She graduated in the University of Miami, Florida, where she got a doctorate in Spanish and Latin American literature.
Uva de Aragón has traveled several times to Cuba and has given lectures in the University of Havana, the Institute of Literature and Linguistics and the Union of Writers and Artists of Cuba, among other institutions. She became known in our country as a writer in the anthology of women's short stories Estatuas de Sal (Salt Statues), made by Mirta Yánez and I in the 1990s.
Now Cuban researcher and critic Vitalina Alfonso, who specializes in diaspora-related issues, presents to the island's Cubans this book that according to her reflects the dedication and perseverance of the Cuban resident in Miami and offers us a sample of her political evolution from 1987 to 2014.
The book groups together the chronicles in eight sections titled Historia de familia (Family History), Temas universales (Universal Subjects), Exilio, éxodo, reconciliación (Exile, Exodus and Reconciliation), Desde los Estados Unidos (From the United States), Personalidades cubanas (Cuban Presinalities), Cultura cubana (Cuban Culture), Lectura de Libros (Reading of Books) and Viajera incansable (Tireless Traveler).
According to Alfonso, "achieving a balance in quality, editorially accepted size, as well as variety of subjects dealt with, was an arduous task, since it meant making a selection of a considerable amount of chronicles published throughout more than 30 years."
Vitalina adds in her prologue that the chronological sequence in each section makes it possible for readers to appreciate the evolution of the author's thinking and her ideological positions as well as her invariable desire to preserve the historical and cultural heritage of the Cuban nation, not just with the pen but also fostering reencounters and dialogues.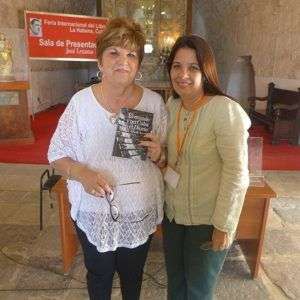 The compiler affirms that Uva de Aragón (granddaughter of the great short story writer Alfonso Hernández Catá) has made of defending tooth and nail the use of Spanish in writing a way of reaffirming a personal identity and the frequent evocation of what was left behind, due to the involuntary separation imposed by the departure, reiterated motifs throughout all her work and that reconnect with that self-definition of exile.
The dispersion of Cuban culture, she adds, as a consequence of emigration could be considered a recurrent theme throughout all the chronicles of Uva in El Diario…and in the face of such dispersion she conscientiously and explicitly assumes the rescue for the historic memory – through biographical sketches or eulogies – of the evolution of writers, artists and teachers born on the island but who left in different periods and settled primarily in the United States.
Vitalina says that she alternated at the same time with renowned figures who never emigrated, which shows a meritorious and lucid integrationist vision of culture, beyond borders and ideological differences, anticipating herself to present-day times.
Actually, reading this book by Uva de Aragón provides readers with a full aesthetic enjoyment because of the amenity, sincerity and dominion of the profession with which they were written.
Her family, made up by outstanding personalities of Cuba's cultural and political panorama, appears in these writings seen from the testimonial and the sentimental, so that the author involves herself in them with great sensitivity and emotion giving them almost literary categories.
Perhaps Historias de familia and Cultura cubana are the most attractive sections as well as those that best show the sharp vision of the journalist and writer who always maintains a conciliatory and moderate position.
De Aragón, with her books and her chronicles, in addition to her personal relations on the island, to which she attributes a great power for understanding and forgetting old grudges, is undoubtedly one of the figures that has most contributed to building bridges between the two shores,
This is why one must thank Vitalina Alfonso and the Holguín publishing house for this book full of love and understanding. Thus it is good that it is also being released in Miami.
Authors