A cat and a huge banner with a fortuneteller are the first things you see. I'm at the entrance of the only Esoteric Digital Library, I think, in Cuba and it is the feline accommodated within the counter (like another book), his body crushing an edition of the Kamasutra, who receives me.
If you travel through Havana by bus and you are a curious person, it is difficult to have not ever seen this house. It is in Infanta, almost at the junction with Carlos III, and I would bet that not a few of those who travel frequently, for example in a P1, have wondered what place is this, in what mysterious business Cubans living there have gotten into.
Today I got off at the "Emergency Stop" and walked to the house. Outside, to show look well that the business is legal, two posters: one announces that there is a "library" of mysteries and the other which rent "rooms and spaces." Two birds with one stone.
Tania de las Mercedes Calá Mauso and Jose Juan Bas Valdés live there and they say they are Reiki masters since 2003. They explain that Reiki is a Japanese healing and self-healing discipline, and sell books about it, and about dowsing, Hinduism, Buddhism , psychology, astrology, radiation therapy, crystal healing, gem therapy, decoding, emotion, motivation, karma, neurolinguistic programming, the Rosicrucian order, Freemasonry, famous people of the occult or leaders of self-help, and lots of other topics.
"This is a library. They were wrong on the poster and we have not corrected it yet, "said the owner, who has had for three years his curious PDFs offer at 20 pesos in national currency, audio books and video books that range from 25 to 30 pesos.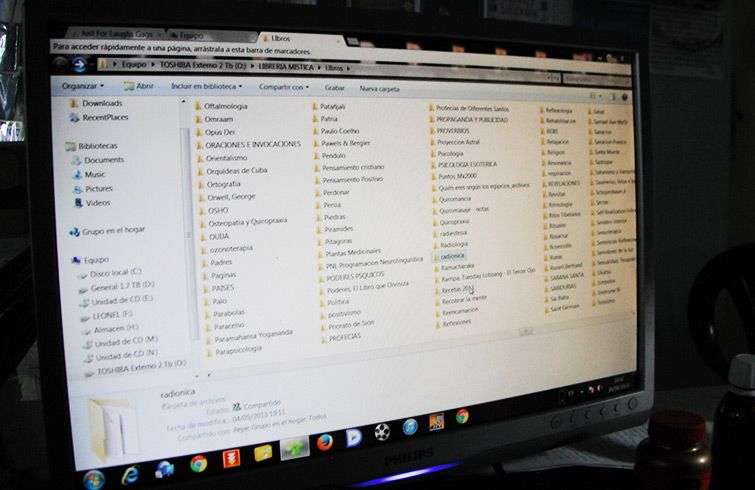 His "catalog", deployed in about a hundred digital folders remind us of the Weekly Package, that sort of offline Internet that circulates through the archipelago, although it is more expensive and less popular.
They also have printed books and one of the most sought after is The Secret, by Rhonda Byrne, a bestseller published in 2006 that defends the "law of attraction", according to which a person's thoughts (conscious or not) as well as emotions, beliefs and actions attract consequences that correspond to positive or negative experiences, that is, you get what you think and your thoughts determine your experience.
"This has its ups and downs. Sometimes no one comes and sometimes people come snooping or looking for things that we do not have as languages ​​or atlas books for children, "says José Juan.
Before, about 20 years ago, this marriage had a cafe but " in 2011 we analyzed that if before the expanding of self-employment it was hard to get supplies, now with competition would be even more so, and we hung the gloves."
But only for a while. "One day we saw that people had problems with self-esteem, identity, and needed lots of information. They visited us for it, so we started offering it ".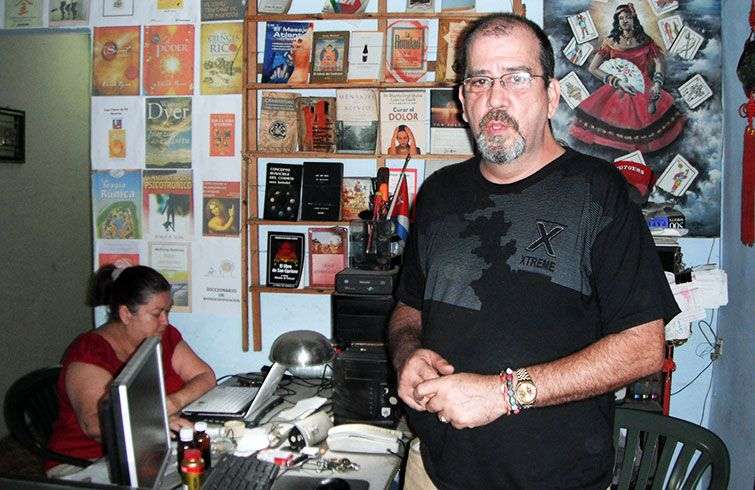 ***
In Cuba it is not uncommon to trade with beliefs. In fact, among the activities approved through Resolution No. 353/2013 to exercise self-employment are the fortune tellers, that pay a minimum monthly tax of 150 pesos in national currency; producers / sellers of religious items (except the parts that have heritage value as regulated by the Ministry of Culture) and sellers of animals for this purpose, which pay100 pesos; gatherer / sellers of medicinal herbs, 80.
All take advantage of what Saira Pons Perez, professor and researcher at the Center for the Study of the Cuban Economy calls a "market space". Filling these gaps, she says, is characteristic of entrepreneurship around the world and in the country there are unlimited possibilities of ideas to take.
During the interview, Pons illustrates with a personal story: "Near where I live neighbors are licensed to lease space for parties, but lately they rented for religious events because there were some African students who needed a place to practice their religion, and they did not have they made ​​it easy."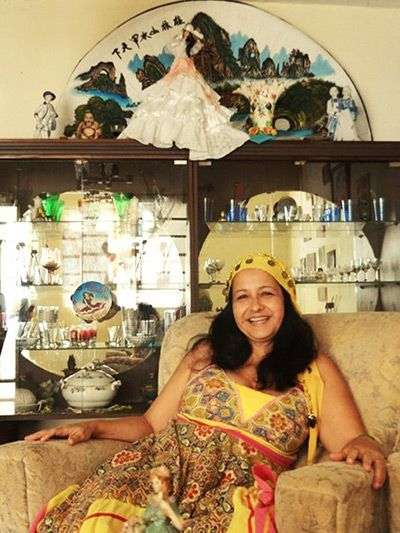 And there are many more people willing to meet the spiritual needs of many citizens. Mercedes, Camagüey "the Gypsy" (now living in Havana) reads the cards and hands.
People call me even from other countries for me to give them advice. They ask me all kinds of questions: should I marry or not? Make me a gypsy remedy for him to want me back! They call me for a sick child or to know if they start a business, she said in an interview with the Cubahora magazine.
Also we have Lino Barbaro Tomasen who, according to residents of the municipality of El Cerro, is "one of the best healers in Cuba." He charges 20 pesos per session (in national currency to Cuban and in CUC to foreigners), and said that he didn't inherit from anyone the ability to heal (although he confirmed to have studied Medicine) and who- without been confirmed- has cured several children of the Revolution leader Fidel Castro.
In Havana, even, the seventh World Spiritist Congress was held in March 2013. There were more than a thousand delegates from 34 nations and, as Edwin Bravo, one of its organizers, the forum discussed the origin and foundation of spiritualism, their practice as a science, and neurophysiology of mediumship.
The subject of divination, spiritualism and parapsychology in Cuba is old. Those who have seen films like Amanda prophecies or Se vende know that not even the art has escaped their influences.
Its most concrete manifestations are seen in the streets, where people believe in the "Brother Joseph" African slave whose spirit, according to the legends, reincarnated in over 50 mediums; or Amelia Goyre de la Oz, "La Milagrosa", whom people ask in the Colón Cemetery for the soul of the deceased or some grace.
Superstitions abound as well. It is recommended to cross the index and middle fingers of one or both hands when lies are told, in the first May downpour get wet for luck, spiritual place vessels for the deceased rest in peace, knock on wood to avoid spells or use an amulet to ward off bad fortune, and many more.
I, for one, am the living example of the disrespect to one of those beliefs, at least that what my family says. In my neck near the throat, lies a mark that few known (and unknown) people have mistaken by love bites. Those who knew my mother when she was pregnant with me claim it is a "lunar eclipse" a mark I carry because "she was stubborn, touched her belly and walked outside."
Too bad it does not have the form of the sun as they say it should be, it would have saved me, believe me, a lot of explanations…
Authors