At the end of April the Official Gazette published several norms of different ministries, establishing the first legal steps towards greater autonomy of the socialist state enterprise. This will remain the main ownership form in the Cuban economic model as expressed by the authorities, and as stated in the guidelines-which attaches particular importance to the new measures.
After fulfilling commitments to the state, the 2,472 companies in the country may sell, on wholesale basis, their production surpluses to third parties with legal personality, ie also to cooperatives. They will also keep 50 percent of profits after tax, whereas previously they only retained 30 percent. Increased revenue through these channels will be allocated to research and development (R & D), training, investment, recapitalization, plus pay workers according to their results.
While people should not expect "dramatic effects", this is a significant development for superior economic growth, says Humberto Blanco, director of the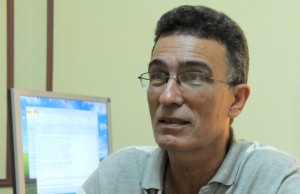 Center for the Study of the Cuban Economy, institution that turns 25 in 2014.
How can we summarize the situation of state enterprises at the time that these regulations are implemented?
The situation of the state enterprise, generally speaking, is the Cuban situation today, where in terms of sales, production, exports, productivity, evidently have not yet reached the necessary levels. That is, if the enterprises do not grow, the economy is not growing.
I think right now the business scenario requires transformations of this type, and at the same time the measures are applied and adjusted, others can and should come. Regardless of the debate whether it should be started before by the company, I have no doubt that these measures could not be postponed.
In your opinion, what would be the most immediate effects of the regulations?
I don't think we should expect major short-term consequences. Keep in mind that this occurs in a complex environment: lack of liquidity, high dependence on imports, successful renegotiation of Cuba's foreign debt; which means trust and credibility for the country, but also to honor those commitments that are being renegotiated. It also happens that some approved actions are not applied immediately. For example, the distribution of profits is made ​​at the end of the year, and then we have to wait till that time comes.
For me something very positive is that these measures are for all state enterprises. At the same time, we must continue to create internal conditions in the institutions for effective implementation, and continue with the institutional and regulatory framework. All this set must tend to start businesses managed with a different and more effective perspective in terms of results.
In my view, it is clear that without flexibility, autonomy and greater accountability of the state enterprise to make decisions and implement them, without that, we will not achieve the aims of a prosperous and sustainable socialism.
Between the late nineties and early 2000 there was another process of granting more power to the companies, which then experienced some regression. Can it happen now like then? How can the "experimental" nature of the action limit potential results?
In my opinion there is sufficient evidence of the impossibility of maintaining the level of centralization that has prevailed. I think that if something can be drawn from this experience is that today we are not planning to return to the scheme, as it has shown that the potential does not allow display of the links base for growth, to create more wealth, to innovate … this will be a way that instead of going back, should be strengthened, thinking about what else can be done to continue freeing the productive forces.
The experimental nature is not a constraint, taken from the transitory, ie try before making final decisions, which do not have sufficient background or practical validations. What must not happen is that the experiments take too long.
The keys here are: decentralization, coexistence of a large state sector with the non-state sector; and the gradual substitution of an administrative approach to the functioning of the economy, using economic mechanisms: monetary policy, fiscal policy and so on.
How practical and expeditious, or not, are the initiatives approved by their Higher Business Management Bodies (OSDE)? Some argue that these structurally replace the ministries, but the bureaucratic factor remains…
OSDE is a kind of conglomerate. This must be viewed in the context of separation between business and state functions:  the state sets policies, controls, directs; but is not responsible for the business, producing of goods and services, manage utilities, look for markets … That is done bythe company, not the ministry.
Now, even if the legislation, there are built-in patterns, patterns that somehow people bring. We will have to keep track of the issue of the OSDE, to really become corporate bodies of an enterprise system, not administrative bodies.
What role do you give to the performance of entrepreneurs and managers in this process of empowerment?
It is essential, it is clear to me that the management factor, is one aspect that can make the difference between results and "good intentions." These measures are a first step in creating a more favorable context in which everyone can act. They can, but let´s not hope that tomorrow everyone will have more initiative, be more proactive, stimulates innovation, etc…..
The management teamsacquiremore authority, and that means moreresponsibility, one goes with the other; is,now theyare more responsible thanbefore,because they do nothavethe constraintstowhich they couldblamecertaindeficiencies.
Probably not everyone will  assumeallthis at the same time, fromthe singularitiesthat companies have, from the technological, cultural, economic,management, sectors they operate…These differencesare important.Todayhappens andwill always happeninthe worldsothat there arebusinesses thatdo welland othersdo poorly, even when there are certainhomogeneityconditions.Andin our caseyou can see it too.
In principleI want to becautiously optimistic; ieI do not thinkwe canexpect dramaticeffects, because the companyis part of asystem subject tomanyexternal stresses, to which we have yet toimplementmore changes.There are issuesthatwill definethe practice itself.
There has been talk of possible closures when they generate losses for two consecutive years. This is unprecedented in the last 50 years
I think that must be read in terms of a philosophy: it is putting economics in its place. It is impossible that the state is full of companies that are unprofitable; I think it is a fair start. Now, the system has to be able to solve the social implications that that has.
For some specialists state enterprise is the "heart" of the current changes, along with the monetary union and foreign investment Do you agree with this approach?
I endorse this idea previously, although there are more dimensions to me. For example: the recognition of the non-state sector as a necessary actor, with a role in the economic operation, and must be legitimized and supported.
At the time, the authorities have referred to the need or prospects of an Enterprise Law in Cuba. How much these laws bring in this regard? What does it take to reach that legal standard?
We should see the content of that law, if it will be a regulation that says how to lead and manage a state enterprise, with what level of detail or generality, considering the specificities of each entity.
All this should be adjusted, or not, depending on the outcome and the implications this has. For me it is invariant that the enterprise demand more autonomy. This is a step in that direction, which does not necessarily mean it is the only thing to do about it. I think we should go to an institutional and regulatory framework consistent with the effort that is being made.
Authors