On its route to Santiago de Cuba the caravan transporting the ashes of Fidel Castro arrived yesterday to Holguín. At 4 pm of December 2 the guerrilla president was again in the land of his birth. There, countenances, babes-in-arms and the doves that once again overflew shuddered.
Previously, on Wednesday November 30, the mortal remains of Fidel Castro arrived in Santa Clara. The caravan made a stop in the city where the ashes of Che Guevara rest in a monument built to him and his comrades-in-arms, where the urn made of cedarwood which left from Havana on Tuesday was guarded by a vigil of honor during the entire night.
On January 6, 1959, the Caravan of Freedom arrived in that provincial capital. Almost 60 years later the people of Santa Clara took to the streets of their city, now to receive the funeral cortege en route to Santiago de Cuba.
Santiago, Moncada, sentry post 3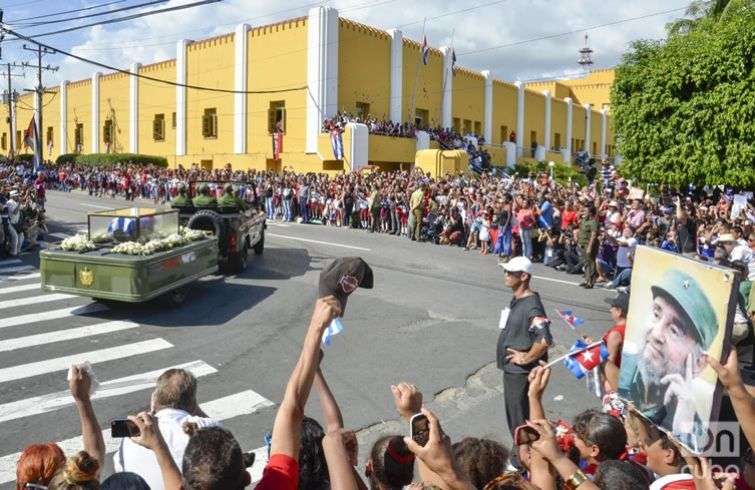 All the streets in the city seemed deserted except for the 17 km stretch through Santiago de Cuba of the caravan with the mortal remains of Fidel Castro. I walked through those empty streets to take a series of photos. Only the murmur coming from the concentration of persons and the TV sets and radios broke the silence.
Despite the suffocating heat the people remained at both sides of the road of the funeral cortege.
Running to the former Moncada Barracks, I took a short cut and when passing in front of a house I heard a woman shout: Viva Fidel, damn it! The caravan was passing through Céspedes Park.
Since November 30 the city has been full of 26th of July Movement armbands; it was previewed that it be like this since it was the 60th anniversary of the city's uprising to support the landing of the Granma, which finally arrived two days later. But the coincidence of the guerrilla leader's death has given this tribute another dimension.
When the caravan passed through the Moncada's Sentry Post 3, the motorized police, press truck and the support buses let the jeep that transported Fidel's ashes pass in front of the place through which he had entered on the dawn of July 26, 1953 to attack the garrison.
After passing the Moncada, on its route through the central highway and to Antonio Maceo Plaza de la Revolución, the jeep slowed down and stopped. The escorts skillfully got off and pushed the jeep for some seconds. The people started applauding.
Tonight Santiago de Cuba – where, as was expected, the farewell has been the most intense of all the provinces – will be the scenario of the last mourning public rally. Sunday morning the ashes will reach Santa Ifigenia Cemetery, their final destination.
Authors