By Jorge Ricado and Isabel Cristina
The Malecón on Saturday nights is a hotbed of passions. A place to find bustle and complicity. Walking along the wall after 8 o'clock is a gift for the senses, an adventure for the soul. Here, ten finds:
The cyclist with a crutch
Almost always when we are going to take photos, we ask permission from those we want to photograph. When we asked him if we could photograph him, he answered yes, but he wanted to know why, with so many people on the Malecón that night.
"Because your image seems strong, energetic. You carry a crutch and an electric bicycle; one suggests statism, impediment, vulnerability; the other, speed, movement. That contrast is unique on the Malecón tonight."
The man looked at us in amazement and said: "I like it, I like that!"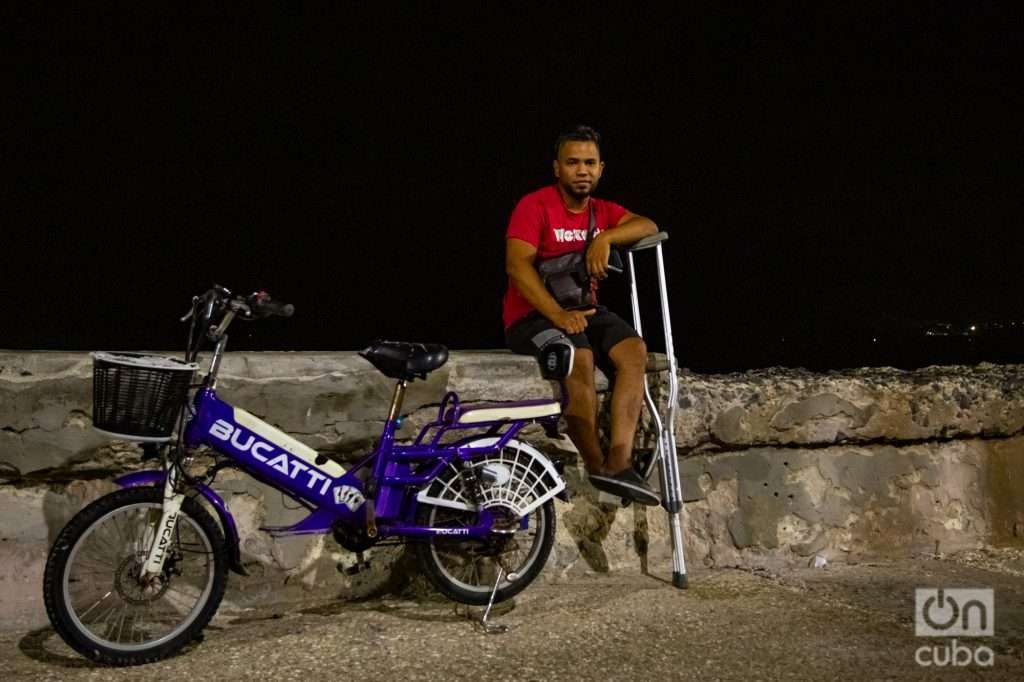 The rapper from Luyanó
He improvised a 15-minute rap. A sort of surreal manifesto of survival. He said that Eminem is shooting at him, but he doesn't answer because he's a samurai. In the midst of his non-metrical lyrics, he said: "One day I'm going to be a millionaire, I'm dying to leave this country to come back in a boat full of euros and save all of Luyanó."
Mira como yo rapeo, mi hermano, guajápen tuyú, les voy a llenar el refrigerador de pollo, soy un pollón de rap, ustedes son inmortales, no hay problem. (Look how I rap, brother, what's up, I'm going to fill your refrigerator with chicken, I'm a big rapper, you are immortal, no problem)
With his samurai flow he did a few break dance steps; then he turned on a fancy beatbox and ended up saying: "Auuuuuu piwix box pob pob chuwiiii la guaguaaaa Luyanóooooo." Everyone around him applauded excitedly.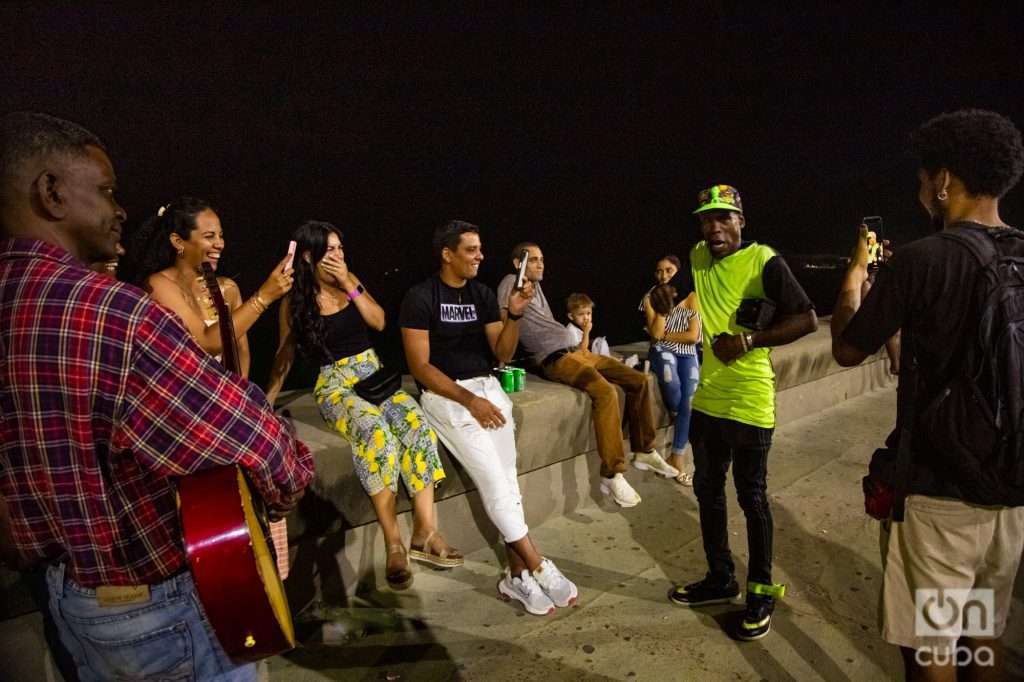 Universal language
A Japanese woman and a German woman talk on the Malecón wall. Perhaps they speak of "Snow Country" or the Walpurgis Night recounted in "Faust." Perhaps they are discussing the secret connections between Goethe and Kawabata. We don't know; each spoke in her own language. In the background of the conversation that seemed literary to us were the lights of Havana and Omara with her white butterflies on a poorly tuned radio. When we got closer, the Japanese woman said in imperfect Spanish: "Cuba is in my heart," and the German woman touched her chest.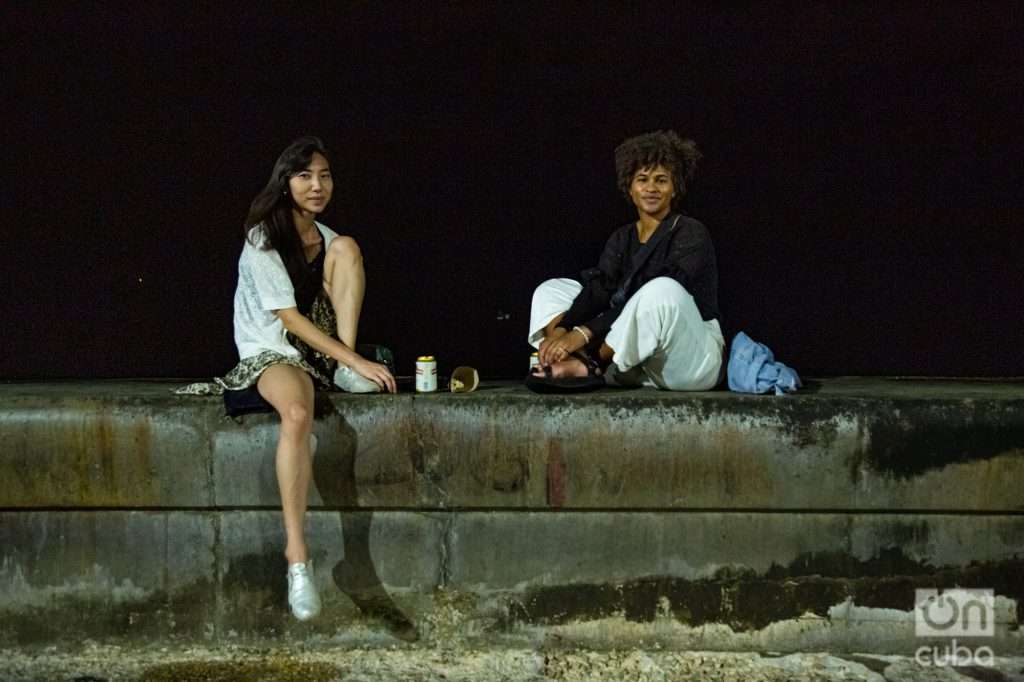 Witnesses in the distance
The vendors of glass flowers, the teenage musicians, a wise seller of popcorn and a hero from Luyanó pass by; the young with their extravagant customs; cars and boats. Time and night go by and the desire for the cold weather to arrive increases, at least for the 31st. Meanwhile, they watch with admiration how, on the other side of the wall, a distant cousin triumphs in Got Talent Spain.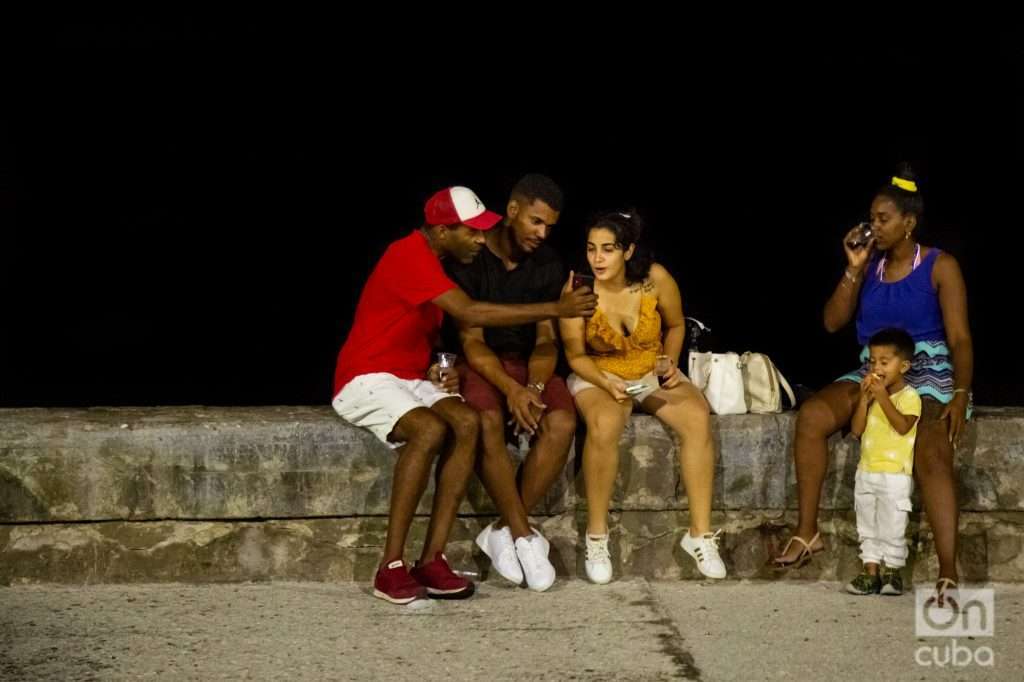 Cover essay
They are an atypical quartet; each one has a different look. Without imagining what kind of music they will make, we told them: "Put yourself there like a record cover. Imagine that a famous musician liked the last song you did and is going to produce an LP, a retro record."
The brainstormer
At the time of taking this photo, the power went out on the Malecón. To do a long exposure you have to convince people not to move. When we went to talk to him, he asked us if we were artists and we answered that more or less. He asked us if we knew Yanpier, that he is a great artist. He told us, whispering, that all of Yanpier's ideas are actually his, but that he gladly gives them away because that way he sees them flourish.
When we had taken the photo and were leaving, he called us and said: "Do you want me to give you any of my ideas? I have 3 gigabytes of recorded street vendor cries. Cries from all times and about anything. Those of before and those of now. I've been collecting them for years." We don't know who Yanpier is; but, even if the public lighting goes out, in a corner of the Malecón there is a strange genie who shines with his own light.
Fanatics
This picket agrees to wear basketball jerseys, with the National Baseball Series, with the Elite League or with the Soccer World Cup. Those who don't have it on is because they put it on yesterday and they only have that one. One is for the Milwaukee Bucks and one for the Warriors. There is a girl who knows nothing about basketball, but she is a fan of LeBron James. Another likes NBA gossip, and another The Last Dance series changed his life. The downside is that sometimes the clothes they get don't match their preferences and one has to bear the shame of wearing a Celtics jersey when his heart is with the Lakers.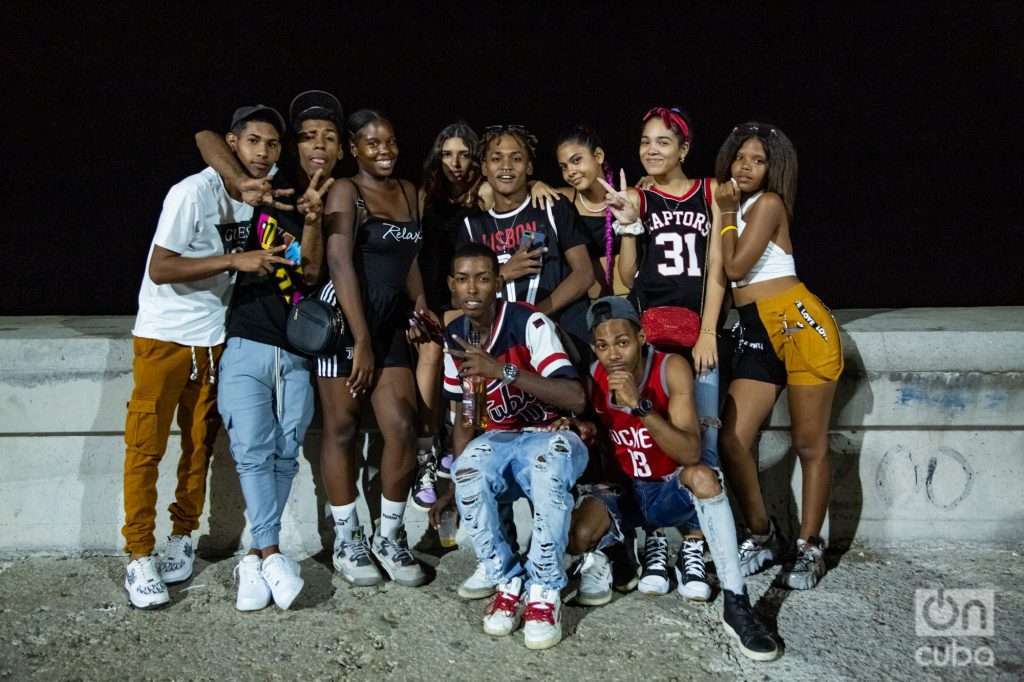 Queen of the night
Chic's night with elegant handbags. The queen of the Malecón that night with her serene companion. Her hands, her poses, her wardrobe and her seductive look are joy of living, they are theory and political praxis.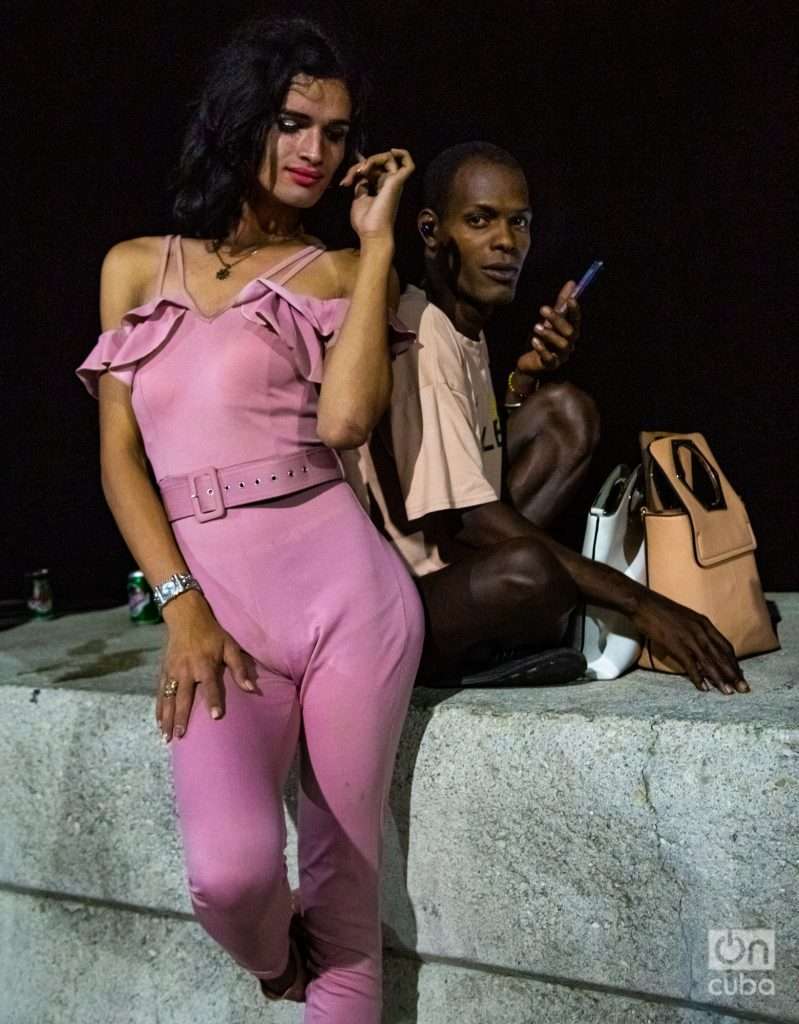 Fishing performance
Night fishermen are the eternal rivals of day fishermen. They go fishing at night defying the blackness of the waters and catch the most bohemian fish with elegance and dexterity. They have their secret rituals, their tricks and their gestures, which turn survival into dance. And they do everything with pleasure, with contained emotion as if, from the wall, anonymous spectators were enjoying their performative aesthetics.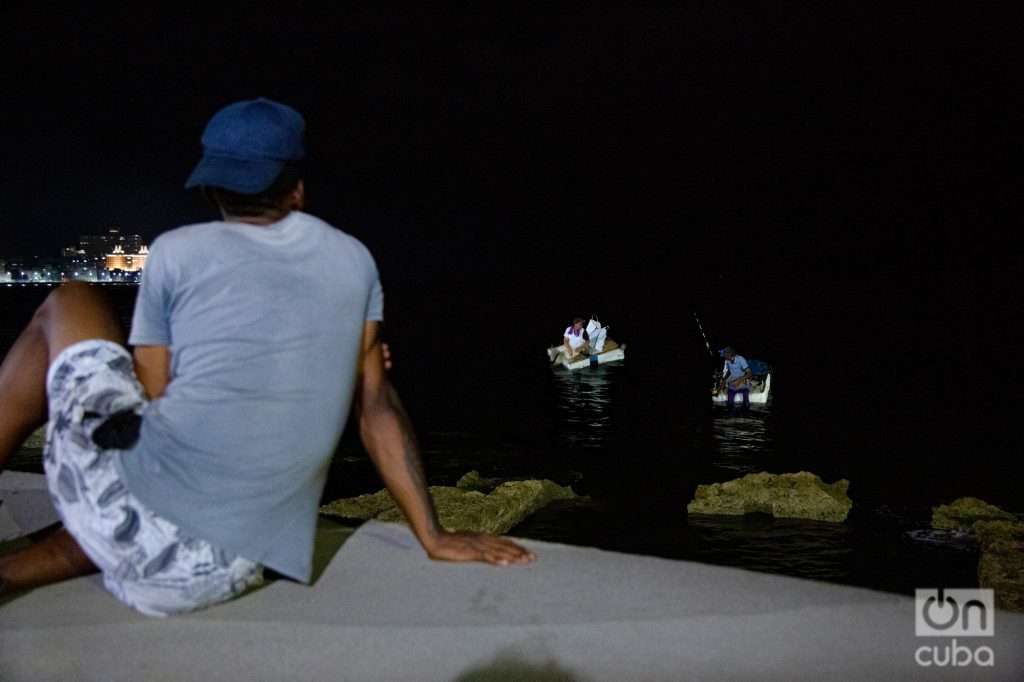 Loss
It is perhaps the most inspiring romantic scene we have seen on the wall. She, lying on his lap and he reading to her the most beautiful poems by Wichy Nogueras. "Yesterday I wrote a magnificent poem" he read aloud, while she scratched her knee, "it's a pity / I lost it I don't know where / now I can't remember / but it was wonderful…." All of that was going on right behind these kids who got in the way. We lost the romantic photo, like the Wichy the read hair's poem, we don't know where. We never found out if those who got in the way were coming or going from the party. Maybe it was a traveling party.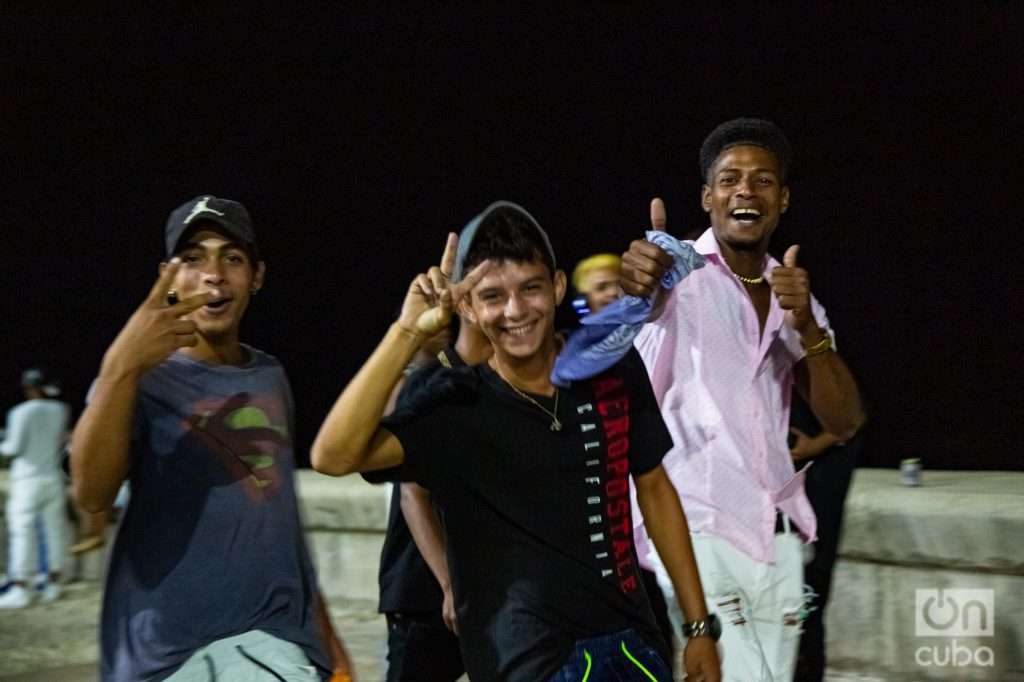 Author