El cine según García Márquez originally published ten years ago by Ediciones ICAIC returned this time as one of the proposals of the International Book Fair in its 31st edition, which has Colombia as the guest of honor country.
"At that time (2013) the book analyzed, for the first time, as far as I knew — because similar ventures later appeared in various countries —, the writer's relationship with cinema from his childhood to his last breath. I was trying to show, above all, that critics have not been completely fair or profound when it comes to evaluating the films inspired by their works, since they were mostly carried away by the usual prejudice of comparing the achievements of the films with the scope of the literary original. In this way, the book dedicates a chapter to each of these versions and analyzes the artistic interest and cultural legitimacy that inhabits them," says Joel del Río, journalist, critic, professor and author of the volume.
"Criticism was included — neither diatribes nor panegyrics — of most of the film adaptations of his stories or novels, or the screenplay of scripts specially written by the author of One Hundred Years of Solitude, and in each film the achievements of eminent filmmakers stand out, faced with the challenge of re-creating narratives perfectly embedded in their universal resonance.
"Such is the case of several recidivist directors such as Mexicans Jaime Humberto Hermosillo (María de mi corazón, El verano de la señora Forbes) and Arturo Ripstein (Tiempo de morir, El coronel no tiene quien le escriba); Cuban Tomás Gutiérrez Alea (Cartas del parque, Contigo en la distancia); Mozambican-Brazilian Ruy Guerra (who has been in charge of bringing to the screen Eréndira, Fábula de la bella palomera, Me alquilo para soñar, El veneno de la madrugada) or Colombian Jorge Alí Triana (Tiempo de morir, Edipo alcalde), who are among the lucky ones who managed to capture on celluloid, albeit fragmentarily, the full understanding of the García Márquez universe.
"There are numerous Latin American filmmakers," the author maintains, "who got the best films from him by making versions of stories created by the Colombian and 1982 Nobel Prize Winner for Literature.
"Unusual, overflowing, magical-realistic films such as Presagio (Luis Alcoriza), En este pueblo no hay ladrones (Alberto Isaac), El gallo de oro (Roberto Gavaldón), El año de la peste (Felipe Cazals) and La viuda de Montiel  (Miguel Littín), who gave color and scope to the film making of our continent in the 1960s and 1970s, when each and every one of them was cataloged as the best effort in cinema to translate prose into images from the Colombian. And if some of the films that I mention are inserted among the best Latin American titles of all time, I don't know why we should keep repeating the refrain that García Márquez and cinema make up an ill-matched marriage, as the same writer declared many times. Going through fifty years of García Márquez cinema means delving into the labyrinths traveled by those who dared to transform verbal-literary signs (short stories, novels, newspaper articles) into cinematographic, visual and sound codes. As I affirm in the introduction, 'I hope that after reading this book, the reader-spectator never again allows the undeniable virtues of a book to get in the way of enjoying a film, no matter how inspired it is in this or that literature,'" Del Rio says.
In his memoirs Vivir para contarla (2002), García Márquez recounts in detail the long courtship of his mother, Luisa Santiaga, by his father, Gabriel Eligio, because her parents were opposed to the union since the young man was from the Conservative Party and belonged to a lower social class (he was a telegraph operator). The biography of the Colombian tells that Gabriel Eligio met her at a funeral and gave her a rose with the words "I give you my life in this rose," then he wrote her a letter, invited her to a dance, and when they went out to dance, he told her "you don't have to say yes anymore, because your heart is telling me." Later, to prevent the romance, Luisa's parents took her on a long journey through the Andes, but the lovers communicated by mail, by telegraph, and by signals of any kind. Finally, Luisa's parents agreed, they got married, and several years later Gabriel García Márquez would be born, who put the idyllic story told so many times by his parents, in his fifth novel, Love in Times of Cholera, and in the script for the film Cartas del parque, which assimilated, without any complexes or prejudices, the world of the melodrama, the romantic song, the radio soap opera and its subsequent substitute, the telenovela.

The confluence between the so-called high and low culture that characterizes the postmodern era is splendidly revealed when Gabriel García Márquez confessed his admiration for the Spanish composer Manuel Alejandro, the Cuban or Mexican boleros, and for Félix B. Caignet, the author, among other works, of the radio soap opera El derecho de nacer, widely influential in the Caribbean basin and far beyond. The Colombian even came to recognize the influence of orality and the radio soap opera in his work. Later, in an interview for the newspaper El País, in 1996, he said he was a great admirer of the telenovela as a genre, "but that the intellectuals have left it in the hands of the inept." Substance for a telenovela of many chapters was provided by Love in Times of Cholera, the tender love story successfully published in 1985, and whose film version would arrive twenty years later. But earlier, in 1988, two episodes of this novel were adapted to cinema, in Brazil and Cuba, with the titles Fábula de la bella palomera and Cartas del parque, two melodramas focused on the description of unrequited and unhappy love affairs, and that were part of the television series Amores difíciles.

Fragment of the chapter entitled "Cartas del parque: el Titón más romántico"
Is this the first time this subject is analyzed in Cuba? How was the research process?
García Márquez's relationship with cinema has been discussed in hundreds of newspaper articles, inside and outside Cuba, but as far as I know, no one has thought of penetrating the writer's world through cinema inspired by his works and scripts.
Of course, throughout the research, dozens of contacts and interrelationships surfaced between One Hundred Years of Solitude, or other of his novels, and all the films he analyzed. After all, it is the same creator, only now seen through the filmmakers who became his accomplices to tell stories.
It all started in 2003, when I started working at the International Film and TV School of San Antonio de los Baños, founded by Gabriel García Márquez in 1986. There I was able to attend several of his visits, and I accessed the workshops he gave once a year. I always admired the writer, and at the School, I was acceding to the very long imprint of his work taken to cinema.
In the Media Library were all the films and hundreds of articles, essays, monographs and chronicles on each of these works, and how the participation in each one had been. It was a matter of gathering all this, and giving it shape in a chronological, reasoned and hierarchical compendium.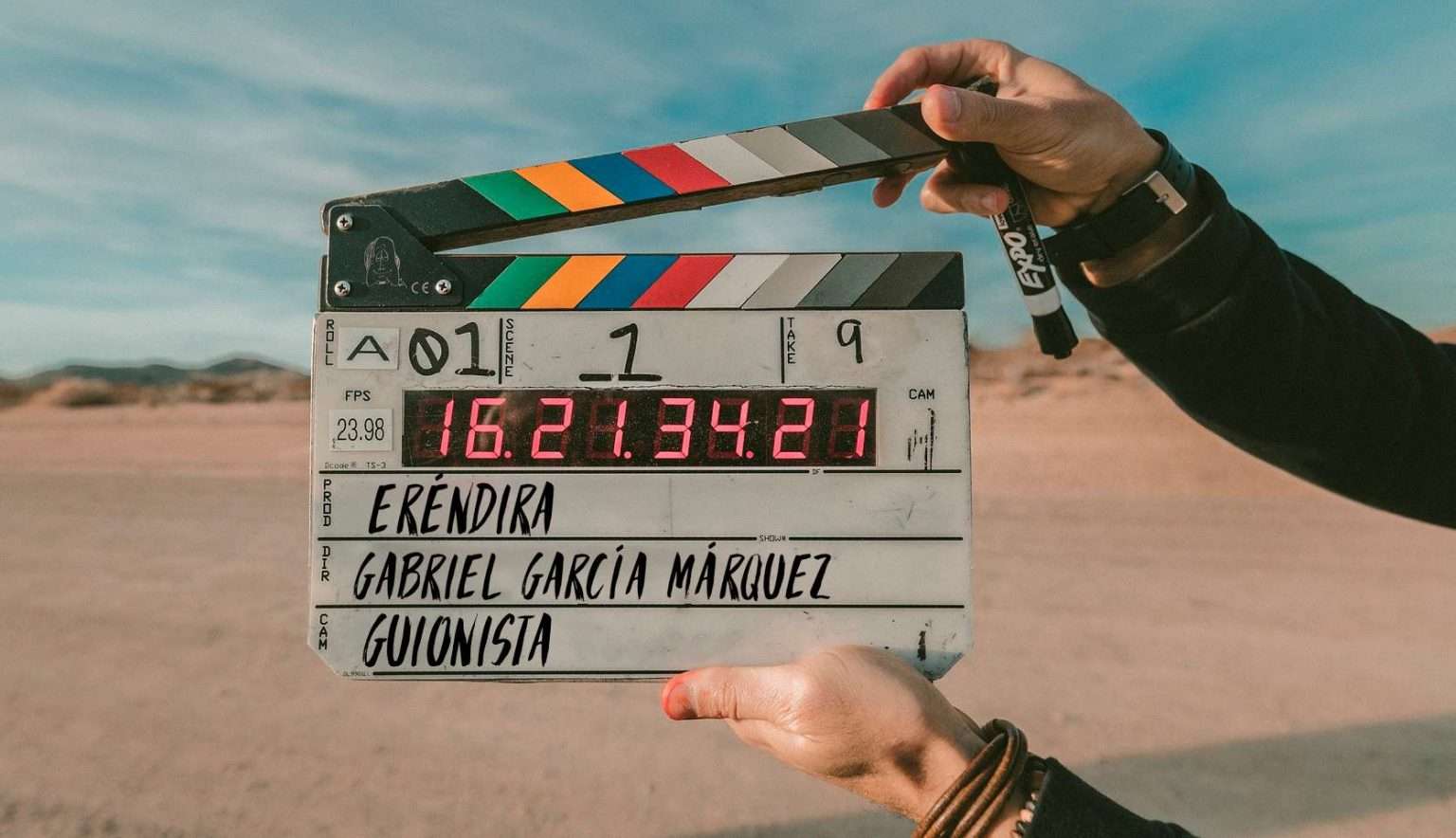 Is it the only book of your authorship that is presented at the Fair? What other projects are you working on now?
Yes, it is the only one. Teaching and the crisis with paper have kept me away from publications since La edad de las ilusiones. El cine de Fernando Pérez was published, in 2016, which later came out in an e-book version. In this same format, a history of universal cinema titled El cine siempre: del silente al digital, which I thought would be a textbook for humanities careers that study this subject, and of course for all those interested, will soon be released.
From that ambitious project, in which I was working for around five or six years, with a pandemic in the middle, to the point that I myself am surprised to have concluded it, an "other" history of cinema was derived; it's called Presagio de arcoíris: Historia del cine con personaje LGBTQ and I've already delivered the original to the publisher. God willing that within a year, at the next Fair, we can talk about these two books, already published, even if it is not on paper.
Author