Since winning the Alejo Carpentier Prize for Fiction for his novel La Dama del Lunar, the life of Cuban writer Rodolfo Duarte changed. It was a trigger for the native of a countryside village of Puerta de Golpe, in the province of Pinar del Río, to begin receiving other awards (Internacional de Novelas Las Américas 2013) and began to be viewed differently in the world of letters.
In The Lady, according to what the author told a colleague, "she subdues with her charms great historical figures with whom coincide, as William the Conqueror, the legendary Mio Cid, a Seville Muslim leader called Motamid and fundamentalist Muslim leader Yusuf Iben Taxsin among others, "referring to the protagonist.
The novel is set in the European Middle Ages. There are 400 pages of play and retrospective reconstruction arising from his vocation for that period of humanity.
Rodolfo has become a successful narrator of, a doer of the historical novel about the world but from his country. He is also a drama actor for local Radio Guama. In the lobby of this radio station we talked hastily, under pressure from other tasks and finally after two weeks of failed contacts.
Duarte greets me at the entrance of the station, sitting on a concrete wall, while conversing with others. They are talking, I hear, on a motorcycle, a truck and as inescapable chain of accidents. After the necessary presentation for those who have not had words rather than by phone, he invited me to come and sit
Why the preference for historical subjects and places distant from your country? I ask after a brief informal chat.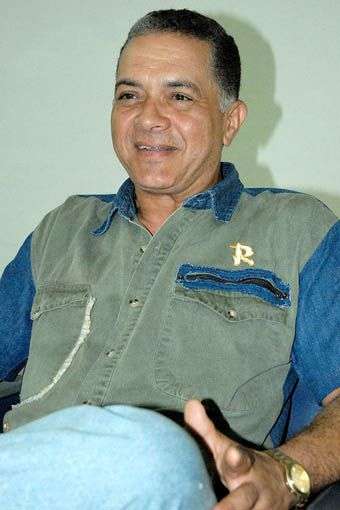 Others are interested in other topics and the Middle Ages motivates. I don't have a prompt reply, it is a matter of vocation and my many readings that time in my formative stage as a writer. Moreover, it is a crucial period in the history of mankind.
What are your methods of study and preparation for a novel?
My method is to read every book dealing with medieval theme and of course, frequenting the fundamental historical writers. But my research doesn't have a scientific method. I choose a theme and try learn everything there is about it.
So how feasible may the historical novel be, as you do it, from Cuba?
It is completely feasible. In Cuban libraries there is a wealth of information about the history and investigations. The point is studying, searching, searching on the subject.
By the lobby of the station many people pass daily and Rodolfo, recognized by all and often required by the media, receives the looks of those seeking recognition for who will be the new interview. Sometimes, some wave and another, a man interrupted with a nagging question on a car, someone to expect and of course, travel…
How is the book market in Cuba? I tease him to respond on a somewhat annoying matter for many writers.
It is very deficient, imperfect. You have to work on that because publishers do not have mechanisms to identify books that will sell well. There is no provision that guarantees how to market a book properly and a no promoted product is sold only by chance.
What assessment do you have on the state of literature in your province Pinar del Río and Cuba?
In Pinar there is great vitality with writers interested in all topics and genres and several awards. In Cuba is much greater; throughout Ibero-America few countries can exhibit a livelier, richer, more versatile literature than Cuban, a land of poets, prose writers, essayist.
Tell me some about your immediate plans.
There are two important things with my work in the coming months and is that Letras Cubanas will publish Bodegón con Manuela, la cofradía y la muerte, the novel that won International The Americas Prize 2013. It has not yet been published in Cuba and they are trying to release it during the next fair.
Also they are studying later to run another edition of La Dama del Lunar, Carpentier Award 2013, because it disappeared from bookstores. Here in my province, the book hit the stands of the fair and want the public to have it because there are people interested in it.
Do not have among your themes something about the history of Cuba.
Yes, I have one that I have stroked long and will be named La camisa manchada de Valeriano Weyler. The novel is always a question one asks about life, the human condition, the reality, the historical development and have many very profound questions about the history of Cuba. It will develop in the nineteenth century in Pinar del Río and has to do with our most important patriots, Maceo, Martí and their presence in our province, either as actors or characters mentioned as paradigms.
Since the beginning of the interview, some twenty or thirty people have walked by our side. Of these, most, curious, has turned to look at two people sitting on a fluffy couch lobby near the front door. At this point, just 11 minutes of conversation had elapsed when a young interrupt, rushing to Rodolfo, urging him for some paperwork. "This is the last question," I say, looking resigned unfinished questionnaire questions I have in my hands. "I'm coming, five minutes nothing more," he tells her, "It's the last question," he adds.
Which of your novels do you prefer? I asked skipping interrogated several places on the list, providing the formal greeting to finish, seconds before showing me where I can find pictures of him, because I could not take a picture of him.
I am very passionate about the writing of Tristan und Isolde and I might lean towards this for a sentimental reason; but to say that I prefer one is like saying that I prefer one child over the other, say I prefer Alma to Randy, my children, when I love them the same.