Young Harold López- Nussa is one of the most representative pianists within Cuban contemporary jazz. He discovered the piano by the age of eight and ever since he has never been able to put it aside. Harold, the son of renowned percussionist Rudy Lopez-Nussa and nephew of outstanding pianist Ernan, moves gracefully in classic piano, traditional Cuban music, popular music and jazz, which he considers very important. He is a classic pianist by training, though he combines the mastery of techniques with a need for experimentation by means of the combination of several rhythms and influences that helps us understand how he feels music "sang by instruments".
Next September 17, he will travel to North America to start on a tour until October 15. He will offer about 20 performances in 18 US and Canadian cities. In this regard, OnCuba met with him and talked about the tour.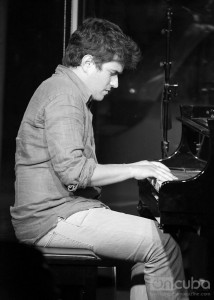 "We have been preparing these concerts with an US agency I have been working with for two years now. In 2013 we made a tour of eight performances, only with my brother, percussionist Ruy Adrián López-Nussa. For this tour we have planned about 20 performances. I'm very happy because this is the first time I'm going on such large tour in the US and Canada. The agency in charge of all the arrangements is Ted Kurland Associates (TKA). It is a large representation agency that works with outstanding jazz players from all over the world; Arturo Sandoval and I are the only Cubans there. I will perform at the Monterrey Jazz Festivaland other important US cities within its musical scenario: San Francisco, Los Angeles, Boston, New York and Washington".
What format have you chosen for these performances?
We will perform as a trio. Once again I will play with my brother and bass player Jorge Sabo, a Cuban who settled in Los Angeles 12 years ago. Recently, we stayed about a month in Japan working. Even though it has not been confirmed yet, the idea is to make a record comprising the songs we play during these concerts.
Can you tell us what you songs are you planning to play during the tour?
It will be a tour through my whole repertoire and I will include a few songs from my latest albums. I will do my best to make it a comprehensive selection because the US audience barely knows my work considering I have just performed a few times there. I will make a tour through the most representative pieces so far. I will include a selection of tracks from the albums El país de las maravillas and New day, and some new songs that will be recorded them.
New Day is your latest production. What makes it different from your previous albums?
It was recorded in Cuba with the musicians I usually perform. I recorded my previous works in France and this one was recorded in Frank Fernandez Studio, in my natural environment. I take this opportunity to thank him for giving me the chance to play popular music in his wonderful piano. Furthermore, I wrote most of the tracks in this record, except for one I wrote along with Maikel Gonzalez, a trumpet player with whom I have been working with for several years. In these tracks I mix jazz with folkloric and traditional origins. I nourish from Cuba's sound heritage of all times, including traditional, folkloric and popular music.
You are quite versatile. What is your favorite musical genre?
It is hard for me to say exactly what I like the most in music, I think I will decide over fusion jazz and classic music; but I will continue to play pop, Cuban music, boleros or any other genre. Music has to be made with certain degree of seriousness; the most important thing is not the genre but its aesthetic and artistic values.
How would you define yourself as a musician?
I'm extremely cautious and very demanding with myself. I try to make things better every day, give my best everyday on a stage or in my living room playing for friends. I think musicians and artists in general must be devoted to their work no matter where they are.
Do you prefer performing or writing music?
I have been writingfor a few years, though I have a large repertory and I make arrangements for other instruments. I love writing and making arrangements because that's the best way to explore other instruments' tones. However, I definitely prefer performances. I enjoy interacting directly with the audience, with my instrument, with another musician and even with myself. First of all, I make music to be happy because that way I feel accomplished in everything in my life. That pleasure is then multiplied if it makes the audience feel that too. Music must be honest and it must come from the heart.
Before travelling to the US, Harold and his group will perform at Café Miramar on the evening of September 12.