Cuba modified its Constitution in early 2019. In December of that same year, the National Assembly of People's Power announced the schedule of laws or decrees that, as a consequence of the change in the Magna Carta or as a prior need, would be modified or created in the next two legislatures: 2020-2028. So far, they will be 107. A process of this type is not usual. Rather, it is exceptional.
During the constituent change, various issues were debated. The scope of the public health and education systems, forms of ownership, the relationship between State and Party, the rights of association and much more were discussed. However, the bone of contention was the article that proposed to open the door to the recognition of same-sex marriage. This revealed the existence and the pulse of a hitherto marginal political actor: religious neo-conservatism, even fundamentalist. This sector managed to mobilize a citizenry with a religious base and temporarily twist the path of recognition of rights for diverse individuals and families. The confrontation in this regard was postponed up to now, already near  (2021), when the new Family Code is discussed and approved.
The above is a fact. But it's not all. Same-sex marriage is not the only content on the neoconservative agenda. There is more and it has already been sneaking them into the citizen conversation: they campaign against the voluntary interruption of pregnancies, sex education, adoption by same-sex couples and assisted reproduction for them, among other issues.
The program is clearly defined and it is essential to appreciate it in its entirety. A few days ago, for example, they attacked on social networks communication products published by the National Center for Sex Education. The arguments used were diverse, but consistent, and raised a novelty: they reaffirmed in unison the motto "Con mis hijos no te metas" in the country and, with this, they are joining the organizational referent of the regional movement with the same name. Thus they give continuity and greater organicity to one of the focuses of neo-conservatism: moral education for boys, girls and adolescents as the patrimony of the traditional family.
"Con mis hijos no te metas"
The so-called anti-gender campaigns, which attack sex education and gender equality content, did not begin with "Con mis hijos…." The anti-rights action of a religious matrix is ​​long-term and has different priorities for each national case, but in the last decades this program has been orchestrated outside of religious grounds, to intervene with much more force and through more actors in political life.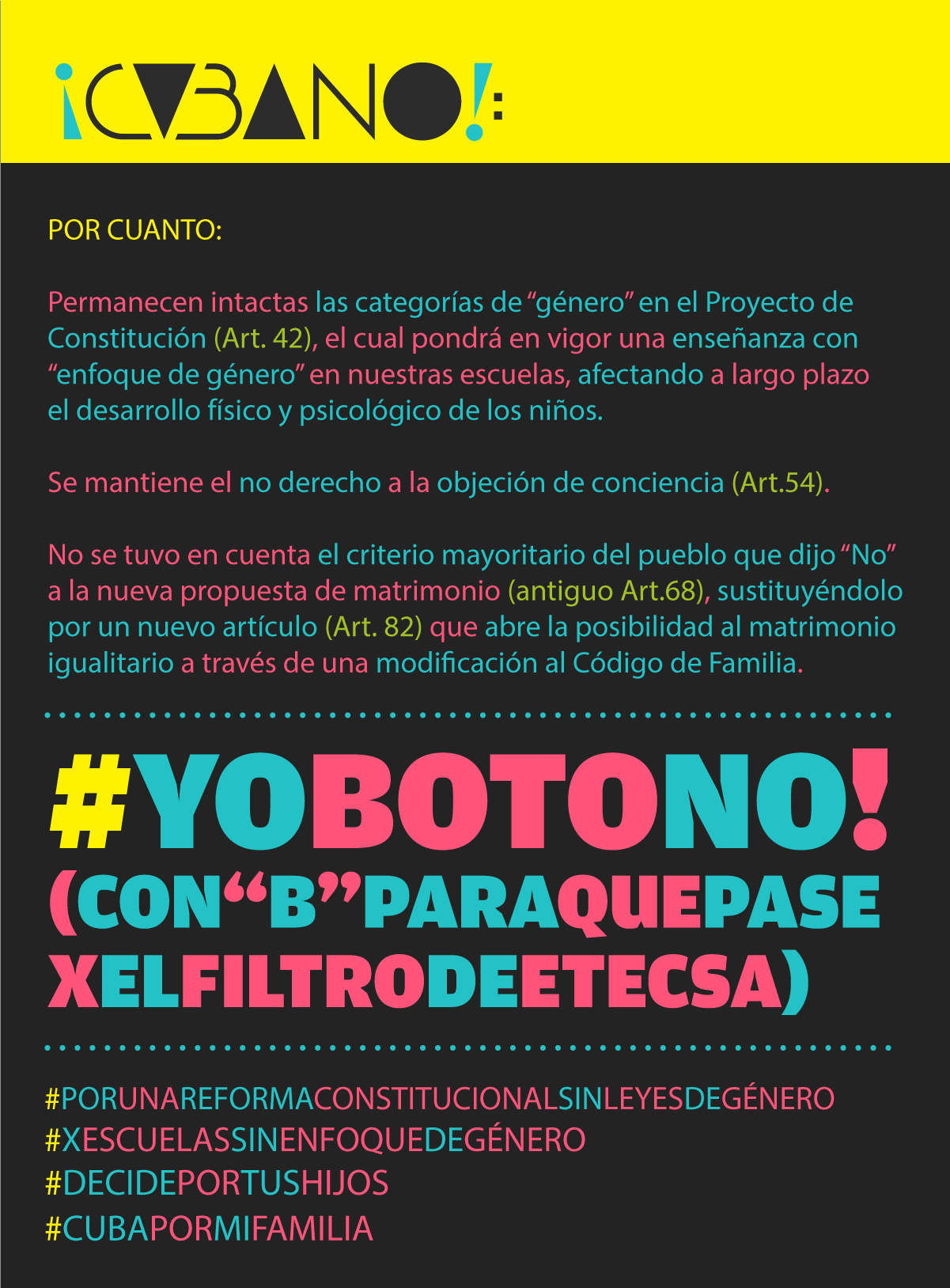 The Fourth World Conference on Women (Beijing, 1995) raised an important schism. The advancement of rights based on gender led to reactions of high intensity in the most conservative sector of the Catholic Church. The spectrum of actors has been broadening and today evangelisms play a leading role; the anti-rights strategy is much more ecumenical than it was in the 1990s.
In 2007 in Croatia and in 2008 in Austria there are records of campaigns against sex education content (Croatia), and against same-sex marriages (Austria). Later, in France, Spain, Poland and, in a cascade, in all the countries of Latin America.
"Con mis hijos no te metas" is the name and slogan of civil society organizations that began operating in the region since 2016. Its first institutional port was Peru. They also landed in Ecuador, Brazil, Argentina, Bolivia, Mexico, Uruguay and the rest of the countries. "Con mis hijos…" is not a homogeneous block. It is a space for the articulation of diverse religious and conservative groups and motives. It is necessary to discern and analyze this diversity in order to measure its strength and its folds.
One of its references is the Manhattan Declaration (2009), a document that confirmed an alliance between Catholic, Protestant and Orthodox leaders, through which they expressed their rejection of the inclusion of abortion in the health reform of then president of the United States Barack Obama.
The "Con mis hijos…" program is extensive. They have succeeded in curbing laws, lower standards and policies on sex education in all countries. They are activated on social networks and powerfully mobilize groups that agree with their agenda, not necessarily religious, but conservative throughout the line.
In Peru, "Con mis hijos…" arises from the signing of the Lima Declaration, where alliances were forged between pastors of different evangelical churches to fight against the implementation of a new National Curriculum of Basic Education of the Ministry of Education. Those who organized the campaign argued that with this study program the "gender ideology" was introduced in the schools, which they describe as false and dangerous. In the founding speech of "Con mis hijos…" in Peru, the pastor in charge, Christian Rosas, defined "gender ideology" as a unique thought that aims to influence minors so that they believe that they can choose their sexuality, when it is already defined by biology. This general mold is very diverse when it is analyzed for the different contexts: in the "gender ideology" bag there are very diverse contents that are strategically brought up. "Gender ideology" is not a concept; it is a strategy.
The Peruvian school curriculum in question had a section on gender equality and stated that there must be an "equal assessment of the different behaviors, aspirations and needs of women and men," and that "although what we consider 'feminine' or 'masculine' is based on a biological-sexual difference, these are notions that we build day by day, in our interactions." That was the affront.
In Peru and other countries in the region, religious neo-conservatives have associated this "gender ideology" with what they call "cultural Marxism." The interested association had a strong weight and determining in several ways during the process of discussion of the referendum for peace in Colombia. This was linked to the onslaught against adoption by same-sex couples and sex education promoted through the Ministry of Public Health booklets.
In Argentina they organize marches and lobby politically since 2018, also to reject "gender ideology" in schools and the National Program for Comprehensive Sex Education in that country.
In Ecuador, "Con mis hijos…" mobilized in 2017 against the approval of the Organic Health Code and the Organic Law for the Eradication of Gender Violence. They have continued to work and expand.
In Chile there was a new peak in the dispute this year, in June, regarding the Draft Law on Guarantees for Children. The movement's spokeswoman, Ingrid Bohn, spoke about the legal text that, in her opinion, "relegates the leading role and the preferential right of parents to be the persons who can educate children in matters of values." That opinion refers to the fact that the draft law in question included as one of its contents the progressive autonomy of boys and girls and referred to the gender perspective and the right to comprehensive sex education.
Throughout the region, these actors form alliances and come together in platforms with a broad audience. The most important space for these connections is the Iberian-American Congress for Life and Family, an organization created by Mexican pastor and journalist Aarón Lara in 2017. The platform brings together politicians and Christian activists who build a common narrative and replicate strategies to prevent abortion, euthanasia and the recognition of the rights of the LGTBIQ+ population.
The campaign "Con mis hijos…" has also opened the doors for Protestant sectors and other neo-conservatives to enter the political arena. They are measuring themselves in areas of rights that don't necessarily have to do with their sexual moral agenda. In Paraguay, for example, they have already attacked the Gender Parity Law in political bodies. In Brazil they were decisive in the elections that brought Bolsonaro to power, and the same in Colombia, as mentioned before, regarding the peace process.
"Con mis hijos…" and the Cuban port
Same-sex marriage is not the only target of Cuban religious neo-conservatisms, nor is the Family Code its only objective. Apparently, "Con mis hijos…" is already in Cuba.
The aforementioned publication of the National Center for Sex Education, on its Facebook page, on September 8 spoke of the rights of boys, girls and adolescents regarding their body and their sexuality.
Fourteen days later, it had 441 comments, most of them furiously disagreeing. Here's a sample button:
We have to denounce these follies, please, and these people no longer even believe in the family, until when are we going to allow them to impose their diabolical laws on us.




#BastaYa

#SomosResistencia

#ConMisHijosNoTeMetas

#MakeCubaGodlyAgain

I JOIN THIS WAR CRY!!! WHO are you to DECIDE that children are taught about sexuality.… The Parents are the ONLY ONES IN CHARGE OF GUIDING THEM, and teaching them the TRUTH and not the perversion of an ideology of IMPOSITION.

Those who want to approve this are completely crazy. I educate my children, not the government or crazy people who want evil for others and who continue with their agenda and finance them for this.

I won't let my children be raised by perverse, immoral persons who they don't even know who they are! I educate my children

Since when an institution outside the family can instruct a child on sexuality, that is done at home, parents do it, not outsiders.

#Conmishijosnotemetas

#LaEducaciónyLosValoresSeEnseñanenCasa
There were other statements on social networks, using the same arguments.
That there is an explicit and united Cuban reference to "Con mis hijos…" is not minor. That it's in a Facebook post, either. Digital pastoral action has been one of the novelties of religious neo-conservatisms' actions throughout the region and also in Cuba. Another of their characteristics is that they are activated in legislative junctures and Cuba is in one of them, now more than ever.
At least 107 laws and decree laws are being or will be created or reformed. Several of these norms should firmly include content on gender equality, parity and sex education. Neo-conservatism in all its lines, and especially the religious ones (within them "Con mis hijos…") are once again testing their pulse and capacities for mobilization and political pressure. At the same time, we are not only facing a sexual morality program. They are today a force with a properly political agenda, in all its extension.
As a political society, a citizenry and civil society with a vocation for integral social justice, we need to analyze, step by step, this scenario and its actors. And act accordingly.
Cuba is no exception to the framework of action of "Con mis hijos…." We have the Latin American and global experience, which is essential to look at. It is unwise to settle for the easy explanation: that of polar politics, which rhetorically explains itself and is limited to specific issues disconnected from each other. To do that is to go off on the tangent of a much denser problem, which requires also complex explanations.
We need to produce serious research and analyses on the forms of socialization, community building and needs that are satisfied in these spaces and networks. Crises, precariousness and scarcity generate risks, fear and have de-democratizing consequences. That weighs heavily on Cuba, as has happened in other territories.
The explanation that those who wrote the comments referred to above are bad people who don't deserve or have an agenda and who are being manipulated is not going to lead to any fertile ground for rights. After we finish defining those who wrote those lines, their densely articulated subjectivities will still be there and expanding.
Faced with the anti-rights program of "Con mis hijos…," more and better sex education is needed. What exists in the country is insufficient and has little impact. That is the reality that we need to transform within a comprehensive program of justice. It would be wise to produce a systematic and informed conversation among those of us who are debating, from different spaces, the anti-rights onslaught. We can begin by recognizing that "Con mis hijos…" is a present and active program, not a smokescreen.
Authors