The first of August last year, 2013, procedures for requesting and granting Multiple Entry Visas to the US came into effect, a new type of visa for Cuban citizens that allow them to enter that country on dissimilar occasions over a period of five years.
From then until now, 40,000 B2 Visas (tourism) have been awarded, and most of these have been Multiple Entry Visas, according to Timothy P. Roche, Consul General of the United States Interests Section in Havana, who agreed to talk to OnCuba on the main consular services, recent changes in their rates, Diversity Visa Program and on evolution in the last 14 months of the issuance of the Multiple Entry Visa.
On September 12 there were changes in rates of consular services of the United States relating to immigrant visas. What are the major changes and what are the reasons for the new rates?
The American Law establishes that the Department of State has to recover all costs of consular processes. We do this through the collection of payments from visas. Every year the State Department conducts a cost study to pinpoint the actual costs of consular and visa services worldwide.
For example, in 2012 we adjusted the rates to better reflect the costs of providing this service that year and most Immigrant Visa payments were quite reduced, while the Non-Immigrant Visas went up $ 20.
In 2013 there was no change in rates. This 2014 the cost study showed that costs more to process certain categories of immigrant visas than others, and new payment rates reflect the average global cost of each Visa service. No changes in rates for Tourist Visas while Fiancé Visas rates went up $ 25.
One change this year is the increase in rates of processing of family reunification visas, which increase by nearly $ 100, from 230 to $ 325…
Those rates dropped two years ago, this year they went up again. It is according to the expenses we incurred when providing these services worldwide. These changes can occur each year, depending on the results of cost studies.
Since the first of October 2014 to November 3, 2014 was open the call for the 2016 Diversity Visa Program. What is this call?
The Diversity Visa Program is basically a lottery each year worldwide and offers up to 55,000 immigrant visas to immigrate to the United States under a Visa category known as DV, ie Diversity Visa. No relation to the former "bombo" that was a special program for Cuban citizens. The Diversity Visa Program is designed to select the winners randomly among people who meet eligibility requirements. There is no cost to register or to apply for this program.
Who can apply for the Diversity Visa Program? What are the requirements?
Basically there are two requirements: first, being a citizen of an eligible country for the draw-and Cuba Visa itself is eligible-; the second, being a graduate of Secondary Education or its equivalent, which is defined as successful completion of twelve years of elementary and secondary education, or have completed two years of work experience. They are simple but very strict.
What are the key steps to access the Diversity Visa Program?
To register for the Diversity Visa Program, you must access the website www.dvlottery.state.gov. Application is made through the E-DV electronic form or DS-5501. Registration costs nothing and applications are not accepted in writing.
How has this program behaved in recent years regarding Cuban citizens?
In the past four years, an average of 190 Cubans received these visas each year. When someone wins the lottery Diversity Visa he has the right to bring her closer family, spouse and children. That figure of 190 a year on average would be the total.
Selected figures are not higher because at the time of registration requirements are not met, although these instructions are noted on the website. For example, one requirement is that you must register all children even if they are not traveling with the person. This was ignored, they do not register them and then we have qualified applicants, they are good candidates for Visa, but for breaching this requirement they don't get it.
It's been just over a year after the entry into force of the Multiple Entry Visas to the United States. How has this process performed?
Multiple Entry Visas have been very popular. We received approval to issue Multiple Entry Visas for the first of August last year and since then we have issued over 40,000 visas B2 -Visas for tourists and most of them have been for five years.
The idea is to provide better services to Cuban citizens who frequently travel between Cuba and the United States, and has really been a significant improvement, because before it was necessary to come to our office, stand in line, pay fees each time, it meant a very long wait for the visa interview. Now you only need to do it once every five years.
How many applications for Multiple Entry Visas to the United States have you received and how many have been granted?
I do not have specific figures on how many requests we have received. Applications went up much with the end of the Carta Blanca (Exit Permit) in January 2013. In 2012, we issued 16,000 Tourist Visas; in 2013 we granted more than 33,000 tourist visas, that is, more than double the previous year. This year 2014 they will increase between 5 to 10 percent.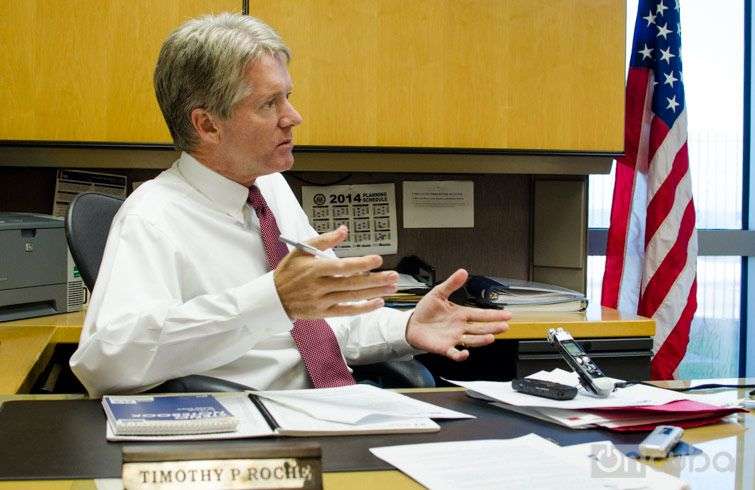 Two years ago, waiting for a turn to visa Interview was almost five years and now we have more consular officers working, we are working more and have managed to reduce the wait to less than five months, that's still a lot, so we're working even more. The idea is to further reduce the wait, our goal is three weeks, but we have not yet got there.
I want to add that the criteria for an American Visa have not changed. And that visa for five years does not mean that the traveler can stay five years in the United States; the idea is to travel and return. The time at which a person may be admitted to the United States is determined by the immigration officer of the country and generally is for a maximum of six months, and while there that person cannot work or attend school without the approval of the U.S. Citizenship and Immigration Services.
What types of visas are most requested from Cuba, how have they behaved in this period?
The most popular is the B2 Visa, Tourist Visa or Visa for Pleasure; the second most common is the B1 Business Visa. But for example last year we issued 2,500 visas B1, B2 is much more common. The vast majority of Cubans are visiting family.
What kind of people is given the Visa Business, What features does this Visa have given that there are no commercial relations between Cuba and the United States?
It is a general category, it does not necessarily mean a man in traditional business, it can be a religious man who goes to a meeting, or it may be an academic who goes to a meeting, it can be the owner of a paladar (private restaurant) that goes to run some errands for his business.
But that's not very common. If last year we issued 33,000 Nonimmigrant Visas, we have only issued less than 10 percent of Visa Business. All scholars who go to conferences such as the Congress of LASA (Latin American Studies Association), as well as officials that go to a scientific meeting if it is short term, they qualify for a Business Visa. Most applications of this type of visa come through the Ministry of Foreign Affairs or the Ministry of Culture of Cuba.
How have Visas linked to cultural, academic exchanges behaved…?
They are also increasing, but from a very small base. This year we are talking about a dozen Cultural Exchange Visas and another dozen Student Visas.
We want to promote the flow of students. We have seen an increase in invitations for scholarships from several universities in the United States, usually for Masters and PhD students. We are helping universities to make processes go on time. We are going slowly, that is something new for us and for universities in the United States, because they have to find the funds for scholarships, and is new to college and academics here too.
We would like to take the opportunity to ask some questions proposed by OnCuba users on our website, regarding to the Multiple Entry Visas:
Could we go over what the requirements for the issuance of multiple entry visas to the US are? Can any Cuban citizen request one of these visas?
The process to apply for a Multiple Entry Visa is the same as for any other Visa. There are three simple steps. This is done through our website and the DS-160 form is completed. After that, you pay the fee. Finally you must request an appointment through the website itself or the call center. The beauty of this new system is that you no longer have to pay fee to schedule the appointment, as was previously at a cost of $ 12 per call.
Does the applicant's age is a factor in determining the granting or not of a Visa?
Age is one of many factors a consular officer will consider when deciding. The truth is that it is harder for younger applicants. The most important thing is to show that they have strong ties here, they will return to Cuba after a temporary visit to the United States, and that is very difficult for many Cubans, because we know that many want to go to there, want to live there, have family there and we understand that, but the law does not allow us to provide tourist visa for that. So we have to deny many applications. It really is easier for the elderly.
However we have on the site several questions related specifically to the repeated refusal of Visa to seniors…
It really is the lack of strong ties here. And every case is different, but it's generally easier for seniors.
Another important issue for us is that we're trying that those that previously have been rejected, get discouraged from seeking the Visa, because they are really spending money for nothing. They come often, they have been denied many times and they are spending a lot of money. It is a waste of time and money. Therefore applicants who do not qualify should wait longer.
You mean that applicants who have been denied hardly have a chance of being accepted at other times?
Yes, we recommend that they wait at least one year. In many cases it is better to wait three to five years before trying again.
What other issues are important to the granting or denial of a visa?
Every case is different; the interviews are very short, usually going to ask what the purpose of your trip, what family is in the United States, how long you plan to be there, what you do in Cuba, what family you have in Cuba. But it is very difficult, there is much pressure to migrate to the United States and that makes it very difficult to qualify for a Tourist Visa.
What would be the consequences if a person is in the United States with a Multiple Entry Visa and decides not to return to Cuba?
The U.S. Citizenship and Immigration Services is responsible for deciding on the particular case. It is not a consular matter.
Cuban citizens residing in another country and want to visit the US for tourism or family reasons, can apply for Multiple Entry Visa? Can they travel with their family?
Yes, the process is the same. They must convince the consular officer that they have strong enough ties outside the United States to force them to return home after a temporary visit.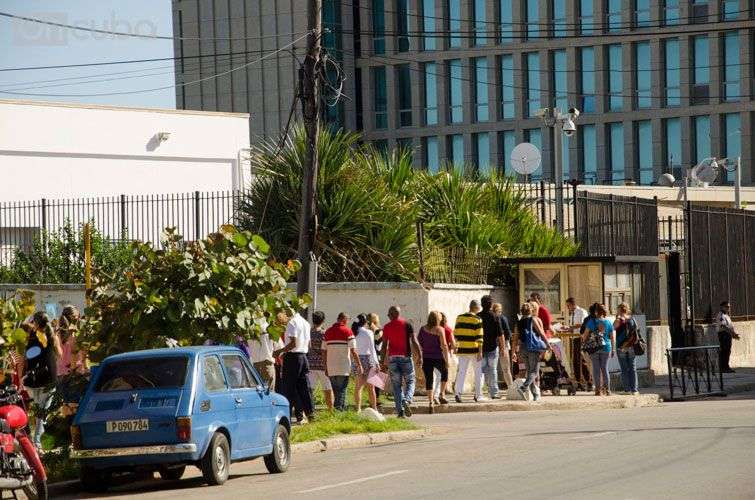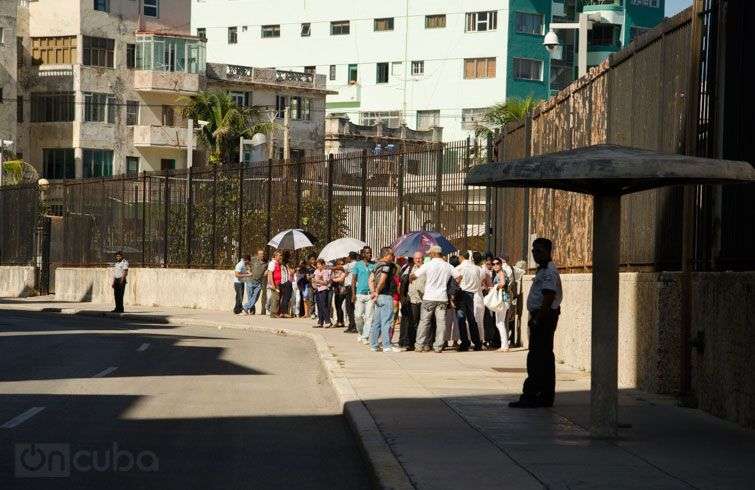 Authors