Cuban President , Miguel Díaz-Canel this Thursday carried out an official visit to Mexico, where he met with his Mexican counterpart, Andrés Manuel López Obrador, to address a regional development plan at a time in which the island is going through a serious economic crisis and new problems with the United States.
The Cuban president and his wife, Lis Cuesta Peraza, arrived at the gates of the National Palace, in Mexico City, where dozens of supporters awaited them chanting "Cuban president, Mexico shakes your hand" and "Díaz-Canel, with Andrés Manuel." 
They were received by López Obrador and his wife, Beatriz Gutiérrez, in a brief ceremony in which the national anthems of both countries were played before starting the meeting behind closed doors, which had no subsequent press conference.
"We are strengthening our historical relationship with the people and the government of Cuba, as well as the ties of friendship and cooperation for development with the peoples of Latin America," said the Mexican president on Twitter after the meeting.
In a previous press conference, López Obrador announced that the reason for the visit was to talk about a development plan which is yet to be defined.
"We are going to talk in general about a program to be developed in the short-medium term. There is nothing precise, but there is the willingness for development cooperation," said López Obrador.
However, the Mexican daily La Jornada reported that the central theme of the meeting was the supply of energy to the island at affordable prices, although it acknowledged that nothing about the meeting's content had been officially announced.
For his part, the Cuban president expressed in the social media his emotion over his visit to Mexico: "It is exciting to return to the beloved Mexico, so linked to our history and that of Latin America," he said on Twitter.
"Official visit to Mexico, a nation with historic ties of friendship and with which we have maintained uninterrupted diplomatic relations for 117 years," underlined Cuban Foreign Minister Bruno Rodríguez, who was part of the Cuban delegation, as well as Foreign Trade Minister Rodrigo Malmierca and Energy Minister Raúl García.
Through Twitter, the Secretariat of Foreign Affairs of Mexico welcomed the Cuban President, whom it defined as "the first president of that country born after the Cuban Revolution."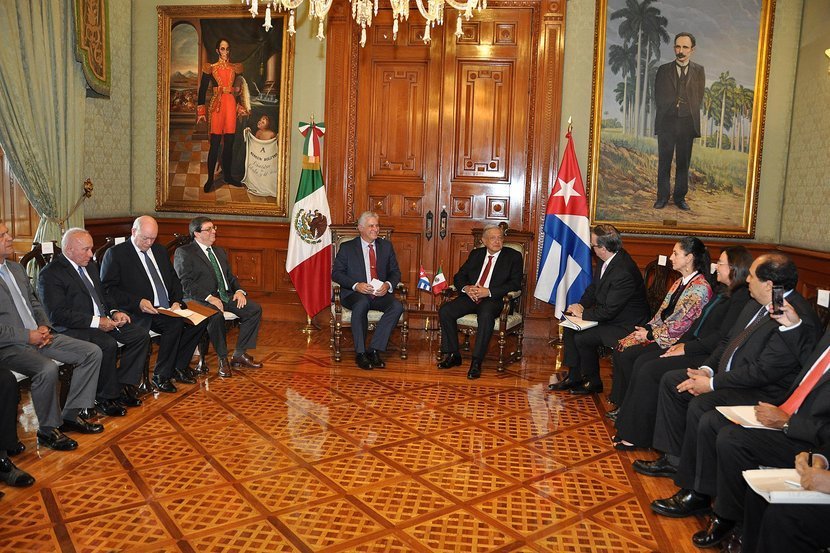 Díaz-Canel is the sixth foreign president that López Obrador receives, after the president of the government of Spain, Pedro Sánchez, Luxembourg Prime Minister Xavier Bettel, Salvadoran President Nayib Bukele, Honduran President Juan Orlando Hernández, and that of Guatemala, Jimmy Morales.
The last state visit by a Cuban president to Mexico was made by Raúl Castro in 2015, when he signed several economic and educational cooperation agreements in the city of Mérida with then President Enrique Peña Nieto (2012-2018).
As Cuban vice president, Díaz-Canel was in Mexico in 2014, in the city of Veracruz, to attend the Iberian-American Summit, and as president he attended the inauguration of López Obrador on December 1, 2018.
Since taking power, López Obrador has not made any state visits to other countries, delegating this responsibility to one of his trusted men, Foreign Minister Marcelo Ebrard.
Close relations with ups and downs
Relations between Mexico and Cuba have always been close, both geographically, since Cancun and Havana are only separated by a one-hour flight, as well as politically, since both nations have maintained uninterrupted diplomatic relations since 1903.
In November 1956, Fidel Castro set off on the Gramma yacht from Tuxpan (Mexico) to start the Cuban Revolution, which ended in 1959, with Mexico being the only American country that did not break relations with the island.
The Mexican presidents of the Institutional Revolutionary Party (PRI) opted for a policy of non-intervention with Cuba, but relations became tense with the presidency of right-wing Vicente Fox (2000-2006), who during a UN summit in Mexico asked Castro to return quickly to Cuba after dinner.
With the return of the PRI to the presidency with Peña Nieto, relations were more cordial and the Mexican president traveled to Cuba to participate in the funeral of Fidel Castro, whom he described as an "emblematic reference of the 20th century."
Relations between Cuba and Mexico have strengthened since López Obrador, leader of the left-wing National Regeneration Movement (Morena), assumed the presidency on December 1, 2018.
Authors