In Cuba the word Coppelia refers, first of all, to the Havana ice cream parlor and it is a must for Cubans and foreigners who come to the capital and usual destination for those who live in it. However, almost no one thinks about the ballet that gave name to this place. Many do not even know that from there the name comes. And so far, going to have ice cream bore no relation to the art of fouettes.
But a few weeks ago a new salon opened this enclosure designed by architect Mario Girona in Vedado. Now, in addition to cool off with ice cream, you can approach the most emblematic works of the National Ballet of Cuba and its dancers. The Four Jewels has been named the space as a tribute to the famous Cuban dancers Josefina Mendez, Aurora Bosch, Araújo and Mirta Pla Loipa.
One of its attractions is the collection of photographs of pieces from the repertoire of the company as Giselle, Carmen, Grand Pas de Quatre, Swan Lake, Don Quixote, Blood Wedding and Flora, by photographers Maurice Saymour , Nancy Reyes, Luis Alberto Alonso, among others.
At the same time, people can enjoy their ice cream in the same chair where   Alicia Alonso sat on the opening day and, if they get lucky, hear the story of the waiters who served her: "She had the delicacy to climb stairs, we thought she would not do it because of her age, but she did it and had a Black Cow. According to her husband she just tastes the dishes they offer her and almost never eat or drink it all. It seems she was happy that day. "
After that several people have come to the salon to ask for a visit from the world-renowned prima ballerina: "Today, for example, some Dutch people came, who had read the news on the Internet and wanted to sit at the table where she sat, knowing how she had been, what she had said, " one worker says.
The hall, with capacity for 40 people and located on the second floor of the facility, becomes nice too for being a conditioned space and because the specialties offered are given names of classic works.
Thus, the customer can have the Four Jewels formed by a quartet scoops adorned by as many cherries or Don Quixote, which consists of a ball pierced by a sword made of tropical fruit. If you are in love you can ask for a Romeo and Juliet, but if you much appetite you better order a Giselle and taste five servings also accompanied by cherries, lozenges and syrup.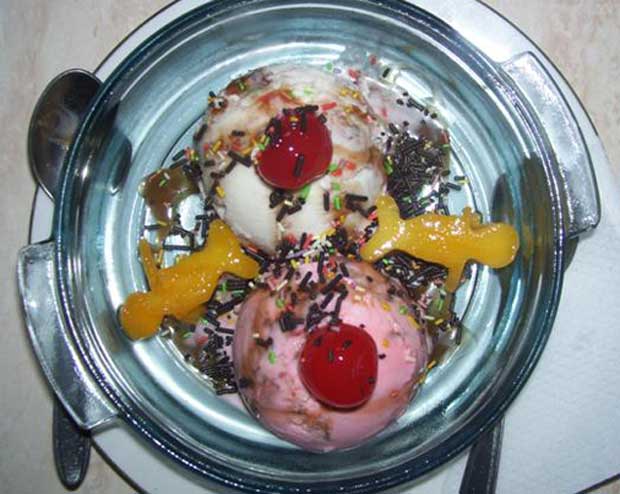 Note: The prices range between $ 0.50 and $ 4.05 CUC
Authors