In Cuba, the new trade relations between state enterprises and private workers (self-employed) season the wide range of changes affecting the island since 2010. The restoration of one of the famous La Rampa sidewalks-all-granite and inlaid works of Cuban artists-is now also part of the progress of this economic symbiosis.
We chose the sidewalks between N and O of 23rd street because we are very close to our company and we can monitor the daily works. This had not been done before with self-employed people; it is the first time we are experiencing it, says Alexis Casal, technical engineering who heads the Technical Networks, an investor group for roads belonging to the Provincial Department of Transportation in Havana.
To perform the work, consisting of demolishing the entire sidewalk,  restore the masterpieces and re-melt all through the technique of granite wash, Technical Networks chose Yojane Luis Font, who has run for ten years, a granite making business inherited from his father and now employs more than 30 workers.
Photo: Beatriz Verde Limón
Casal said that before choosing self-employed people we seek state enterprises (a preference that is today extended-policy), but we found no one with the constructive capability to do the job. That, and after evaluating options, we hired Yojane, who is licensed and has all necessary conditions.
At 37, mid-level graduate in Radiology and for many years Radiologist at the Medical and Surgical Research Center (CIMEQ) in Havana, Yojane says: My condition is that I put all materials, transportation, workers … They only have to pay me and I do the work. The value of the work is about 500,000 Cuban pesos (CUP) and includes both sidewalks.
Among the self-employed that entered the bidding and in the absence of a state enterprise that could do the job, Yojane and a half a million Cuban pesos (some 20,000 USD) was the cheapest option for the management of Technical Networks, according to Casal, because they avoided spending on materials, transportation, shelter; as well as in subcontracts to other companies for the demolition or debris removal, which Yojane fully assumes with his own resources.
Since 2007, the regulation No. 32 of the Ministry of Labor and Social Security, regulates Self-Employment in Cuba and has the rules for trade relations between private and state entities, legally equating both parties through contractual agreements. However, not until the passing of Resolution No. 33 of the same ministry, in September 2011, when it included the modality of "granitero" (granite structure makers) which supports the exercise of this activity on their own and allows people like Yojane to do this type of work with greater security and legal protection.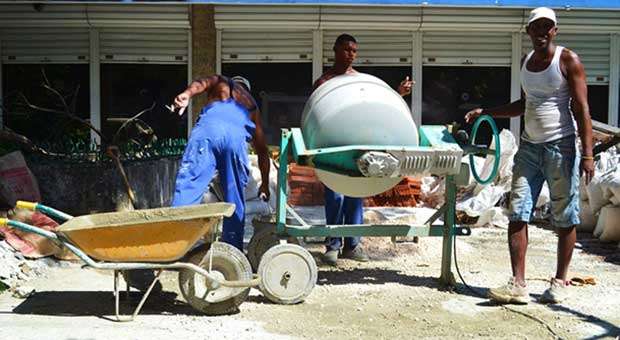 Photo: Beatriz Verde Limón
We evaluated about seven-employed people, but we picked him for the benefits in the contract: he guarantee the granite for ten years, quality of the restoration work and, above all, the resources he had, Alexis Casal said.
Openings for private work began in the late 1990s due to the economic crisis occurring on Cuba with the collapse of the European socialist bloc-and since 2007 they have increased rapidly. Before, their absence and even the ban deteriorated family traditions and even secular knowledge of many of the trades that today, in the XXI century, must emerge or at least regain legality.
We are two, which I know of, that now work hard on granite: me in Havana and a Pinar del Rio guy who does very good work. But have being through a lot in this business, "tough" disagreements, workshop, tools seizures… very sad stories, but thank God we are here today, Yojane with a mild smile of well-deserved triumph, said.
His company now has a workshop in Old Havana and one in El Mariel, where they make slabs, countertops and tables, among other products. In the rest of the country abounds workshops that do this kind of work, but generally on a smaller scale, with transport included and some additional services, but they have not yet reached such a business profile.
To do any work, Yojane purchases cut stones in a quarry in Villa Clara, where he pays using bank checks authorized by his self-employment license; he uses private trucks for transportation-and pays some 3000 pesos (CUP) per trip to take stones to the mills, also owned by self-employed people. Other employees are responsible for selecting, bagging and storing the processed granite, or its transportation to the work in progress. We are about 36 people in the business, because it is hard work. I pay them all, so I have to charge 1000 pesos per square meter of these sidewalks.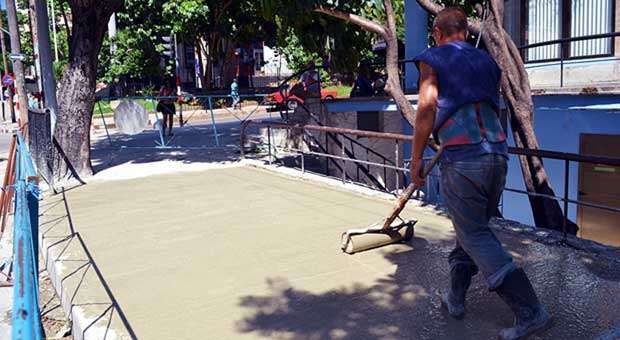 Photo: Beatriz Verde Limón
Hired already by the Institute for Genetic Engineering and the Cuban Institute of Cinematographic Art and Industry (ICAIC) to work polishing and casting granite structures since 2012, Yojane services are listed in the Yellow Pages of the ETECSA (Cuba Telecommunications Company SA) phonebooks thanks to the promotion enabled in that space, after paying a fee on advance.
Thus, the Cuban state opens doors to the private sector and the necessary linkage to state enterprises, on the premise and mutually beneficial relationship with the proven inability of these to bring together many of the services and productions self-employed have demonstrated that they can provide and also better quality.
We are a family that has always been dedicated to granite, a trade that in the 1960s, I do not know for what reason, went broken, lost, and now there are very few who do it. My grandfather was one of those who were doing it on his own. Today, I have the tools I inherited from him and my father, " Yojane says.
The restoration of the sidewalks of 23 between N and O intends will soon be extended to all La Rampa, including remodeling El Quijote park.
This "experiment" shows how the execution of any work or service, state and private are, slowly, holding hands and "up the Rampa".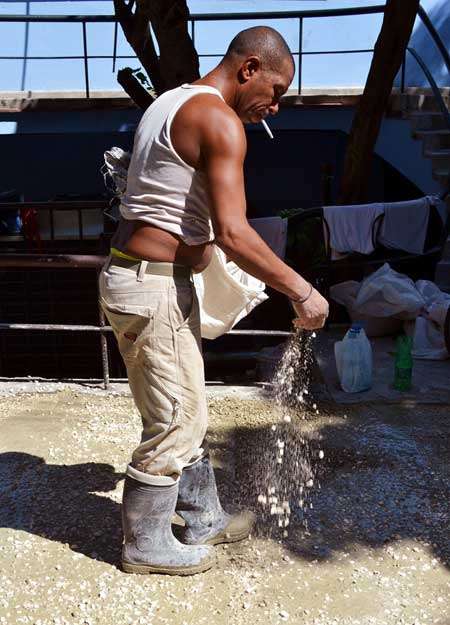 Photos: Beatriz Verde Limón