Spain has traditionally been a key partner for the Cuban economy. The Iberian nation, beyond its well-known historical and cultural ties to the island, has played a significant role in opening Cuba to foreign companies and investment, while serving as a gateway to Europe.
Having overcome the estrangements and tensions of the time of the government of José María Aznar, who aligned himself with the United States and promoted the so-called "Common Position" in the Old Continent, Spain has established itself as one of Cuba's main trading partners — the third, behind China and Venezuela —, with the island's largest import and export volume in the European Union.
It also has an important presence of companies and businesspeople in the Caribbean country, united for almost three decades in the Association of Spanish Businesspeople in Cuba (AEEC). Officially founded in 1994, the organization has more than 250 members and covers a broad spectrum of businesses, from manufacturers and distributors to banks and hotel chains.
With these assets in its favor, Spain has decided to take another step, at a time when the Cuban authorities have opened new spaces for private initiative with the authorization of MSMEs. The Spanish Embassy, through its Economic and Commercial Office, organized a meeting with Cuban entrepreneurs and businesspeople a few days ago, in which the AEEC, more than a guest, was the protagonist.
At the meeting, which aimed to provide information and tools to private entrepreneurs to facilitate potential businesses with Spanish counterparts, the president of the association, Joaquín Samperio Sañudo, was one of the main speakers. In his speech, in addition to inviting all Cuban businesspeople to his headquarters, confirmed to them the interest in strengthening existing relations.
"We work closely with the Cuban Chamber of Commerce and with the Commercial Office of the Spanish Embassy, and we can help them in everything they need to carry out their businesses and establish relationships with Spanish companies," Samperio told the numerous Cuban entrepreneurs participating in the meeting, considered very successful by the Spanish ambassador Ángel Martín.
"You can be surprised. There are factories and producers that have traditionally sold to Cuba who are willing to expand their customer portfolio, and I think it could be very interesting for you to get to know them. And we, as an association, can put them in contact with these enterprises, or with others, and then the development of the business is up to you," he added then.
After the forum, which took place in the artistic space Estudio 50, in Havana, OnCuba went to meet Samperio to learn first-hand the position of the AEEC regarding the current Cuban economic scenario and, in particular, regarding the island's private sector and the possibilities of collaborating with it.
What is the position of the organization you lead regarding new MSMEs and private entrepreneurs in Cuba?
As an association of businesspeople and representative of almost 300 Spanish companies in Cuba, the existence of MSMEs and private entrepreneurs in the country is something very significant for us. With them, a range of possibilities opens up that until now did not exist, and that can be fundamental for the economic and social development of Cuba, which is ultimately what it is about.
In Spain, the weight of SMEs is essential for the economy, and I believe that in Cuba it can be very important as well. In my country, as was said during the meeting, there are almost 3 million SMEs, which represent about 75% of employment and 69% of GDP. The fact that the Cuban government has opened this other path here seems very important to us with a view to the present and the future. In this process, Spain and Spanish businesspeople in Cuba can play a leading role.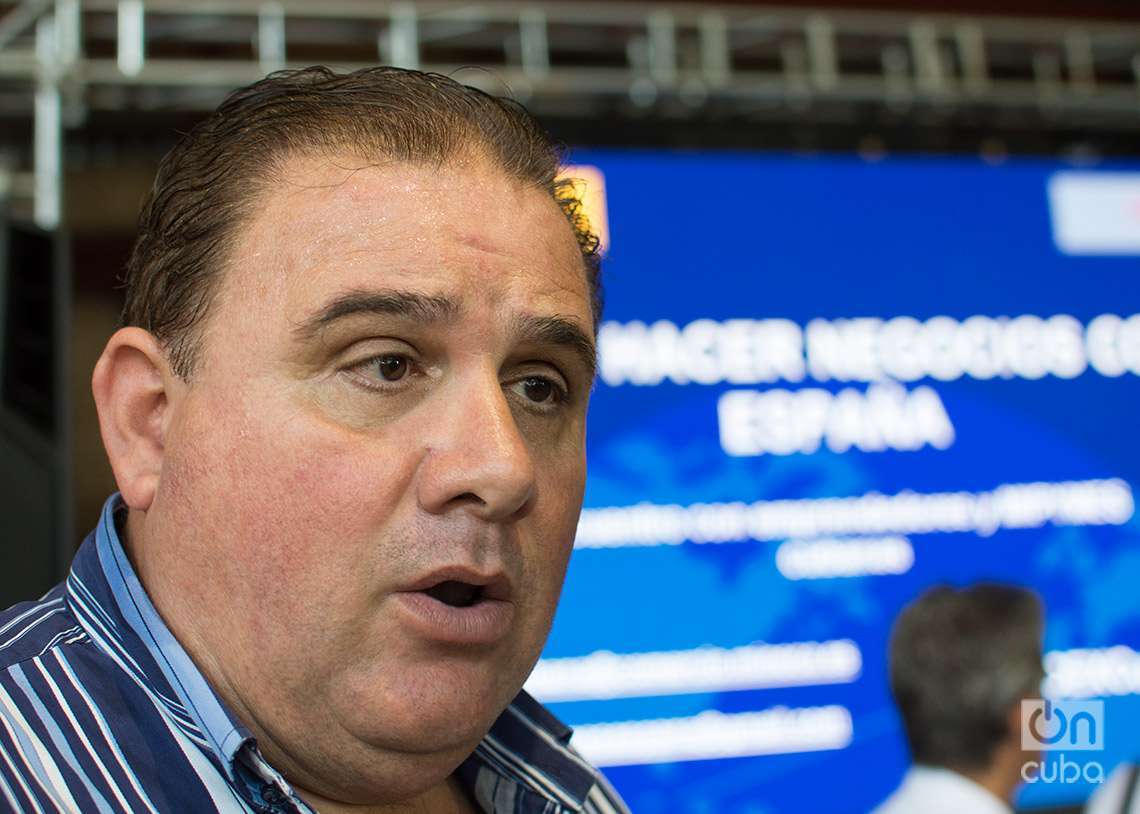 How can the AEEC contribute?
For us, the issue of MSMEs in Cuba is still new. It is something that we are learning about little by little, and we are eager for more information. We want to meet more Cuban entrepreneurs with whom we can interact and whom we can help, not just by selling our products. We can assess investment possibilities in their businesses, and, in the same way, we can help in the production and marketing of their products.
The financial issue is a big problem that all enterprises have, being able to invest to develop their activity. It is somewhat complex, because investments cost money, and not everyone has that money. Nor is it easy to access bank loans to help develop their business. It is necessary to look for partners. It happens not only in Cuba but also in Spain and all the countries of the world.
In this sense, many of the Spanish businesspeople in Cuba are willing to work closely with Cuban enterprises and Cuban entrepreneurs, to collaborate with them to develop their enterprises, their MSMEs. We are willing to work here with them, and even to become associates and invest according to what Cuban laws allow, and thus continue to develop our economic relations and help this much-needed sector.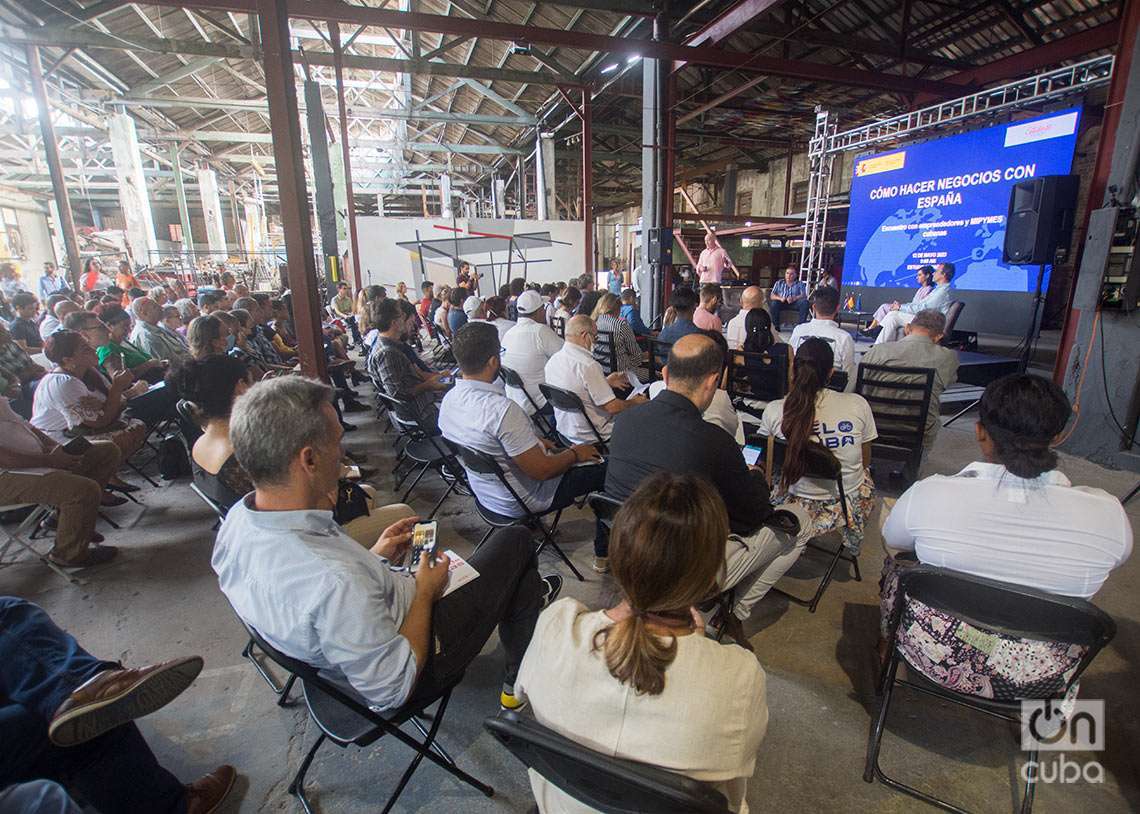 Why bet on a greater relationship with Cuba and its private sector?
Cuba and Spain are united by many things, and the Spanish businesspeople who are here feel that relationship in a very particular way. Many of us who belong to the association live in this country (I myself have been in Cuba for twenty years) and we already have a piece of our hearts here. And we are still here, despite any difficulties, the obstacles that may exist, the U.S. embargo, because we have a commitment, and we feel for this country.
SMEs and private entrepreneurs in Cuba, and our relations with them, are very important issues for us. It is something that we want to promote and that, in fact, we are already promoting through the Cuban Chamber of Commerce, our interlocutor in the country.
For this, we make available our association, our contacts and our headquarters, on 20th Street between 7th and 9th, Playa, in Havana. Any MSME, entrepreneur, or person who wants information can go there, or contact Spanish companies that work in Cuba and could be of interest for their business, whether for imports or exports.
The Embassy, through its Economic and Commercial Office, is also involved to develop this project. As explained at the meeting, there is the will of our authorities, of our business community, and for this reason, we invite Cuban entrepreneurs and businesspeople to contact us in search of information and give us the opportunity to work closely with them.
In your speech, you referred to sectoral meetings between Cuban and Spanish businesspeople. Could you provide more details?
Together with the Cuban Chamber of Commerce, we have been organizing sectoral meetings between Cuban companies and MSMEs with Spanish companies that are here and are part of our association. We have held two. The first took place almost two months ago, dedicated to the construction sector, and the second, just a few weeks ago, on the renewable energy sector.
In addition, we have planned another two: one for the agri-food sector in June, and another for the transport sector in September. And now, during this meeting, the idea of holding another one for IT technologies and solutions, which is a growing sector and has very good professionals in Cuba, has arisen. We will surely organize others later. We are willing to organize all the meetings that are necessary.
In terms of relations with Cuban entrepreneurs and MSMEs, the Embassy works more on theory, to put it in some way, but we want to do more in practice and put businesspeople from here in direct contact with businesspeople from there. Those synergies are created, that investments are created, that new businesses are made.
Our wish is that trade between the two countries be promoted and grow, and that in the end, all this will result in the economic and social development of Cuba.
Author