A culinary expert. Daughter of the founder of the famous Rancho Luna and El Ajibe restaurants, she learned from him to value the culinary and food culture not just as a delight but also as a fundamental space to understand the human essence. Cofounder of the Cuban Gourmet Festival. Winner in 2004 of the Special Prize of the Jury in the Gourmand World Cookbook Awards for the book about her father: El Aljibe, un estilo natural. Graduated in Gastronomical, Nutritional and Enological Journalism in Cuba.
Editor's note:
OnCuba is initiating its section on gastronomic criticism. Given the culinary art's boom taking place on the island, a phenomenon that is being consolidated and expanding, it has become necessary to find serious, trustworthy and diverse references on where and what we eat and drink and which are the places where we can live a unique experience. There are very few trustworthy sources in Cuba that include this type of information.
We will prioritize those spaces that have a notable accent on traditional and contemporary Cuban cuisine. In addition to the analytical text, we will make assessments to appreciate the scales that specify the individual ranking of each restaurant or paladar. Therefore, the invitation has been made: first read, then taste and you will confirm if you agree with our expert.
Ajiaco Café
What more than seven years ago was the car porch of a home in Cojímar (a coastal town in the outskirts of Havana) is now a thatched roof ranchón with its wooden stools and tables, one of the most renowned in the new Cuban restaurant business: Ajiaco Café.
It is one of the few paladares that preferentially is betting on Cuban cuisine with recipes from yesteryear and more contemporary ones that excel in their right since the moment in which we read the day's board and open the "captivating" and different menu to what is imposed as tendency. Taro fritters, fish croquettes and mixed pasties, all ours, are served as a courtesy of the house. Also exquisite are the bag of house fritters (made from codfish, cassava, corn and sweet potato with jerky) and the preparations with fresh corn (meat stew with corn and tamales in leafs). And, of course, the dish for which this paladar was named, its stylized version of the Cuban ajiaco (meat and vegetable stew), which stands out for its ideal linking of ingredients that make it lighter and give it a more agreeable taste.
It is a space which we return to because something different always surprises us. We once discovered evocations of the indigenous cooking in a taro soup and cassava with small mounds of meat; on another occasion we read on the board about the suggestions for the day: fried sweet potato and taro, both with a vegetable filling, how delicious! (I have only seen here these other variants of friend plantain with fillings, so in fashion in current Cuban gastronomy.)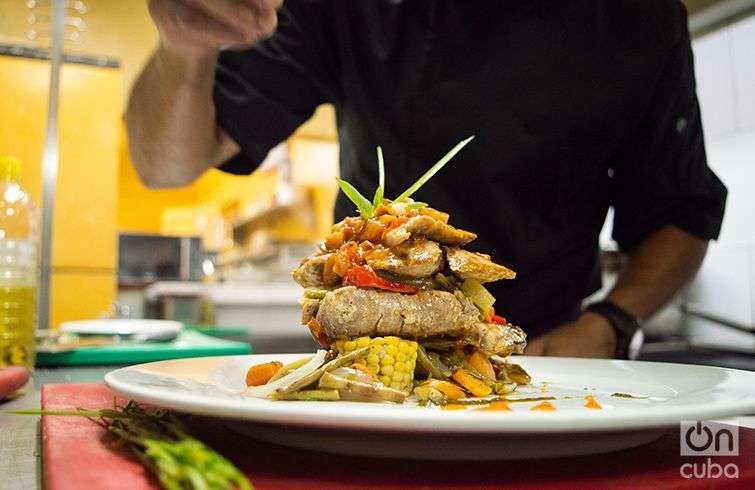 Its cuisine's seal is extolled with the house sauces made from tropical fruits, rum or herbs and spices. We recommend the version of the classical barbecue sauce made with honey and guava for pork chops, lamb with tamarind sauce, the starter with octopus with a coriander and cayenne pepper vinaigrette and the robust beef in rum and coffee cream.
Its cuisine is honest: as soon as we sit down the dishes and products of the day are announced. Its aromas do not deceive, they are not disguised, and Pedro Tejeda (the manager) is not afraid of proposing the simple and popular Cuban style rice (fried egg, white rice, tomato sauce and fried ripe plantains) together with the rice with chicken with slices of pimentos and bathed with beer or the seafood rice, among others. The fresh fish of the day sautéed with basil, tomato and garlic can be accompanied by cassava with garlic, oil and vinegar sauce, an unusual combination that extolls the natural flavor of the rock bass and the contrast between the well-carved tomato and the ivory of the boiled tuber also merges with balanced levels of acidity and the slight flavors of spices without relegating the "taste of sea." The combination of lobster and shrimps made with rum in a Cuban sauce, fish made with a sort of bouillabaise made of a mix of fresh fish and seafood Caibarién Salsa de Perro sauce, the typical home-made jerky and the preparations with fresh corn (meat stew with corn and tamales in leafs) are its most "Cuban" offers to not be forgotten.
We recommend working on home-made desserts based on original recipes, thus we will be able to live the experience of activating the "sensorial memory" of our palates. We are specifically referring to guava shells with cream cheese – a distinctive dessert but complex for foreigners' taste -, which should not be accompanied by hot strips of fried dough, or served in an old fashion with sugar on its rims or honey to accompany. This presentation proposal conspires against the original formula and has an influence on inadequate temperature changes and in a deceiving perception of its physical characteristics (color, texture, flavor and smell).
Ajiaco Café's cocktail making is distinguished. The bartender works with professionalism the proportions of ice, the mixtures with beer and with Cuban rums, and is crowned with the strong and aromatic cocktail of the house, Mojito Ajiaco (special Añejo rum, bee honey, natural lime juice, mint leafs, soda water, ice).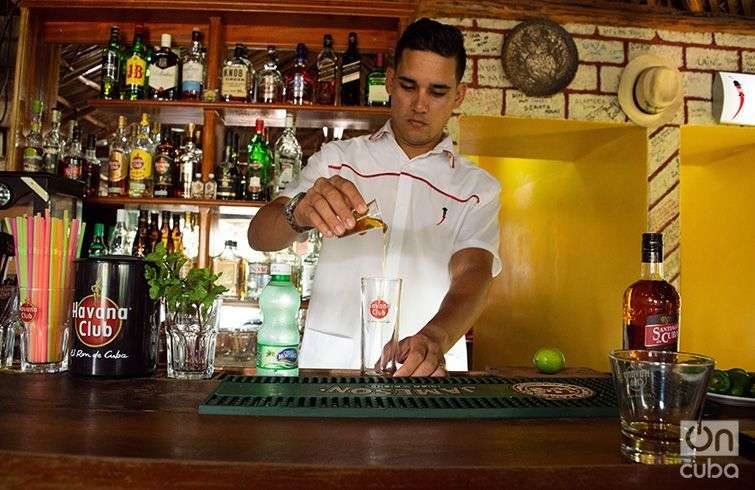 They do not include the 10% for the service and maintain an attractive quality-price correspondence. With the courtesy presentation of the card Friends of the House to clients – chosen for being repeat patrons -, they apply the marketing technique to underline success; in this case they get 10% off.
The card of Friends of the House is given to repeat clients and clients suggested by regulars, that is to say, it is given to persons motivated to make a repeat visit to this restaurant.
We invite this paradigmatic restaurant to maintain the recipes of which Cuban gastronomes and many clients have unique memories, those that the Ajiaco Café's team has relocated with an in-depth and sustained research of our culinary and cocktail-making history.
A question: do they prepare the Bull? We love that refreshing drink that appears in many Cuban cocktail recipes and of which we lost track a long time ago. Long live Ajiaco Café!
Evaluation:
Salon: 9.3
Kitchen: 9.8
Bar: 9.8
General: 9.6 EXCELLENT
Authors