Ted Nash needs no introduction among jazz lovers. Multi-instrumentalist, composer, conductor, arranger, producer, pedagogue, the American is a prominent figure on the contemporary jazz scene. He has been the winner of two Grammy Awards, has a vast discography and an applauded career on stage.
Born into an eminently musical family, Nash  (Los Angeles, 1960) was one of the founders of the Jazz Composers Collective. He has been in various formations throughout his career and is currently a member of the Jazz at Lincoln Center Orchestra, directed by famed trumpeter Wynton Marsalis.
At the same time, he carries out several personal projects. One of them was delivered these days in the Cuban capital.
He came to the island to participate in the 38th International Jazz Plaza Festival, which ended this Sunday and brought together a wide range of Cuban and international musicians, including a large group from the United States.
"Jazz x Art" in Fine Arts
Nash did not travel to Havana just to introduce himself to the Cubans as a musician — he plays different types of saxophone, clarinet, flute — and shares the stage with other artists; his stay also had an educational profile, in which he combined musical and jazz creation with another of his favorite manifestations: plastic arts.
"Jazz x Art" is the name of the project that the U.S. musician led last week in a privileged setting: the National Museum of Fine Arts, in Havana. In its Cuban Art building, he brought together about twenty young students from the National School of Art (ENA), with the collaboration of professors from this teaching center on the island, under a singular premise: to be inspired by works exhibited in the museum, to improvise based on them and compose a musical work.
From Tuesday to Saturday, the participating students created their own pieces, both individually and as a team, in the halls of the institution. In addition, they participated in group work sessions — in a room that displays paintings by the notable Cuban artist Wifredo Lam, for whom Nash does not hide his admiration — in which they showed their progress and received guidance from the artist and other professors. The entire exercise, moreover, was recorded with the idea of leaving "documentary evidence of how the workshop was held and how the pedagogical and creative process turned out," according to the musician.
The closing of the workshop, on January 28, coinciding with the 170th anniversary of the birth of Cuban national hero José Martí, was a concert in the courtyard of the museum. In it, the works composed by the students were interpreted, Ted Nash himself performed with Cuban musicians and, as an added value, the Malpaso dance company presented a choreography inspired by the pieces composed by the students during this week.
"We are working on the composition, which is very difficult, and we are doing it from scratch, taking works of art as a starting point, from which we create with passion, with creativity," Nash explained in an exchange with the press. The artist highlighted "the talent and motivation" of his young students as the key to the success of the workshop and said he hoped that the result of the project would be "magnificent," with "deep" compositions, and that it would contribute to the artistic growth of the students.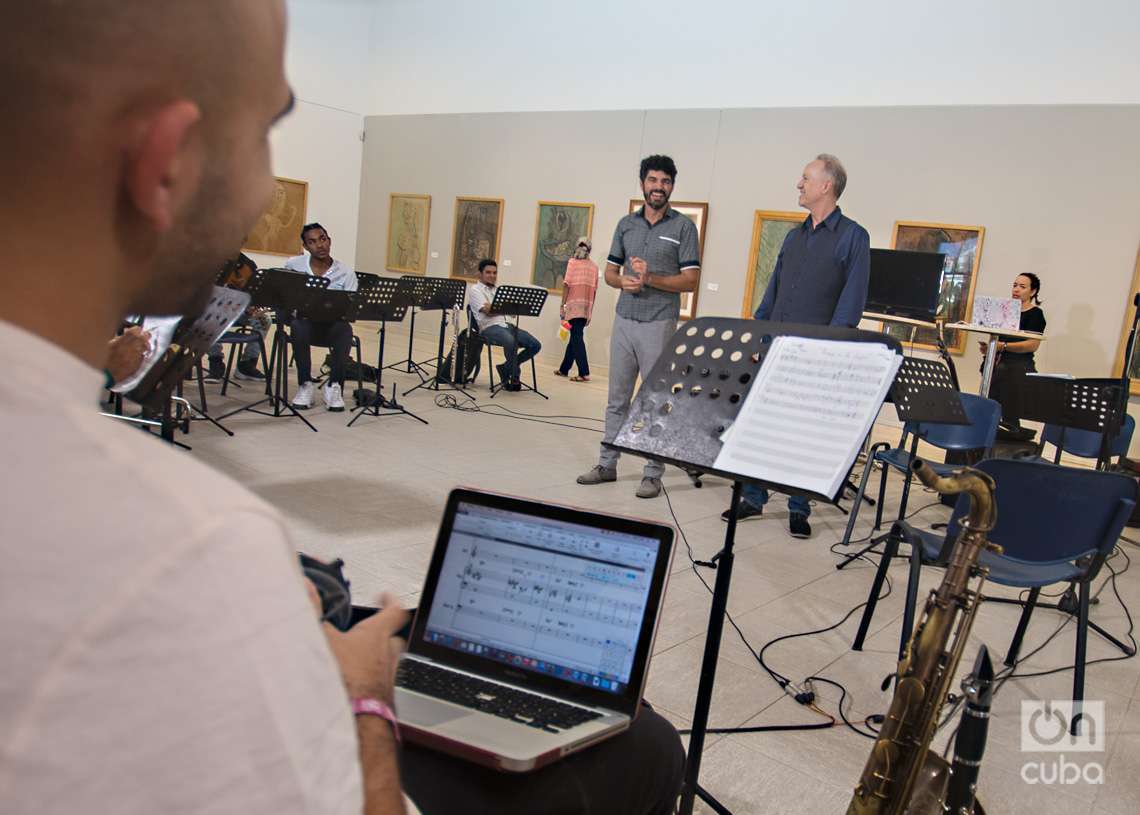 Jazz, the project, the festival
For Nash, "one of the most beautiful things about jazz is that it gives musicians the opportunity to get to know themselves better. That is a feature that makes it very special. It is a journey of self-knowledge, through the creation process, of improvisation as a way to bring out that creativity."
"Through jazz we take something from our soul and share it with people," he says. "My greatest hope is that, thanks to this project, the students will really have the opportunity to know something more about themselves and can discover everything that they have inside. And that at the end of the week they can also present themselves to other people, in front of the public, and that these people get to know them through their music, their creations, their improvisation."
"Jazz x Art" has as its precedent a similar project carried out by Nash in China, the result of which was a CD that was just finished being produced, according to the musician. "Here we wanted to do something similar," he told OnCuba, "with the particularity that, unlike the Chinese, who are more closed and I think also more fearful of showing themselves to others, Cubans are more similar to Americans, more open, more expressive, and that is reflected in the way they have embraced the project."
"We selected this museum because we think it is one of the most beautiful sites for Cuban art, with a fantastic collection," he adds. "As I walk through its rooms I feel highly inspired by its works. It is an art with a very strong connection to U.S. and international art, which makes inspiration flow, and is perfect for this exercise, which aims to teach students that they can show their own expressiveness and creativity through music, improvisation. And also help them develop their musical and composition skills, to understand that musical composition, jazz, is a way to develop their talent."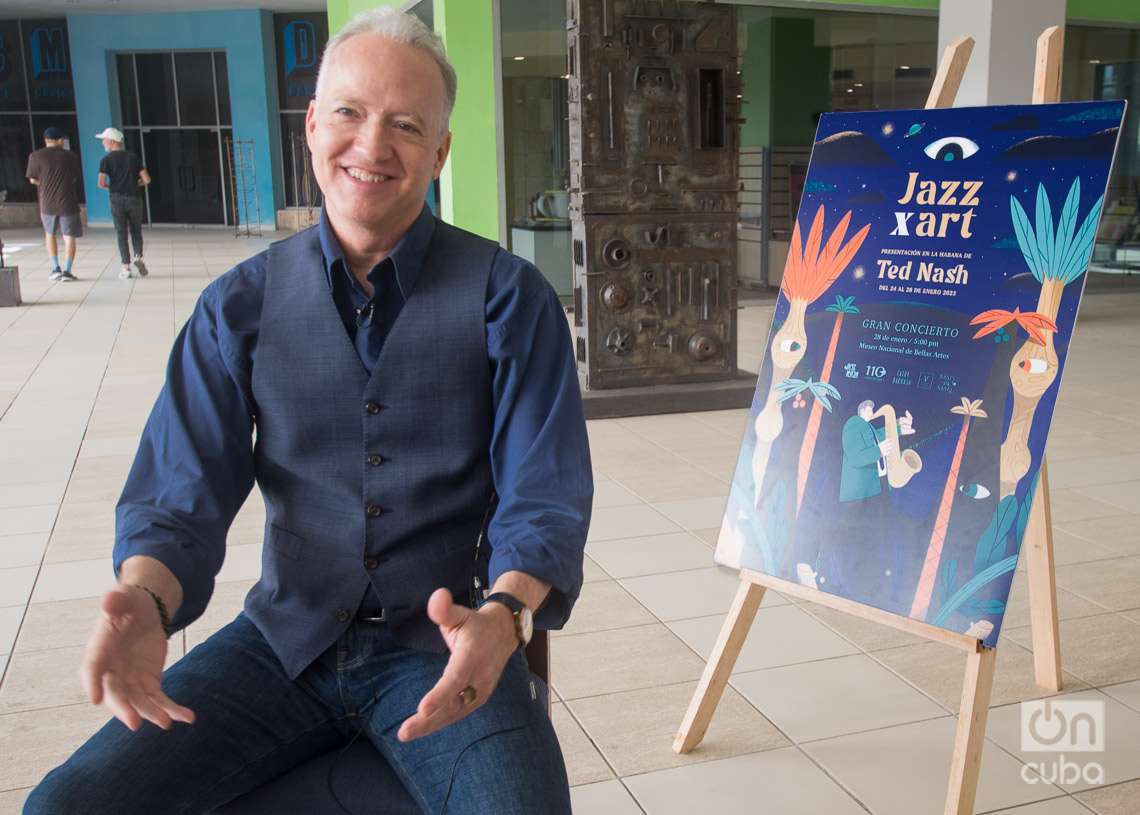 Ted Nash celebrates that his project can materialize during Jazz Plaza, a festival that he considers "incredible." "I had the opportunity to come here six years ago, and it has been one of the most rewarding experiences of my career," he says. It is an honor to play at this festival because it is one of the most important and famous internationally. And that possibility of collaborating through music, of feeling that energy that jazz has all the time during the event, in the different concerts, and of sharing with the incredible Cuban musicians, and also with artists from different countries, the way everyone comes together on stage, it's something very special."
"It's great that this project is part of the festival and that we can perform at the museum. That for me is an enormous satisfaction, a very important experience that I am going to share with my colleagues and friends when I am back in the United States and that I know that I am going to talk about for a long time, because it means a lot to me," he says.
Music in Cuba-U.S. relations 
Regarding the meaning of jazz as a bridge between Cuba and the United States, at a time when bilateral relations are not going through their best moment, the artist defends music as "a special way of connecting cultures and peoples."
"Music and art are a way for people to be together and overcome any obstacle. That is something that transcends the political scene," he responded to OnCuba. "Political relations between the two countries have had ups and downs, advances and setbacks, and I hope they can go in a direction in which we are more connected."
"Personally, my motivation to be in Cuba, at the festival, is not political, but artistic," he adds. "And the fact that artists from the United States, like me, and also from other countries, come here with all their passion to share with Cuban artists, is a clear example that art, creativity, is the most important thing for connecting people. For me that is the main thing."
Young people on stage
At 18, Nancy Estrada is one of the young participants in the project. A native of the Isla de la Juventud, she is in her third year of Intermediate Level at the ENA, where she studies saxophone, an instrument that she confesses to having chosen "by mistake" when she was starting out in music and which now, after several years of learning, she says she's "in love" with.
"For me, it is a great honor and a great opportunity to be in this workshop with Ted Nash, who is an excellent musician, one of the greatest instrumentalists, and who also plays the saxophone, like me, as well as other wind instruments," she tells OnCuba during a short break in one of the corridors of the museum, where just a few minutes before she was looking for inspiration with her saxophone and capturing her ideas on a staff.
"I am very grateful to my school and to my teacher Janio Abreu for being able to participate in this workshop with Nash, someone with work recognized throughout the world, with Grammy awards. It is spectacular to be able to see him in person and receive classes and advice from him, to be able to learn new things and get feedback from his experience. I am very happy and grateful for it," adds the young woman, who is working on the composition of a piece of music in collaboration with a friend, a clarinet student, based on the work "Pilluelos," by 19th-century Cuban painter and poet Juana Borrero.
"We chose that work because it caught our attention when we started touring the museum. We didn't know it, we discovered it here, and we were impressed by the way in which the artist reflects the world of these children, who despite poverty are united and happy for this, for being together and being able to share their friendship and their games, their childish pranks. I think that's why it's called 'Pilluelos,'" says Nancy about her choice.
Equally satisfied by participating in the workshop is Alejandro Sánchez, who studies clarinet at the ENA. For this young man from Santa Clara who lives in Havana "it is something totally incredible to be able to learn from a great teacher like Ted Nash. Having at our disposal his great experience, his sensitivity, his knowledge, everything he can teach me and my colleagues, is great."
Sánchez explains to OnCuba that this is his first "serious experience" in composition. "I've had other ideas before, but what I do is I memorize them and then play them. I had never written them before, so this is something new for me," he reveals. "With this exercise, we are undergoing a change from what we traditionally do: look for another path and other sources of inspiration to compose, and although it is not something I have done before, it has worked quite well for me."
When we found him, he was playing his clarinet in front of "El rapto de las mulatas," one of the best-known paintings by great Cuban artist Carlos Enríquez. "I can't quite explain why I chose it; it caught my attention because of its colors, because of the story it tells, and I wanted to be inspired by it," he says.
"It is a work that I already knew, but I did not come with it in mind for the workshop. I just reconnected with it when I saw it at the museum. It gives me a lot of restlessness, a feeling of discomfort with what is happening in the painting, and that is what I try to capture in my composition," the young man abounds.
However, when we interviewed him, he had not yet decided if this would be the work that he would show as the final exercise of the workshop.
"I have already been working on it, but I am also seeing other paintings and maybe I will write about some others," he details. "Right now I am experiencing various sensations and trying to transmit them through the composition. I'm a little nervous about playing something of my own in front of an audience at the concert on Saturday, but I know that's part of the process, and I hope that I can learn as much as I can from Ted Nash and that everything goes well with his help and that of my teachers, because in the end music is the greatest thing for me."
---
TN: Quotes by Ted Nash were retranslated from the Spanish.
Author