With the spread of the coronavirus around the world, there has been an explosion of memes on social networks with the popular theme of "Me voy," by the popular Cuban musician Cimafunk. The song was just what was needed for many Internet users to call on people, in a humorous tone, to stay home in the face of the health emergency caused by the pandemic.
"Me voy," belonging to the first Cimafunk album, Terapia, is experiencing a rebirth at this time after the enormous success it achieved after its premiere in 2018 by this musician and composer born in Pinar del Río, one of the undisputed stars of contemporary Cuban music.
The artist has just returned to Cuba after several tours outside the island and has gone to lock himself up in his house, but he has not stopped developing new projects that he hopes to resume when the health emergency is just a bad memory.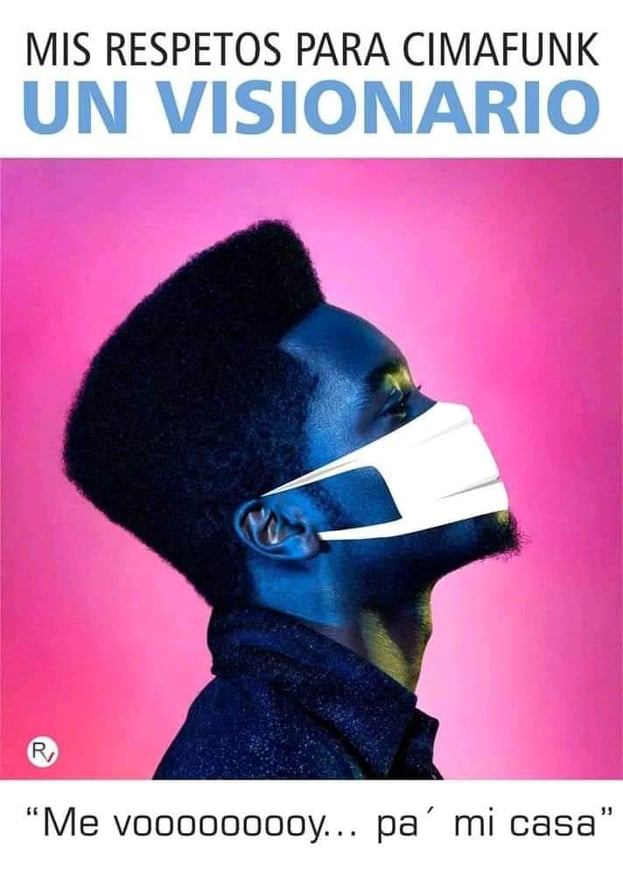 The musician has kept himself abreast of the new course his most popular song has taken so far, has reviewed the memes on Facebook and is grateful that it takes on a new meaning after fueling thousands of people.
"It has been incredible what has happened with the song because it has served to boost the recommendation of these days that is none other than 'stay at home.' It is very nice that people are using my music for such a noble purpose as it is to exhort people to preserve their lives. It is very gratifying that the theme not only serves to enjoy it, but also to take it as advice," he told OnCuba.
Cimafunk has a year ahead in which he could continue to accumulate merits on world stages to strengthen his career and international projection. In March he was going to participate in the mega festival Lollapaooza, in Argentina, where he would share the stage with monsters like Guns and Roses and The Strockers. The event was postponed, like the vast majority of world music festivals, due to the coronavirus pandemic.
The musician is taking advantage of the quarantine to prepare some songs that will soon come out and shape various audiovisual projects in his head.
"I'm now putting together some mockups with my music and organizing the work that will come after everything is OK. I'm trying to take advantage of this time to anticipate things and then feel better. I will be able to resume later the events that were postponed. This disease has been global and has paralyzed many things. It has been very impressive for everyone," he explains.
https://www.facebook.com/CimafunkOficial/videos/523776271662802/
Reflection has begun to set the course for a new search for Cimafunk, linked to human spirituality.
"I tell Cubans to take care of themselves, to spend time with their family, to love each other, to take precautions, to become more aware of the danger and protect themselves. There are people who say that this situation is silly and downplay it, but it is something very dangerous," he says.
"The vast majority of the world has never seen anything like this," he adds. "Sometimes in these circumstances one realizes that one paid attention to things that were not so important and that one had concepts without any sense, and then one can start changing them. Now the power of nature over our minimal life has been demonstrated and we have to learn to ponder what is really valuable for our existence."
https://www.facebook.com/CimafunkOficial/videos/553293381978613/
The arrival of COVID-19 to almost all parts of the planet has made it necessary to suspend concerts and has forced many artists to take a forced time off. The music industry will undoubtedly, due to the pandemic, see the foundations on which its economy has been based moved.
"This situation greatly influenced the market and the music industry. Many activities have stopped but at the same time creativity has increased a lot because all of us musicians are alone or with our families. People are experiencing many things that they never experienced before," says Cimafunk.
"A lot of materials are being produced for the Internet and I think that is very good for Cuban artists who are doing concerts and a group of actions online. We are watching videos of young artists that we didn't even know existed and are showing very good work."
‪Descárgale al documental del amigo James Partridge "Electrificando La Habana con funk afrocubano". Pa' que no te me…

Posted by Cimafunk on Thursday, March 19, 2020
Before becoming a true revelation of Cuban music, Cimafunk was in a medical school classroom in Pinar del Río. In the second year he set aside his career to dedicate himself to singing. He keeps in contact with excellent friends and colleagues from those days when he thought of being a doctor. But his ties to the practice of medicine also come from his own bloodline. Cousins ​​and an uncle, among other family members, are doctors and now, says Cimafunk, they are in "the eye of the storm."
"I have many doctor friends who are in the eye of the storm, in the storm. In Spain, Cuba and other countries. Some are living the health crisis far from their families. That is very strong. Right now they are in a hospital taking care of patients and later they will go to their homes where they have children, wife or elderly people. This is very hard. It is a psychological state that we cannot imagine and of which the doctor is possibly not very aware either. We really have to thank all those doctors and nurses for all the effort they are making for human life. It is a very hard responsibility and you have to support them, you have to treat them very well," he stressed.
The musician knows very well what he is talking about. "My uncle, and my cousins, who are surgeons, are treating patients in Pinar del Río. Everyone is fighting hard against the disease."
In the coming days, the musician will be presenting a selection of projects on social networks, among which there will surely be some health recommendation accompanied by the contagious rhythm of "Me voy."
For now, Cimafunk is adapting the lyrics of the song to new times to make sure he will stay at home and hopes, he says, that everyone will do the same.
Authors