Videos, phrases, songs of the artist are reviewed over and over again. Her desperate cry of "Si me queréis, irse" is already part of the Spanish popular heritage; she decorates t-shirts and mugs for sale inside and outside of Spain, and there are those who even have the face of the Jerez-born singer tattooed somewhere on their body. 
In January 2021, 25 years after her death, the Cruzcampo beer brand launched an advertising campaign starring a deepfake of Lola that put her back on the screens. "Do you know why I was understood all over the world? Because of the accent."
Yo soy la Lola señores
La Lola, que usted espera
Con traje o bata de cola
Yo soy la Lola señores
De Jérez de la Frontera
Y es mi cabeza gitana
Mis brazos dos monumentos
Y en los flecos del mantón
Yo me llevo enreao
Un suspiro de pasión
Some of the most prominent appearances of La Faraona on television are used in content that circulates daily on social networks. Lola Flores is even considered a precursor of crowdfunding, for the solution she proposed to deal with her debt to the treasury: "If each Spaniard gave a peseta."
We can like Lola Flores or not. We can try to keep distance with that intensity that she, as one of the most famous folklore artists, puts into her art; and, nevertheless, it will be impossible not to recognize that María Dolores Flores Ruiz turned Lola Flores, a century ago, into one of the most relevant and interesting personalities in Spain and the Spanish-speaking world.
Lola in the sentimental memory of Spain
The famous Barcelona writer Terenci Moix and professor Alberto Romero Ferrer, among other important researchers and essayists, maintain that Lola Flores was one of those exceptional cases where, in addition to music, flamenco and copla, a very significant part of history and the sentimental memory of post-war Spain and theater and cinema of the 1940s, 1950s and 1960s intertwined.
The artist satisfies a whole system of emotions, images, voices and sounds that, thanks to the stage, the radio, the vinyl, the big screen and the media repercussion of the character, will help to build a certain and unequivocal imagery and a certain self-iconography of identity about Spain and the Spaniards with a notable presence in the most diverse aspects, including the most domestic spheres.
Over the years, Lola Flores "would become an extraordinary reference of the time, a contradictory icon of postmodernism ― Lola Nacional, Lola de España ―, as some of our postmodernists were able to portray, who always knew how to see the qualities of the copla and its performers, beyond its ironclad and self-interested appropriation by the Franco regime, with special attention to our flamenco from Jerez," highlights professor Romero Ferrer in his essay Lola Flores. Cultura popular, memoria sentimental e historia del espectáculo, awarded with the 2016 Manuel Alvar Prize for Humanistic Studies.
Pemán ha dicho de mí
Torbellino de colores
No hay en el mundo una flor
Que el viento mueva mejor
Que se mueve Lola Flores
Y por si no lo sabía
Yo se lo digo señor
Venga, venga ese aplauso enseguia
Que alegre mi corazón
Yo, yo soy la Lola, alma mía.
In addition, he points out: "Given her social and cultural protagonism, (Lola) became an effective interlocutor of this 20th-century timeline, in a sequence always capable of adapting to change ― like most of the Spaniards of her generation ―, without for that reason abandoning her exceptionality and truth in the world of art and entertainment."
Lola and Celia
Lola's proximity to Cuba has been the subject of various articles published in books and magazines. When in 2005 her eldest daughter Lolita appeared on the island, she highlighted that link between La Faraona and Havana. Here, in addition to rubbing shoulders with the crème de la crème of Cuban show business, Lola had an affair with a pimp allegedly named Jorge Leme (or Lesmes). In the four-episode documentary series Lola, produced by Movistar+ in 2021, the story of that turbulent affair between the gypsy and the Cuban is heard.
"He was very handsome with his white guayabera. Without exaggerating, just like Marlon Brando. I was in love with him because he was a beauty, but he always looked dizzy. I knew that cocaine existed, but I didn't know about marijuana. He gave me two 'puffs' and I felt like Marilyn Monroe. We go to the pool and I see he has a stab wound from the neck down to the bottom of the back and I was stricken," she said.
It is said that this Jorge traveled as far as New York in search of Lola, threatening he would kill her if she didn't continue with that romance that, logically, did not come to fruition.
What did last was the friendship between the interpreters of "Limosna de amores" and "Yerbero moderno," respectively. The origin of that endearing affection and mutual respect can be found in the Spanish woman's first trip to Havana in 1952, says Omer Pardillo Cid, executor of Celia's legacy and president of the Celia Cruz Foundation.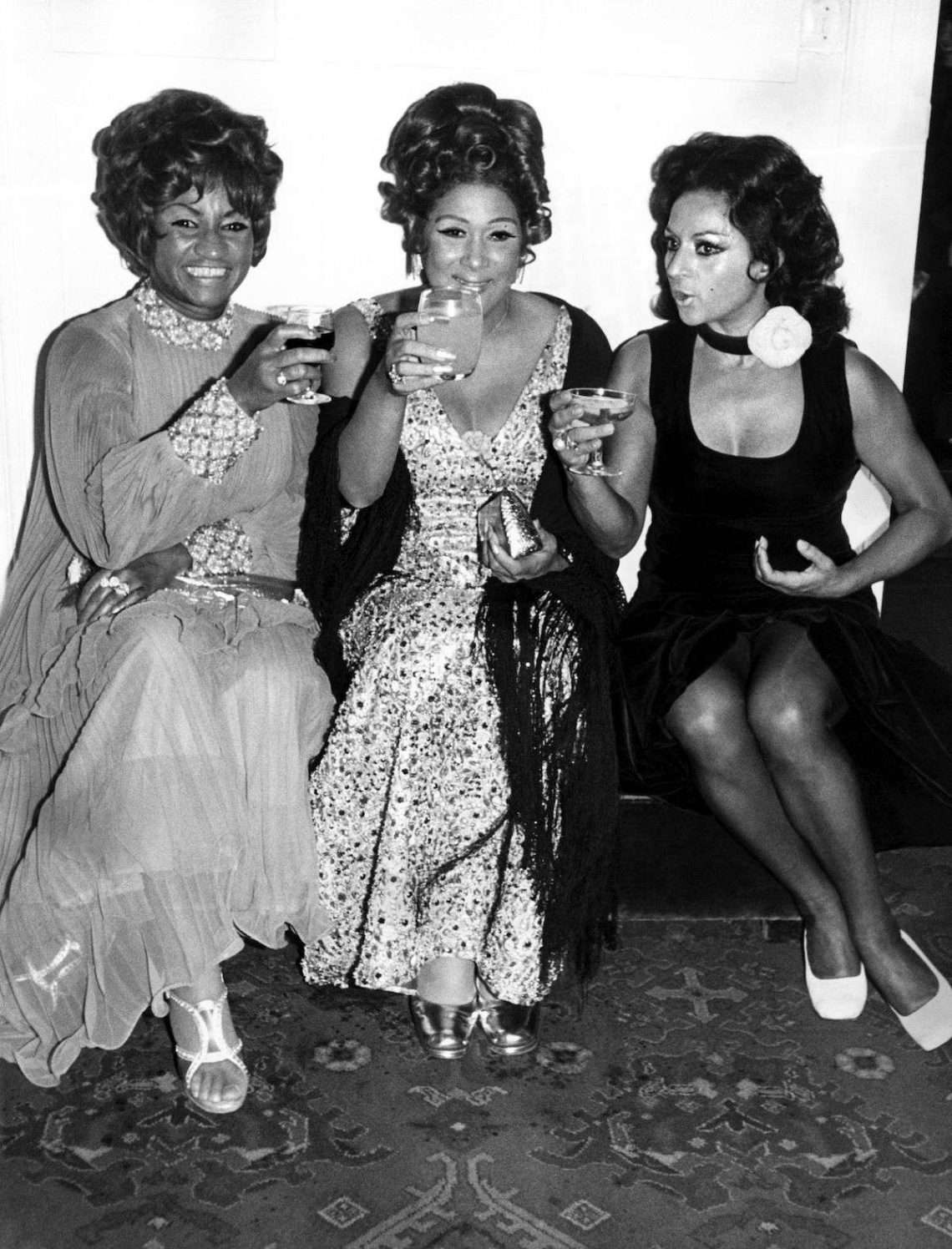 A friendship for life
Lola's debut in Cuba took place on August 4 of that year at the Teatro América, accompanied by flamenco dancer Francisco Manzano Heredia "Faíco," guitarist Paco Aguilera, her sister, also the flamenco dancer Carmen Flores and the backing of the Cosmopolita Orchestra.
"Since then, a friendship arose that would last a lifetime. When Celia began to visit Madrid frequently in the 1970s, Lola was always the one responsible for the Spaniards getting to know her. The best reference is to see the tribute to Lola in 1990 that is on YouTube when Celia speaks to her at the end of her performance," Pardillo Cid explained to OnCuba.
Centenario de LOLA FLORES única e irrepetible Vivirá SIEMPRE pic.twitter.com/MuUb2tbNYD

— Celia Cruz (@CeliaCruz) January 18, 2023
Certainly, Lola Flores was key in the promotion and dissemination of our Queen, although it should be noted that since 1956 the privileged voice of Celia Cruz was already heard in Europe. Researcher Rosa Marquetti in the book "Celia en Cuba (1925-1962)" cites a report from the Cuban magazine Radiomanía y Televisión in its April 1955 issue:
"The records of the popular Cuban singer Celia Cruz have obtained the favor of the public in Rome and other European cities, since they are in great demand by record vending houses."
During those years in Spain, Marquetti explains, the radio was broadcasting her recordings with La Sonora Matancera and this is evidenced by the billboards inserted by the main newspapers such as La Vanguardia Española and brief programs with recordings by Celia and La Sonora Matancera through Radio Nacional de España.
In the video to which Omer Pardillo refers, Celia publicly thanks La Faraona for her tireless interest in promoting and helping different Cuban artists. Praise that was added by the great bolero singer Olga Guillot.
Burundanga and the stars
In front of thousands of attendees at the famous tribute that was offered to Lola in the city of Miami in 1990 and in which Julio Iglesias, Rocío Jurado, José Luis Rodríguez "El Puma" participated, among others, an emotional Celia recalls how Lola once she finished her performances at the downtown Caripen restaurant in Madrid, she would go to the Nueva Romana night club where the guarachera was performing with the firm purpose of publicizing the value of Cuban artists.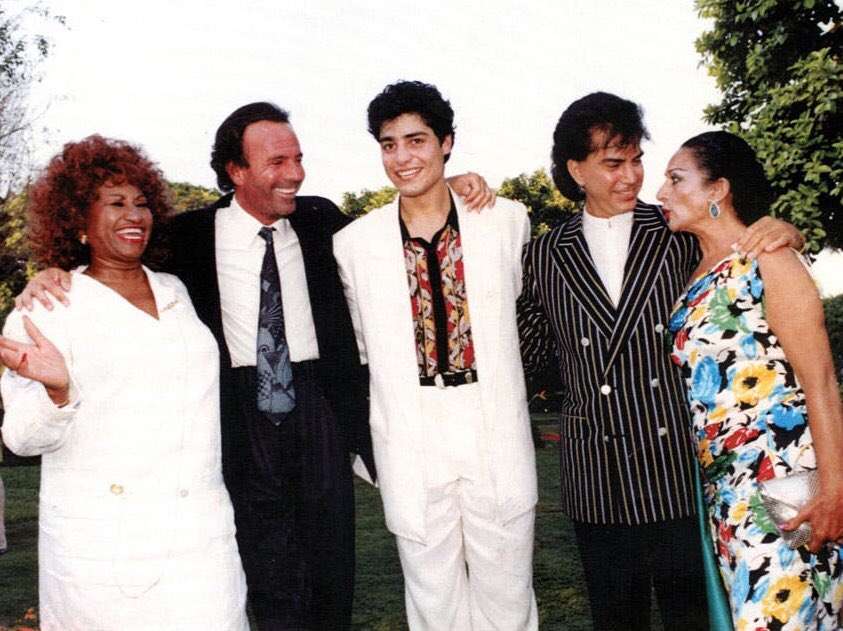 As a record of that Iberian and Caribbean fire we still have the recording of "Burundanga," which Celia turned into a success from its first recording on June 15, 1953 and versioned by both stars with more contemporary sounds at the suggestion of Tomás Muñoz, then president of Sony Records.
Many years later, the song by Oscar Muñoz Bouffartique plus the attractive personalities of Celia and Lola would serve playwright Luis Enrique Valdés to write the play "Burundanga" which was staged by the Matanzas group Las Estaciones, directed by playwright and 2020 National Theater Award winner Rubén Darío Salazar with designs by Zenén Calero and choreography by Liliam Padrón.
When in 1995 Lola Flores physically disappeared, "her Cuban sister" could not get to Madrid to say goodbye to her. A schedule of shows that cannot be postponed all over the world prevented Celia from being by the side of family and friends of the Gypsy Queen.
On May 16, from Los Angeles, Celia sends her condolences:
"Dear Antonio, Lolita, Antonio Jr., Rosarito, Carmen and the entire Flores family: Pedro and I are sincerely affected by the disappearance of our beloved Lola, for this reason we join you in your pain and the pain of all of Spain and the world artistic class. May God welcome our Faraona into his bosom."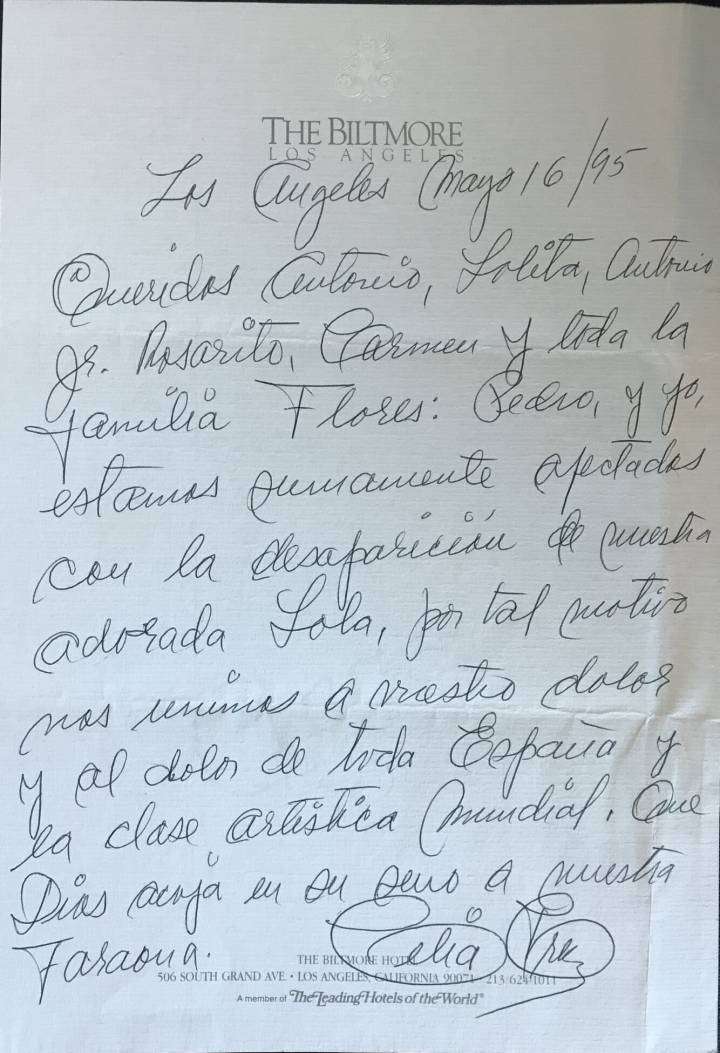 "They were very sad days and as soon as she was able to travel to Spain she went to the Almudena cemetery and there paid homage to her in her mausoleum. Whenever she was in Madrid, Celia would come to the cemetery, which shows that Lola remained a part of her soul," recalls Pardillo Cid.
The most universal Cuban woman managed to live until 2003. During that time she recorded the song "Canto a Lola Flores" (Ángel "Cucco" Peña/ Guadalupe García García) for the album Mi vida es cantar (1999) and made a version together with Lolita Flores of the classic "Ay pena, penita, pena" (Quintero, León and Quiroga) with arrangements by Alain Pérez for the album Regalo del alma (2003). Weeks before her death and during the Telemundo network's tribute, Rosario, the youngest of the Flores clan, would interpret the well-known "Burundanga" in front of La Reina.
The world got to know the culture of Spain and Cuba largely thanks to the talent of these women. The two, with a very particular way of seeing life, defended the musical essence of each nation to the end. Celia was a worthy representative of the son, the rumba…. Lola raised the flag of flamenco, of cante. None was born in a gold cradle. They chiseled their careers, albeit in different ways.
Lola's centenary is joined this year by the 20th anniversary of Celia's death. Omer Pardillo tells us that they plan to release a live album and that the autobiography Celia. Mi vida by Ana Cristina Reymundo will be reissued on July 16. It will include new photos and an account of her legacy in recent years.
A century after her birth, we talk about Lola in the present, like of Celia. They have not gone. They remain and influence the young women who, like them, were born with a "magical quality" and defend their "accent"; those who are currently working to achieve their goals.
Lola is also Spain, as Celia is Cuba.
Author