The documentary "The World or Nothing," which narrates the life in Barcelona of two Cuban twins who want to fulfill their dream of becoming music and dance stars, premiered this Saturday at Toronto's HotDocs Festival.
It is the first documentary by Canadian director, actress and writer Ingrid Veninger, one of Canada's most recognized "indie" filmmakers with six fiction feature films so far.
In the film, Veninger, 50 years old, follows for 10 days the brothers Rubert and Rubildo Donatién Dinza, two 29-year-old Cuban twins who had arrived in Barcelona a few weeks before the filming to realize their dreams and make a space for themselves in the world of music and dance.
Hours before the premiere, the two brothers confessed to EFE that they were "nervous but very excited."
In an interview, Veninger acknowledged that when she started shooting she had no idea what kind of story to tell and that she was simply following a hunch that started in 2015. That year, Veninger and her partner spent Christmas, like many other Canadians, in a tourist complex in Holguín, Cuba.
"On Christmas Eve, I saw them on stage at the hotel. They were the best dancers. They impressed me with their quality, their charisma, their passion. That was the first connection. I thought about talking to them the next day, but I didn't see them," she explained.
In 2017 Veninger had to produce a documentary as part of the master thesis she was doing at York University in Toronto. She immediately thought of a documentary on the two twins she had seen at the end of 2015 in Holguin.
She returned to the same hotel on Christmas 2017, but did not find them. Finally, she got someone to give her a phone number and discovered they were in Havana, 12 hours by road from Holguin.
"We found a driver to take us to Havana on December 31 and to return on January 1. We agreed to meet at the reception of a hotel. That's where we talked for two hours," said the filmmaker.
For two hours they tried to communicate. Of the two brothers, only Rubildo speaks rudimentary English and Veninger does not understand Spanish.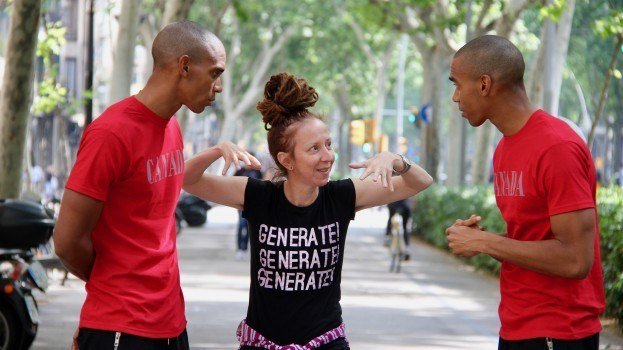 "Rubildo asked me about my life, my family. After an hour of conversation, Rubert says he thinks we are beginning to understand each other. After two hours, when they were about to say goodbye, I told them I wanted to make a documentary about them," she said.
"I promised to return in May 2018 to make the film. And they told me that was fine with them, so we shook hands and said goodbye."
For their part, Rubert and Rubildo acknowledged that when Veninger contacted them in 2017 they thought she "had the wrong people."
"We didn't think we had the talent for her to want to talk to us," they said.
But in April 2018, when Veninger contacted them again, the brothers told her that they had gone to live in Barcelona.
"First we went to Germany but there the possibilities of making ourselves known were more difficult. So we went to Barcelona," explained Rubildo.
Veninger recognizes that the whole project was "irrational" because she didn't know what the story was. "Everyone told me it was crazy. But I trust in those premonitions, that curiosity, those instincts."
"When I started shooting with them and I saw their movements and absorbed their connection and felt their energy in long sequences, I knew it was going to be a feature film. But only after 3 or 4 days did I feel for the first time that my whole film would be about the twins," she admitted.
"For me it is a story that connects with my past, when my parents came to Canada from the former Czechoslovakia and they had to leave behind everything familiar and everyone they loved and start from scratch and rebuild their lives," she said. "It's the story of many people in the world. It's a story about following your dreams against all odds and persevering with optimism. It's a positive story."
"I think that in these times when sometimes we feel hopeless, these two brothers who work so hard and are so passionate and fortunately have each other, are an interesting antidote against the lack of hope," she concluded.
One year after the shooting started, Rubert admits there were difficult moments in the filming and during the interview when they had to talk about their mother and father.
"We always do what they taught us," he said, "and we want them to be proud of us." And about their life in Barcelona, ​​Rubert said it is "great," but they also have had to adapt.
"In Cuba you play music on the street and dance with anybody just for fun, not for money. You can't do that here," he confessed with a smile.