Since March 18, the lines have not stopped in front of the Argos Teatro headquarters, at 307 Ayestarán, on the corner of 20 de mayo. They say that there is a list with the people who were "pending," just as is done when chicken or oil starts being sold at some point in the capital. But this time, it's theater.
"Even for that you have to stand on a line in this country!" an irritated lady complained at around 3:30 p.m., when they began to sell tickets at the box office on Sunday, April 2. "That type of works should be put on in the Karl Marx Theater," says another gentleman. The capacity in Argos Teatro does not exceed 150 seats.
That is why actor and director Caleb Casas would like to extend the program of "Los vecinos de arriba," the refreshing theatrical comedy by Barcelona's Cesc Gay (1967), considered one of the wittiest chroniclers of the urban middle classes.
"I would love to extend the time of this work, which we have done with such rigor, so that it can last more during the year. We want more fun!" Caleb told OnCuba.
With an audience of more than half a million, "Los vecinos…" has been performed in Spain, Argentina, and last year it was staged for sixteen consecutive weeks at the Teatro Trail in Miami, under the direction of Alexis Valdés.
Love, sexual exploration, monotony and the adventure of living as a couple are the main themes of the play, which is staged in Cuba with María Lorente as assistant director and performances by Laura de la Uz, Osvaldo Doimeadiós, Carlos González, Jacqueline Arenal, Eduardo Martínez and Casas himself.
The presentations will end this Sunday, April 16.
Based on this new theatrical success, we spoke with Caleb Casas, who graduated as an actor from the University of the Arts (ISA) and is well remembered for his performances in adventures on Cuban television such as Memorias de un abuelo, El elegido del tiempo or La Atenea está en San Miguel. He worked on highly popular soap operas and series for almost eight years in Colombia. In plays, he is remembered for his interpretations in La Celestina, Roberto Zucco, Vida y muerte de Pier Paolo Pasolini, Diez millones, Hierro, among others.
Did your way of doing television change in Colombia?
Everything changed. It is a dizzying market, people from all over Latin America seek to make their way on television platforms. It takes time to learn the mechanisms to understand the rules of the game and then to know what you want: a good casting agent, serious people to advise you, what concessions you are willing to make, and so on.
Especially when you come from a country where none of that happens. There is no such magnitude of actors, competition, resources and productions on par.
Over time I was able to work on interesting projects, gain some recognition from the Colombian public and, above all, feel financially well.
It was a cycle that came to an end, and I returned to Havana. I got married, set up a new home and dedicated all my time as an actor to Carlos Celdrán, director of the Argos Teatro company.
It's the best thing that could have happened to me, in every way. What we have done in recent years has been marvelous, the result of hard work, creation, research and acting fine-tuning.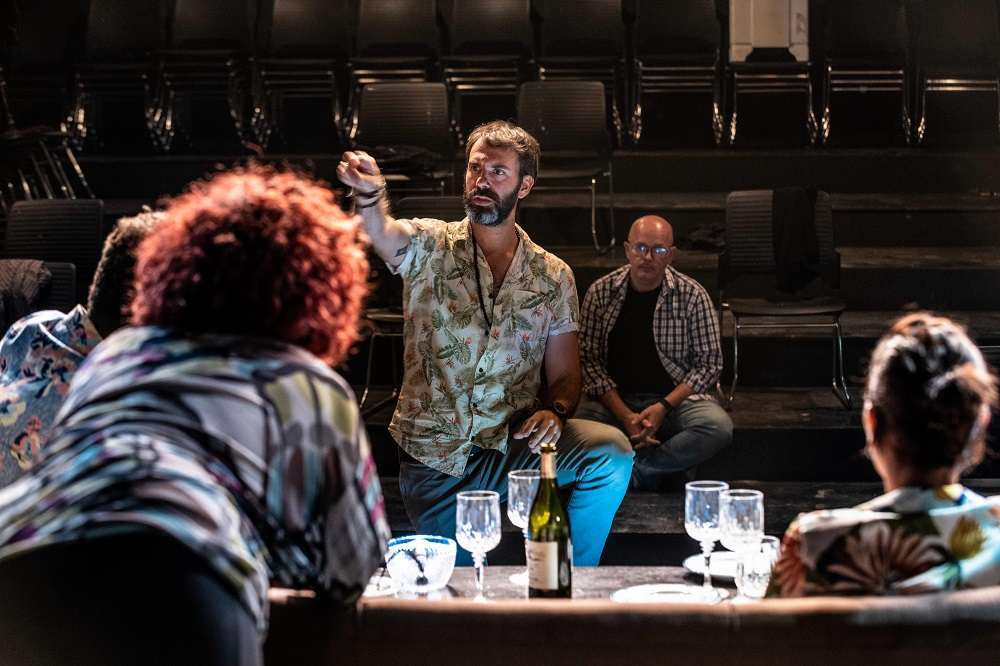 Are you not attracted to the idea of internationalizing your career more or is it a lack of proposals?
There have always been international proposals; but if you are not in the place, everything becomes more complicated. Sometimes they need you a few days in advance. It becomes unfeasible. However, I feel very good about what I'm doing here in Havana.
In Cuba you are still rarely seen, what's going on?
Television locates you in time and space, for the viewer and for the directors. By not being there often, people lose their place. They think I'm not in Cuba.
I did a lot of television in my youth: series, adventures, long periods dedicated to learning and giving all my energy. Now one thinks about it more when they invite you to a process that requires a long time under contract. Especially for the long periods of a novel and the few conditions and resources.
I try to make movies, theater, short things on television and make them rich and complex for work. I'm always open.
Your "idyll" with the plastic arts is known, do you dedicate yourself to painting seriously?
I do not dedicate myself to painting. I have small, very isolated moments when I pick up a piece of paper and play. It's like a language that you don't fully master and you go back to it and learn a couple of new words. I didn't get to develop it because my plans were to study the techniques at the San Alejandro Academy of Fine Arts; but the theater got in the way and won.
I draw on cardboard. Charcoal and graphite is what I use the most. I put away what I'm doing. Sometimes I dare and publish a sketch to see what reactions it gets.
Your desire to direct theater is clear, it is not the first time you have faced it. Is it about proposals that you have not been able to avoid or are you doing what you like best?
In Colombia I had to teach classes to be able to cover expenses while I was not acting. In those workshops I began to direct the final scenes of the process and I practiced with the students. Then I was in a film directing workshop in Bogotá, at Estudio Babel. The final job was directing a short, and it was one of the best experiences I've ever had.
I have been teaching classes for a long time, also observing directors, how they use their tools; and I have been lucky enough to see great actors live on the international stage. In addition, I have absorbed directly from the inexhaustible source of my teacher Carlos Celdrán.
I am definitely brining to fruition a dream, a need. The proposal was imposed on me. There was space, time and a desire that no one knows where they come from.
I like acting direction work: searching, scrutinizing and trying to ignite life through the actors on stage, in front of a camera, etc.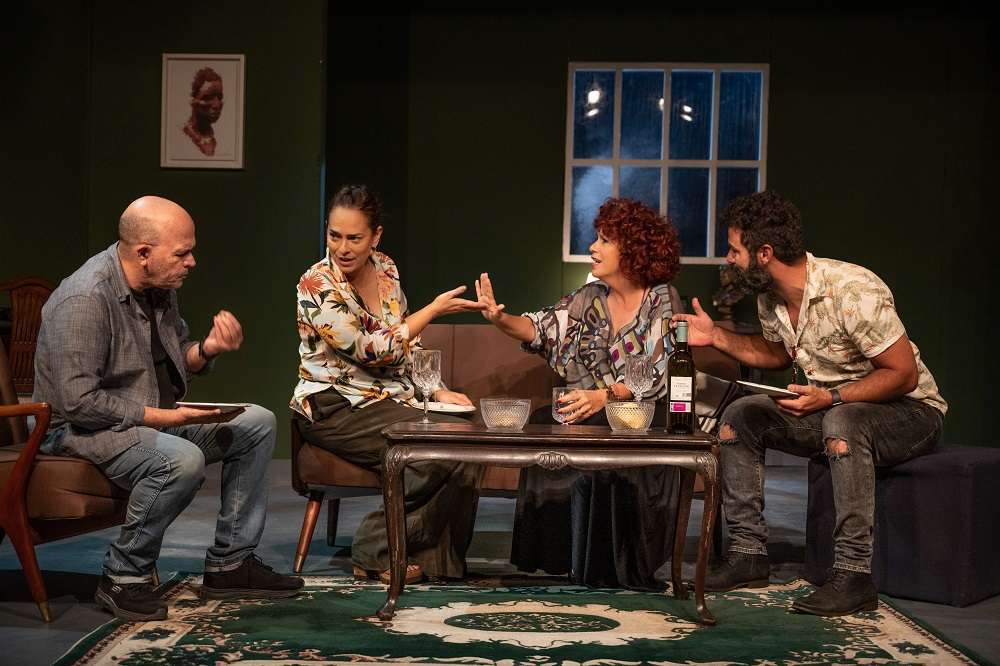 What kind of theater do you prefer?
The one that does not represent. The one in which the technique disappears and you see a story that moves you to the marrow. Where the silences are impregnated with more senses than the technical and empty screams. Where you really listen and really look.
How do you separate the actor from the director?
I cannot separate myself from the actor because that is my nature when it comes to asking another actor for something. From there it starts. But, as a director, I have to do all the general work; take care of all the details. It is opening in your brain more applications than usual.…
It is an exciting and exhausting undertaking. Ideas and decisions that are visualized and materialized before one's eyes. Tips you ask experienced sources. And, above all, a great responsibility that falls on your shoulders. Getting this plane (I like it better than the ship) at a good speed and height is quite an art.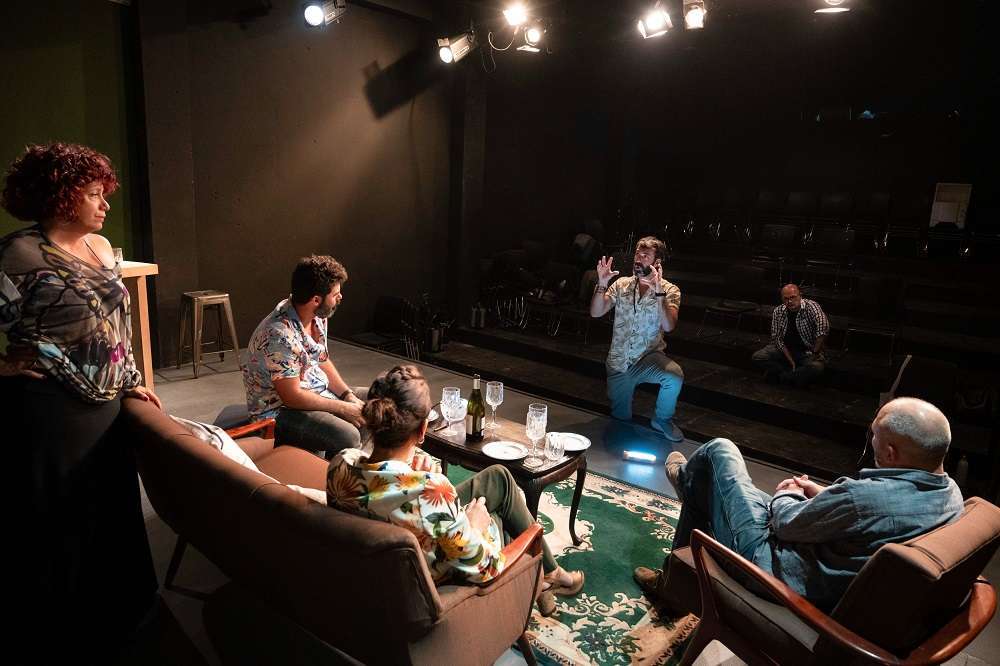 What would be missing to see your own group on stage?
What is on stage is what there is; it is the group that I have created with a lot of effort, patience and love. I don't know how long it will last. But creating an organization doesn't even cross my mind. I am Argos Teatro.
I imagine that doing theater in Cuba today is a greater sacrifice, is it so?
It is! That's why when you feel that you have solved 80% of the artistic decisions, you go to sleep happy. You ask for help; you get support from institutions; friends get together and collaborate. In this case many were delighted to collaborate.
The actors themselves have contributed everything so that the slightest thing is not missing, and to have what is necessary inside the theater. Of course, my wife Susana Pous. Without her I would not have the "gasoline" to start this engine every day.
Regardless of the quality that we may have achieved in the rehearsal process, the family warmth that we have created is very great. I am grateful for having been part of the meeting of such talented people and the discovery that they are human beings of extraordinary humility, tenderness and generosity.
Regarding "Los vecinos de arriba," do you like comedies?
It was something far away for me. As an actor, I have always trained in drama. In recent years all jobs have demanded a lot of pain. It's been exhausting. I never thought of directing in theater, least a comedy. I think the pandemic forced us to look elsewhere.
In one of my acting workshops in Havana with adult theater-aficionado students, we made an adaptation of Sentimental (Cesc Gay, 2020) for the end of the workshop. In the process, which was so much fun for them and for me, I understood that it was an excellent show for these times and that the Havana public deserved it. That is why I began the investigation for the rights of the original work to stage it professionally in Havana and under the seal of Argos Teatro.
With such well-known actors as Laura de la Uz, Jacqueline Arenal, Osvaldo Doimeadiós…it would be a sure hit. Wasn't that too easy a formula?
I knew that the work had to be staged in Havana, because there were no works of this style. The public needs to have a good time and reflect in other ways, and this tragicomedy intrepidly x-rays the conflicts and prejudices that a married couple can experience over time and speak without mincing words about sexual freedom in couples. It is a comedy that does not invite you to reflect, it demands it without you realizing it.
I knew that I had to find four good actors to achieve the acting fine-tuning that this agile text by Cesc Gay demands. It is a work that has been interpreted by great actors, being a box office hit in Spain, first in Catalan and then in Spanish, and later in all the countries in which it has had versions.
Bringing together great Cuban actors, more than a dream, was an obligation. That Osvaldo Doimeadiós said yes was a great impulse to call others. To our surprise and joy, Jacqueline Arenal, Edith Massola, Laura de la Uz, Eduardo Martínez, and Carlos Luis González gradually accepted while the project materialized.
I had to double the cast beforehand, due to the times and work of each one of them. Edith had so many projects going on at once that it was impossible for her to be with us at the end. It wasn't easy taking the risk of being trusted without really knowing what the outcome would be.
It has been a great lesson in generosity. That is why I am deeply grateful to each one of them; who without thinking about it accepted and displayed all their talent and energy to make this project something important.
Author