Cuban-American playwright Michael León, who this week is premiering in Miami "The Cubans," a family drama in English, believes that it is time for theater in the United States to reflect the diversity of its population.
In an interview with EFE news agency, León said that if Latinos like him can identify with films and plays generally referring to the white majority in the United States, Anglo-Saxons can do so with works such as "The Cubans," a story about something as universal as the family and its conflicts.
The only difference is that "rice with beans" is served at this family's table instead of turkey and mashed potatoes, says Victoria Collado, director of "The Cubans," a Miami New Drama production that will have its premiere on January 23 at the Colony Theater in Miami Beach.
In principle, it will be on billboard until February 16.
Collado directed the great theatrical success of 2019 in Miami, "Amparo," an immersion play that was on billboard for eight months and was written by the also Cuban-American Vanessa García. The play was about the vicissitudes of the creators of the rum Havana Club throughout more than 60 years of Cuba's history.
León, who belongs to the first generation born in the United States of a family of Cuban origin and who is based in New York, wrote in English "The Cubans" because he conceived it for "an American public," as he says in Spanish accompanied by Collado and actress Ashley Álvarez, his wife.
Ashley, also a Cuban-American, plays "Christy" in "The Cubans," who lives outside of Miami, where her family is, and she wants to know where she comes from and how her identity fits in, because the Cubans who arrived in the United States after 1959 had to start from scratch and decided to "erase all" of the above, says Collado.
"Christy" returns to the city for a family celebration and in the midst of discussions with her mother, who disagrees with some decisions she has made, something unexpected and shocking shakes the foundations of this family.
The universality of the story in "The Cubans" was successfully tested in a workshop in New York with audiences before starting rehearsals in Miami.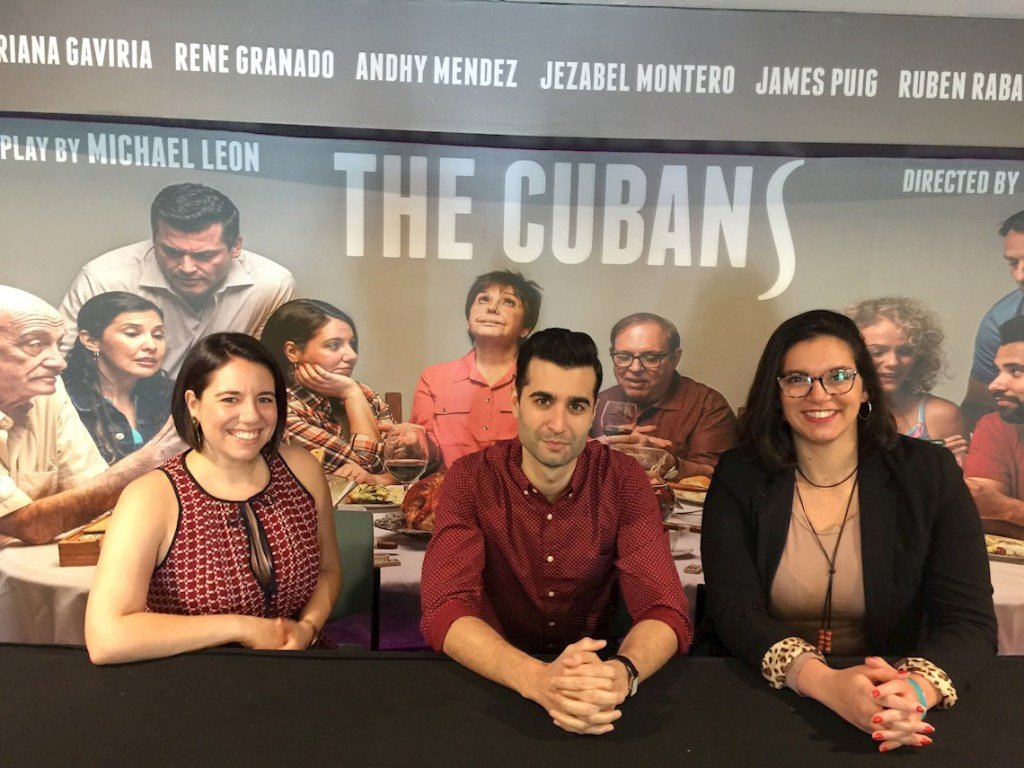 León tells EFE that in New York and in Chicago, where he also lived for a while, he felt "a little frustrated" because he did not see himself or his family or his community reflected in the plays that refer to current American society, "almost always written by whites and men."
"The Cubans" defends that Latinos are also part of the United States, emphasizes this actor and playwright who cannot say that he "is completely Cuban or completely American."
The story takes place in Miami in 2016, a significant year because it began a stage of "friction" in American society, although this drama does not talk about the elections or Donald Trump's victory.
Nor is there talk about the situation in Cuba or the "fervor" or "resentment" of Cuban exiles, but it is something that underlies a story where identity plays an important role.
Collado points out that although there are immigrants in "The Cubans," "they don't clean floors or are criminals." They are one more family from this country, like all families with their particularities, she adds.
The first part of León's drama is "completely American," but the second, in which the absurd is present, is like "a tribute to Cuban theater," adds Collado.
Although all the characters speak in English, the viewer feels that there are some who would be more comfortable speaking in Spanish and in fact there are words and monologues in the language of Cervantes.
The author, the director and the actress who represents the central character consider that they are the ones who can "translate" culture and what happens in Cuba for their American compatriots, although they also talk about the "legacy" and the "trauma" they have inherited from their relatives born on the Caribbean island.
That is why, says Collado, they feel "nostalgia for a country they have not known" and that they cannot visit or tour in the same way as the children of migrants from other countries can, because "it's a little different."
On the effect that the work can have on the public in Miami, the director points out that if they do their job "well," they will laugh and then realize that "The Cubans" is about something serious.
"The theater is a place of catharsis, a place for changes to occur," says León.
The artistic director of the work, Michel Hausmann, is convinced that "the next great American dramatic works will come from diverse and multicultural places like Miami and will be written, directed and interpreted by artists who seem and sound like our community."
"The Cubans" has a large cast, which also includes Adriana Gaviria, René Granado, Andhy Méndez, Jezabel Montero, James Puig, Rubén Rabasa, Vivian Ruiz and Caleb Scott, among others.
Authors