Watermelons, coconuts, squashes, eggplants, mangoes, cucumbers, garlic, eggs, papayas, onions and peppers, among many others…, have been assiduously and successfully represented in the work of outstanding plastic artist Arturo Montoto and, although he confesses he "will never abandon those icons," in his most recent personal exposition titled Dark there is a change of direction that surprises the spectator used to enjoying the exquisite textures and fleshy aspects of the fruits that confuse and entrap us with the splendid pallet full of color.
With Dark – displayed last August in the Gorría Gallery Workshop under the sponsorship of renowned Cuban actor Jorge Perugorría and which is located in the barrio of San Isidro, in colonial Havana – Montoto (Pinar del Río, 1953) retakes sculpture but on this occasion – and for the first time – based on large format: four sculptures and four canvases that demonstrate the intellectual solidity of the artist, his ethics and his unbiased stand when making a change of direction? or a coherent continuity? in his sustained work.
Resin and fiberglass are the support of the four singular sculptures created by Montoto and from them he emits signs, roads, concerns and accents that pass through an excellent dominion of the technique and through the intellectual questionings that have been – and are – a constant in the work of this painter, draftsman, engraver, sculptor and photographer, who graduated from Moscow's Surikov Academy with a Master's in Fine Arts in the specialty of painting: the rigor and acute teaching of the Russian academy is perhaps the solid foundation that holds up his creative building.
In the four sculptures the creator has magnified elements extracted from his painting – the egg, the watermelon, the baseball and the basket – and he has reinterpreted and decontextualized them from the two-dimensional work, for example, Mal de ojo – 1.60 cm x 1.65 cm – shows us a broken egg whose yolk floats on the white: "from the technical point of view, I had a hard time achieving this effect; on the other hand the egg has dissimilar symbolic meanings because not only is it consumed as food but also in many religious rituals," he revealed in an exclusive conversation with OnCuba Travel Magazine. Agua y carbón, made using resin, fiberglass and esparto – 1.25 cm x 1.50 cm – is a basket that, being a container, cannot retain liquids: "it is impossible to store water in a basket and that, somehow, is a type of philosophical thinking. There is also coal's association with the black."
The watermelon is used by Montoto in his paintings: it is a very beautiful fruit, of a tremendous splendor, which provides great expressive possibilities; that slice gives the idea of a barge. But it is also the Dividendo, "the portion we get of something that is complete, that is to say, that we can only get a portion of the watermelon." Sutura is a black baseball with pink backstitches: "the seam recalls that of a surgical operation and, although I am not connoisseur nor do I enjoy baseball like the majority of Cubans, I resort to baseball – the national sport – as part of our culture; it is an element that cannot be detached from what we call Cubanness."
Contrary to what could be thought – given that realism and figuration are an inherent characteristic of his work – Montoto's vision is "more sculptural than pictorial" and we become aware of this when observing the constant optic effects and the textures he clings to in order to achieve that sensation of volume: "I am very pleased with these large-format sculptures, among other reasons because I feel small in relation to them. It's a very gratifying sensation."
Vértigo de mediodía, Conjuros, Discurso primario and La muerte del behíque are the four canvases that round off the curatorial discourse or the poetics of Dark, pieces rooted in abstraction, something that for some time has been reflected in Montoto's work: suffice it to lift or extract the figurative elements and stop on the backgrounds to understand that he is basically an abstract painter. Another of the artist's self-purposes was to neutralize the color: "I didn't want prominence or any type of reading possibilities –  neither aestheticizing nor ideologicizing – and I set out to make the images, or the things that would be part of these paintings, objects of the Cuban's most trivial daily life; I accumulated things, but without any type of hierarchy to avoid the cliché, that is to say, to not reach the point of boxing what is Cuban in the palm tree or the bohío thatched-roof hut. Those elements undoubtedly form part of what is ours, but they aren't the only ones."
Despite the fact that black prevails, Dark is not a somber, gloomy or sinister proposal but rather a personal way of neutralizing the colors that have to do with a certain sentiment: "it could be that in recent times my state of mind has not been the best and I probably felt less happy; it is obvious that when there is a long period of sorrow, it spills onto the proposal. On the other hand, I consciously aimed to deny the previous and I feel that what is to come is a transition that will take me to the other end, to everything that is contrary to white."
To all those who "are concerned because I'm on an abstract path," Montoto specifies, "I can assure them that I will never abandon the fruits that have given me so much recognition; I enjoy that type of painting. I'm extremely pleased with what I have achieved and I'm not interested in the artistic currents, nor toward where they aim to redirect the art that, unfortunately, has become a manipulation of the media, the market and on occasions even institutional. I continue doing what I consider I must do and how I must do it and I need, first of all, to please myself because the artist who doesn't satisfy himself, satisfies no one," he emphatically concluded.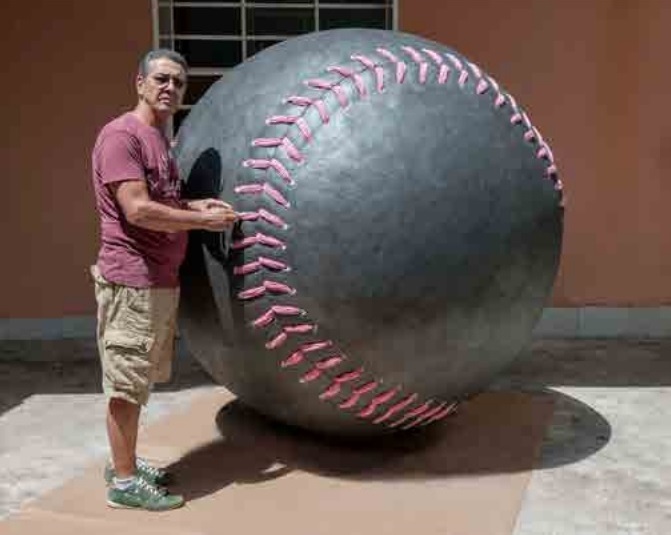 INVITATION TO READING
Arturo Montoto lives, dreams and creates in his studio-workshop located in the town of Guanabacoa – the cradle of maestro Ernesto Lecuona, of the unequaled Rita Montaner and the unforgettable Ignacio Villa, Bola de Nieve -, from where he builds his own universe and walks along the most undreamed-of creative paths: recognized for his representation of fruits that emanate and transpire their own smell from the canvas, he now winks at abstraction and constricts his palette to the color black and also approaches large-format sculpture. There's no reason to worry: "for next year I'm preparing a surprise. I will make an exposition with the fruits, but with new characteristics," he reveals to OnCuba Travel.
LOCATION:
Address of the studio-workshop: 170 Máximo Gómez Street, corner of Lamas, Guanabacoa, Havana
Email: [email protected]
Telephone: 77975402
Cellphone: 52746200,
Website: www.arturomontoto.com
You can find this article and more in our N°49 Magazine.
Authors