Any Argentine grandmother is already the "abuela la la la la la la." And that instills joy in them, fills them with pride because, suddenly, they become protagonists, they are treated with respect by the youth that, proud, does not skimp on cheering. At least now, once again, they have been put in their rightful place as part of a brief but potent euphoria.
The person, the group, the crowd that warns them while they support their team in a street, in front of the door of the building, or on a balcony reciprocates the tender and exciting loyalty and enthusiasm for the team of these women and men (there have been several examples).
https://twitter.com/RealTimeRating/status/1604636441526444035?ref_src=twsrc%5Etfw%7Ctwcamp%5Etweetembed%7Ctwterm%5E1604636441526444035%7Ctwgr%5Eb109acfc08a87329707cc53d2a83c6da5fe0174c%7Ctwcon%5Es1_&ref_url=https%3A%2F%2Foncubanews.com%2Fopinion%2Fcolumnas%2Fentre-dos-aguas%2Fel-mundial-de-las-abuelas-la-la-la-la-la%2F
To the extent that the possibility of the Argentine team winning the Cup became real, the chant became more popular in these parts until it became the hit it has been on Twitter; it might even prove an inevitable success, for it is sure to become the new cabal.
https://twitter.com/pachiitacarp/status/1602843291258654720?ref_src=twsrc%5Etfw%7Ctwcamp%5Etweetembed%7Ctwterm%5E1602843291258654720%7Ctwgr%5Eb109acfc08a87329707cc53d2a83c6da5fe0174c%7Ctwcon%5Es1_&ref_url=https%3A%2F%2Foncubanews.com%2Fopinion%2Fcolumnas%2Fentre-dos-aguas%2Fel-mundial-de-las-abuelas-la-la-la-la-la%2F
Hundreds of thousands of people have shouted it, and not only in Argentina. It reached the most remote places, where different languages are spoken and possibly people have no idea what it says, let alone how it was invented.
"Abuela, la la la la la!," "Abuela, la la la la la!" and a proud grandmother always appears that joy is lavished on her because of her presence. She may be standing or in a wheelchair. She can be 50 exquisite years or 103 dignified and very well-lived years. It doesn't matter. She becomes the center. And the applause and the jumps come. And everyone sings.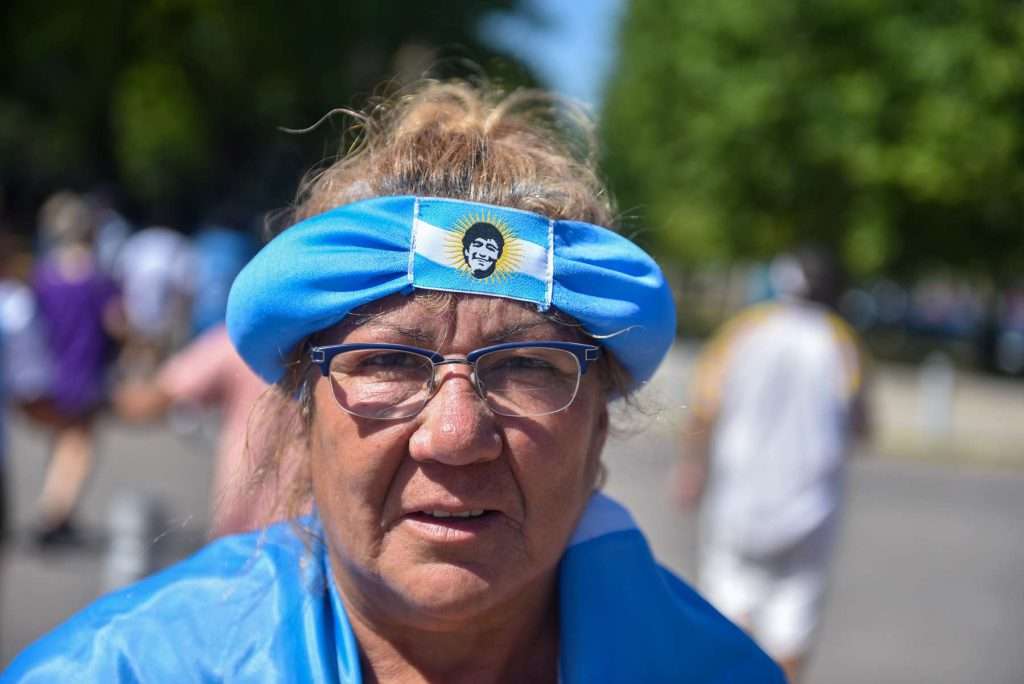 In the midst of the apotheosis that Buenos Aires has experienced due to the arrival of its champions, some "abuelas la la la la" have been seen. On the roof of a truck, walking the sidewalks, lying on the grass, or waiting in vain for the bus to pass, because the crowds collapsed the roads and Messi, Di María, Julián Álvarez, El "Dibu" Martínez, and the others, ended up waving from two helicopters, and "that's it."
But, "abuela la la la la" there is only one… at least there is the first one, the inspiration.
Her name is Cristina, she is 76 years old and lives in La República, an area of Liniers, which is a sector located about 13 kilometers from the center of Buenos Aires. We learned of her existence through Twitter and the Tik Tok videos, through which she herself and her family learned that Cristina went viral after being caught in the middle of some celebrations in the early days of this historic world cup
"Grandma la la la la la," or this one that gave rise to the chanting, Cristina, saw all the matches of the team. The first, in the Group Phase, brought defeat against Saudi Arabia. However, during the third game — now past Mexico — that she was watching alone at home, a gesture made her connect her joy with that of the boys who were celebrating a few meters from her home, from where she has told this, as can be seen in the profile on Instagram, which she now has thanks to her nephews.
The Albiceleste's victory against Poland secured a place in the round of 16 and she went out into the street armed with a little flag, once again celebrating with the boys. She then returned to the theme that had become a hit. "I'm not a grandmother, because I don't have children. I'm an aunt," she recounted on a television program. She had thus warned those boys with whom she is seen jumping, but she didn't care. Dominated by euphoria, the boys were already shouting the famous refrain.
When Argentina also left Australia on the road, Cristina is seen walking with her flag to where a group was celebrating. Someone was recording it. Some hugged her while they continued with the same thing. "Abuela la la la la la la."
The atmosphere of madness is already present after the quarterfinals. Argentina managed to leave the Netherlands on the road and in Villa Luro, as in the whole country, there is a real "quilombo." In the center of a group, Cristina, the grandmother who is an aunt, now cheered by a crowd that reveres her as their best cabal for the finals.
Last Sunday the scene was repeated, with the only difference that the crowd was still larger and that the chant had not stayed in Liniers but had spread throughout the world thanks to the internet. At the door of her house, for some journalists from Washington and Paris, Cristina, always with her mask on as a precaution, shares the story.
A fan of Messi and Boca, she now has an Instagram account, it has been replicated as a doll that may be available in some markets and the phrase invented by those boys is on t-shirts and in stores.
And there is no need to be sad if she is not known in person, if far from Liniers or Argentina; being the inspiration, "grandmas la la la la la" and "grandpas la la la la" there will be more and more of them: on the streets, in a nursing home, in a house that is supposed to be empty. All that's needed is an enthusiastic crowd, many hearts like those of these boys from Luro and a spirit that, like hers, is willing to not spare spirits.
Author