"She dances because she enjoys dancing and she dances what she wants, when she wants and how she wants, and the orchestras are silent before the music that comes from her body."
Excerpt from "Isadora" in Memoria del Fuego III. El siglo del viento by Eduardo Galeano
Freedom offends
The history of soccer has been written and played by males. They have historically been the terms of any comparison. But after this 8th Women's Soccer Cup, nothing will be the same as before.
Estefanía Banini, the captain of the Argentine national team that excelled in the match against Japan, says that they are living this World Cup as a prize after having fought and suffered discrimination: "Those who wanted to throw women off the courts, who called them 'tomboys' or 'Carlitos' must be regretting it."
That's how the press conference ended after the debut at the Parc des Princes. She, who had to leave the country at age 23 to play in the first division, wants women players to be recognized and called by their own names. She is not "the Messi."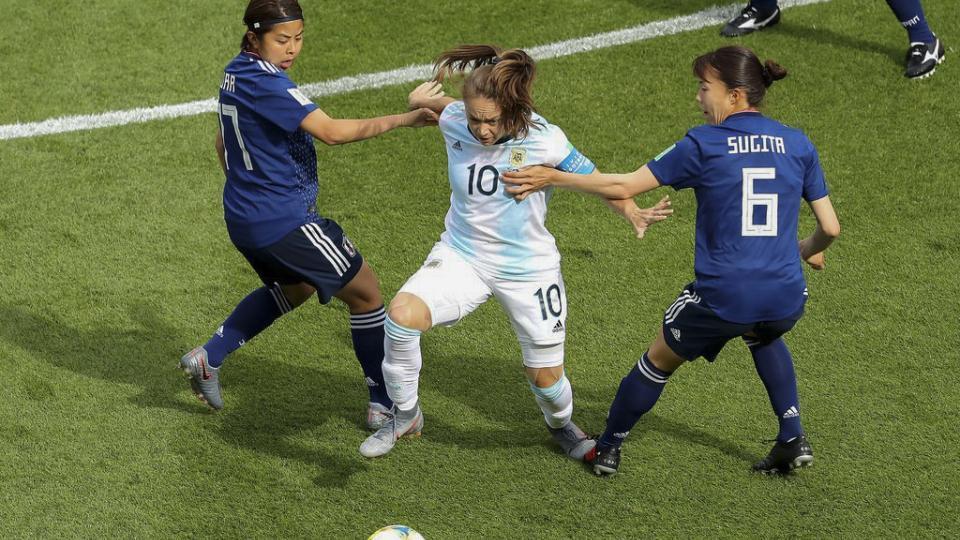 But Banini's is not an isolated story. Women's relationship with sports has been neglected, reproducing a common sense that this space is (or was) exclusive to and for men.
This is the World Cup of vindications, a tournament that has as leading figures women who obstinately and with daring managed to move forward, overcome adversity and reach the highest competitive level. The slogans of May 68, the largest mobilization in the history of France, are overflying this tournament.
The 8th World Cup is a stage where stories converge of women who fought to become professional soccer players, who today fight to obtain equal pay and gender equity, and to be recognized as women workers.
They always wanted to play
Marta Vieira Da Silva was born in Brazil in 1986. She has been chosen six times by FIFA as the best player in the world. She is the top scorer of the Brazilian women's team and also holds the record for the most goals scored in a World Cup (an average of 15 in 17 matches). Playing in her fifth World Cup is the only point where she is surpassed by one of her compatriots: Miraildes Maciel Mota (known as Formiga), who is playing her seventh tournament with the Brazil T-shirt.
But Marta's career was not always success and approval. Her story is marked, as are many biographies of women soccer players, by persecution and abuse. They called her a "tomboy," "Pele with skirts." Today, it's not necessary to present her. She has the legitimacy and respect of major institutions and of Brazilian society, characterized by social inequalities and discrimination stimulated by racist theories that have had great influence in the country.
Marta achieved previously unthinkable triumphs only reserved for the most outstanding Brazilians: to be called by her own name, to be the only woman to have her footprint marked in the Maracaná, to become an idol in the soccer environment. Marta went from marginalization to recognition.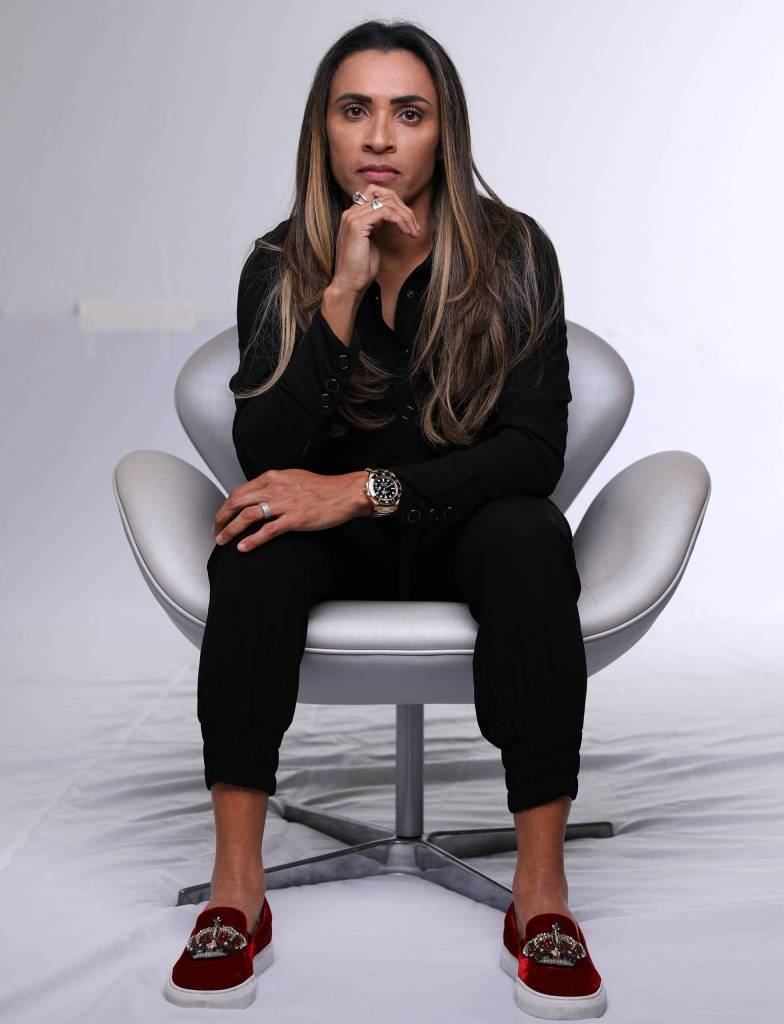 Today she wears expensive and elegant clothes, delicately uses makeup and no longer has curly hair. Her hair is straight and with subtle blond highlights, illuminated. The process of aestheticization through which several Brazilian players have passed has played a significant role in the legitimacy of the offensive player.
Between 1941 and 1979, soccer was a forbidden game for women in Brazil under the argument of protecting their bodies to conceive and limiting them to maternal functions. Their rehabilitation in this and other sports granted them freedom, but not entirely. The National Sports Council and the Sao Paulo Football Federation (FPF) established a series of body protection rules, shorter playing times and focused on women entering the world of soccer being able to attract men for their physical attributes: "feminine," avoiding everything that seemed masculine (leaving aside the short hair, having to use a ponytail, tight shorts and makeup).
The importance of the image, personal style and development in the media were stressed for the women players. Thus, the entrance of beauty products in the market, particularly the treatments to strengthen curly hair, was a condition to enable women to play soccer. These products allowed them to extend hair length, shoulder length, and approach the stereotypes fit to play.
This process of embellishment and aestheticization, under white patterns, is another form of domination and discipline of women's bodies. Although the intentions of whitening are exposed, it does not mean that the players themselves do not have the capacity to negotiate, resist and diligently play against the impositions of the institutions, in order to occupy spaces and, from them, fight to modify the sexist attitudes of patriarchal society. Soccer is also strategy.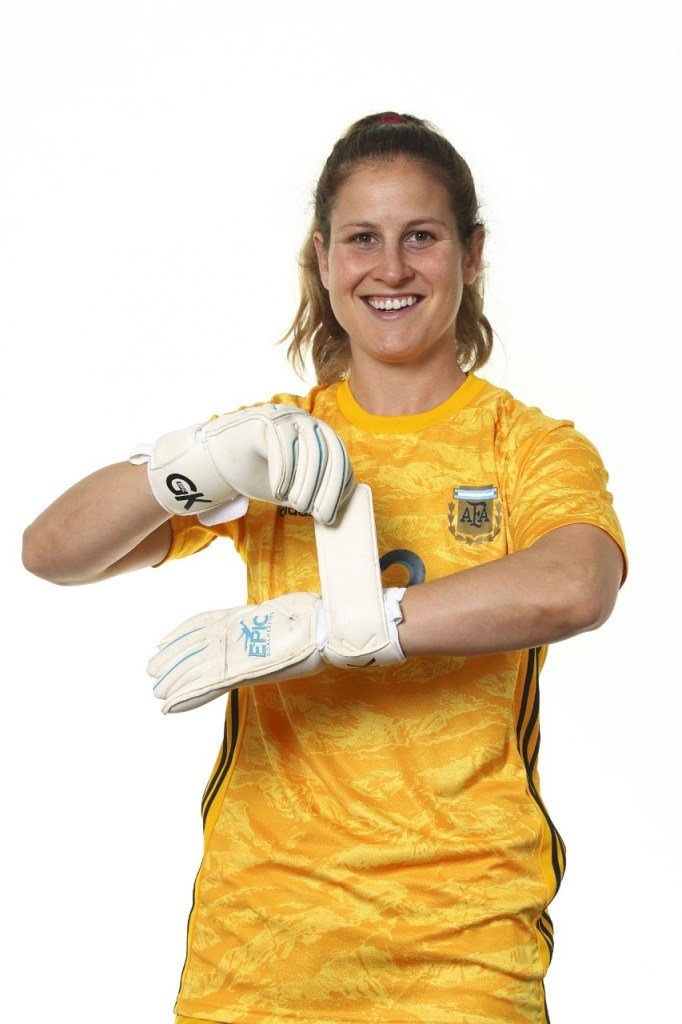 Warrior
Gabriela Garton was born in 1990 in Rochester, Minnesota. She is the daughter of an American father and an Argentine mother. She started playing soccer at age eight thanks to a sports scholarship that allowed her to enter Rice University, where she obtained a degree in Hispanic Studies. Soccer was not a forbidden space for her. Unlike other countries, in the United States soccer is an extended and popular game in schools; it is not constructed as a masculine sport, but as androgynous, following the gender coding scheme of sports.
Since she was 10, Garton started holding a somewhat ungrateful position in soccer and she made goalkeeping her forte. After living 22 years in the United States, her love for this sport took her to Argentina, with more opportunities compared to the United States where there was a large number of players and a high level of competitiveness. There she was picked by one of the most important clubs in the country, the Club Atlético River Plate, she was in the UAI Urquiza until 2017 and then in the interior, where she trained with two male teams: Estudiantes de San Luis (Federal A) and Sol de Mayo (Provincial League). Since 2015 she is one of the National Team's goalkeepers.
But Gabriela didn't travel to Argentina only to continue her career as a soccer player, she also did her postgraduate studies. She has a Master's Degree in Sociology of Culture and Cultural Analysis from the National University of San Martín, is pursuing a Doctorate in Social Sciences at the University of Buenos Aires and in 2016 she received a scholarship from the National Council of Scientific and Technical Research (CONICET) to develop her studies on sports and gender. She is the author of several academic articles and has presented papers at several international congresses. Her skills with different languages, apart from being bilingual due to her family inheritance, enables her to do translation work.
Garton combines theory and practice; and in this way analyzes and exhibits the inequalities and gender stereotypes in the soccer field. Her master's thesis was published a month ago and is one of the few texts that manages to overcome the bubble of the academic sphere to circulate in the dressing room and on the courts. Guerreras. Fútbol, mujeres y poder is a tool for female players, it is a book that talks about negotiations, freedom and solidarity among women. Garton's experience places her as a protagonist, as a goalkeeper and as an academician, to fight sexism in sport and to be part of the change from within, accompanying and promoting the reorganization of sports practiced by women.
Based on her identity as a white woman, middle class, professional and academician (not all players are in this position), Garton contributes to thinking about the difficulties of amateurism in Argentine women's soccer and the need to create a professionalization structure that understands women soccer players as women workers.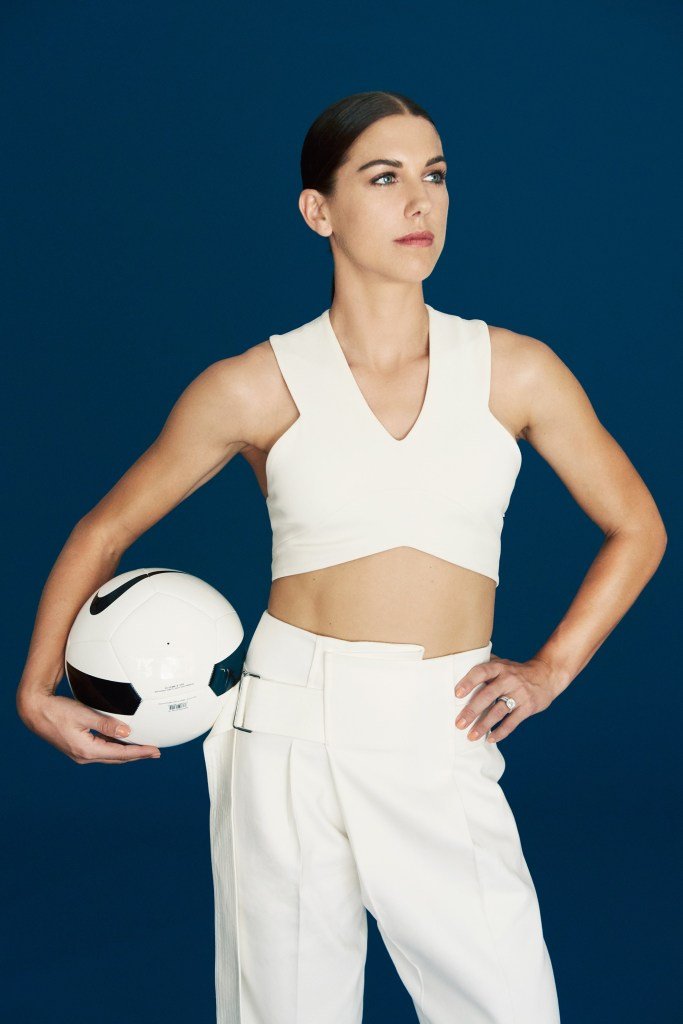 Alex Morgan is the most commercial American sports star since soccer player Mia Hamm, and is a key figure in the outstanding performance of her team during the World Cup (they are the last champions and are among the strongest candidates to win the Cup). Her female team has been more successful than the male counterpart, which has never managed to be a champion. They have won three world cups out of the seven that have been played since 1991, more than any other women's team in the world. In the last decade, this team has received more and more media attention, to the point that some players already achieved important levels of recognition among the American public, not only for their sporting achievements―the 2015 Women's World Cup final in Canada had the most important amount of TV viewers in the United States in the broadcast of soccer matches (men's or women's) ―but also because of their status as the "most beautiful" and most "feminine." Morgan is the face of the soccer team, but also brands like Coca-Cola, Nike and Secret deodorant. She is a sex symbol. That is the status that brands have awarded her.
Her body is of the type that is displayed in advertisements. The commercials that have her as a protagonist de-emphasize her sports skills, with ambivalent messages, even in those of the sports brand, where she is seen passively, with slow movements, in aesthetic and rather static poses, a characteristic traditionally associated to the feminine. Beyond these representations that have highlighted her beauty and sensuality, and that respond to a hegemonic femininity, Morgan uses sport as a social constructor and a tool for vindication. While several players are recognized for their looks, the team is also known for its political participation especially in terms of its support for the LGBTIQ movement and its direct commitment to the fight for gender equity.
Morgan, with more than 6 million followers on Instagram, where she maintains a "careful" and professional profile, does not disassociate herself from the political reality: she talks in the media about her personal differences with the Trump government and takes a leading role in the lawsuit filed in the courts against the U.S. soccer federation for wage discrimination. Although the market wants to take Morgan out of certain scenarios and keep her in a conciliatory position, she is an invitation for women to stand and fight for each other.
Banini, Marta, Garton and Morgan. Women from different countries, with careers, formations and dissimilar conditions but with a common goal that is the driving force of this World Cup beyond winning. They, united by rebellion, come out to win the most important game: leveling the court and achieving gender equity.
Authors