Help us keep OnCuba alive here
Despite the fact that local authorities finished reopening South Florida this Wednesday after almost three months of economic and labor lockdown, the death toll from the COVID-19 pandemic has increased.
According to the Department of Health, the death toll in the state has reached 2,801. Among the top three counties―Miami-Dade, Broward and Palm Beach―1,530 people have died.
What's important in this figure is that it represents an increase of 36 people in relation to the previous day. The Center for Disease Control does not recommend the normalization of public activities when the number exceeds ten deaths a day. But the increase was detected because every day more tests are done to detect the coronavirus. On Monday, according to the health entity, more than 1,000 new cases were registered in seven of the last eight days.
In Miami-Dade County alone, the death toll is now 784, the epicenter of infections in Florida. There have been 397 deaths in Palm Beach County and 349 in Broward. In the Miami-Dade case, the average 10-day death toll was recorded in a single day.
The coronavirus tax
With the coronavirus pandemic and the closure of restaurants and bars, their owners were deprived of tens of thousands of dollars in income. Some believe they will never recover and have closed establishments and laid off employees.
But with the reopening permit, which went into effect last week and was completed this Wednesday, some have sought ways to compensate as much as they can by inventing ways that local governments have not yet ruled as being legal. They have started adding a "coronavirus tax," typically 3% of the total bill.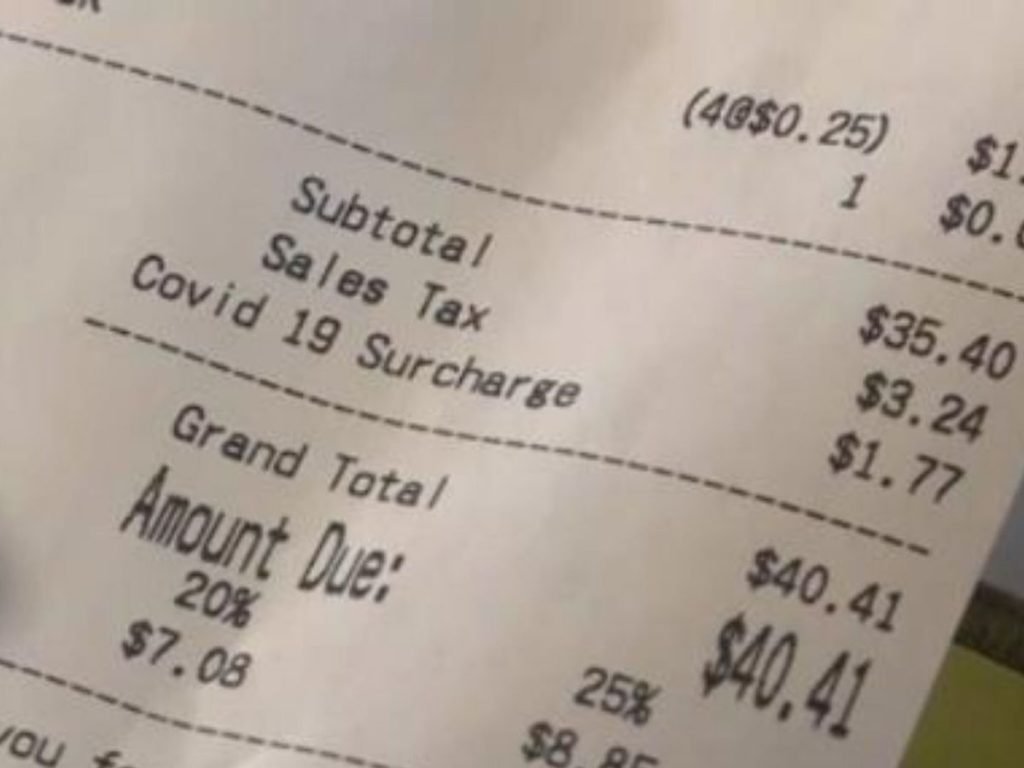 "I have clients who accept it, there are others who don't like it. But I try to explain to them that it costs a lot of money to get out of confinement and reopen the doors after the pandemic," Marco Antonio, manager of a Portuguese food restaurant in the Coral Gables neighborhood in Miami, explained.
With the new regulations the local governments have imposed on public places like restaurants, their owners had to make investments. "They force us to continually clean the establishment. That's expensive. Maintaining a closed space in conditions requires a huge expense with disinfectants, the masks my employees have to use are very expensive, placing transparent plastic partitions on the tables to separate customers with a barrier is not cheap either. The bathrooms must be cleaned after each use, that represents expenses with cleaning products and hiring another employee. I had no choice but to pass those costs on to clients," he said.
Although it has been a measure that the authorities consider necessary―not the collection of the 3% tax, but the constant cleaning of the facilities―there are clients who reject it. And for two reasons. It has not been authorized by the local government, and most people only find out when the employee hands over the bill because they had no record of that "tax."
On Sunday, Lally Quimera and Juan Julián celebrated their third wedding anniversary and went to a restaurant that, coincidentally, did not have a plastic barrier, but the so-called "coronavirus tax" appeared on their bill. And all hell broke loose. "I didn't know about this illegal tax. Restaurants can't compel customers to pay a percentage so they can stay clean. That is an obligation, it is in the health code. In addition, upon entering they don't notify us that they have made an addition to the bill, nor is it written in the menu, they don't notify customers. It seems an abuse. Surely I will not come here again," Quimera explained, while her husband nods.
Marco Antonio wields an explanation. "I could do something else: raise prices. And I have an explanation for that. In recent months the price of meat, fish, vegetables and fruits has gone up. But I take into account that with the pandemic people have suffered a lot. I prefer to impose this 3% on the final bill than to increase prices, say, between 3 and 5% in general. During the quarantine many factories and food processing plants had to close. The consequence was the increase in food prices in stores and supermarkets. The one that increased the most was meat, and we were in an emergency in Miami, where you can't increase any food during a state of emergency. But the politicians ignored that abuse. Not even state and local prosecutors."
All the restaurants have had to assume an additional loss. "With the reopening we have banned customers. The current regulations to maintain safe distancing require us to withdraw 50% of the available spaces. That is also a brutal loss because, for example, Friday and Saturday are the most important days, we are always full. Those two days alone pay the monthly rent for the restaurant, which is very high due to its location. It went up for me in January when there was no mention of coronavirus," said Marco Antonio.
Help us keep OnCuba alive here