Where politics keeps the door closed, science charts its own paths. Even though relations between Cuba and the United States have not returned, even remotely, to the times of the "thaw" that occurred during the Barack Obama administration, scientists from both countries have persevered in their desire for rapprochement, exchange, and they have continued to build their own common history, and particularly in research and the fight against cancer.
An example is the cooperation sustained for years by the Roswell Park Comprehensive Cancer Center, in Buffalo, New York, and the Center for Molecular Immunology on the island. These institutions have been collaborating in carrying out clinical trials of Cuban drugs such as the CIMAVax-EGF therapeutic vaccine against lung cancer. In addition, they joined together in 2018 to create a biotechnology joint venture.
Memorandum
A new chapter in that history began this Tuesday with the signing of a memorandum of understanding between the National Institute of Oncology and Radiobiology of Cuba, the leading center for the treatment and research of this disease on the island, and the VCU Massey Cancer Center, from Virginia Commonwealth University, one of the most prestigious institutions of its kind in the United States.
The memorandum, signed in Havana by Dr. Robert A. Winn, director of the U.S. center, and his counterpart from the Cuban institute, Dr. Luis Eduardo Martín, provides for collaboration between both entities for five years on issues related to academic training and research into one of the most prevalent and lethal ailments in the contemporary world.
According to data from international organizations, it is estimated that in recent times there have been about 20 million new cases of cancer and 10 million deaths from this disease per year worldwide, figures that are expected to increase in the coming decades — to reach some 30 million new cases by 2040 — with the consequent impact on health systems, people and communities.
In Cuba, the estimated number of new cancer cases per year currently exceeds 50,000, while in 2022 deaths from malignant tumors exceeded 25,000, according to official statistics. All of this, in a context of a severe economic crisis, reinforced by the effects of the COVID-19 pandemic and Washington's sanctions on the island, which makes access to treatments and medicines difficult or impossible.
In the United States, for its part, even though general mortality from cancer has decreased in recent decades, the incidence of the disease remains very high. For this year, the American Cancer Society (ACS) estimated nearly 2 million new cases and more than 600,000 deaths as a result of a disease that does not distinguish between sexes, ages and social classes, but which is usually more difficult to face in the most vulnerable groups and people.
For this reason, Dr. Winn insists that the fight against cancer belongs to all of humanity and goes beyond political and other differences that may exist between countries. For him, and the center he directs, it is a battle in which doctors, researchers and scientists from all over the world are part of the same team. And the document signed with the National Institute of Oncology and Radiobiology of Cuba is also part of that effort.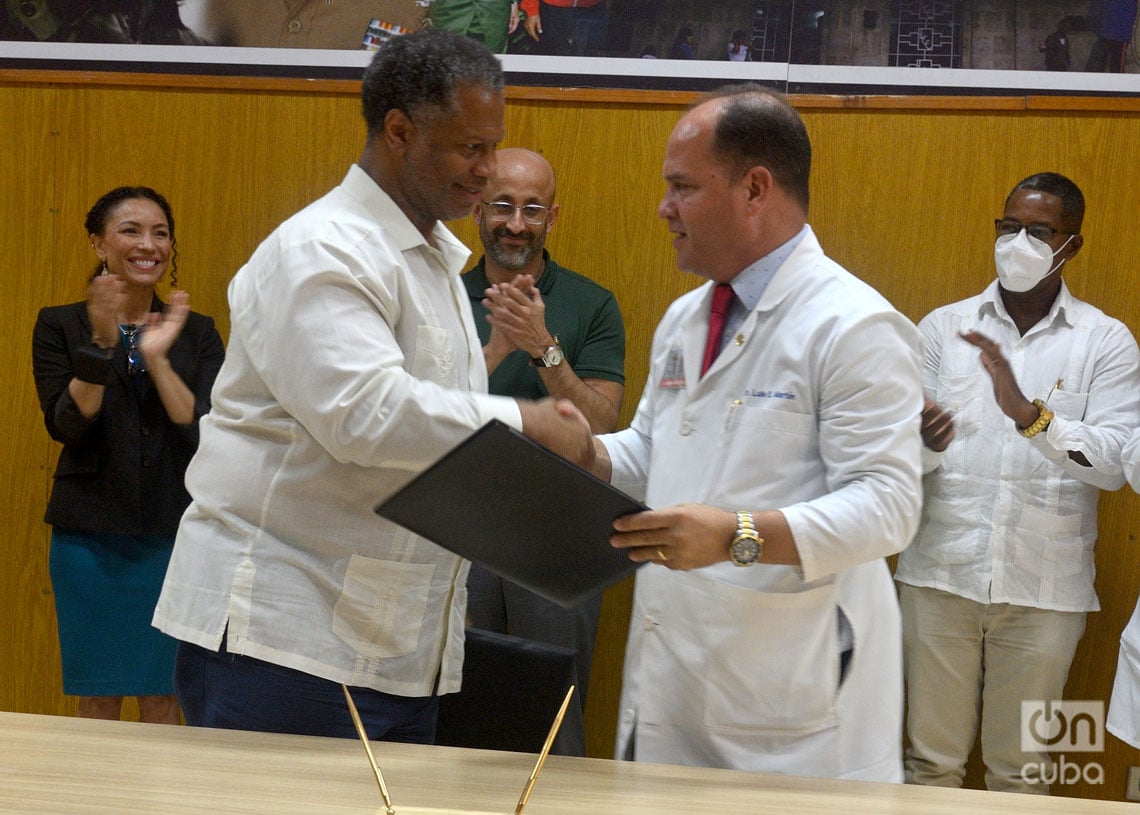 Guidelines and perspectives
With a renowned career as an oncologist, Dr. Winn considers that the memorandum now signed "is the beginning of a collaboration that we hope will last for a long time." Its purpose, he explained to the press, "is to allow scientists from Cuba and the United States to work together, so that we can generate new knowledge, with the hope of creating new medications and new cures for cancer."
Regarding the lines of action of the document, he specified that, in a first direction, it focuses on the development of clinical trials "to involve more people both in Cuba and in the United States, particularly in the humblest communities and neighborhoods," in in tune with his defense of equity and inclusion in medicine.
A second line is aimed at research work, at understanding science "from the laboratory." In this sense, he stated, "we believe that we can benefit from what you do here, and we hope that you can benefit from what we are doing in the United States. We hope that our specialists and researchers collaborate with Cuban researchers and we can jointly delve into the mysteries of science, particularly with regard to cancer."
And thirdly, he emphasized, "we hope to be able to exchange information, exchange knowledge, and that one day we can also exchange personnel, because we are all fighting the same fight against cancer, and the more we share, the more we can benefit and help each other in this effort in favor of health."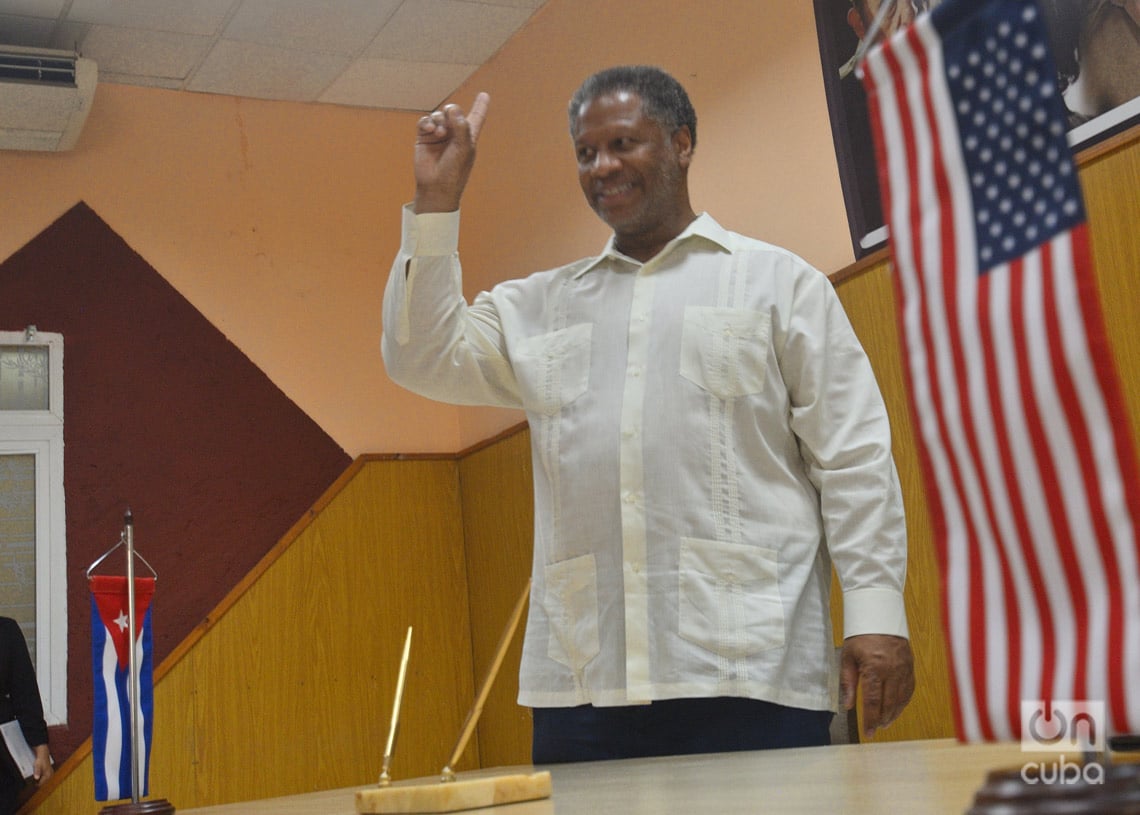 For his part, Dr. Martín, in addition to thanking his U.S. colleague for "his work and his perseverance in favor of Cuban medicine," estimated that the signing of the memorandum marks "a before and after" in the relations of the institute which he runs with scientific institutions in the United States and can be very beneficial for cancer research and treatment on the island.
"We have several lines of development on which we are interested in exchanging, and we have a plan to immediately, upon the signing of this memorandum, begin to carry out those priorities. We have five basic priorities, especially in research, in preclinical research, in clinical research, and in the academic part, in the training of human resources, both medical personnel, nursing and technology personnel," he detailed to the accredited press.
"We believe that there are potentials of both institutes that the memorandum will allow us to take advantage of," he said. "They have a very rich experience in the insertion of oncology at secondary and tertiary levels, as well as at the community level. Also in the academic part, in research, and in the healthcare part, in topics such as surgery."
"We in Cuba have the entire, well-structured program to confront cancer, from prevention, detection, treatment and research, despite the difficulties that are known — largely due to the U.S. sanctions themselves — and we hope to share our knowledge with them. That is the intention, the will of both parties. Now we are going to see how it comes to fruition and what level of approval it may have at an official level by the United States authorities, but we hope that everything will flow positively," he added.
Beyond politics
Although both countries are not going through the best moment of their bilateral relations, after the setback during the Trump administration and the continuity of sanctions during the Biden administration, Dr. Winn does not believe that this should be a reason to cross arms and assures that, as he has been doing for several years, he will continue working for a more fluid and beneficial relationship between the two nations.
"Cuba and the United States have never experienced a good moment in their relations in a long time. The reality is that there was a small window of hope during the Obama administration, but then that window closed, although scientists from both countries have maintained the will to continue expanding collaboration for the benefit of both countries," he commented to a question from OnCuba.
"I am a person of hope," he said, "so I keep hope alive and I am convinced that what we learned in that brief period during the Obama administration, of normalizing relations, of sharing experiences and exchanging with Cuban researchers, is not only a good thing for the United States and for Cuba, but also for the entire world. I believe that in my heart and soul, and I will continue to work toward that, not only through this MOU, but in what may come next, in the future."
"It's difficult, I understand, there are difficulties, so what? There are many things that are difficult. It was very difficult for Cuba to become an independent country. And it was difficult for me, as an African American, to do things better and get to where I have gotten in science. But one must have the courage and the belief that it is possible to move forward, that more can be done. I have that belief and that is why I am here," said the U.S. scientist.
"This is a fight in which it does not matter if we are from Cuba or the United States, or if there are other situations and differences between the two countries," he reiterated. "Here we are talking about the battle against cancer, which is a battle of humanity, so we are all on the same team. We are focused on how to bring health to all people, no matter where they live or how they live. That is our mission and our commitment as scientists, and it is the most important part of this collaboration."
Asked about this, Dr. Martín agreed with his counterpart from the VCU Massey Cancer Center and recalled that in 2016, "during the period in which bilateral relations improved, we were there, we visited the three main cancer centers in the United States, and we were able to see how much was achieved in a short time, to be able to develop and work together."
"Our professionals went there, did training, did exchanges, and that bore very positive results, especially in favor of research. Then came the closure with Trump, as we all know, but the intention to collaborate has always been maintained, at least by Cuba, and we know that by many colleagues from the United States, like Dr. Winn, as well. What we did then is something that we would like to be able to resume, and we hope that this memorandum can be a way to do so," he concluded.
Author