Cuban baseball will bid farewell to 2021 in the honorable position of being the foreign country with the most exponents in the Cooperstown Hall of Fame. The recent election of Orestes Miñoso and Tony Oliva leaves the Island with six players and eight representatives globally in the temple of the immortals of the sport of balls and strikes in the United States, ahead of the greatest Latin powers in the game.
Behind Cuba, the other foreign country with the most players inducted to Cooperstown is Puerto Rico with five (Roberto Clemente, Orlando Cepeda, Roberto Alomar, Iván Rodríguez and Edgar Martínez), followed by the Dominican Republic with three (Juan Marichal, Pedro Martínez and Vladimir Guerrero), Panama with two (Rod Carew and Mariano Rivera) and Venezuela with one (Luis Aparicio).
The Cuban account has now grown with Miñoso and Oliva, who join Martín Dihigo, Tany Pérez, Cristóbal Torriente and José de la Caridad Méndez. Furthermore, the Cuban history in the Cooperstown Hall of Fame cannot be told without the obligatory reference to the executive Alex Pompez and journalist Rafael "Felo" Ramírez, who did not shine directly on the diamond, but left an extraordinary legacy from their respective fields of work.
Pompez, inducted in 2006 by the Special Committee of the Negro Leagues, was at the forefront of the internationalization of the Negro Leagues for 35 years as owner and executive in the period 1916-1950, in which he established himself as an exceptional talent scout. Under his hand, the first stars of the Caribbean, including Dihigo, Alejandro Oms, Juan Tetelo Vargas and Miñoso, arrived at those circuits.
¿Pertenecen Orestes Miñoso y Tony Oliva al Salón de la Fama?
After the racial barrier's gradual falling and the start of the process of transition to the integrated era, Pompez continued working in the United States as an international scout for the Giants in MLB.
"Felo" Ramírez, for his part, was the official narrator of the Marlins from 1993 to 2017, although his career began in the 1940s. For more than 70 years he recorded his voice at major world boxing and baseball events. The commentator from Bayamo immortalized Roberto Clemente's 3000 hit, Don Larsen's perfect game in the 1956 World Series or the definition of 31 MLB finals, among other great moments.
For his contributions and dedication, "Felo" Ramírez won the Ford C. Frick Hall of Fame Award for the most outstanding narrators, commentators or analysts covering the game. In 2001, he was inducted as a Cooperstown Immortal and was also elected to the Caribbean Hall of Fame.
As we have mentioned, Pompez and "Felo" Ramírez are not the only Cubans in Cooperstown. Another six Cuban legends ascended to the temple of the immortals of U.S. baseball, of which we offer their profiles on OnCuba.
Martín Dihigo, "El Maestro"
Full name: Martín Magdaleno Dihigo Llanos
He was born in Cidra, Matanzas, on May 25, 1905
He died in Cruces, Cienfuegos, on May 20, 1971
Inducted into the Hall of Fame on August 8, 1977 by the Negro Leagues Special Committee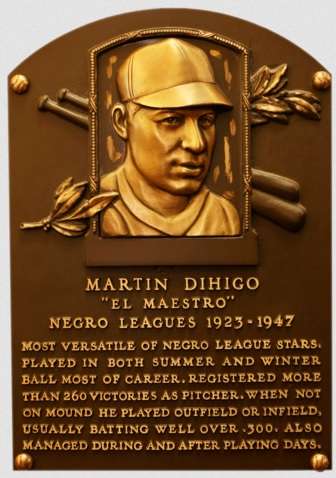 Dihigo was the first Cuban with a plaque in the Cooperstown Hall of Fame. His election came as a pitcher and member of the Cuban Stars, a Negro Leagues team in which he made his debut at the age of 18, in 1923. He spent five seasons there until 1927 and then returned in 1930. In addition, in the United States he played with Homestead Grays, Hilldale Giants, Baltimore Black Sox and New York Cubans, teams of the Negro Leagues.
Although we already mentioned that he was inducted to the temple of immortals of U.S. baseball as a pitcher, Dihigo began his career in intermediate and later decided to also try in shortstop, third base and outfield, taking advantage of arm strength, speed of movements and impressive physical and athletic power.
Intimidating with the bat, a devil running for bases and exceptional from the plate, he soon captured the attention of fans, marveling at his supernatural ability to shine in any space on the diamond. His ambition in the fields was insatiable, he played in the United States in the summer and in the winter he went to Mexico, Venezuela or Cuba, where he also captivated with his skill and versatility.
One of the most eloquent displays of his talent came in 1938, when he pitched a game without hits or runs, batted above .300 and was the leader in strikeouts on the Mexican circuit. That was the trend of his career, which he finished with more than 200 victories and around 130 home runs adding his actions in all leagues.
"I say he (Dihigo) was the best player of all time, black or white. He could do it all," said Buck Leonard, a member of the Cooperstown Hall of Fame and one of the best batters in the Negro Leagues.
That idea has been defended for decades by many of those who saw him play or work as a mentor after his retirement, and it also served as the basis for the induction of "El Maestro" to Cooperstown and to the Hall of Fame of Cuba, Mexico, Venezuela and the Dominican Republic.
Tany Pérez, "Big Dog"
Full Name: Atanasio Pérez Rigal
He was born in the Violeta sugar mill town, Ciego de Ávila, on May 14, 1942 (79 years old)
Inducted into the Hall of Fame on July 23, 2000 by the Baseball Writers Association of America (BBWAA)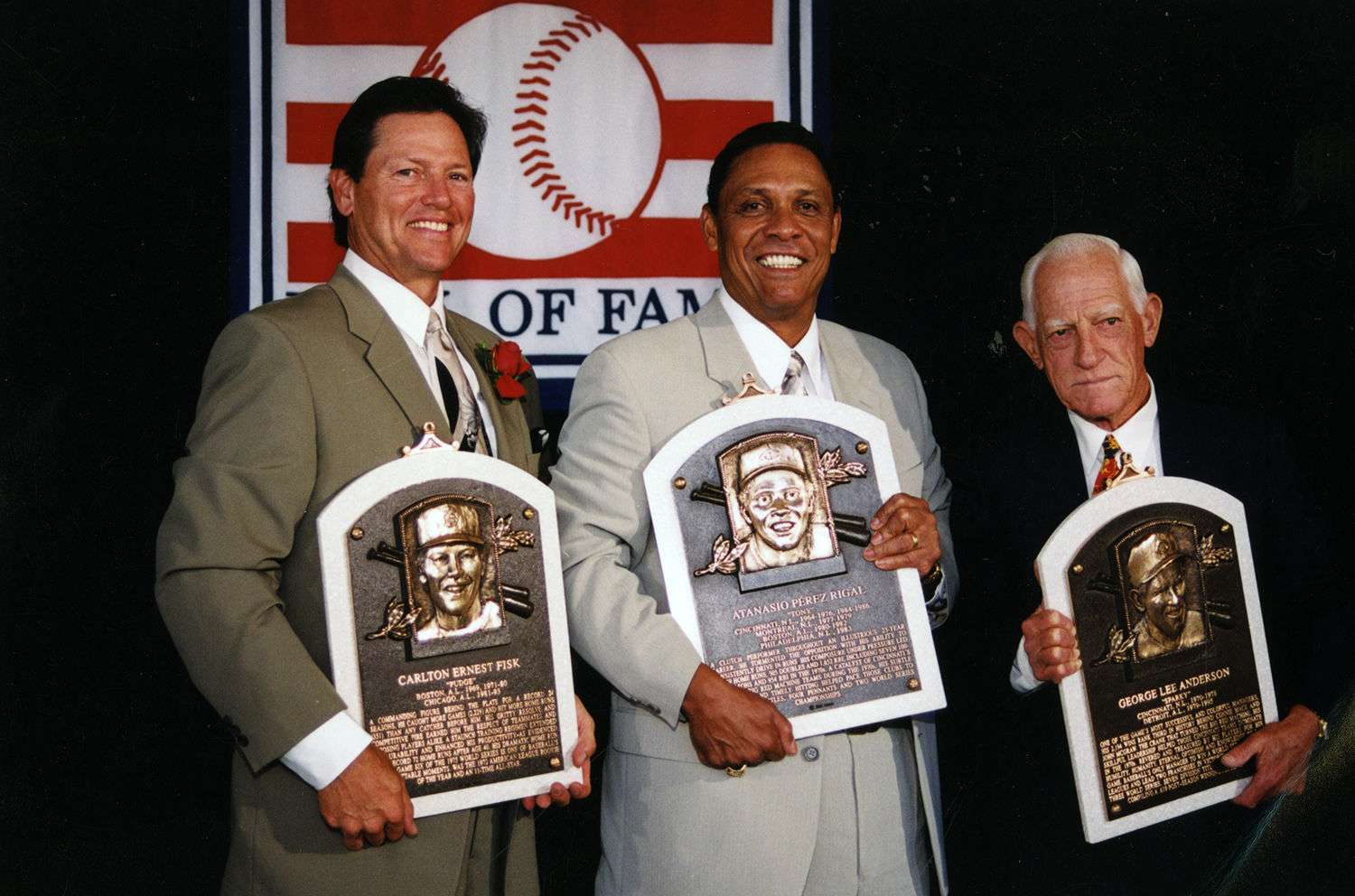 Second Cuban with a plaque in the Cooperstown Hall of Fame and first elected by the Regular Committee, Tany was inducted as a first baseman and member of the Cincinnati Reds, a team in which he shone in the 1970s as part of the fearsome "Big Red Machine."
"Big Dog" earned his nickname from his production of runs, an art that he mastered as a true game animal. To get an idea, between 1967 and 1980 no one in the Major Leagues came close to his RBI numbers (1,375), not even his star Reds teammate Johnny Bench (1,259) or the great Reggie Jackson (1,231), dubbed Mr. October precisely because of his ability to bill runs in the postseason.
"Pete (Rose) would get his 200 hits, and (Johnny) Bench would do his thing, and Tony would get shoved in the background, driving in his 100 runs every year. You'd see it in the notes at the end of the stories in the paper: 'Oh, by the way, Pérez hit a three-run homer to win the game,'" said Tany's Cincinnati teammate Pat Corrales, who saw Tany. drive more than 100 runs seven times (six with the Reds and one with Boston). 
In all, the first baseman from the Violeta sugar mill town had 1,652 career TDs for four teams in the majors, where he played for 23 years. "With men in scoring position and the game on the line, Tany is the last guy any opponent would want to see," said one of his divisional rivals, Willie Stargell (Pirates), who many times suffered from the Cuban's cold blood at zero time. 
Tany retired in 1986 at the age of 44, after participating in seven All-Star Games and hitting 379 home runs, the third most for a Cuban player in MLB. In addition, he competed in five World Series, conquered two rings and won the heart of the community in Cincinnati, where his number 24 is and will be revered as the hallmark of an immortal player.
Cristóbal Torriente, "Babe Ruth de Cuba"
Full name: Cristóbal Torriente
He was born in Cienfuegos, on November 16, 1893
He died in New York on April 11, 1938
Inducted into the Hall of Fame on July 30, 2006 by the Negro Leagues Special Committee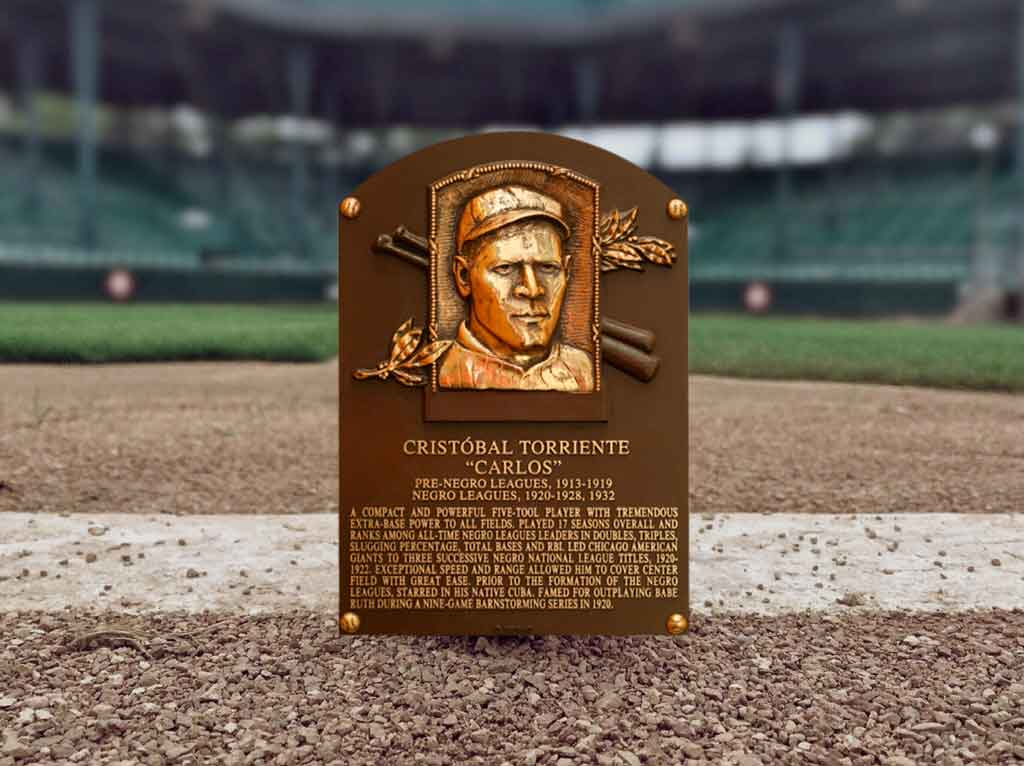 Torriente was one of three Cubans who received his plaque in the Cooperstown Hall of Fame in 2006. His election came as a center fielder and a member of the Chicago Americans Giants, a Negro League team with which he won three consecutive titles between 1920 and 1922. He spent six seasons there until 1925, and later passed through other teams such as the Kansas City Monarchs, Cleveland Cubs, Detroit Stars, Gilkerson's Union Giants, Atlanta Black Crackers and Louisville Black Caps.
Recognized as a total player, what today we would call a "five tools," Torriente's stories begin with his power with the bat and end with his excellent defensive level in the fields, passing through his contact capacity in the batter's box, his speed on bases and the power of his arm.
With those attributes he broke into the Chicago Americans Giants in 1920, when he led the league in doubles (21), offensive average (.411), on-base average (.479) and slugging (.606). His game in those years was monumental, to the point that he commanded the Negro Leagues in RBIs (81) in 1924, in addition to scoring two other OBP leads.
His career, as was usual in those days, was not limited to the United States. Torriente played assiduously in Cuba, where he batted above .300 in 11 seasons, won two offensive crowns and six titles with the Almendares team.
One of the most popular stories of him with the Alacranes team came in 1920, when the squad hosted the New York Giants of the mighty Babe Ruth in Havana for a nine-game series. "The Bambino" did what was expected from the start, with a double and a triple in his first turns, but the show of the duel was stolen by Torriente.
The Almendares patrolman hit three home runs in the same game on November 6, 1920. On that day he faced Ruth, who got on the plate, and hit a double to seal a memorable duel with six RBIs right in front of the best player of the time, with no hits that afternoon.
"We have never given Torriente the credit he deserved. He did everything well, he fielded like a natural, threw in perfect form, he covered as much field as could be covered; as for batting, he left being good to being something extraordinary," said Martin Dihigo about the "Babe Ruth de Cuba," inducted in the first class of the Cuban Baseball Hall of Fame in 1939.
José de la Caridad Méndez, "The Black Diamond"
Full name: José de la Caridad Méndez Báez
He was born in Cárdenas, Matanzas, on January 2, 1885
He died in Havana, on October 31, 1928
Inducted into the Hall of Fame on July 30, 2006 by the Negro Leagues Special Committee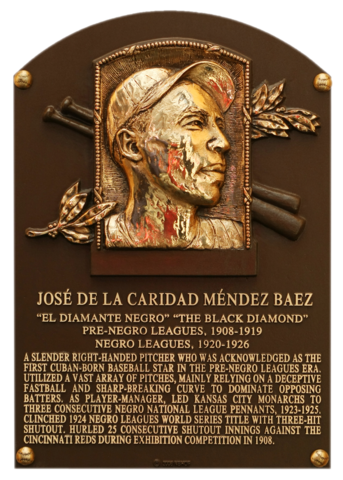 Méndez was one of three Cubans who received his plaque in the Cooperstown Hall of Fame in 2006. His election came as a pitcher and member of the Kansas City Monarchs, the Negro Leagues team with which he worked for seven years at the end of his career, after playing with the Chicago Americans Giants and the Detroit Stars.
A pitcher with a powerful fastball, imposing curve and a great ability to knock opponents off balance with the contrast of speed, Méndez impressed on the plate since he started with the Almendares team at the beginning of the last century. He shone in Cuba and the United States, particularly in the Monarchs, where he left level records. Thirty victories, only nine defeats, a 3.46 ERA and a title in the Negro Leagues World Series in 1924 (he had two victories, with an ERA of 1.42) are some of his most relevant honors.
"The Black Diamond" did not leave anyone indifferent. John McGraw, manager of the New York Giants in MLB, expressed without fear that, for baseball, it was a failure not to put aside any unwritten laws or prejudices that prevented the signing of a player regardless of his race. If it weren't for that, Méndez probably would have had an opportunity in MLB, because he had more than enough quality.
In March 2013, Ira Thomas, a catcher for the Philadelphia Athletics who visited Havana on a few occasions, told Baseball Magazine that Mendez, if he were a white man, could have gotten a good position on any team on the MLB circuit.
"Mendez is an extraordinary man. More than one big leaguer from the states has faced him and left the plate with a wholesome respect for the great Cuban star. It is not alone my opinion but the opinion of many others who have seen Méndez pitch that he ranks with the best in the game," Thomas pointed out in a very tight description of the "The Black Diamond."
Orestes Miñoso, "El Cometa Cubano"
Full name: Saturnino Orestes Armas Miñoso
He was born in Havana, on November 29, 1925
He died in Chicago on March 1, 2015.
Inducted into the Hall of Fame on December 5, 2021 by the Veterans Committee (Age of Golden Days)
Miñoso is one of the two Cubans inducted into the Cooperstown Hall of Fame in 2021. His election came as a left fielder and a member of the Chicago White Sox, a team in which he marked an era in the 1950s. "Minnie" also left his mark on the Cleveland Indians, St. Louis Cardinals, Washington Senators and New York Cubans, the latter in the Negro Leagues.
Miñoso's legacy is unmatched. In 1949 he became the first black Latino in the Major Leagues, breaking down a social and cultural barrier, finally opening a space for the huge legion of players of color born in Caribbean countries.
"Minnie Miñoso is to Latin ballplayers what Jackie Robinson is to black ballplayers. Minnie is the one who made it possible for all us Latins. He was the first Latin player to become a superstar," said Puerto Rican Orlando Cepeda, inducted into Cooperstown in 1999.
Miñoso's impact certainly bears certain parallels with Robinson's magical story, not only because they broke down racial and cultural barriers, but because they did so with a fabulous performance on the diamond. Without going too far, "Minnie" won three Golden Gloves, was in 13 All-Star Games and is the only player who has achieved the leadership — in different seasons — of hits, doubles, triples, stolen bases and bases run in the era of the live ball (from 1920 to the present).
The "Cometa Cubano" was a tough hitter, with an offensive line of .299/.387/.461. In addition, he formed part with Joe DiMaggio and Goose Goslin — two immortals — of an exclusive group with the following historical accumulated: 2,100+ hits, 360+ doubles, 90+ triples, 195+ home runs, 1,200+ runs scored, 1,000+ RBIs and less than 600 strikeouts.
Minoso retired in 1964, but returned in 1976 and 1980 to consume a few at-bats and become one of only two players in Major League history who has played in five different decades. As if that weren't enough, he also appeared in the Northern League in 1993 and 2003 on a testimonial basis and is the only professional player to have participated in seven different decades.
Tony Oliva
Full Name: Tony Pedro Oliva
He was born in Pinar del Río, on July 20, 1938 (83 years old)
Inducted into the Hall of Fame on December 5, 2021 by the Veterans Committee (Age of Golden Days)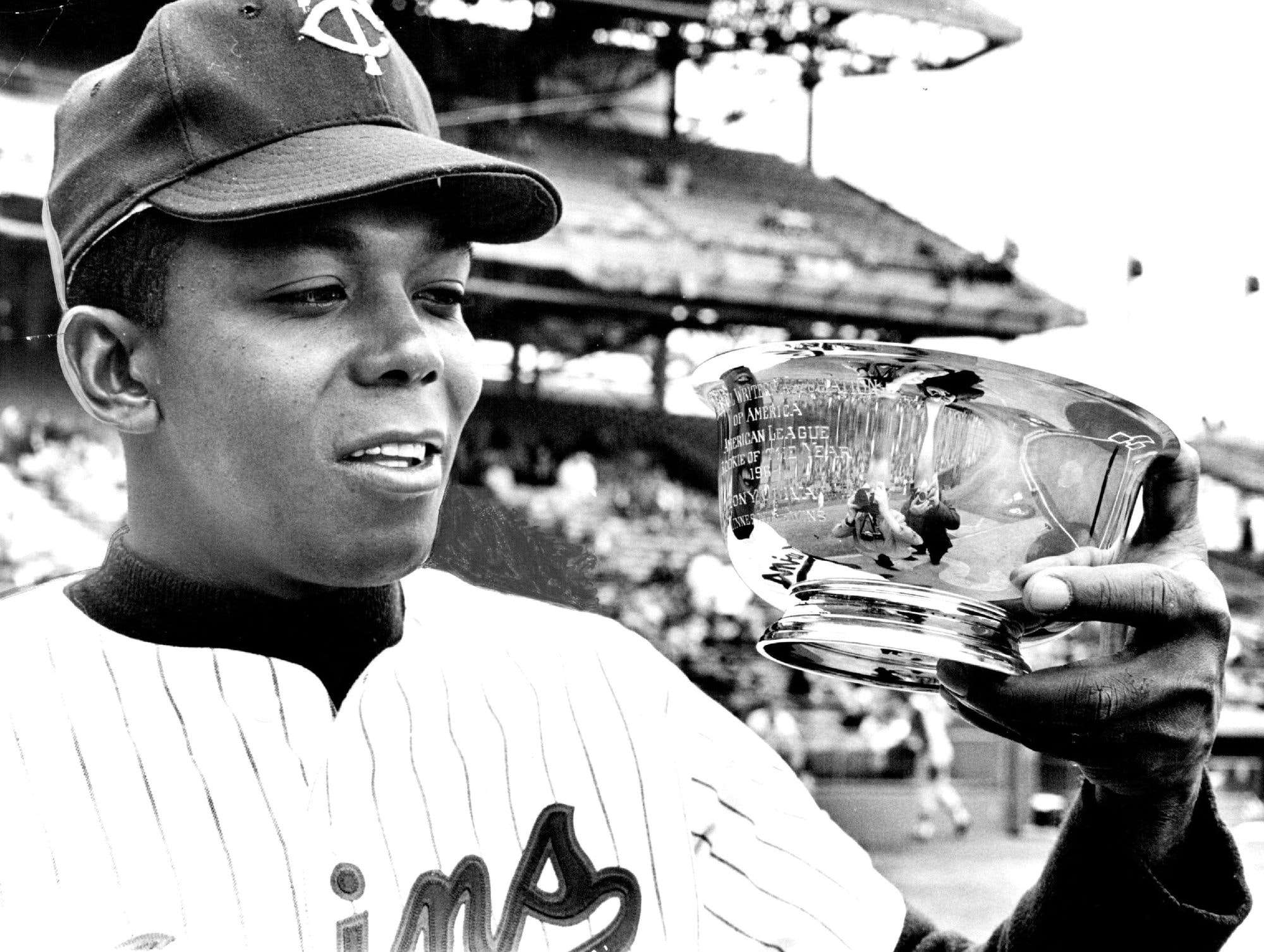 Oliva will become the second Cuban — after Tany Pérez — to receive in life his plaque at the Cooperstown Hall of Fame after his recent election. The native of Pinar del Río will enter the temple of immortals as a right fielder and a member of the Minnesota Twins, the only team he has defended in MLB for 15 seasons.
1964 Rookie of the Year, Gold Glove winner, eight-time All-Star, three-time AL batting champion, and five-time on-circuit king of hits, Oliva was a true offensive phenomenon in his first eight full seasons in MLB
In that span, he dropped an offensive line of .313/.360/.507, with 1,455 hits, 278 doubles, 177 home runs, 719 RBIs, 711 runs scored and 84 stolen bases.
"There are a lot of other guys I'd rather see up there in a clutch situation.You can't make a bad pitch on him," Hall of Famer Whitey Herzog said of the star from Pinar del Río, who played a World Series in 1965 with Minnesota, although he could not win the year after falling against the Dodgers.
Unfortunately, Oliva's career took a turn at the end of the 1971 season, when he injured one of his knees while fielding a hit ball in Oakland. That accident completely shaped the future of the Twins patrolman, who had to undergo eight surgeries in the last five seasons he played in MLB.
Although his playing time in MLB was limited, Oliva is one of the few players with three batting titles and five hitting leads, something that only three true monsters such as Stan Musial, Pete Rose and Tony Gwynn achieved before.
Author