Before boarding the Air Force Two at the end of an intense weekend in Cuba, Jill Biden said to OnCuba that "everyone in Cuba was very warm and friendly" with them, that she saw strong women, met the ministers of education, labor, the director of the Pedagogic Institute, women entrepreneurs…very strong women".
The so-called Second Lady, wife of U.S. Vice President Joseph Biden, and the delegation that accompanied her, this Sunday took off from Camagüey's Ignacio Agramonte Airport en route to Santo Domingo, the Dominican Republic.
Biden, who is a close collaborator of Michelle Obama, said that "I really think that the culture of Cuba is so exciting and so vibrant that I think that is the way our two countries can work together".
With her visit to Camagüey, Biden has become the first U.S. high-ranking official to visit a Cuban city outside of Havana in several decades.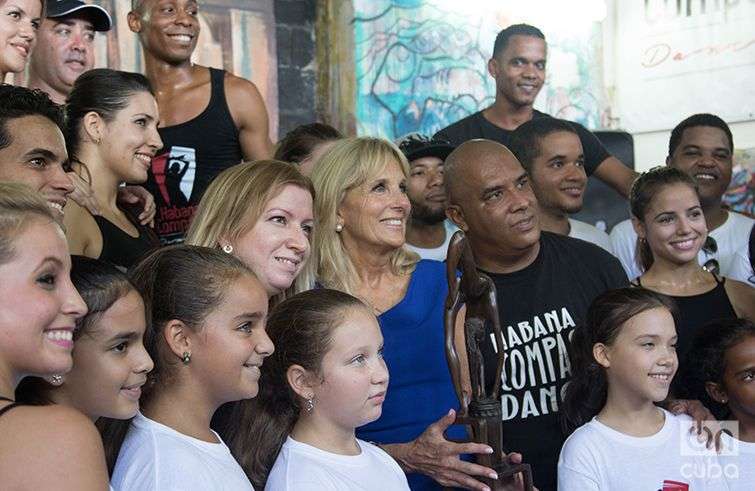 The U.S. delegation also comprised United States Ambassador-at-Large for Global Women's Issues Catherine Russell, who gave statements to OnCuba about the visit. She said that "we are seeking the empowerment of women worldwide for two reasons: One because we think it is the right thing to do that women and girl should have full rights and opportunities, and second because we know countries do better when women do better. It's really pretty straight forward. And that is the message I give all around the world.".
Biden recognized women's high indicators in Cuba in terms of education and health and said that it was really impressive compared to the majority of the countries she has visited.
During her visit Biden took an interest in women's forms of participation in the Cuban economy. She said they found some women who are running or starting their own businesses, and they are seeking how to insert themselves in the system, how to do their job in a way that works for the needs of their families and children.
Another matter which the delegation asked about was gender-related violence. Biden said "one out of every three women in the world suffer from some type of gender-related violence in their lives. It is a violence that takes many shapes. In the United States we have spent a long time, 20 years, waiting for a legislation; training different institutions, she said, and added that they have made great progress, but it is still a challenge. If you want women to prosper in the economy, in politics, it is difficult for them to do so if they suffer from some type of violence. We spoke about that during our visit here, and I hope we can find the means to work together in this sense, it would be fantastic", she said.
United States Assistant Secretary of State for Educational and Cultural Affairs Evan Ryan was equally satisfied with her first visit to Cuba and said it had been incredible, that she got to meet so many agreeable and welcoming people, and she appreciated the incredible displays of Cuban culture and education together with Dr. Biden….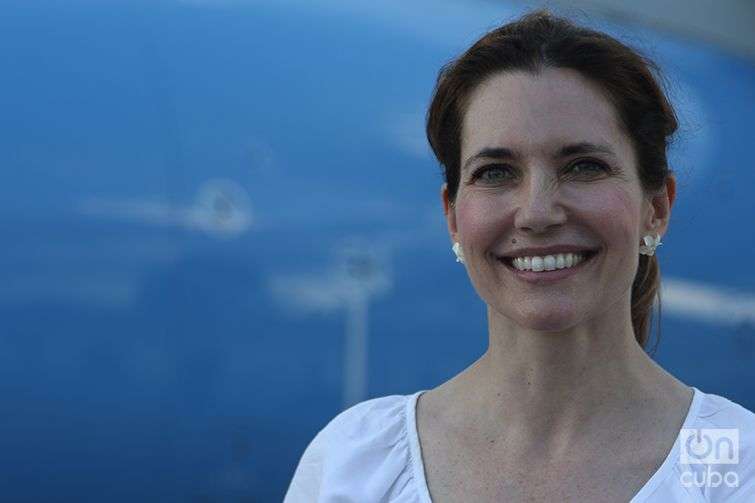 Did you identify on your trip some possible topic or area of bilateral work?
What I do at the State Department is manage exchange programs between the United States and other countries. And what we are trying to do through them is help the people from the U.S. understand other countries better and help people from other countries understand the United States better as well. We try with these programs also to learn from one and other.
When we take someone to the United States we expect them to get information about education in our country, about some of our art and culture programs in general. In the same way, when we send someone to other countries, we also expect them to be able to get to know and understand those countries. I think there are great opportunities for Cuba and the United States to learn from each other through exchange programs.
What potential does a connection have through art and culture?
Art, music, films, dance…are universal. It doesn't matter where you go or what you see, you can understand art and appreciate it. This is a really a great way for the two countries to get to know each other. The same happens with sports. In fact, remember what happened when Shaquille O´Neal came to Cuba. We are happy that our artists and athletes can come here, because the bridge between us in culture and sports is very interesting bridge that we built. Especially to the extent that relations become normalized, that is the way in which each country will better understand the other.
Some people fear that in the context of full normalization, U.S. culture could absorb that of Cuban….
That has never been the intention. We have exchanges with all the countries in the world in order, above all, to try to experience a different reality. What we aspire to is to be able to send U.S. people to Cuba for them to live the experience of being in this country, of getting to know it and enjoying its culture. We expect the same of the Cubans who visit the United States. We don't want to force anything. And today's world is so small and is so connected that it is very important that we be able to undestand each other, especially when we are neighbors.
A Weekend of Art and Culture
As part of her program of activities in Cuba, Jill Biden attended in the afternoon of Saturday a performance by the Habana Compás Dance Company in Marianao, Havana. It's wonderful, she said when entering the company's headquarters, where she saw Ritmos, a show that mixes flamenco with Afro-Cuban music and contemporary dance, with a strong presence of percussion.
Thank you very much, she said to the performers at the end of the function, you are breathless but you have also left us breathless, she added. In a gesture of admiration, she tried to touch the hands of Liliet Rivera, choreographer and director of the company, who had spent half an hour playing the drums. "We are very proud to receive you and to represent Cuba," Rivera said to the visitor.
The delegation traveled to Camagüey, where it visited that city's ballet company, the second most important one in Cuba. Its director, Regina Balaguer, received her together with students from her academy in the colonial mansion which is its venue.
The Second Lady toured the campus on her way to a general rehearsal, in which the dancers displayed different styles in their repertoire, from classic to contemporary. She took interest in the details of artistic education in the academy, where she remained for around an hour. Now I understand why you are so well-known and have such a good reputation, she said at the end of the visit.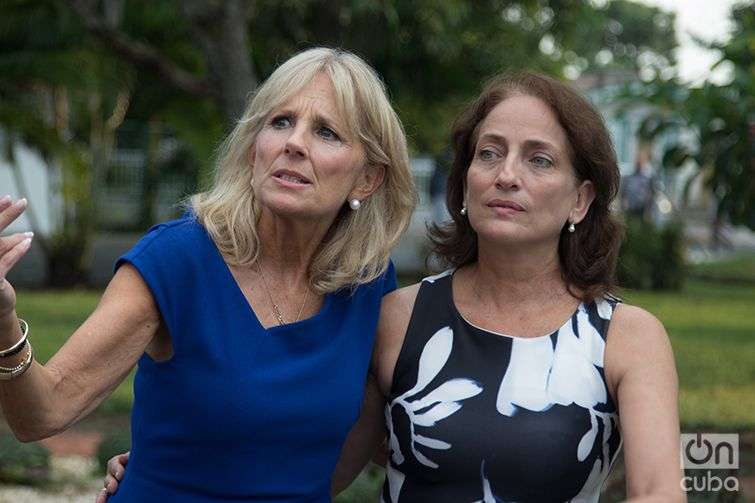 While in Camagüey, Jill Biden also visited the gallery of Martha Jiménez, an artist whose work is devoted to women, and who accompanied her on a tour of the historic Plaza del Carmen. "Like you, I defend women's freedom," said the Cuban creator to Biden.
The curious neighbors, the newspaper vendor and other characters from the community are represented in the life-size statues by Jiménez in the Camagüey plaza. Biden sat down on a "wishing stool" and made a wish. She greeted the neighbors, who were gossiping "it's that one, the second lady," and one of them said to her "it's a pleasure to have you here," while others, some meters away, lamented the blocked streets they walk along every day.
On Sunday, she toured the historic center of Camagüey, declared a World Heritage Site by UNESCO. City historian José Rodríguez accompanied the U.S. delegation, to which he commented about the place's architecture and history.
Some of the sites visited by Jill Biden and her delegation included the Iglesia de la Soledad and the House of Cultural Diversity, one of the best conserved buildings of the city. There they enjoyed an artistic evening with the Santa Cecilia string quartet.
Close to noon. Dr. Biden was in the centric Ignacio Agramonte Park, where she checked via WiFi some of the photos of her historic visit published on the Internet. This site is one of some 200 WiFi points allowed in Cuba.
There she was able to talk through FaceTime with her husband Joseph Biden, who was in the United States and to whom she commented what had been carried out during her visit to Cuba. Her daughter Ashley, her grandson Hunt and her niece also participated in the conversation. Through his cellphone, the vice president took interest in the site where his wife was and asked her to sum up what had been done in Camagüey and to show him the best angle of the park from where she was chatting.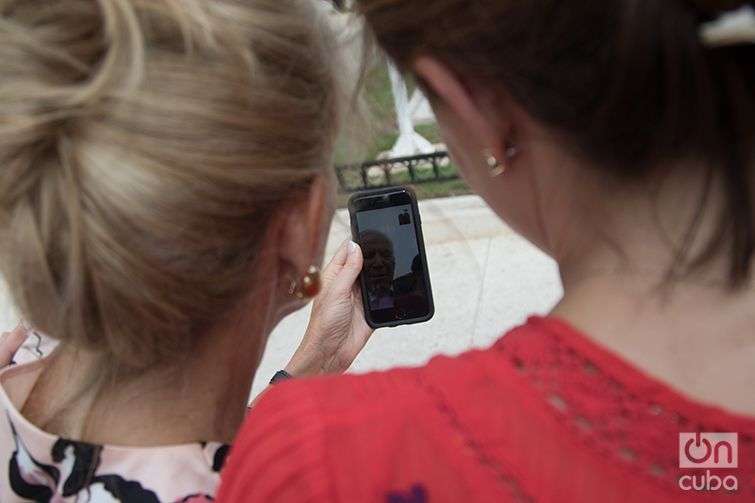 The visit continued in the gallery house of couple Ileana Sánchez and Joel Jover, two important Camagüey artists, who showed her their works and their collection of antiquities. Jill Biden also toured the Amalia Simoni House of Culture
With U.S. Ambassador-at-Large for Global Women's Issues Catherine Russell, Dr. Biden exchanged ideas with the community physicians, who are especially devoted to the study of breast cancer and diabetes. Before thanking them for their time and extensive explanations about their work, Biden commented that both diseases are global problems, which is why they must be resolved by persons from all countries working together.
At 2:00 pm the Second Lady and her delegation left for Santo Domingo, the Dominican Republic. She thus concluded a fruitful visit that opens new perspectives of cooperation in the context of the normalization of relations between Cuba and the United States.
Authors