New York Governor Andrew Cuomo made his first public appearance in Havana at the inauguration of the NYS Trade Mission meetings at Hotel Parque Central, where he made the opening speech.
"It's an honour to be the first governor representing the first state to be here," he told the audience, and went on to make a joke: "I would say that it's only fitting that is New York, but that would be too arrogant and fitting the stereotype of a governor of the State of New York."
Gov. Cuomo told the participants that, shortly before, he had met with Cuban Minister of Foreign Trade and Investment Rodrigo Malmierca, with whom he had had a very productive lunch.
The encounter with the minister, which Cuomo described as very informative and hopeful about all the good work that can be done on the island, was also an opportunity for him to get his first Cuban cigar.
"I want to thank the minister for my first Cuban cigar, which I intend to enjoy right after this meeting, so if I speak quickly please forgive me," said Cuomo, visibly happy to be in Cuba.
In reference to the business opportunities and potential areas of investment presented to Cuomo by the foreign trade and investment minister, he said that in the beginning American companies would operate through licenses that President Obama has the power to grant. Then, in the long run, they would expect that the U.S. embargo is lifted legally by Congress, so that both countries have the opportunity to maintain normal business relations.
"I personally agree with what president Obama has done on the simple premise that isolation has not worked," he said. "Fifty years of isolation have not worked. Engagement and full relationships is the best way to have a dialogue on the issues that we agree with and the issues that we may disagree about."
"We believe that this is going to be a dramatic change, a change to be to the benefit of the people of Cuba, and also to the people of the United States," he added. "And we want to do everything we can to facilitate and to expedite the progress of this change."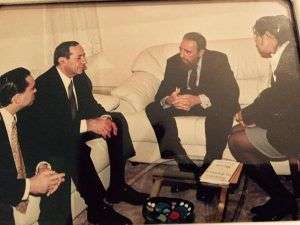 Cuomo also said that on the personal level, the trip had especial significance for him, because it reminded him of his father's rejection of the U.S. embargo of Cuba. Mario Cuomo, who was governor of New York also from 1982 to 1994, died on January 1st this year.
Joining Gov. Cuomo are the Speaker of the NY State Assembly Carl Hastings, the Minority Leader of the State Senate Andrea Stewart-Cousins, and the Co-Leader of the State Senate, Senator Jeff Klein.
The long list of businesspeople in his entourage includes JetBlue Airways CEO Robin Hayes, Pfizer Inc. Chief Medical Officer Freda C. Lewis-Hall, NY Genome Center Chief Business Officer Carol Ashe, Founder and CEO of Regeneron Leonard S. Schleifer, and Vice Chair of MasterCard Worldwide Walt Macnee.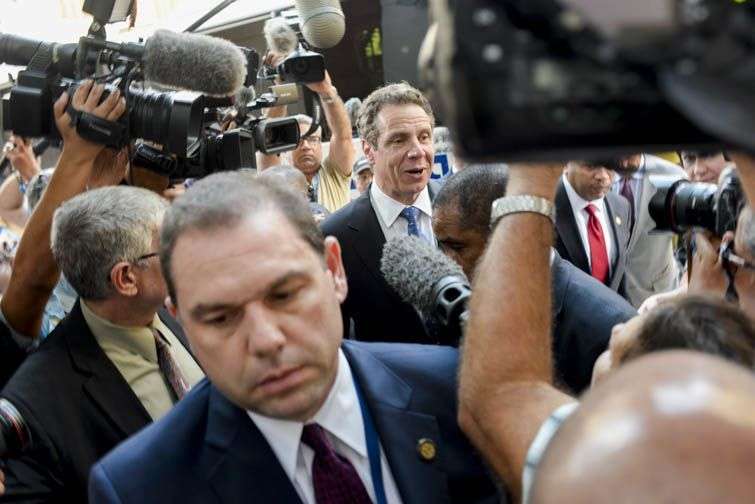 Authors