Timothy Dolan, archbishop of New York who until 2013 presided over the United States Episcopal Conference, is visiting Cuba until next Wednesday 12, fulfilling an invitation by Miguel Díaz-Canel when they met in New York in September 2018, while the Cuban president attended the 73rd General Assembly of the United Nations.
On that occasion, after the meeting, the Archbishop of New York said that the Cuban President "is a man of honesty, hope and dreams. I have been very moved to share with him the hopes of a new friendship between Cuba and the United States. I love and respect the bishops of Cuba and they also share this hope."
To date Cardinal Dolan has officiated masses in Santiago de Cuba and Camagüey.
Dolan arrived on the island last Friday, when he was received by Cardinal Juan García Rodríguez, archbishop of Havana, as well as by government officials who accompanied him during his six-hour wait at the Cuban capital's airport before his flight to Santiago de Cuba.
My first day in Cuba. I was honored to celebrate Mass and visit Our Lady of Charity. pic.twitter.com/q2D6O7DL7y

— Cardinal Dolan (@CardinalDolan) February 9, 2020
Dolan celebrated a mass at the National Shrine of Our Lady of Charity in El Cobre on Saturday, February 8. There he referred to the difficulties encountered by visitors from the United States due to the reduction of flights, the result of a controversial measure taken by President Trump.
It took Dolan himself one day to reach Santiago de Cuba when at another time he could have flown directly to the eastern city.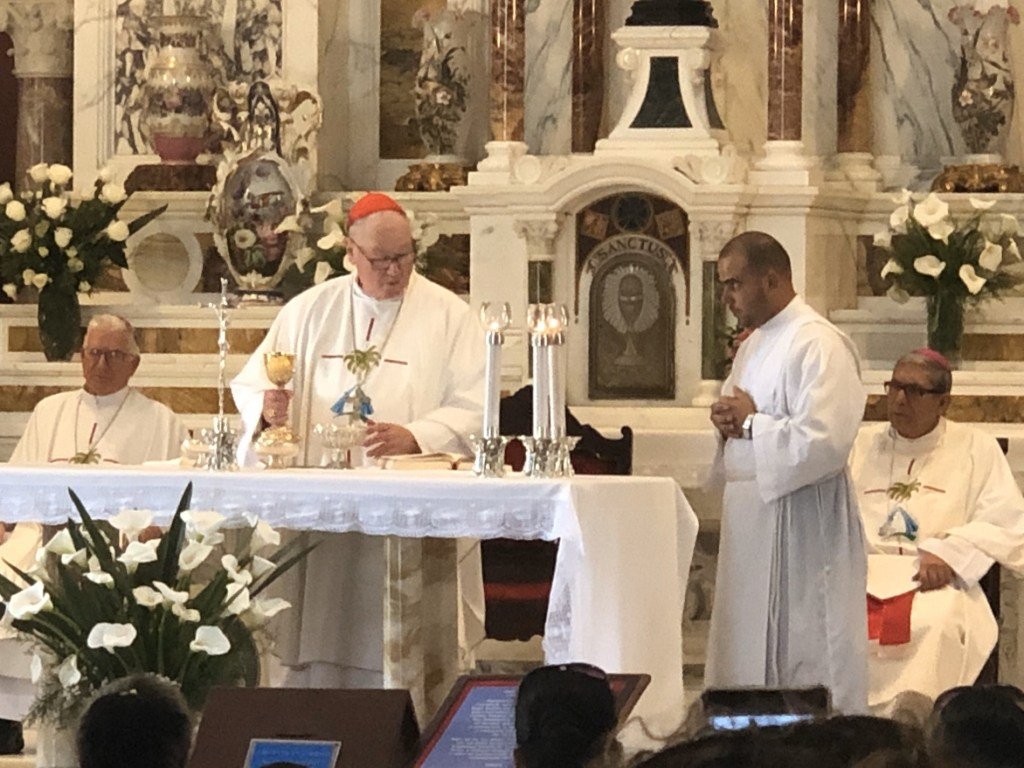 Although the cardinal officiated mass in Spanish, the first homily was translated by one of his six companions, Octavio Cisneros, bishop of the Brooklyn Diocese. Cisneros was born in Havana in 1945, and had already traveled to the island for the visit of Pope Benedict XVI, who appointed him auxiliary bishop in Brooklyn since 2006.
As reported by journalist Rhina Guidos, of Catholic News Service, Dionisio García Ibáñez, the bishop of Santiago, affirmed from El Cobre and before a large attendance that the visit of the U.S. cardinal means a "symbol of communion" and solidarity with the people of Cuba, as well as a commitment to unity in difficult times.
New York's @CardinalDolan celebrated Mass at the Shrine of Our Lady of Charity in El Cobre, Cuba on Saturday. He began a six-day visit to the island with a visit to the shrine, assuring those who attended that in all difficulties, God is present pic.twitter.com/SXYUBr1n9S

— Rhina Guidos (@CNS_Rhina) February 9, 2020
Guidos wrote that on Sunday Dolan officiated his second mass in the chapel of a home for the elderly in Camagüey, where he blessed three sisters members of the San Camilo de Lelis Order dedicated to caring for the sick.
U.S. @CardinalDolan celebrated Mass in the chapel of a home for the elderly in Camaguey, Cuba, Feb. 9, 2020. The Archbishop of New York is in the midst of a six-day mission visit, his first to the island. pic.twitter.com/9KU5SvAcFC

— Rhina Guidos (@CNS_Rhina) February 10, 2020
In this his first visit to Cuba, Timothy Dolan, who was one of the priests in line to be elected pope in the Vatican conclave, hopes to meet with President Díaz-Canel.
Prior to his trip, Dolan said: "We know that the Church in Cuba has suffered, but there's reason for hope." The message was released on his Twitter account, one of the spaces where he maintains his active evangelizing office.
Thanks for tuning in. While I love to pray with and for you, today I'm asking for your prayers. Today I leave for a five-day trip to Cuba. We know that the Church in Cuba has suffered, but there's reason for hope. I'll try to keep you posted while I'm there! pic.twitter.com/mS09Y26y2J

— Cardinal Dolan (@CardinalDolan) February 7, 2020
As reported by the Vatican itself, Timothy Dolan is one of the ecclesiastical figures of Catholicism most media focused, a man of overwhelming congeniality and naturalness together with his firmness in the defense of the Catholic faith.
The website of the Archdiocese of New York reported that for this pastoral visit Dolan is accompanied, in addition to Bishop Cisneros, by Monsignor Kevin Sullivan, Executive Director of Catholic Charities for the Archdiocese, and Mrs. Wanda Vásquez, Director of the Hispanic Ministry, also of the archdiocese, as well as Father Leopoldo Pérez, Mr. Christopher Ljungquist and Mr. Richard Coll, all of the United States Conference of Catholic Bishops.
During his stay in Cuba, Dolan will celebrate mass in Havana Cathedral and will meet with Monsignor Giampiero Gloder, Apostolic Nuncio in Cuba.
Authors