Although geographically and culturally far away, Cuba and the United Arab Emirates (UAE) have been building close relations in recent years.
This nation on the Persian Gulf has a high socioeconomic level, in principle boosted by its gas and oil production, and is a significant actor not just in the Middle East but also in the entire international context.
"When thinking of the UAE, achievements like the highest tower in the world and Palm Islands usually come to mind, but behind its successes are the efforts of the country and its leadership, headed by Sheikh Zayed bin Sultan Al Nahyan, to be able to accomplish these and other achievements," affirmed His Excellency Mr. Bader Abdullah Al Matrooshi, ambassador of the UAE in Cuba.
Since its foundation on December 2, 1971, the UAE had to face many challenges in key sectors like healthcare and education, said the diplomat to OnCuba, but what has been accomplished since then has made it possible to improve the life of Emirati citizens and give a hand in terms of cooperation to other nations in diverse fields, be they political, economic or cultural.
Following that course, its Embassy on the island was inaugurated on October 5, 2015, and since then both countries have jointly worked to strengthen their relations.
"On the same day that the Embassy was opened, an agreement was signed to finance a 10 MW solar energy project in Cuba. The project is currently being carried out, and once it starts up it should benefit three Cuban provinces," affirmed the ambassador, who added that cooperation in this sector is the result of the common interest in renewable energy as the energy of the future.
"Renewable energy is of great importance to both countries, especially because fossil fuel is going to run out at some time. In the UAE we are going to celebrate the day we export the last barrel of oil, and in that sense we have taken several steps, like, for example, building the Masdar ecological city and being the headquarters of the International Renewable Energy Agency (IRENA)."
What are the perspectives today in relation to investments and bilateral trade?
The volume of commercial exchange between Cuba and the UAE in 2016 reached 24 million dollars. Although that figure is relatively low, we are closely working with the Cuban authorities to increase and diversify it.
One of the most attractive sectors for our country's investors is tourism, in which we believe Cuba has great advantages and in which several Emirati companies are exploring opportunities.
Health is also a sector with great potential. In fact, a UAE company that visited Cuba in 2016 as part of a delegation to a bilateral forum, contacted Cuban government enterprises in search of an agreement. I know that progress has been made in the negotiations and I hope an agreement can soon be signed between both parties.
In addition, we have other companies that are analyzing diverse Cuban economic sectors and they have the intention of making investments in them.
What role have the visits and other high-level exchanges played in the strengthening of bilateral relations?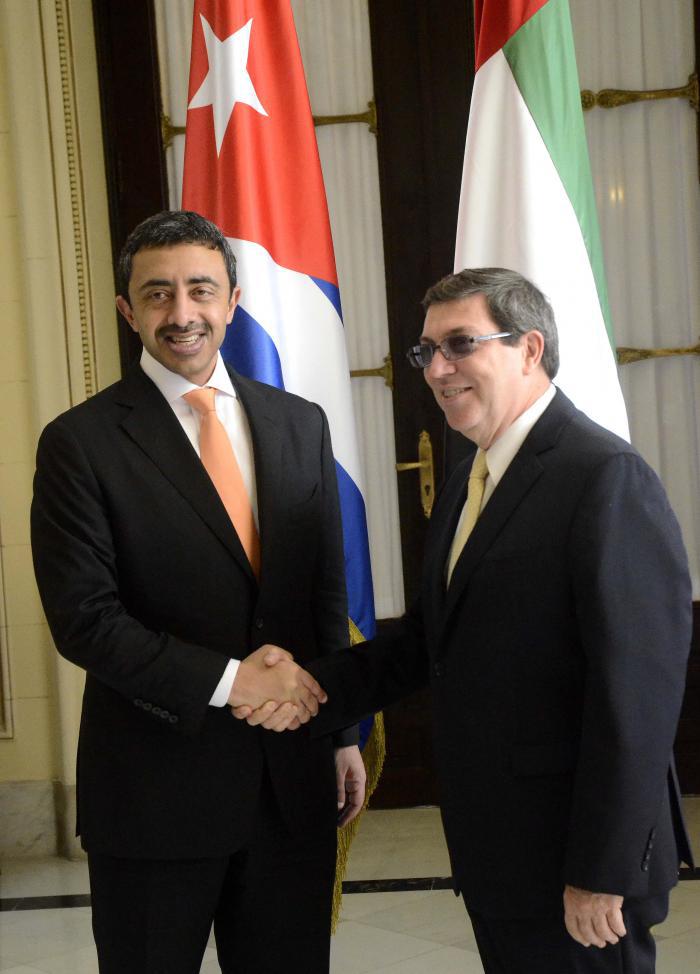 Cuban Foreign Minister Bruno Rodríguez greeting United Arab Emirates Foreign Minister Sheikh Abdullah Bin Zayed Al-Nahyan during his official visit to Cuba in October 2015. Photo: Anabel Díaz / Granma.
They have been very important. It should be recalled that we have had three ministerial visits in recent years. Foreign Minister Sheikh Abdullah Bin Zayed Al-Nahyan visited Cuba in October 2015; the embassy was opened then and two agreements were signed.
Afterwards, a large delegation headed by Economy Minister Sultan Bin Saeed Al Mansouri came in 2016, and at that time the second Business Forum between both countries was carried out. And recently, Minister of State for International Cooperation Mrs. Reem Bint Ebrahim Al Hashimy visited the country to discuss with the Cuban authorities new cooperation possibilities.
Meanwhile, Cuban Foreign Investments Minister Rodrigo Malmierca visited the UAE in 2015 accompanied by a delegation and the first Business Forum was held then. And other official delegations have made visits in both directions, which is a clear sign that we want to achieve more and strengthen the advance in relations between both countries.
We also maintain very good collaboration in the United Nations and other international organizations of which we are members. We exchange support and collaboration in these spheres, something maintained throughout time. In addition, our country backs the lifting of the economic blockade imposed on Cuba.
Cuba and the UAE have signed several agreements, at what stage are their implementation?
We have signed several agreements which are at different stages of implementation, among them one on air services and a memorandum of understanding on political consultations, which has been continually complied with during the visits and exchanges of official delegations from both countries. There is also an economic, commercial and technical cooperation agreement.
In perspective, we are working to sign a cultural cooperation agreement and economic agreements. In the UAE we have received first-class Cuban artists like Carlos Acosta, and his audience has been excellent, and now we are working with important institutions like the National Ballet of Cuba and Lizt Alfonso so that these exchanges increase.
Based on the UAE's experiences and potentials, what more could your country contribute to Cuba at a time in which the island is carrying out a process of reforms?
Cuba and the UAE have many interests in common, like education, health, human resources, and that allows us to advance to other levels because we share those basic values for the development of society.
This takes me to the Technical Assistance program our country is developing, in which the UAE shares its experience and the know how we have been able to accumulate throughout the years in sectors in which the country has made progress, like logistics and renewable energy, a subject in which, as I said, we have a cooperation project with Cuba.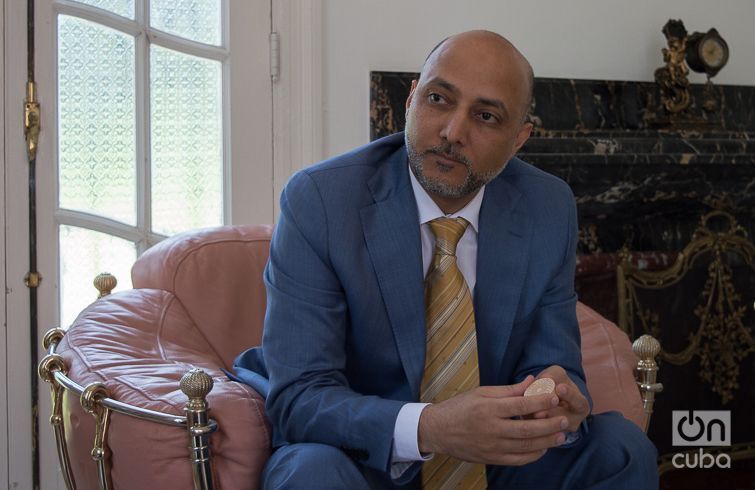 We have notified all the countries that can, without restriction, receive this know how. For us it is very important to share what we have been able to achieve within our possibilities with friendly countries, no matter if they are geographically close or far, and it's not just about giving, because it is always received, but rather a feedback is brought about as part of this exchange. And we hope that Cuba can benefit more from this program and also offer us the advances and know how it has.
From your viewpoint, what could the UAE receive from Cuba?
Healthcare is a sector that is worthy of admiration in Cuba because of everything you have achieved despite the challenges and conditions you have had to face. That's why there are Emirati companies interested in Cuban products and innovations.
For example, there are medicines that Cuba produces and which are very valuable, like the Heberprot-P for the diabetic foot treatment. This product is already registered in the UAE and should start being marketed soon, which will be another advance in bilateral relations.
In two years the UAE will organize the Dubai 2020 World Expo. How is your country preparing for this event and what can you advance us about Cuba's participation?
The expo will take place from October 2020 to April 2021. In those six months we expect to receive 25 million visitors and show the world our organizational ability.
The fact that we were chosen to organize this event denotes the confidence that other countries have deposited in us and we want to respond to it. It will be an opportunity for those who visit us to appreciate the achievements and values of our country, and the bet on innovation, peace, tolerance, human development, in a nation in which persons from more than 200 nationalities live.
The UAE has the intention of making a different expo, in which the pavilions will not be distributed by region but rather as the countries themselves choose following the fundamental themes: mobility, sustainability and connectivity. Based on the chosen theme, each country will develop their pavilion. Moreover, we want the nations to show their history and their future vision, how they got to where they are now and what they are seeking to continue, more than their current economic numbers.
Like many other countries, Cuba already confirmed its assistance to the expo. The entity responsible for the Cuban part is the Chamber of Commerce, which is in charge of the preparations and exchanging with the 2020 Expo organizing team: of defining how the island's participation will be and everything concerning the different details. At present there is a fluid communication between both sides, and we expect Cuba's participation will be a success.
Authors