When Firdaus is officially inaugurated, the doors of paradise will be open for the Muslim female community in Cuba. This old wish will allow women who profess Islam on the island to acquire, among other products, clothing and accessories in line with their beliefs and that meet their aesthetic needs.
Prior to the inauguration of the store that will function as a bazaar, OnCuba spoke with two young Cuban women converted to Islam who are about to start this venture completely related to the religion they have professed for years.
Kira Romero, owner of Firdaus, and Maryam Camejo, its director of communication and at the same time director of Con/texto Magazine, a publication that "tries to make political analysis in the era of influencers."
"In Cuba there are basically Sunnis, Shiites and Sufis, mostly Sunnis," says Maryam. "What happens is that we defend that assuming Islam is not a process of Arabization or transculturation or importation of cultures, Islam does not call for rejecting what you are, you can comply with Islam from your own culture and it has been this way throughout centuries," argues the journalist.
"In particular," says Kira, "I don't like being called Sunni or Shiite, I'm Muslim."
They complain about the lack of knowledge that exists in Cuba about this community and its religion. Kira says that with the bazaar she has no intention of "Arabizing Cubans, but rather that they acquire information and culture about Islam."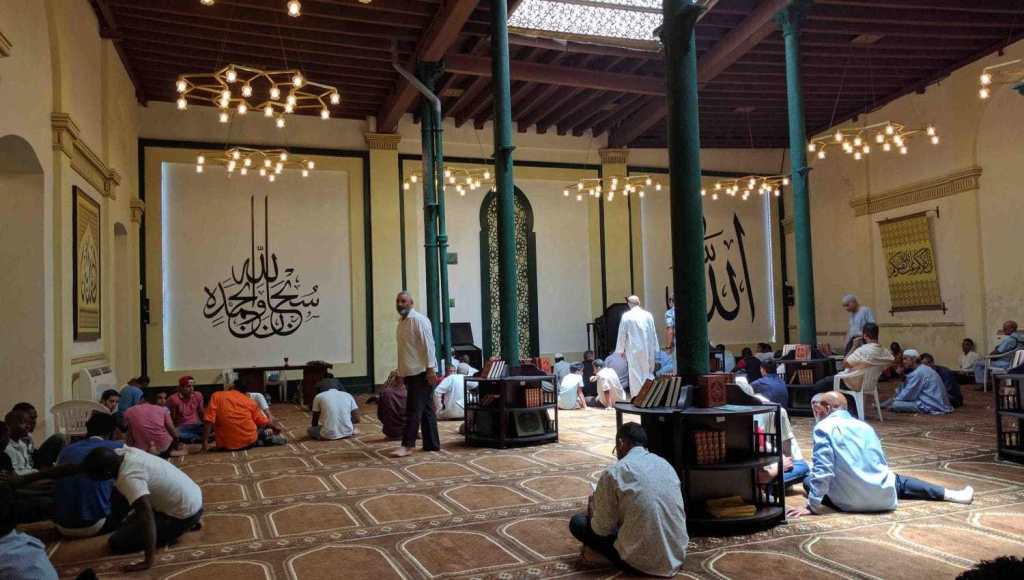 How do you get the clothes in Cuba?
Through donations from everywhere, embassies or people who arrived with a suitcase full of clothes that mostly lacked beauty. Many are even black and it looked like you were in perpetual mourning. I said 'why, if I like to dress in colors?' A lot of used clothes. Kira Romero, 32, says.
There is that idea that because we are Muslim we don't like to look good or we don't have fashions and yes, there are fashions, trends, latest fashion clothes in Islamic culture. We are equal, capable and enterprising women. As a woman without a hijab does, we can do it.
***
The hijab is the most popular female garment within the Muslim community. It consists of a handkerchief that women use to cover their head and hair and, sometimes, their neck, exposing the face and thus not preventing communication. Its size, color and way to use it depends on the customs of each community in the country.
In addition to the hijabs, the store intends to extend to the rental of bridal gowns, for Muslims and non-Muslims, with designs that are trends in Saudi Arabia, Turkey and Pakistan. "Even if it is a wedding dress, it follows Islamic logic," Romero clarifies.
Is the use of the hijab mandatory?
Kira: It is mandatory according to the precepts of religion, but it goes through a woman's personal decision. She is the one who assumes its use, neither your father nor your husband can force you, no one can force you to use it, that goes with your grade of commitment, to put it some way, and how you feel Islam.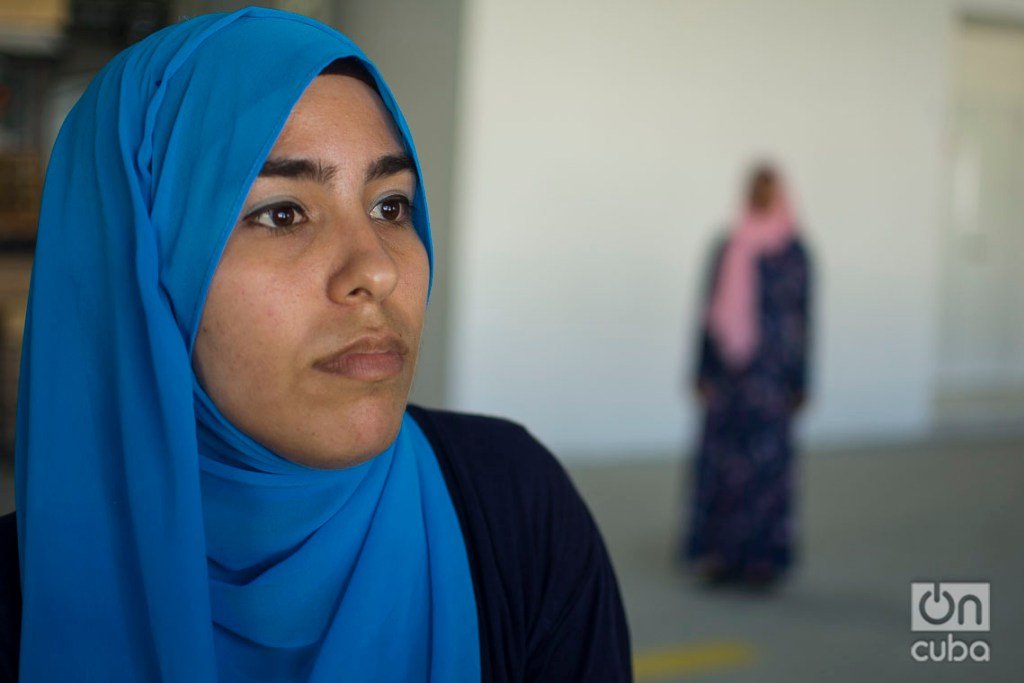 Maryam: Islam is lived worldwide in many ways, some more extreme and some more liberal. There are people who greatly feel Islam, but are not prepared to wear the veil. The hijab is not for perfect women nor does it define that you are perfect, it is one more commandment that is written in religion.
It is true that in several regions of the world the use of the hijab is imposed and there are women who use it against their will. In the Muslim community in Cuba, by living in a society that is not Islamic, you assume religion to the extent of your ability and possibilities and to the point where you understand and feel it.
The hijab is not an imposition, except in particular cases in couples. Community leaders urge women to use it, but they are not discriminated against or forced to use it.
Kira: The positive thing about the store is that there will finally be an affordable offer of veils. Here you can find them in other places at very high prices and they don't even have the right quality or fabric. To compensate for the delays in opening the store on the agreed initial date, there will be discounts in the first week of sales.
In Firdaus the pieces that will be sold are fresh fabrics to prevent women from feeling hot because the hijab was originally used in Arabia where there is much more heat than in Cuba. In the store there will be several hijab models, the rectangular classic, other more similar models such as caps, an undercap, which was practically impossible to get in Cuba and is fundamental in clothes.
"Kira has taken special care that everything in the store can be applied and adapted to our context and that it is beautiful, not just wearing some rags on the head," Maryam adds, "because sometimes a Muslim woman uses other clothes that are not the most appropriate in order to cover herself."
What other products will be offered?
Kira: Everything necessary to meet the needs of Muslim women, except halal food because the state takes care of that. Veils, clothes, dresses, blouses, skirts, pants, jewelry, costume jewelry, and cosmetic products too.
A part of the clothing will be produced here, with seamstresses and designers as part of the work team, with mostly imported raw material, all first-hand products.
***
There is jewelry that Kira herself assembles because she has an artisan's license and studied gemology online from a university in Madrid. "There will be pieces of various materials that include crystals and semiprecious and precious stones, as well as jewelry with pearls, with varied prices according to the category and cultivation," explains the store owner.
Another of the novelties in the products will be the permeable nail polish that will make it possible to maintain the aesthetics even after performing the purification rituals before the prayers performed by the Muslims. "We pray 5 times a day and in that process we must wash our hands and other parts of the body, and the water must reach your nails. The nail polish sold in Cuba doesn't allow water to pass and then the problem comes because the purification ritual is invalidated," explains Maryam.
https://www.instagram.com/p/B7wK1inB_Dw/?utm_source=ig_embed
Kira says that "in most Muslim communities, henna is used, and in the store you can find products based on this powder. Hair dyes and nail polish made with this product, with halal certificate."
"Products will be sold to the Muslim community, but you can buy as much as you want. Anyone who wants to go to the store can, because Islam does not discriminate against or mistreat any person, even if someone commits actions that are considered a sin in religion. We don't support discrimination of any kind," adds the young woman, a civil engineer by profession.
"The idea," says Kira, "is that there are options for everyone, based on Cuban culture, because Cuban women like to look good, they like to look pretty, and that doesn't mean because a woman is Muslim she can't look good."
That opinion still persists…
Maryam: In the whole world, as in Islam, there are lines of thought. There are young women who want to say and consider it is mandatory to cover their face and hands and feet and that you be practically not seen. We don't agree with that. As there is also a worldwide movement that is the hijab fashion, to make the hijab visible, as a culture of modesty, because it plays a lot with that term. That one is a Muslim woman does not mean you don't like fashion, I can dress well while maintaining my precepts. There are even several western designers who make designs adapted to Muslim clothing.
Kira: We have our ways of looking good, of dressing well. We have no reason to be uglier or that my presence bothers you or that I have to be ugly to go out, on the contrary, even with the hijab I can be told 'look how pretty she's dressed.' We can use any piece that serves to cover us and exposes the face and hands, and that is beautiful.
There is that belief that because we are Muslims we don't like to look good or we don't have fashions, when there are. Trends, latest fashion clothes…it's the same, but different. We are equal, capable and enterprising women. The same thing a woman does with a hijab, we can do it ourselves.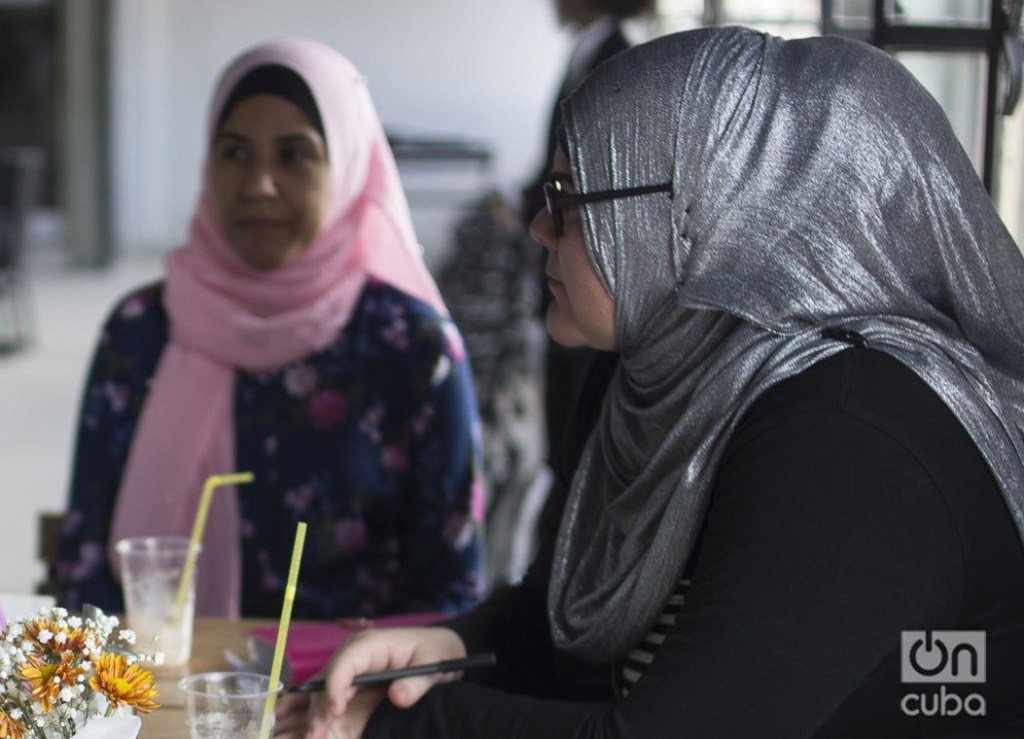 Both comment to OnCuba that there is great expectation in the Muslim community over the opening of the store: "The reaction of the community has been spectacular. There is a lot of expectation. Even men have been asking if at any time the store will also sell men's clothing, which is planned in the future, but for now only jewelry items for men will be sold."
"Muslim women from all provinces have communicated to come to Havana as soon as it opens. Even from Santiago de Cuba they are calling us to come. Many say it is the first step."
Women's empowerment, from Islam
The idea that started as a store now expands. Maryam explains that "we changed from being a store to being a bigger project, with a bigger projection. The idea is to turn it into a brand, from the concept of branding. It will start with a place here to be extended to other services."
"Within a few months it will start providing halal event planning services, like the rest of the services, with the aim of making Cuba's Islamic community visible, women within that community who are interested in changing the image for Muslim women, to combat gender violence, especially towards the internal community, from a discourse of women's empowerment from the religion itself.
Kira: With Firdaus there is also the possibility of offering employment to other Muslim women, hopefully all of them in the community, but at least they will have their space there. The idea is also to train these women so they can offer services that Firdaus will offer: beauty salon, design service, event planning, turning Firdaus into something bigger based on an Islamic-Cuban projection.
Could we talk about feminism within the Muslim community?
Maryam: There is a global Islamic feminism, there are several branches. Personally, I consider myself a defender of a humanist feminism. I cannot defend the supremacy of women, as I don't defend white supremacy or any other. As human beings we must be considered in equal conditions and rights. No one is better than another by sex (or gender), race, etc.
Yes, we can talk about terms of feminism in the Islamic community, one that defends our right to be and exist as Muslims, on the one hand, and also defends that no one take away the rights that Islam gives us, that is, within the community itself.
There are Arab countries where women are second-class human beings, when that contradicts the basic principles of Islam. We argue that these practices are not established in the dynamics of the community. We have to work on being better human beings, yes.
Firdaus will have a social projection, according to what the leaders of the project told OnCuba: "We are also establishing alliances with other enterprises to create social and community projects, focused mainly on women, girls, vulnerable sectors of society. Mi rinconcito, D'brujas, Sabor Café are some of the projects with which Firdaus intends to collaborate, mostly projects led by women."
The store space is located in the San José Warehouses, located in the Historic Center of ​​Old Havana. "The project was proposed to the Havana Historic Center, during the process of revaluation of the premises of the San José Warehouses, where other ventures of interest to the institution are inserted," explains Maryam.
"In many western countries there are several Islamic stores. This is the first in Cuba and it is a way for this type of commerce to finally get to the island, one that takes into account the Muslims and thus marks the beginning and afterwards there may be halal butcher shops, for example, and other establishments for Cuban Muslims," say the leaders of the project, which promises to be an inclusive space within the Islamic community in Cuba.
Authors