When Lis Núñez moved to Guanabacoa, in November of 2017, she did it with six cats. They were, are, part of her "family" and they walk freely throughout the house and they're "never going to leave," those which "chose" her and which she chose. But a year and a half later, they aren't the only ones that are keeping her company.
A year and a half later, Lis has more than 50 cats in her care. The figure, just hearing it, impresses. She reached it little by little, deliberately. When she bought the house ―when she had her own resources to do so―, she did it with the intention of turning it into a shelter, for sheltering wounded and abandoned animals in the street. And so it has been.
Hers is one of the shelters that form part of "De la calle," a collective project dedicated to animal protection in Havana, which she shares with other independent protectors and who currently have the support of the U.S. Ocean Doctor organization.
Lis Núñez wasn't born in the Cuban capital, but in Cabaiguán, in the center of the island, and since childhood she felt a special connection with animals. She studied law in the capital with the "utopian idea" to specialize in environmental law and promote the approval of the first animal protection law in Cuba.
Still in Havana's university, she founded with several friends an environmental group, which they called "Saltamontes" (Grasshopper). With them she participated in artistic performances and public interventions with an environmentalist message and approached the Museum of Natural History, in search of knowledge and legal support.
After graduating the situation changed. While her group was losing members because "that's life," she persevered in the cause of nature. Suddenly, she found herself rescuing animals and taking them to the places she rented to live in for more than 10 years, despite the grumbling landlords.
Reality and maturity led her along this path.
"I came from doing a lot of environmental work, but thinking about the big ecosystems, the forest, the sea, problems such as pollution, the greenhouse effect, the extinction of species. That was my mentality and that of Saltamontes," she tells me while preparing her cats' food. "But when the group began to decline, I began to look more at the city. I realized that I was not in the forest, or in the mountains, or in the sea, and that I could do a lot where I lived."
Lis barely practiced as a lawyer. She joined new projects and organizations such as Ocean Doctor, took courses and began working as a producer of events "to pay the rent and buy food," hers and the animals she started to pick up.
The first was a dying dog, "a retriever puppy a couple of months old, with something tied around her neck in the shape of a cross, perhaps as an offering," she says. "I couldn't leave her like that, I rescued her and I saved her. Since then I couldn't stop. There came another, and another, and another, until today."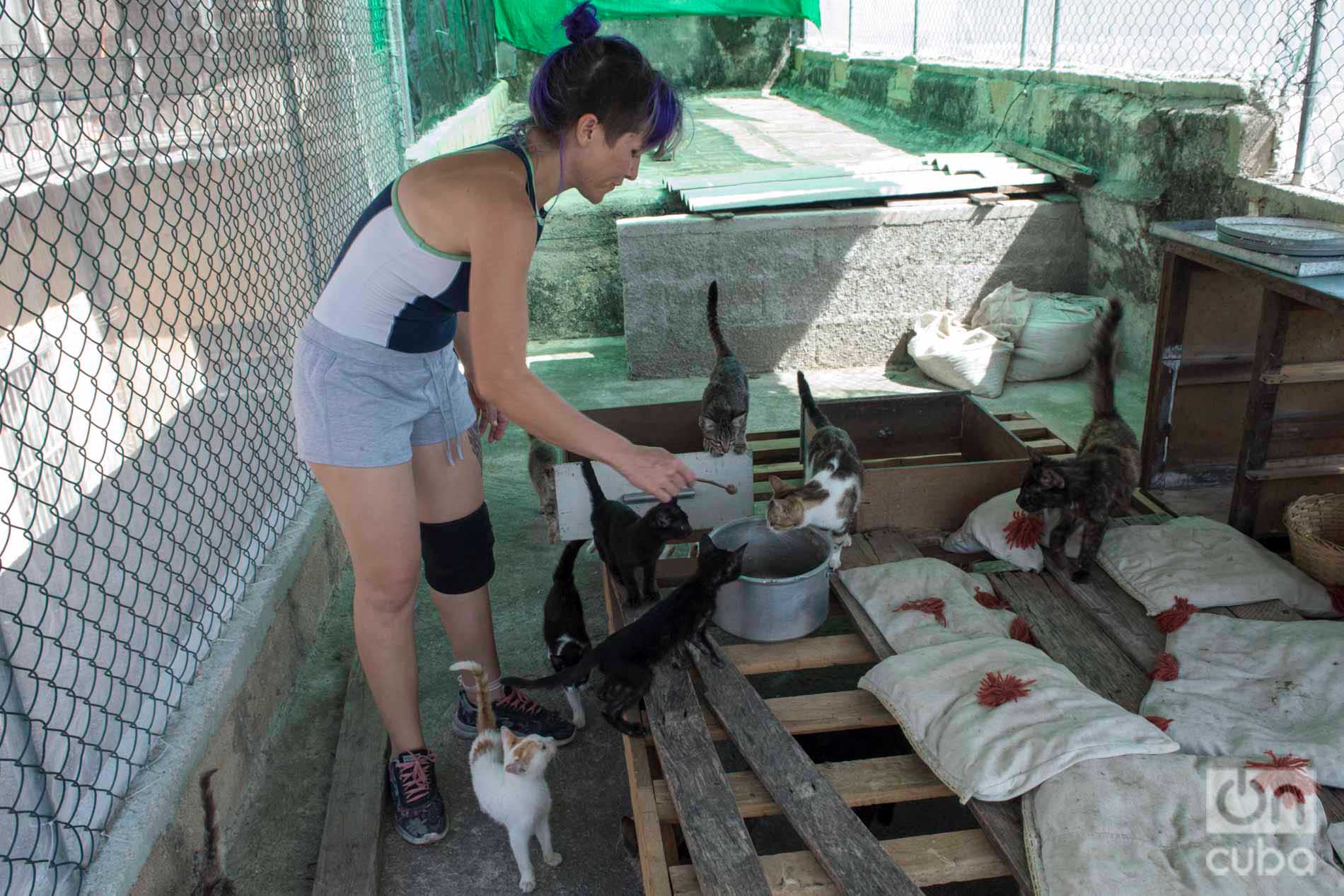 The difficulties and limitations with the place she rented, where she managed to have several rescued animals ―dogs and cats― at the same time while "trying to seduce friends and colleagues to adopt them," drove her to create her own shelter, to strive to achieve it.
"One day I realized that I needed a place of my own so as not to disturb anyone, a place that was for public welfare and for the protection of animals. I never thought I could have the money to do it; but I worked hard, I saved, and finally I was able to buy the house. I still have a lot to fix, to build, but it's already taking shape."
The shelter, the network
Although she also has some dogs, Lis' shelter is for cats. It was the part she assumed as part of the "De la Calle" structure, where other protectors deal directly with dogs. She did it out of "affinity and responsibility, because cats are special beings, but many people prefer not to discover it."
It is not, however, a place for animals to stay forever.
"Before starting this project I spent time informing myself and I knew that even in the first world, where there are more resources, legal support and awareness, shelters are not sustainable," she explains. "In addition, there is the problem of space. So a flow is necessary, which is how it works in many places: keeping the cats while they grow up or recover from the causes for which we brought them here. "
The idea, she affirms, is "to give them love and food, cure them, sterilize them and, when possible, give them up for adoption, and if not, to release them in controlled colonies, which we follow up on the network and feed them."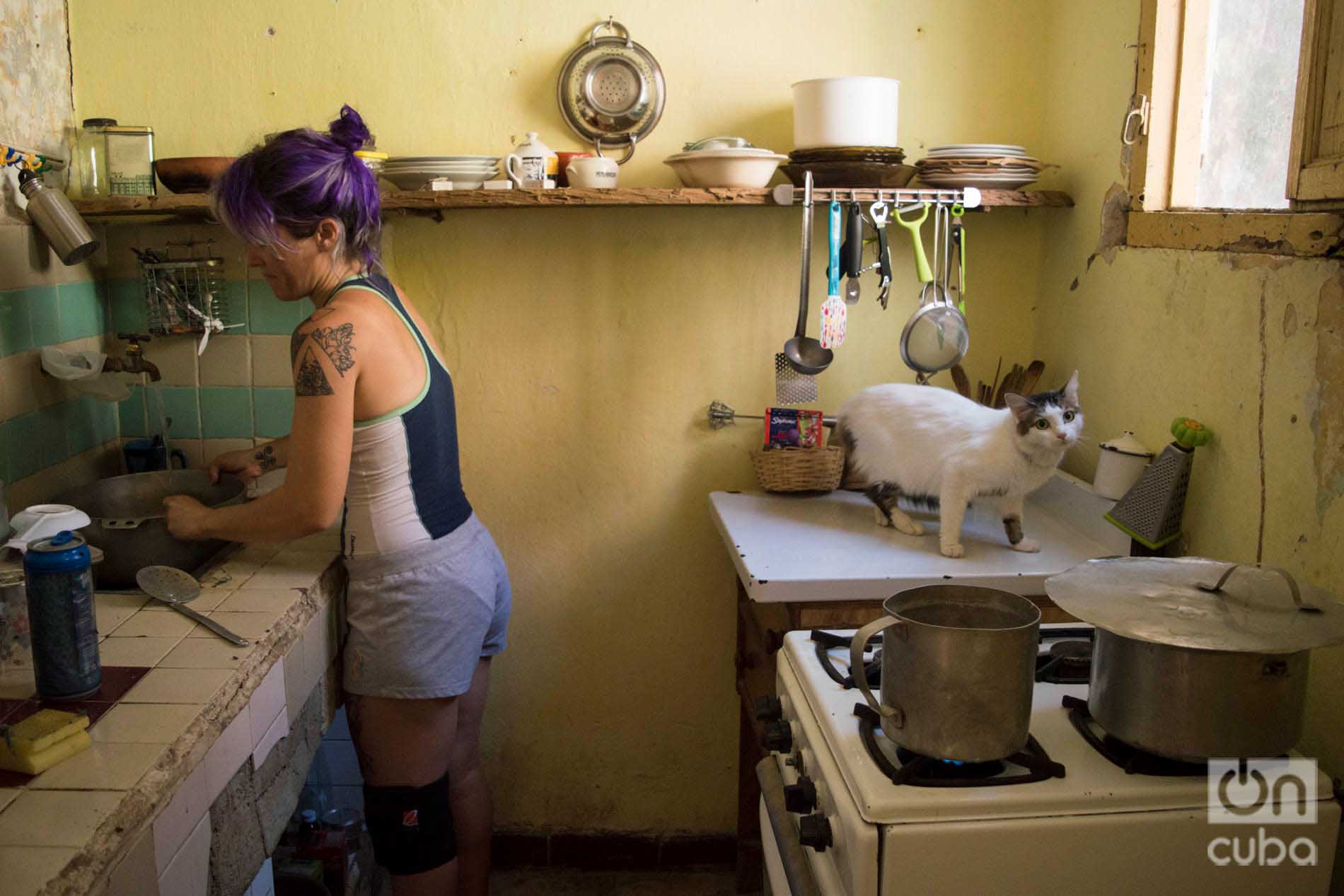 In the shelter, located mostly on the roof of the house on Candelaria Street, near the Guanabacoa Park, cats are organized by age. In one part are the injured and sick adults. In another, which Lis calls "gatera," there are "the young ones," many of them already at a fertile age and ready to be adopted or released in a colony once they are sterilized.
The kittens, picked up after being abandoned by their owners, for the moment are kept inside the house, and Lis takes care of them. She even usually takes with her the smallest and most destitute to her workplace in Havana and, even, outside the city.
Although she eventually receives help from friends and other people to take care of the place, the 31-year-old woman has had to adapt her schedules and her own work to maintain the shelter. However, the most challenging thing, she says, is getting food and medicines.
"In Cuba nothing is regular. Right now the fishmongers are out of supply, so I have to go to almost all of them in Havana until something appears, and with that start inventing and stretching it a lot," she says before taking up to the roof a mixture of rice and fish for the "young ones."
A fisher neighbor gives her heads, tails and fins. The rest, including a sack of rice approximately monthly, she buys in markets and state stores. She also receives some donations, from inside and outside of Cuba, even though she doesn't have a legal status for it.
The same happens with medicines.
"This is a path that gives a great deal of happiness, a great deal of realization, but also a great many worries," she says. "It is necessary to have great willpower and conviction. It requires a great deal of energy, a great deal of time, a great deal of strength, and not everyone is willing to do it, or to share with those who do it."
Fortunately, she is not alone. In the midst of a growing activism in favor of animal protection in Cuba ―with several organizations dedicated to this work and proposals for a long-awaited law that Lis always supports with her signature― she has managed to strengthen a small but firm network of collaborators grouped in "De la Calle" and win the support of Ocean Doctor, ever since its director and founder, Dr. David Guggenheim, learned about the project.
The members of "De la Calle" met each other thanks to activism, at events and campaigns such as those organized on the island by the Canadian organization Spanky Project, and they decided to join forces. That's why Lis, although she is its main promoter, gives all the credit to the group and mentions names like those of Yoe, the team's unconditional veterinarian; Vivian, who feeds animals on the street every day; Maylín and her dog shelter in Cotorro; and Venus and Ernesto, who have begun to create theirs in Mulgoba.
Together they help each other, organize sanitation and food campaigns, promote adoptions, join others' initiatives and, with their work, try to sensitize those who live in their surroundings. The latter, says Lis, is the key to the future.
"Animal and environmental protection in general can't be the task of a person or a group, but of the whole of society. You have to educate people, and our work is also aimed at showing people what can be done," says Lis, who dreams of carrying out environmental education in schools and houses of culture, and showing her work to children there, as she does it today with those who visit her.
"The children are the ones who are going to make the difference tomorrow," she says.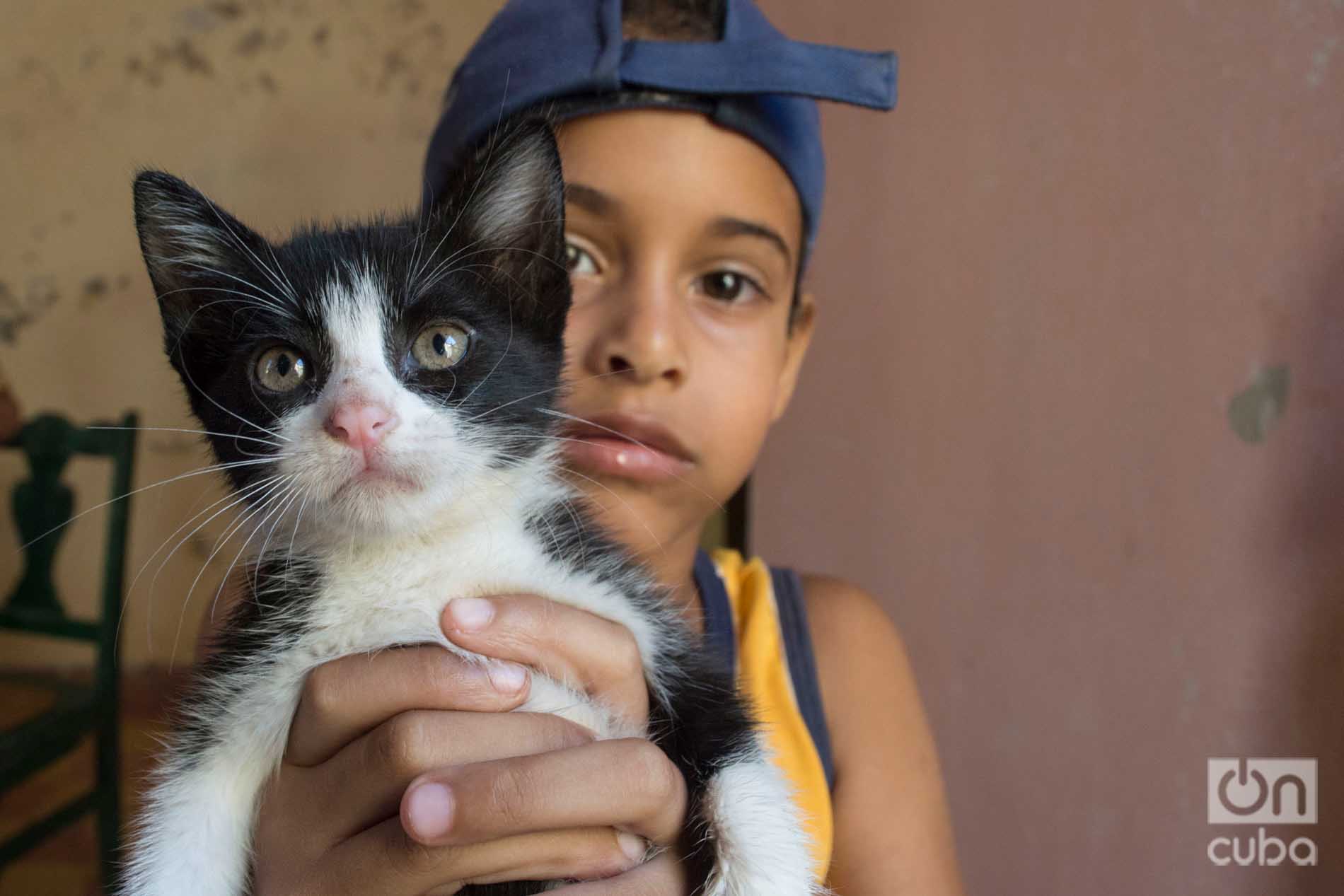 The story of Venus and Ernesto
Each member of "De la Calle" has his/her own story, his/her own path of search and willpower. In one way or another, they have all reached the point of devoting their lives to the welfare of animals. Venus Martínez and Ernesto Pérez did it together.
With ten years as a couple and a son on the way, both recognize being animal lovers since childhood. But it was after years when they met again, after an old youthful courtship, that they began to rescue dogs.
Venus was the driving force.
"As I became more aware of this issue, I started getting to know protectors and activists and I started involving Ernesto with me in events and campaigns," she says. "Thus we met Lis and others who are now friends in common, and we understood that we weren't the only ones with the intention of helping the animals. We started helping with transportation, because we have a car, and one thing led to another."
"We had a Rottweiler that had three puppies, and so they wouldn't use them for anything bad we decided to keep the three. Then, seeing so many abandoned dogs on the street, hungry, sick, we began to help one, to pick up another, until we reached the more than 20 we have today."
Little by little, their house in the municipality of San Miguel de Padrón in Havana was filled with animals. So many, that they no longer had space and decided to sell it to build their own shelter.
One event catalyzed the decision.
In search of a small dog they were feeding in a nearby parking lot and that had disappeared, Ernesto went to the Department of Zoonosis, in charge of picking up stray dogs and, in most cases, sacrificing them. He did not find the dog, but he convinced the employees to let him take others.
First there were three, then 14, and a third time, and not without difficulties, another 14 that he shared with a protector who accompanied him.
"I spoke to the bosses, I told them I wanted to adopt some dogs for a farm, that I really didn't have any, and that I had friends who also wanted some," he said. "It wasn't easy, they started to put obstacles in my way, they questioned me, but finally they let me take a group on several trips, among them a German shepherd they said was aggressive and currently lives with a friend of ours. When they released her she came to where I was and left with me as if she were my life-long dog."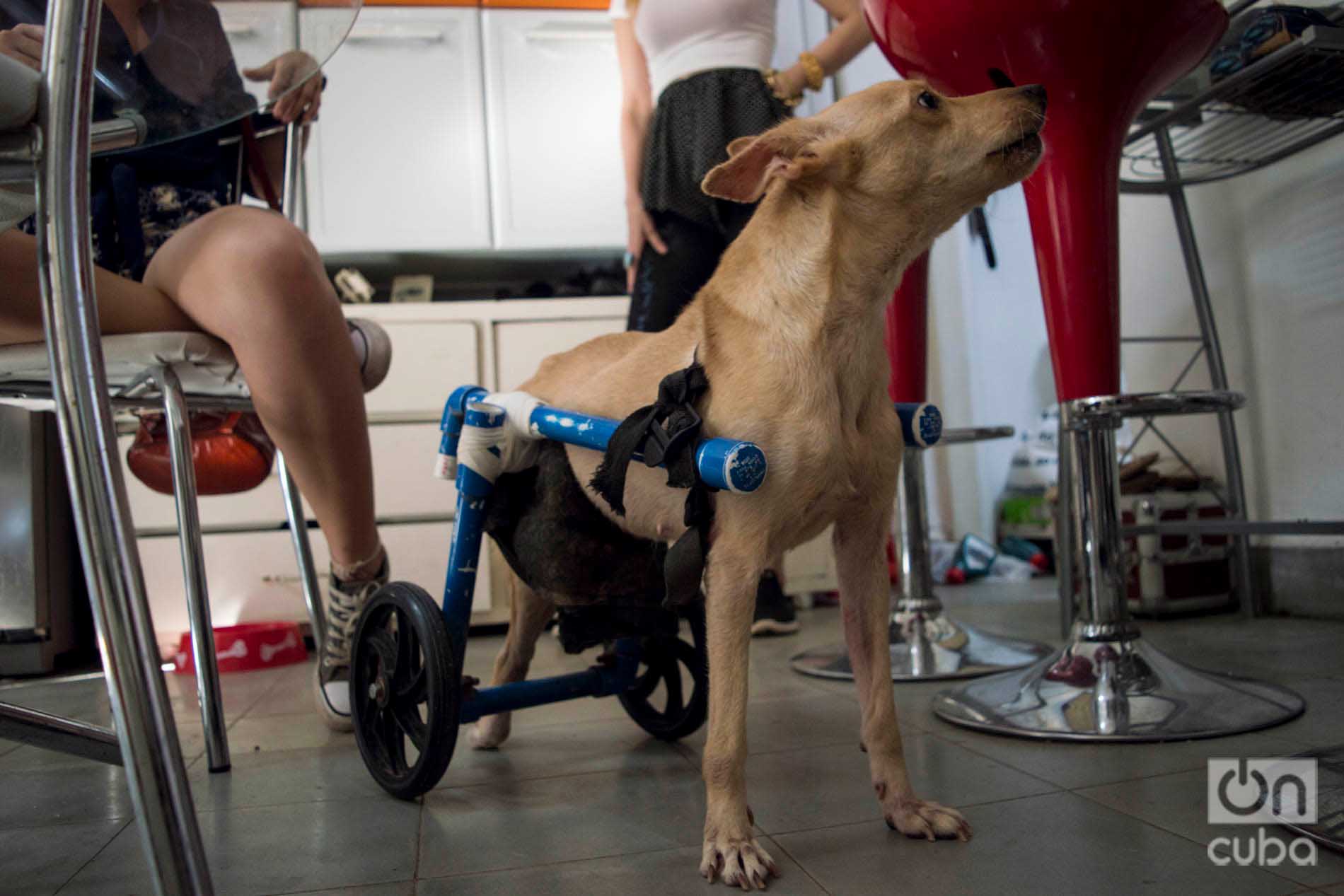 After selling their house, Venus and Ernesto bought a plot of land in Mulgoba, west of Havana, where they quickly prepared a shelter they hope to improve and they started preparing the conditions to build a house. Meanwhile, they moved to an apartment that until then they had been renting out in Cerro municipality, where they also took the sick animals.
However, there they will not stay for long. His intention is to rent the apartment again to reactivate his finances and move to an empty container that will serve as a temporary home in his new plot of land. That way they will be with their dogs all the time.
"We have had difficult times, we have had to make sacrifices and tighten our belts, but it's worth it. Every time I arrive at the shelter and see the dogs, I feel rewarded," says Ernesto, who says that his "number one plan" is "to help all the animals we can," but "to a certain extent," "because we do nothing by helping many and then they aren't well taken care of."
"What we want," says Venus, "is to be able to offer them, little by little, the best conditions to find an adoption for them and to be able to pick up others who need it. We always cry every time we give one away, but we know that we must do it in order to help others. It is for the good of everyone."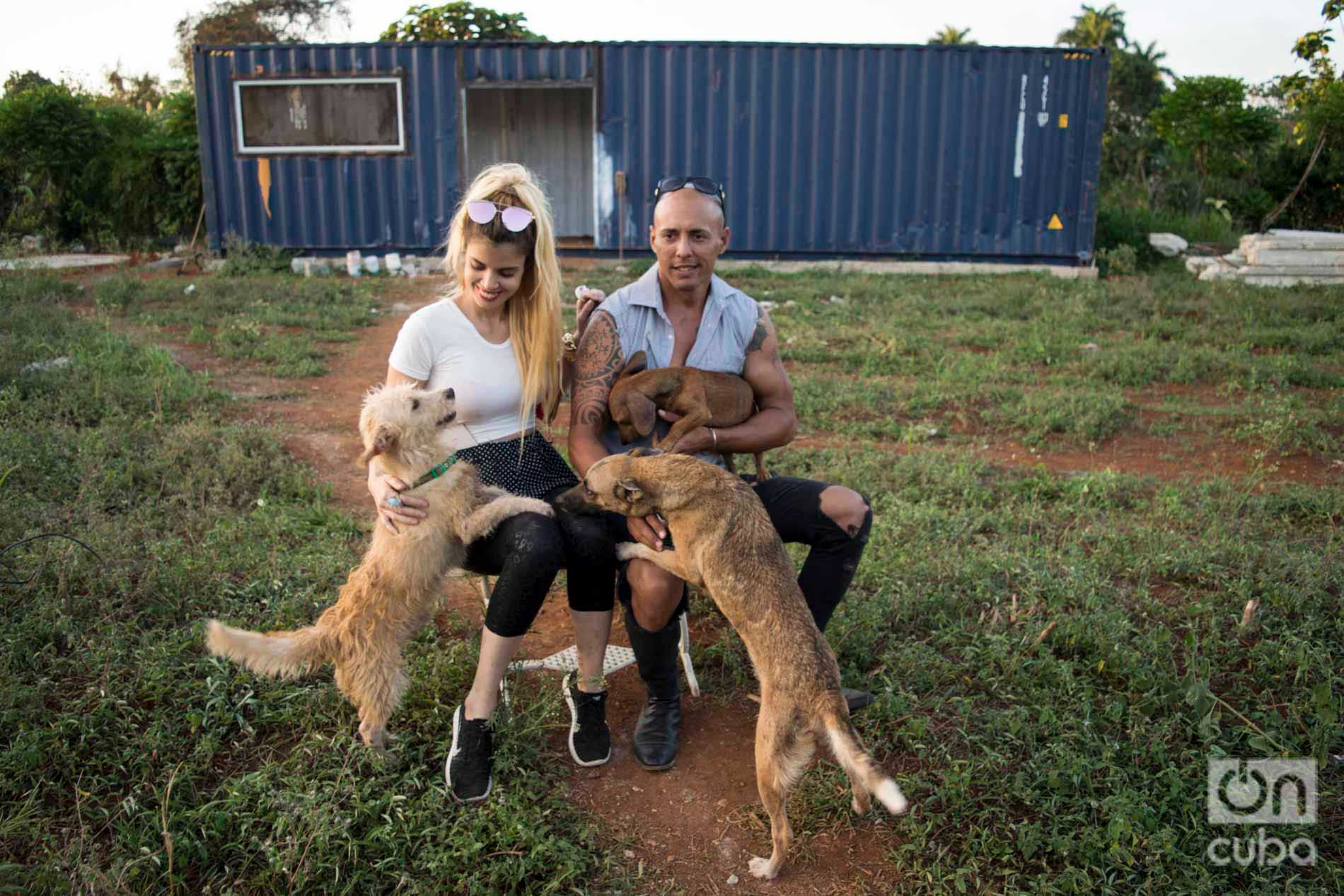 Ocean Doctor, also with "De la calle"
David Guggenheim has been coming to Cuba for more than 20 years. His work on the island focuses mainly on coral reefs and marine ecosystems, through close collaboration with the island's scientists and institutions.
Ever since he met the project "De la calle" he was smitten. He even plans to take to the United States one of the cats rescued in Havana.
"Knowing stories like those of Lis, Venus and Ernesto is very inspiring because there is a lot of sacrifice and work to be able to do something like this in the midst of difficult conditions, without adequate funding, exposing themselves to illnesses and having problems getting food and medicines for so many animals. But in spite of everything, they do not lose the desire to help," he tells OnCuba during a visit to the Mulgoba dog shelter.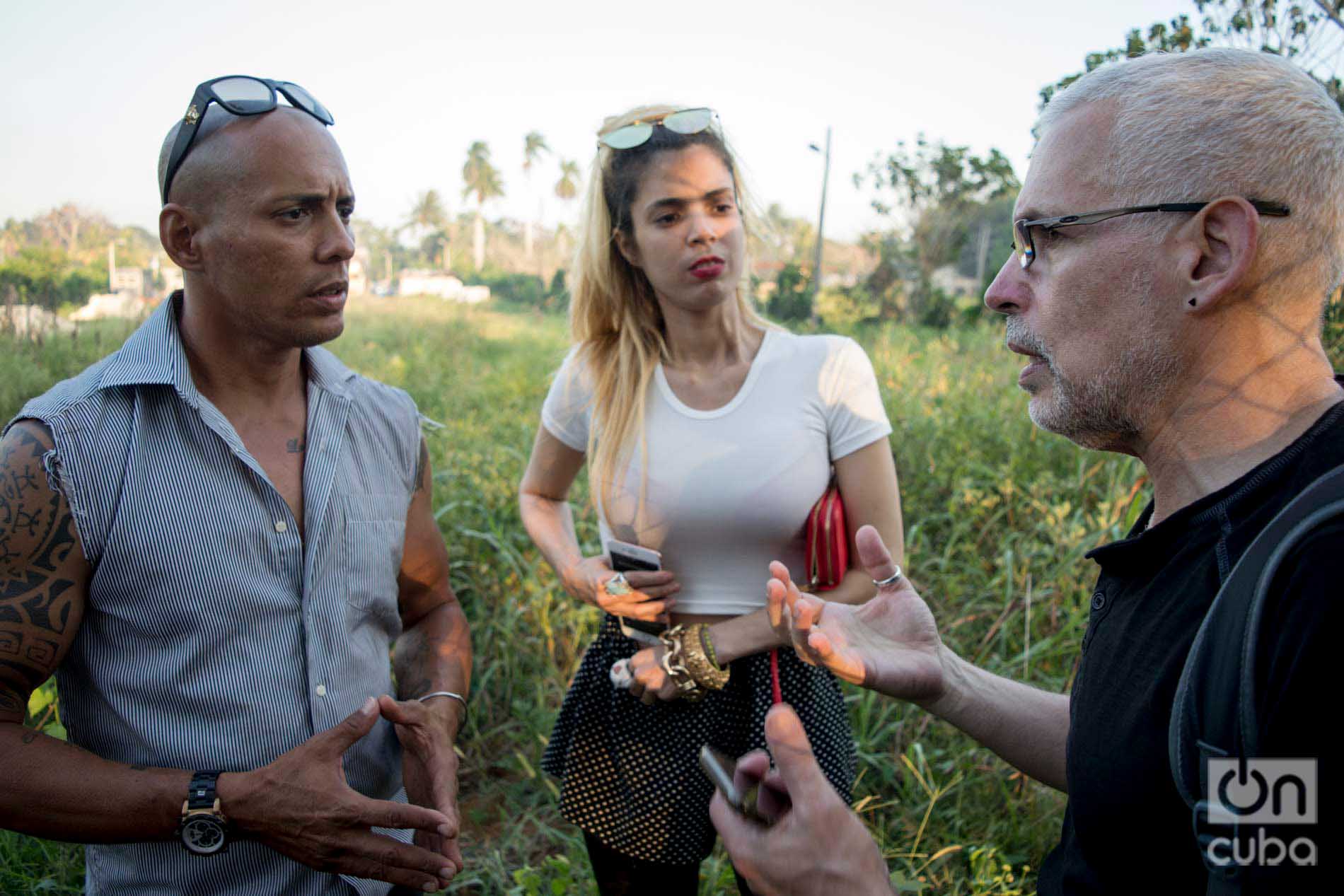 For Guggenheim, just like the work of "De la Calle" is interesting for him and his organization, it can be for those Americans who collaborate or are interested in doing it here in Cuba, despite the tense moment in bilateral relations.
"Many of my colleagues work in an academic environment, in universities and research centers, but they don't know of experiences like these, they don't work directly with people who do these things in the field, in the street. They don't know how life is in Cuba and how much it costs to do something like that. I have been able to see it and that is why I appreciate these people so much, because I understand that most Cubans don't have much, and even then they dedicate their resources and time to animals," he says.
Therefore, although his line of work is different, he remains linked to "De la Calle," a project which, he says, he has great pleasure in helping and he aims to involve other people and international organizations that are more directly linked to animal protection.
"We don't need to get too much money to support a project like this, if we think in terms of international aid. It needs money for medicine, food, some resources for the premises, but all this can be managed through donations. It could also involve experts in these issues, and my intention is to establish these contacts, generate interest and organize a workshop to exchange ideas and methodologies, because what is done here is very valuable. It is an example of a successful initiative with very limited resources."
The most recent measures and announcements by the Trump administration against the island worry him, but they do not deter him.
"Until now it is not illegal for Americans to travel to Cuba as long as they comply with existing regulations, but what has been said by the Trump government has generated uncertainty and it is necessary to explain what can still be done and what can't," he explains.  "Recent announcements may take time to be effective, we don't know, but meanwhile we must take advantage of the opportunities that exist for collaboration, both interested Americans and the Cuban side. That collaboration that is still possible between people and organizations of both countries is like kryptonite for the Trump government. If political diplomacy isn't going through a good time, we can appeal to environmental diplomacy."
Authors