Placetas is a small city located almost at the exact center of Cuba. Like in any other town in the country, American cars which are more than 60 years old are vital for local transportation.
A small private workshop specializing in Chevrolets has seized an important market segment providing a very rare service in Cuba: they manufacture spare parts for that brand.
Ten years ago, Pablo Manso changed his work as a carpenter to become a panel beater. "I would repair anything from cars to refrigerators. But manufacturing steel parts is not the same," he shouts while he tries to make his voice heard in the noisy workshop.
"At the beginning, we did all kinds of jobs, but we've gradually moved towards specialization," he adds without interrupting what he's doing because "time is money."
"We build the interior panels of doors, floors and trunks, fenders, rear axles… basically any part for Chevrolet '55, '56 and '57. This is the line of work I like, the one I really enjoy," he says.
In Villa Clara there are no state-run companies taking care of this kind of production in Placetas, and so far, no other dealer has a plate beater licence in that area, according to information provided by the Labour and Social Security Municipal Head Office.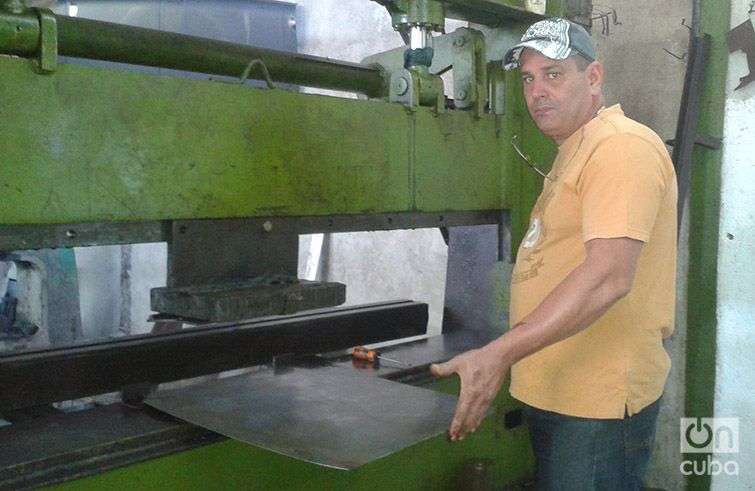 "I live in Havana, and I come here because there's nothing like this place in any other part of Cuba. Here you can find any part you need," says Rogelio Gonzalez, one of the clients waiting for a part at the workshop.
Carlos Bernal from a nearby province, Sancti Spiritus, has also visited this shop more than once: "Everything they make here is good quality, guaranteed. You place your order with a phone call, and they let you know when it´s ready. If a client is not satisfied with a part, the shop covers the price of the fuel they used to get here. That has never happened to me in the many years I've used their services," he says.
"We get orders from all over the country, including orders from foreigners," adds Manso. "One of my clients, Juan Madiedo, is the owner of a store in Miami that sells parts like the ones we make here. He came here once with Randy Irwin, Joe Whitaker and Kevin Lo, mangers of Empresas Muscle Car GT, Automobile Parts and Moulds, and Manufacturers of Steel Automotive Bodies and Component, from Taiwan".
Manso says that the visitors were very surprised when they saw the kind of quality parts that these men are able to produce in such a small space, with only a few people, and using makeshift machines.
"I had almost nothing when I started many years ago, and the kind of machine you need to build these parts is not sold in Cuba. It's not possible to buy one today either, when the need for a national wholesale market for entrepreneurs has become more pressing," he adds.
"So the only option I had was to build my own machines. I built a cutting machine to cut metal, and another machine to shape steel plates. With time, I was able to put together a press that can do different things, cut, bend, die parts. It's a multifunctional machine."
"The workshop has grown, and the quality has improved since that first time I held a hammer and a torch in my hands to do my first jobs. Today, almost all the parts are completely or partially die-formed, and we use more modern and efficient welding technology, only when it's needed."
We do this interview in the presence of a Chevrolet '55 that is almost fully assembled.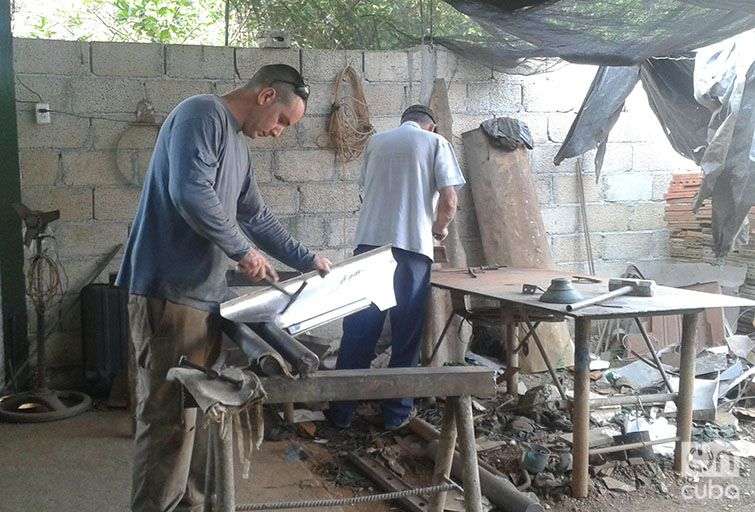 "I'm the manager and the receptionist," says Yodarcy Rodriguez, his wife, in a fake solemn tone. "I keep the books, pay the employees' wages, pay our taxes on time. I see that all the paperwork is in order, and I also take customers' orders, both at the workshop and over the phone."
"Sometimes we fall behind with the orders because we simply get too many. There's so much work that we've been fixing our own car for 9 years now. We've replaced almost all the old parts," she adds pointing to the beautiful car that is still parked at the shop.
"Anyone can see that this car is ready to roll, but my dad is a perfectionist," says Christian Manso, they couple's son.
"It won't hit the streets until the smallest detail is ready," he adds making fun of his father's thoroughness. "It won't move from this workshop until it looks exactly the way it did the day it was dispatched from the Chevrolet factory."
Authors