"On the inside, gentlemen, is Guillermo. See how green she is and full of promise." So wrote Ernest Hemingway in his posthumously published novel, Islands in the Stream, a fictionalized account of the author's hunt for German submarines off the north coast of Cuba during World War Two.
Cayo Guillermo is a small island in Cuba's Jardines del Rey (King's Gardens), an archipelago straddling Ciego de Ávila and Camagüey provinces which is currently undergoing a period of hectic tourist development. Ten large hotels have been built in the last five years and, in July 2020, the islands became the first part of Cuba to reopen to foreign tourists post Covid-19.
Arriving in the Jardines del Rey
Keen to experience Cuba's 'project restart' first-hand, I decided to brave the country's strict new health protocols and pay a visit. 
In October, I booked a ticket with Air Canada Vacations, the first airline to resume flights to Cuba after the July reopening. As a guidebook writer and regular visitor, I normally travel independently around Cuba staying in casas particulares and exploring the country's quieter corners from Baracoa to the remote beaches of the Isla de la Juventud. However, due to Covid-19 restrictions, I quickly realized this trip would be different. 
To minimize tourist-local interaction, I wasn't allowed to leave the northern cays. The main island, Cayo Coco, along with its smaller neighbor, Cayo Guillermo had been set up as a Covid-free zone with hotel staff brought in from the mainland to work two-week shifts. After flying into Jardines del Rey airport and receiving a PCR test in the arrivals' hall, I was transported directly to my pre-booked hotel, the 500-room Gran Muthu on Cayo Guillermo. The Muthu first opened in 2018 in the wake of Hurricane Irma. Almost unused since the start of the pandemic, its elaborate array of pools, bars, and super-large rooms still looked shiny and new. With only 26 guests aside from myself, it also felt eerily empty.
As visitors, we were pioneers. In mid October, there were only six hotels open to foreigners in Cuba (the Muthu and five resorts on Cayo Coco). The normal tourist visitation rate of 400,000 per month had dropped to just 500. 
Since then, Cuba's travel protocols have changed. As of early December, it is possible to visit the country independently and stay in casas particulares as long as the result of your initial PCR test is negative. All airports, including Havana, are open, and you can visit sights and travel on buses around most of the country. You can check for updates with GoCuba (Canada) and Cuba Travel Services (USA)
During my stay, I noticed several improvements in the year since I had last been in Cuba. The internet connection – long an unnecessary frustration – was faster: I could comfortably watch videos in my bedroom. Additionally, the country seemed to have enthusiastically adopted credit cards, so enthusiastically that I was even asked to pay for a bus ticket and a 50c juice box with plastic. The only time I resorted to cash was for 'tips' using the recently reintroduced US dollar (the 10% tax on exchanging US dollars was thankfully eliminated in June 2020). 
Cayo Guillermo – Hemingway's cay
Cayo Guillermo plays heavily on its Hemingway connections. A statue of the American writer, hand raised in greeting, welcomes you as you cross the narrow channel from the main island of Cayo Coco and the cay's most beautiful beach, Playa Pilar, is named after his prized fishing boat. 
The last time I had visited in 2015, Guillermo had just four hotels. Now there are nine along with a desolate alfresco shopping mall. The cay's total room capacity surpasses 3000 but, with the Muthu the only place open, I felt like Robinson Crusoe marooned with the ghost of Ernest Hemingway.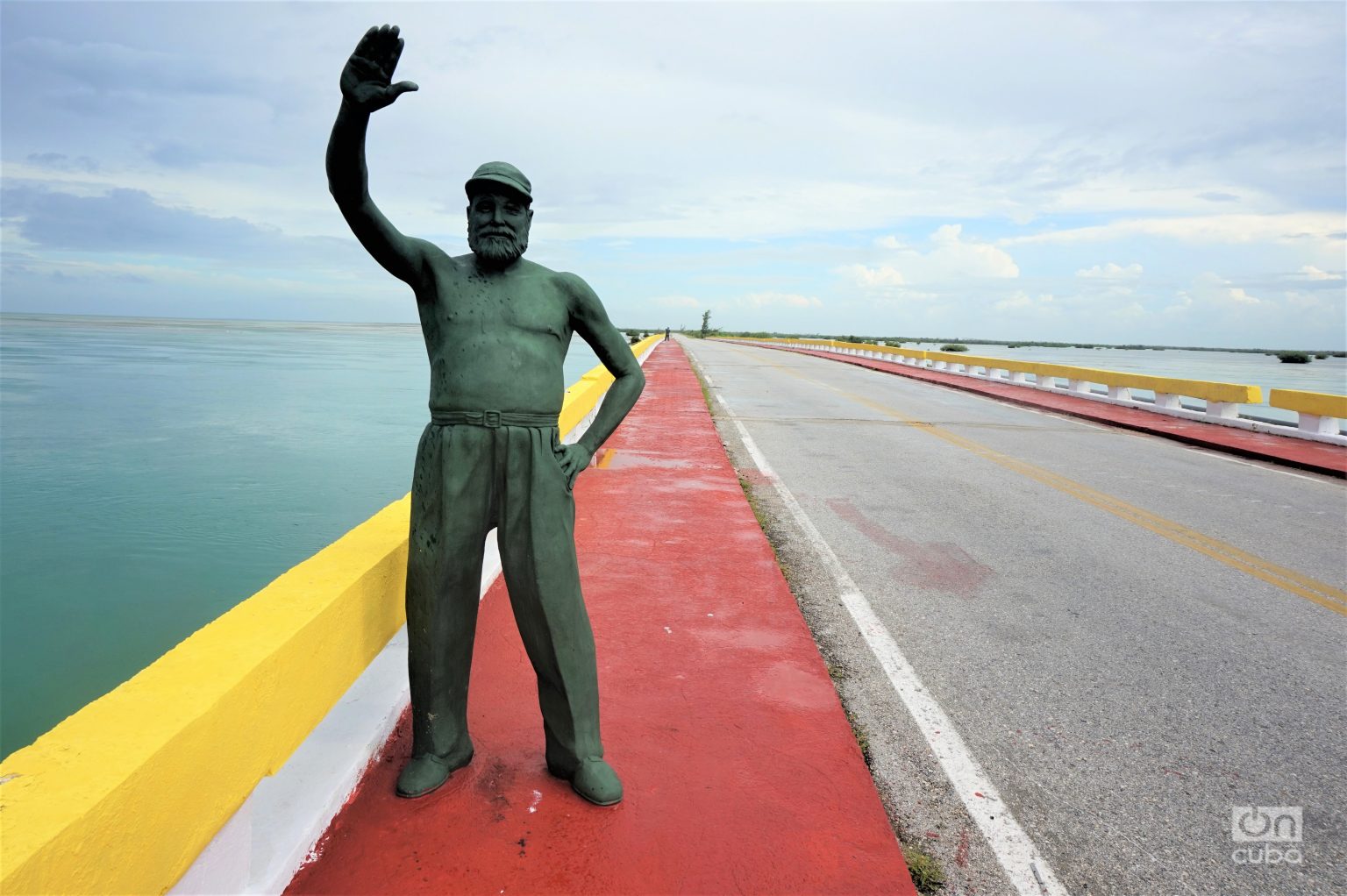 With the natural curiosity of a guidebook writer, I started exploring Guillermo in earnest. Every morning I would get up early and run up and down the deserted beaches observing the empty new hotels from the ocean and chatting with security guards, hotel workers and anyone else I saw. The Gran Muthu, I quickly discovered, is one in a trio of resorts built between 2018 and 2019. Next door is the Muthu Imperial, another 500-room giant, while one kilometer up the coast sits the slightly smaller Muthu Rainbow, notable for being Cuba's first LGBTQ hotel, a huge advance in a country where homophobia was once rampant.
Beyond the Rainbow, two more hotels stand like bookends either side of Playa Pilar: the Iberostar and the Kempinski. The latter is the island's newest accommodation, a luxurious five-star that opened in March 2020 but was forced to close just two weeks later due to Covid-19. From the beach I could see its boxy three-storey villas still lying unoccupied. According to a security guard, there are seven more attractive 'water villas' on the hotel's leeward side raised on stilts above the ocean.
Cayo Cruz, new tourist island
The biggest development in the Jardines del Rey is not a single hotel, but a whole new island. Cayo Cruz is a long, narrow cay that lies 60km east of Cayo Coco off the coast of Cayo Romano. It remained completely undeveloped until 2019 when two hotels were opened along with a marina and a small commercial center. To link Cayo Cruz to the other cays, a new road and causeway were built last year cutting the journey time from Jardines del Rey airport to just over an hour.
Cruz is known for its fly-fishing and virgin beaches which run in an almost unbroken line along its 25km-long eastern coastline. The ongoing development is part of a long-term plan to increase the island's room capacity to 4000. A third hotel, the Iberostar Selection Esmeralda, is due to open in 2021.
Birds, fish and kites
One of the reasons the northern cays were able to reopen so quickly post-pandemic is because they have no permanent Cuban population. Up until the 1990s, the archipelago was a wilderness, the preserve of itinerant charcoal producers and in-the-know fishers. A causeway was built in 1988 connecting Cayo Coco to the mainland and the first hotel, Villa Cojímar on Cayo Guillermo opened for business in 1992.  
Most of the pancake-flat cays are made up of scrubby mixed woodland and mangrove swamps with their ocean-facing shores lined with broad, white-sand beaches. The birdwatching is phenomenal. Cayo Coco is named for the resident white ibis; easy-to-spot pink flamingos inhabit briny lagoons across the entire archipelago. As for water sports, Hemingway wasn't wrong. The fishing in the Gulf Stream is legendary. During my stay, I caught three huge barracudas troll-fishing off the back of a small catamaran. 
The newest activity is kitesurfing. Over the last decade, Cayo Guillermo and Cayo Coco have established themselves as the hub of the sport in Cuba with five different kite schools and a cult international following.  
What next?
Despite the double blows of Hurricane Irma and the coronavirus pandemic, hotel development in the Jardines del Rey continues apace with the recent emphasis shifting to Cayo Cruz and the smaller island of Cayo Paredón Grande where six hotels are planned. 
There have been a lot of changes since the days when Hemingway fished and hunted for U-boats in the cays. It's difficult to imagine what the author of Islands in the Stream would think of today's transformation. Maybe he'd miss the solitude, or perhaps he'd appreciate the opportunity to sink frozen daiquiris at a beachside bar. 
Authors