A lifetime dedicated to cooking is the legacy that is left by Mario Hernández del Sol, known in his native Cienfuegos and in the culinary trade as Chef Don Mario, for his elegance when it comes to working in such an exquisite profession.
Member and honorary president of the International Cuban Chefs Association of the World (ICCAW), an organization based in New Jersey, the United States, the work of this International Chef transcends the borders of his beloved Cienfuegos, from where he has never distanced himself "because I was born in this province and I live here, and although some of my studies were in Havana, I never thought I would leave my city and my family behind," he confesses in an interview with OnCuba.
He has also taken his vocation to Canada, perhaps not with the same rigor with which he works on the island, since his visits there have been "more for family reasons," he clarifies, but he does know the culinary art of the northern country and even recognizes that between Cuban and Canadian cuisine there are not many points of contact to establish a culinary mix between the two: "their preparation and seasoning is different from ours, the only similar thing in their eating habits is the taste for fried and breaded dishes."
On the other hand, "in an environment other than ours," he clarifies, "in order to value Cuban cuisine and achieve success, three principles must be met: to adapt it to the foreign consumer's palate; prepare fresh, natural and less seasoned recipes and reduce the size of the portions of the main dish and its side dishes," the latter characteristic that stands out in the preparation of Cuban dishes.
Cuban cuisine in photos: what my mom taught me about cooking
"Cooking is an art because it takes a vocation," says Don Mario, "it is done out of love and to do it well, you put your heart into it. A well-made dish, well-plated and with an attractive combination of colors, smells and flavors, is like a painting made by an artist."
It is precisely this maxim that has distinguished the work of this Chef with several decades of experience from his native Cienfuegan, with a rich culinary tradition: "Cienfuegos cuisine is distinguished from the rest of the country by the fish and seafood dishes created here, in addition to the influence of French cuisine in its elaborations."
In this sense, he affirms that it is necessary "to rescue the culinary traditions of the different regions of the country, because the typical cuisine of the island is varied and rich in colors, aromas and flavors and is part of the gastronomic culture of the country."
Hence, he agrees with the recognition of Cuban cuisine as the Nation's Heritage, "but to be a World Heritage it would have to be at the same level as French, Italian or Asian cuisines, that would be a great achievement, but it would have to spread through the world and make its dishes popular on all continents and cultures," a task that takes time and intense work by specialists in culinary art, inside and outside the archipelago's borders.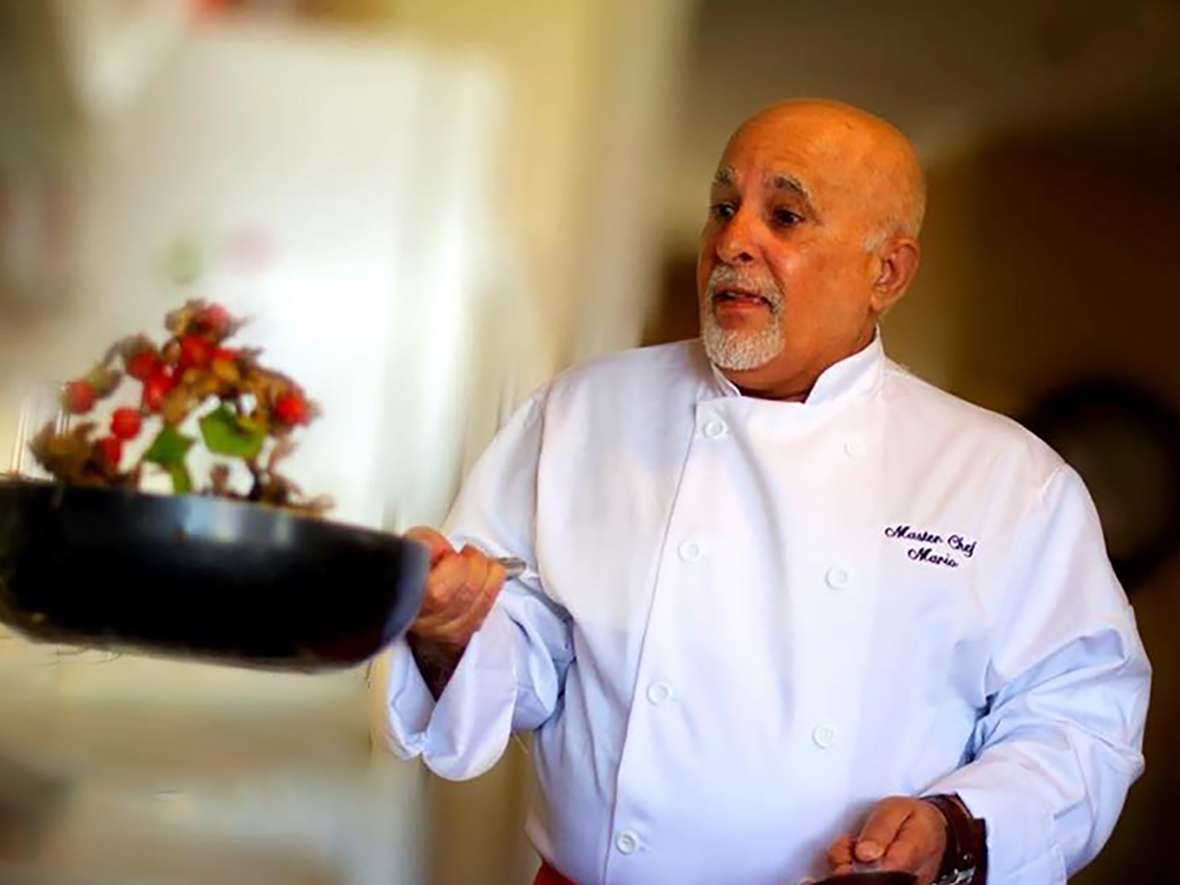 "It is true that our youngest chefs like to prepare foreign dishes and in the menus of their restaurants they are offered under the name of international cuisine, which many times does not live up to its originality and quality."
And he adds: "All the countries of the world work their national cuisine first and it has been proven that it is the greatest attraction for foreign visitors," a reality that has not yet been fully assimilated and weighs down the desire to create a Cuban cuisine of high international recognition.
For Mario, a faithful defender of the country's autochthonous and regional cuisine, this aspect is fundamental in order to highlight Cuban cuisine in the region, not an easy task with references on the continent such as Mexico, Peru and Brazil, just to mention three countries with extensive culinary tradition recognized internationally, with their respective gastronomic capitals.
However, this retiree (not retired) chef continues to offer his art not only to clients, friends and family, but to all who are new to this fascinating world of culinary art, for all who begin to study the secrets of Cuban and international cuisine.
"In a dinner Chef Don Mario prepares, tropical fruits cannot be absent; seasonal vegetables, rice dishes and Cuban side dishes; nor those typical dishes best known on the island, among which I include Cienfuegos dishes with popular fish and seafood recipes and others created by me, along with the best-known Cuban desserts."
Author