Her name is Patricia Zulueta Bravo and she dreams with studying for a master's in Oxford. "From where I come that only happens in movies," she said the first time it was suggested to her. But the wish was aroused in her.
Patricia was born in Havana and she now lives in Hanoi, thousands of kilometers from the oldest English-speaking university. But at 30 she has already achieved half of her wish: she was accepted in Oxford to study for an MSc in Applied Linguistics and Second Language Acquisition.
She doesn't intend to go to the British university to study English. Strange as it might seem, her wish is to create a method that facilitates the learning of the Chinese language. Patricia is a professor of the language most spoken in the world: Mandarin.
Her link with that language was by chance. She doesn't have almond-shaped eyes nor does she descend from emigrants of the Asian country. In fact, her family roots are in eastern Cuba and her skin color is black. But she feels the Chinese language as her own.
The MSc begins in October but before this, on September 28, Patricia must pay her tuition, some 25,000 dollars. In addition she needs money for her stay in the United Kingdom, although she is confident that when she is there she will be able to work the hours that her study program allows her.
Until now she hasn't been able to raise the amount she needs. But she doesn't even think of a Plan B. She doesn't refuse other's aid and she devotes all her energy to make her dream come true. She is all perseverance. Her watch is set on a countdown.
A CUBAN IN CHINA
She was born in 1987, a few years before the Special Period. She grew up in a family of teachers – her maternal grandparents and her great-uncles studied in the Normal School of Santiago de Cuba -, but when she finished senior high, in the Vladimir I. Lenin Vocational Institute of Havana, she decided to take the tests to enter the Faculty of Foreign Languages.
"It was almost like following the tide because what I was actually interested in was pedagogy," she says to OnCuba, "but that decision would change my life."
Because of her academic results she was included in a Chinese language program boosted by the Ministry of Higher Education. She was only 17 when she joined the program's first group, initially thought out to be carried out in Cuba. But then the possibility of going to China came up and Patricia got a scholarship to study in the Tianjin Normal University. She would spend four years there, together with students from countries like Vietnam, Thailand and South Korea.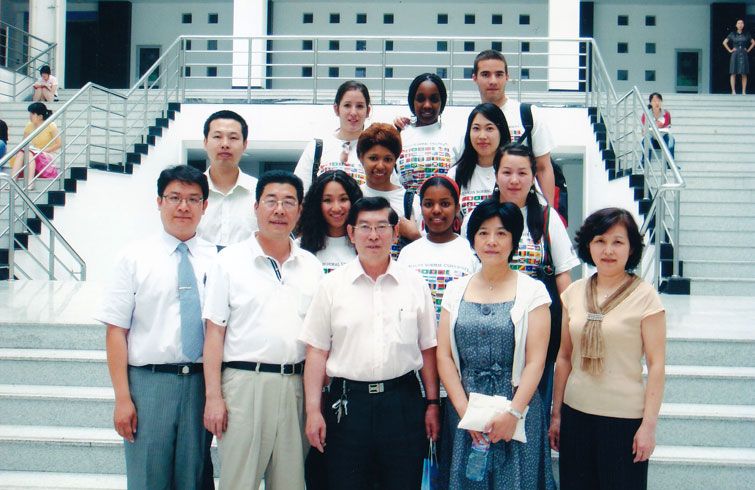 In 2010 she graduated in Chinese Language and Culture and decided to return to Havana as a professor.
"Many of my friends said I was crazy because I returned to Cuba after I graduated. They said I had lost the opportunity of my life by not staying in China or traveling to the United States, like many of my comrades. But something was telling me I was on the right path," Patricia says.
A short time after her return, she started working in the Confucius Institute, which had been founded in 2009 attached to the University of Havana. She remained in the institution for two years. In addition. She gave Spanish lessons in Chinese companies and worked as a translator to help the family economy.
At the institute she started losing sleep over her students' difficulties in learning Chinese.
"I was a direct witness of my students' frustration for not being able to learn the language well," Patricia comments. "The textbooks and the teaching methods were not the most appropriate for them, since they were based on the traditional teaching methodology in China. I tried to make some changes but I became aware that to achieve a real impact I needed more knowledge. I had to continue studying."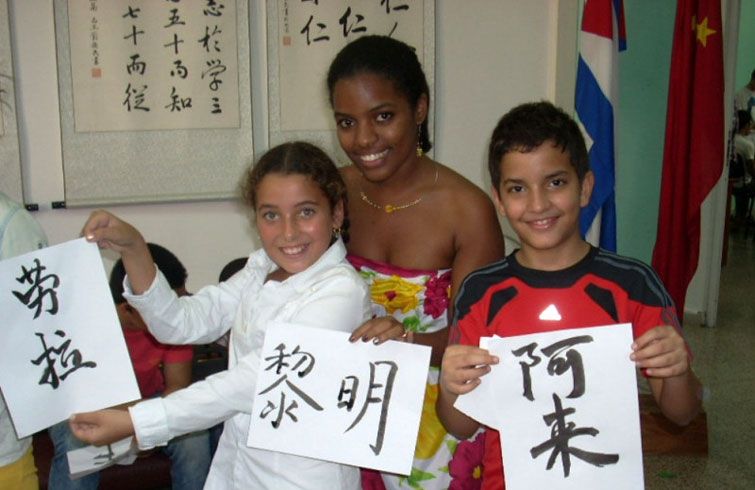 Patricia then applied for a master's in China and was accepted by the Language and Culture University of Beijing. It wasn't easy. More than once her intentions were questioned in Cuba. "I remember with great sadness the day that someone said to me that the only way to leave was getting married to a Chinese man," she recalls.
She was given the exit permit only a day before her trip. Even so, she never lost faith.
"I bought the ticket to China with my last savings, before I was given the exit permit. Many persons said I was crazy and today I recognize that it was risky, but I was sure I was going to achieve it. I hadn't the slightest idea about how it was going to be, but I took the risk because I was confident I would not fail."
THE ROAD TO OXFORD PASSES THROUGH HANOI
Again in China, Patricia devoted herself wholeheartedly to her master's in Applied Linguistics. She had no doubts, she didn't lose a minute of study.
"I was in a classroom full of Asians where I was the one who attracted the most attention, not just because of my appearance but rather for my constant questions to the professor, something not very common over there," she reveals. "While studying I became aware that my ideas were not so crazy and that they agreed with many professors' researchers, fundamentally in the western world."
It was at that time that the idea of studying for a doctorate in Oxford or another important western university gained force in her.
That's why after graduating in Beijing in 2015 she started studying English "in serious." The dominion of this language – the third in her case – was indispensable to be accepted in the United Kingdom or the United States.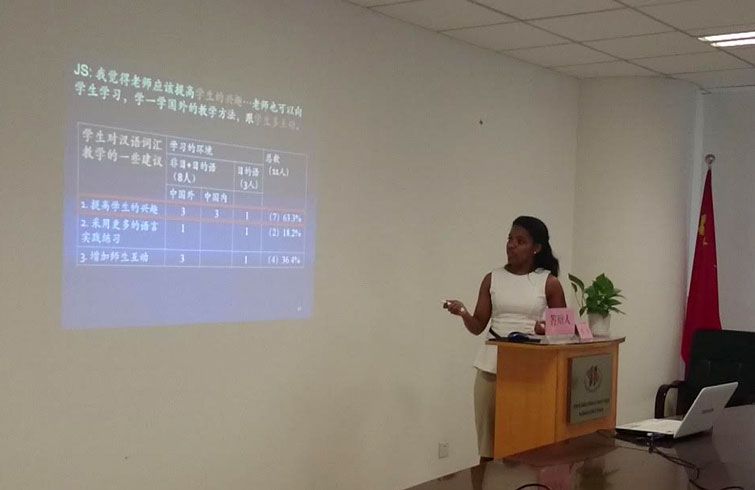 Then she moved to Vietnam, where she found work as a Spanish and Chinese professor "without the color of my skin or my nationality mattering." The St. Paul American School, an international school with a U.S. curriculum, welcomed her in its staff. She's been there since then, teaching junior and senior high school students.
While in Hanoi she made her last English test. Before, she had already tried it another three times. The fourth time she was lucky. Among all the evaluated skills she got an average of 8.0 from a maximum of 9.0.
With that backing, in 2016 she applied for a doctorate in Cambridge and Oxford, but was not accepted. Fate played a dirty trick on her.
"But a Cambridge professor advised me to apply first for the MSc and later continue with the doctorate," she tells OnCuba. "I followed his advice and applied for MSc programs in the United Kingdom in 2017."
After handing in all the materials for the application and answering the questions she received from the universities, they invited her to an interview. "At that moment I seriously thought about the possibility that they would accept me," she says.
However, Patricia had to travel urgently to Cuba. Her grandfather was seriously ill. While there she was unable to connect at the time of the interview. To top it off, her grandfather died. Everything seemed to be against her. But a surprise was waiting for her when she returned to Vietnam: the Oxford professors got in touch with her to offer her a second chance.
"I couldn't prepare myself well," she commented. "I was just sincere and told them about my passion for teaching and mi idea of making a change in the current methods for the teaching of the Chinese language."
The interview was done through Skype. She was accepted.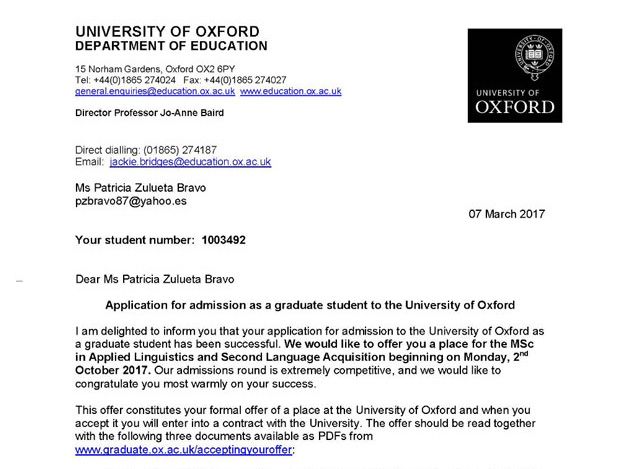 AID FOR PATRICIA
This Cuban found out about the news that she was accepted at Oxford while she was with her students in a voluntary project in a rural region to the south of Vietnam. She was so happy she was unable to think of something so essential for making her wish come true: getting the financing.
On her return to Hanoi, as on previous occasions, she would work to raise all the money she could get. Her husband La Roi – an American from Chicago and a professor like her in the St. Paul American School – would also help her, despite the fact that the MSc means being separated for a year.
But she still couldn't raise all the money, she still had a long way to go.
She then started seeking financial aid and grants to be able to pay for her studies in Oxford. She applied to some but wasn't lucky.
"At that moment I read the story of a girl in Canada who paid for her university studies with donations through the internet," Patricia recalls. "At the beginning I didn't like the idea of asking for money, but my students helped me a lot and together we designed the campaign. My dream also became theirs. And that gave me the strength."
The professor created a page on the platform GoFoundMeCom, which facilitates the collection of the donations through digital means. Her students helped her write the text, choose the photos, make a video in which she tells her story. If she is able to get the funds she plans to reward the donors with prizes like an Oxford t-shirt, free Chinese lessons and a postcard with a traditional post stamp from the Royal British Post Service with the name of the donor written in Chinese calligraphy.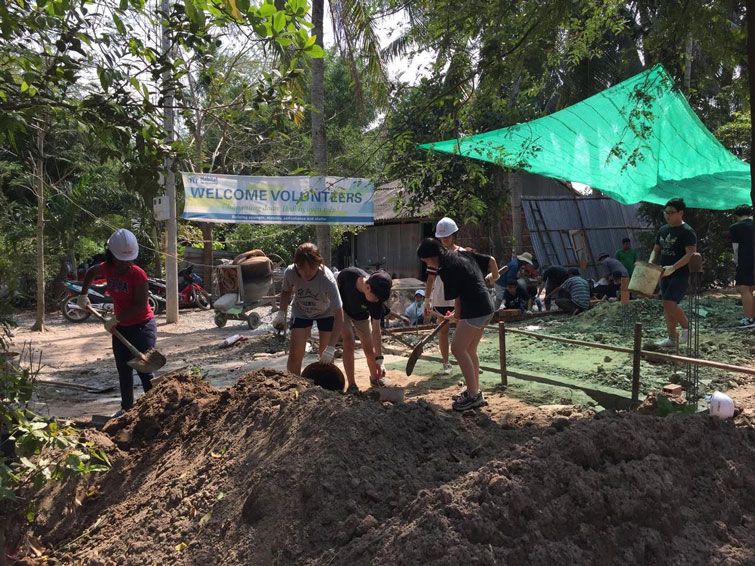 In two months she has received close to 40 donations, although the collected amount is still very far from the one initially previewed: 30,000 dollars.
But Patricia doesn't fool herself. She knows that if she starts the master's in October she will be one of the few Cubans in history to study in the prestigious British university. But if she doesn't achieve it she will have to begin the entire process again from the start.
"I'm not blind and I don't expect the campaign will finance all my studies," she affirms, "that's why I don't stop working on anything."
She even recovered from a minor surgery – a hernia and a cyst – and returned to the classrooms three days later, focused on her objective.
"At times I felt I wasn't able to finish my class, but I gave myself a pep talk," she says without melodrama. "As soon as I got home I would go to bed to rest and recover for the next day."
Her greatest inspiration, she says, is her family. Although she is in touch with them several times a week, she regrets each day she is far away from her mother, her brother, her grandmother, who always motivated her to not abandon her books. "Always study even if studying bores you," she would tell her granddaughter, "because an ignorant woman is a flower with no perfume."
Two months from her zero hour, Patricia looks forward with security. She continues working and she personally thanks each one of her donors. Thus she is building her road to Oxford. A long and cobbled road she does not renounce to.
Authors