Yunairy Estrada Carpio (Yuyú) every day makes 60 sheets of paper. When she started to making them by hand, in her Old Havana workshop she just had the baby tub of her daughter Alejandra, which she still uses three years later.
From a clothesline in the patio of her home hang color pieces that will become diaries, folders…which she will sell to the Antonio Núñez Jiménez Nature and Man Foundation, her principal buyer. Alejandra constantly moves around Yuyú, wanting to explain on her own the process she knows so well.
"At the beginning they were full of holes, thick or thin. They didn't come out well. That's how I started to dominate the process a year ago, but I never wanted to quit doing it because I've always liked it a lot," says the entrepreneur about her Ciclo Ecopapel project.
Yuyú is 34 years old and is a graduate in Accounting and Finances. She was an auditor, but since her daughter was born she learned to make accessories for birthdays and parties. The Antonio Núñez Jiménez Foundation proposed to her making paper by hand and in that way Yunairy started learning on her own. Not many in Cuba do that kind of work.
She searched online videos on how to recycle paper. Although she knows of some experiences in Holguín, Pinar del Río and a workshop of the City of Havana Historian's Office, she has not had contact with them.
"I changed technique three times until a got to what I use now. There are many variants but I stayed with the most comfortable for me. We made the press ourselves here," she recalls.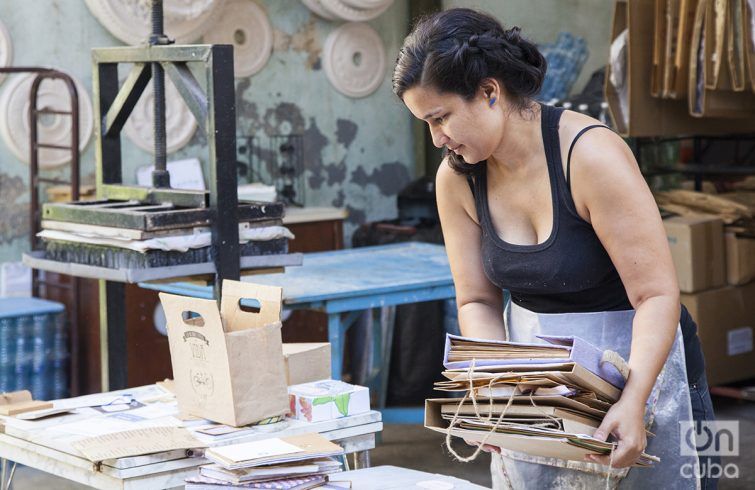 She has never bought a pound of raw material. Friends, the family and acquaintances bring her used newspapers, magazines, books, notebooks, cards and telephone books. One time an enterprise gave her useless documents from the old archives.
Although making recycled paper is more difficult than producing it industrially, the first is more ecological. Yuyú doesn't use chemicals of any type, and this gives each sheet a special value.
"In the industry everything is mixed and later bleached, but I want to make ecological paper. That's why I separate by colors and types. The final color is from the original piece," Yuyú explains and shows the sheets hanging in her patio-workshop.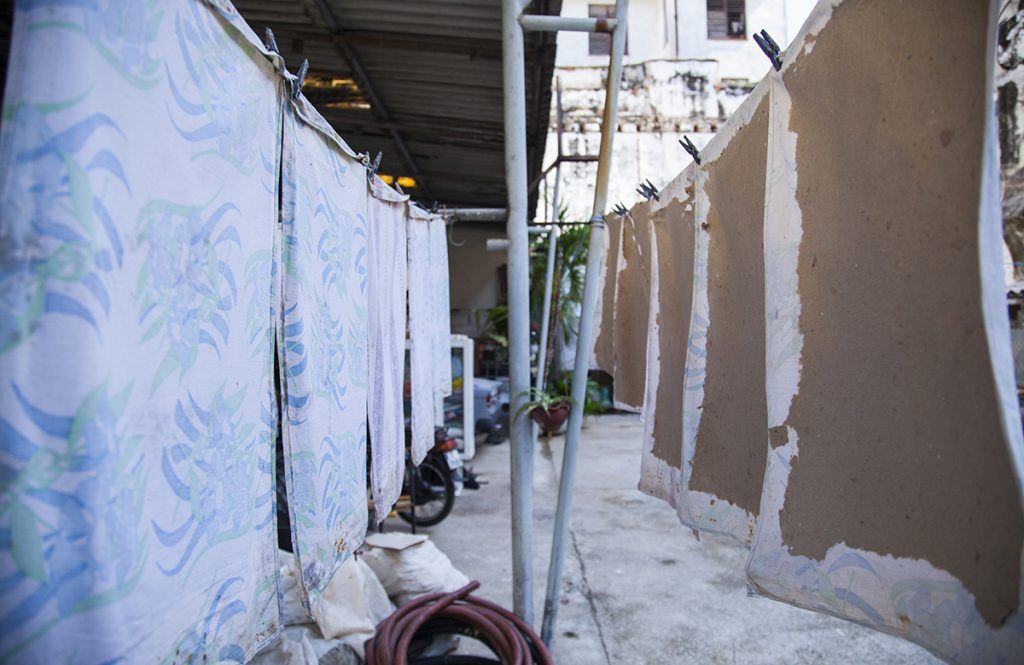 In a corner, the raw material accumulates in sufficient amounts to not worry about shortages. The sheets are the size of an A3 page and producing each one of them costs her 2 Cuban pesos.
Yuyú doesn't sell the paper as such, but rather as notebooks, notepads, diaries, envelopes, folders, pens, archive cases, key rings, information pamphlets, diplomas, bags and boxes. She prints them herself, and the products are personalized. Jigsaw puzzles for Alejandra also come out of her workshop.
Don't you use chemicals for the color?
"No. If a want to make cone color paper I use cardboard. I also make it white, but without bleaching it, because I don't use chloride," says Yuyú.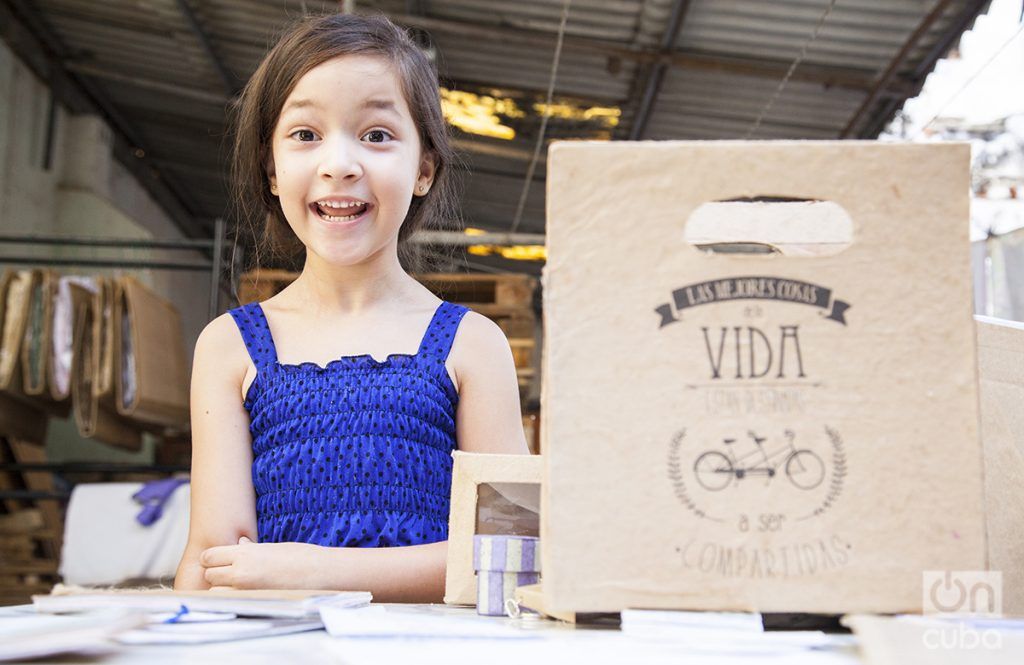 Since she lives in Old Havana sometimes there is a shortage of water. For her business and the family subsistence she built two cisterns and elevated tanks. For the paper process she calculates she uses some 300 liters a week.
"When it rains I use rainwater for the paper. That why I'm going to place small gutters to collect the rain and for the process to be completely ecological. At some time I want to work with renewable energy, with electromagnets; but that's more distant."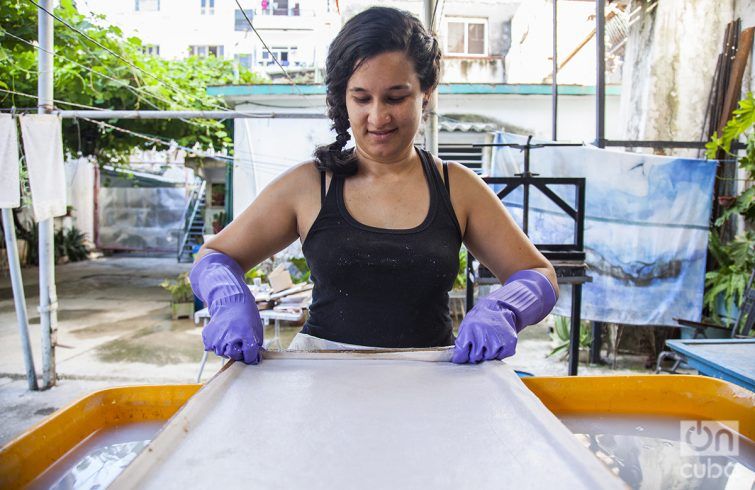 Electromagnets when surrounded by old buildings that are hundreds of years old? Her ideas sound like science fiction.
"Yes, to use the energy in the blender instead of electricity," she says.
"I always use the water several times. Under the press I have a bucket to collect the water that is poured. Since I don't use chemicals, when I finish it can be used to water the plants," she adds.
HOW THE PAPER IS MADE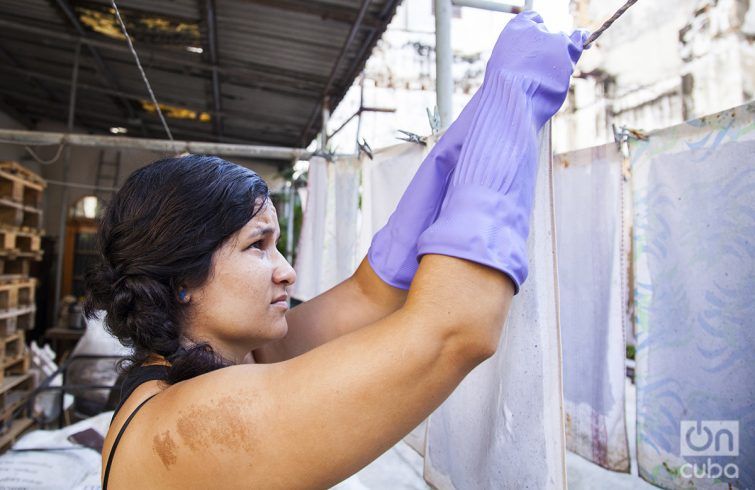 Recycled paper can be used up to eight times. With 1 kg of paper you get up to 35 sheets.
"I also made the menu for a nearby cafeteria. People value manual, personalized work and since it is recycled paper the environment is protected. I want to make an agreement with the [Núñez Jiménez] Foundation to close the cycle: they give me the paper and I make the product," says Yuyú.
Finally, Alejandra gets her mother's consent. In a few words she explains what she learned with Yuyú. Summing up the steps, the process would be the following:
"The paper is classified.
"It is fermented in water between 24 and 48 hours, sometimes more.
"The pulp is subsequently made.
"The pulp is placed on a frame.
"The water is extracted from each sheet using a press.
"Afterwards it is put out to dry."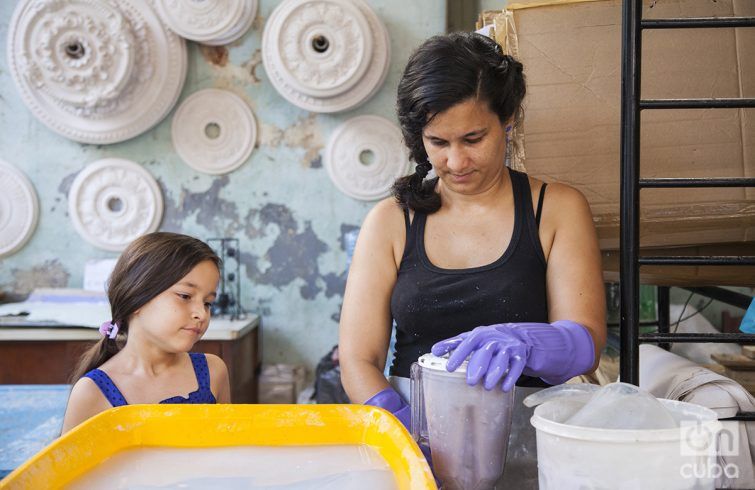 During the next school year Yuyú will organize a workshop on handmade paper products for the children in Alejandra's school. "I also want to teach handicapped persons and that they can be some of the workers that I want to have at some time," says the entrepreneur.
Ciclo Ecopapel exists in the heart of Old Havana, between narrow, irregular and dirty streets. But Yuyú perfects her idea. With the Cubaemprende project she receives advice in accounting and marketing. She knows she needs publicity. She is already thinking about creating a page on Facebook and a catalogue based on what people throw away; which processed by her will again become useful.
Authors