It's been more than half an hour since Fabián's father opened the doors of his home to us, very close to Abra del Yumurí. After a long conversation, his gaze is still lost, his voice falters, his hands tremble and sweat runs in streams, as if his body were drowning in an eternal and silent cry.
In all this time, he has not gotten up from a musty armchair that is at the end of the patio, the place where he has taken refuge to release the tensions and ideas that have tormented him since last Saturday, August 6, when a message from an unknown number woke him up at 4:18 in the morning.
"Dad, this is Fabian, now the emergency alarm sounded and we had to go over there, don't worry I'm going to be OK, watch out to see if anything happens so you get out of Versalles, the situation is serious, take care, oh, and I'm the best, I'm a FIREFIGHTER HAHAHA," said the message word by word, in which the high charge of enthusiasm and innocence of a 19-year-old boy stands out more than his spelling mistakes (in Spanish).
The short text was written by Fabián Naranjo, a young man who had spent a year and four months in Military Service in Command 3 of the Fire Department, located at the Juan Gualberto Gómez International Airport in Varadero. From there, before dawn on Saturday, August 6, he left for the Supertanker Base, where a large fire threatened the entire Matanzas Bay Industrial Zone.
"Fabián wrote to me from a friend's phone, because he didn't have one. At first I was awestruck when I saw that, although I immediately realized what was happening and I couldn't sleep anymore. I went crazy, I didn't know what to do…," recalls the boy's father, who could not help worrying that his son was facing an unknown force.
What happened from that moment on, Fabián's father has recorded in his memory, although he has lost track of time a little and cannot make a precise chronology of the events. What he is clear about is that he experienced everything as if he were trapped in a horror movie.
"When it dawned, my brothers began to call me to tell me that there had been injuries and burns at the Base due to an explosion, but that Fabián was not there. They had talked to him the night before by some means and he told them that his truck did not go out for the fire after the first alarm. It was then that I told them about the message, about the second alarm; they were speechless," says Fabián's father.
In the midst of chaos, uncertainty and nerves, the family only thought of combing the hospitals. They went first to the Faustino, where they found some dazed boys, with burns and fear in their eyes. They did not know anything about Fabián or they did not know him, and the name did not appear on the list of wounded they had in admission. They went ward by ward, and nothing.
They did the same, without luck, at the Military Hospital and at the Pediatric Hospital, where they had also transferred some injured in the incident at the Supertanker Base, which already on Saturday morning showed a bleak picture, a war scene after several explosions that left two fuel tanks with more than 70,000 cubic meters of stored crude under flames.
After touring the hospitals, Fabián's father went to Forensic Medicine, anxious to find news about his son. "I stood outside without talking to anyone, I waited a while, took a couple of photos of the cloud of black smoke rising over the city, but in the end there was no movement at all there. So I decided to go home, I was exhausted, desperate, I felt very bad."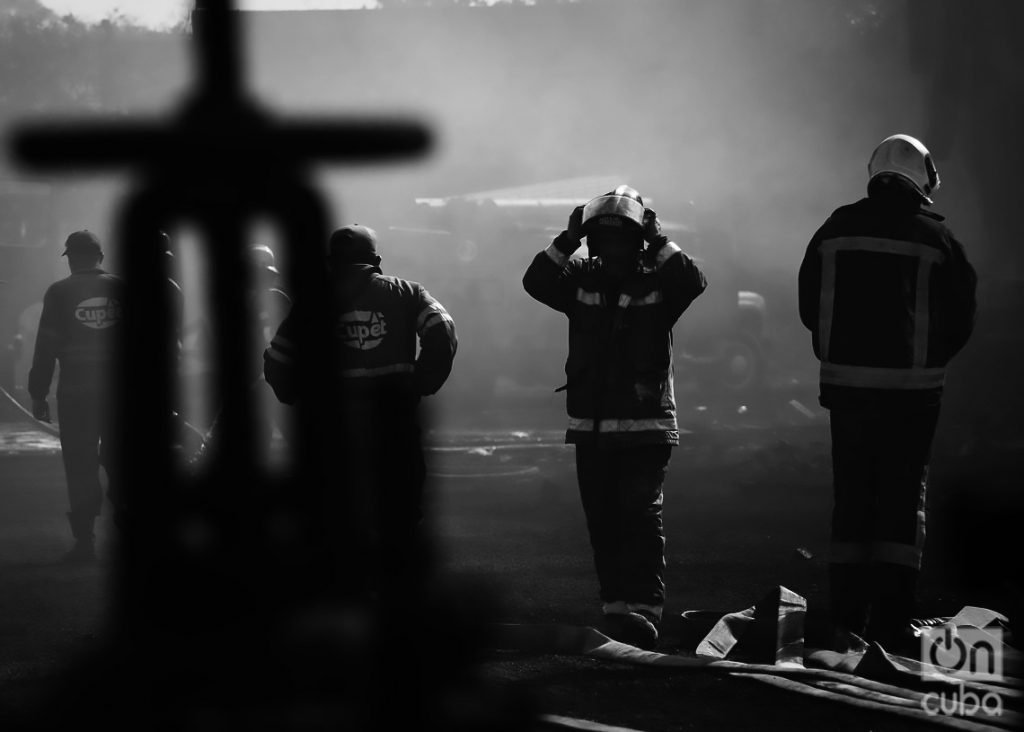 ***
Fabián's father has raw blisters on his hands. He has spent hours cutting grass nonstop in the yard in front of his house, but he cannot distinguish whether large drops of sweat are running down his face from work or tears from the death of his son, one of the 16 people who lost their lives in the fire of the Supertanker Base.
Shirtless, with red skin and swollen eyes, he takes a breather and leaves the garden scissors on a bench, while he tries to put the events of last Saturday, August 6, in order in his head. No matter how hard he tries, he cannot explain what happened or what went through his mind from the time he returned home after the tour of the hospitals until they called him to notify him that a command post had been set up at the Velazco Hotel, with the mission of informing and caring for the relatives of the firefighters who were fighting the fire.
"When I arrived at the Velazco, I was really sick. My blood pressure went up and down, I had a lot of anxiety, I was disoriented, I didn't even know what day it was. Luckily there they treated me very well, the doctors and psychologists managed to calm me down a bit.
"It was then that I was able to talk with the staff of the Ministry of the Interior. They offered us details of what was happening and did not hide anything from us, on the contrary, they were very clear in explaining to us that the fire was not controlled and that it was not possible to enter the area to look for survivors," Fabián's father said.
Before they told him that, because of the time that had passed since the explosions and because of the chaotic images that were seen on television, he already suspected that he would never see his son again.
"There was a moment when I was already convinced of what had happened and I was aware that after so much time and with extreme temperatures, it was impossible for my son to be alive. It's hard to accept it, but I knew, and we confirmed it later. Separately, each family was informed that the boys were dead."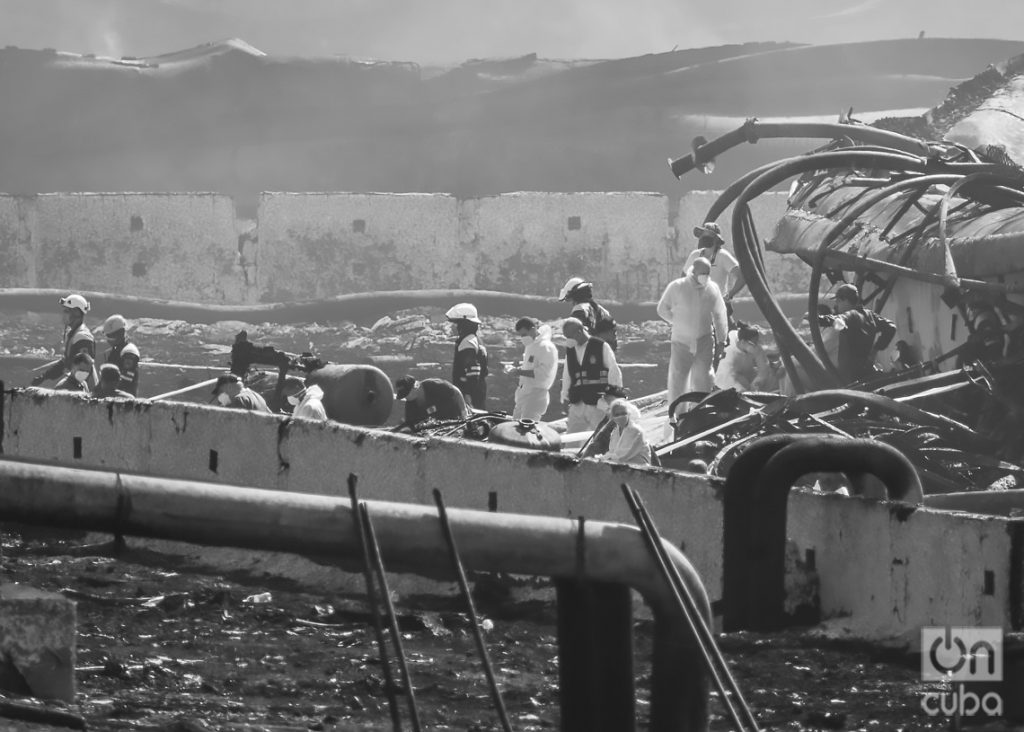 ***
It is almost two in the afternoon on Sunday, August 14. A little more than 48 hours have passed since the authorities of the Cuban Fire Department officially declared the largest and most devastating fire in the country's history as extinguished, thus giving way to the search for the remains of the missing.
The sensitive and painful task is carried out by the most prominent forensic and Legal Medicine specialists in the country, who in the eyes of the world began their work at the scene of the events last Friday morning, although in reality they had been compiling information long before.
"I cannot remember what day it was, at what exact moment, because I repeat that I have lost track of time, but since we were notified that the boys had died, the Legal Medicine specialists met with us to ask us for any kind of signs of our children. If he had a tattoo, a broken leg, a broken arm, a gold tooth, or any other distinguishing feature.
"They know that perhaps none of this data is of any use, but they have to comply with all the steps for the search and identification of the missing. Any detail can be relevant at some point in the investigation," explains Fabián's father, who is grateful for the constant sentimental and emotional support he has had from strangers.
However, the complexities and long deadlines of this process keep Fabián's father in suspense, as he patiently waits to get to the place where his son fell: "I have asked the Ministry of the Interior officers to let me get to the scene, see it in black and white, live. I know that it is not possible now, but at some point I would like to stand there and pay tribute to my son and all those who died with him."
Another pending account is to visit Fabián's companions, those who survived and helped to extinguish the fire. "They were a family and we were part of it. We interacted, we supported them, we had the best relationships and a lot of rapport with the officers and chiefs, who were like fathers to my son. Now all of them are very, very traumatized, because they know better than anyone what they really went through during those hours of service.
"From a distance, I understand that they faced something of an unknown magnitude, both for the young boys and for the more experienced firefighters. Their preparation is to put out fires and they had the guidance of prepared people, with knowledge, but unfortunately this surpassed them. It was not a fire in a house, a building or a cane field, it was something very different from the usual, so they also needed different techniques and means. No training can simulate what they faced, because the fuel fire has very dangerous characteristics…. I don't know, I'm not an expert or anything like that."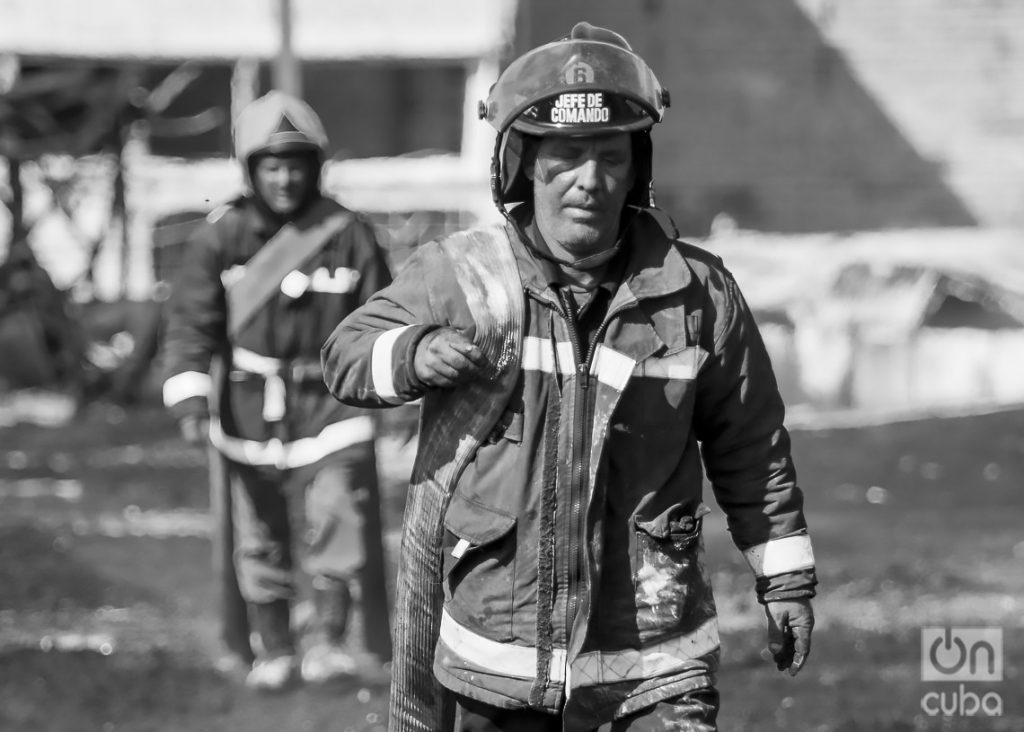 ***
"Can you tell me your full name?" I asked Fabián's father near the end of our conversation last Sunday, August 14.
"I can tell you my full name so you know it, but I don't want it to be published. Like me, there are many parents of brave children who have experienced the same thing as Fabián, and many of them may not have the opportunity to give an interview and tell their stories. That's why I prefer to be named only as Fabián's father."
And so, without fanfare, without publicity, without the press, without photos on social networks or anything like that, Fabián's father and the family pay tribute, in silence, to a young man with a whole life ahead of him. The first place where they honored him with a small vigil was in Coliseo, his hometown, where some of his childhood friends gathered.
They did the same in the neighborhood where he lived in Matanzas, at a point that connects the Yumurí Valley with the Versalles neighborhood. Precisely, they hope to meet again there on August 24, when Fabián would turn 20. "I would like his friends to remember him with a smile, as the kind and dreamy boy that he was.
"Fabian had many plans. Right now, in September, he was going to start an immigration course that he was excited about, because it was going to allow him to be more independent and buy a telephone, which he wanted most. I jokingly told him that as soon as he started working he was going to earn more money than me, who had been sweating the fat for almost 40 years," says Fabián's father with an expression of deep pain on his face.
"This is carried inside. I'm not creating any kind of drama, because I have my family here, the boy who is only seven years old, and I don't want them to be affected anymore. Sometimes I wake up alone in the early morning hours and start to cry, I can't sleep. That's why I've started cleaning this place like crazy these two days, so as not to think, to get tired and drop into bed. I want to let go of everything, let off steam, because it is very difficult. This is the second time something like this has happened in my family. When I was two years old, my 19-year-old brother died in an accident. My parents always carried that pain inside; now it's my turn."
Author