Havana's monumental architecture is well known. Less famous are the rural ruins that dot the Cuban countryside. From the crumbling shell of a coffee farm near Artemisa to a sinister prison on the Isla de la Juventud, these haunting domains conceal myths, secrets, and fascinating chapters of Cuban history. 
Antiguo Cafetal Angerona – Artemisa
Named for the Roman goddess of silence and fertility, the overgrown coffee farm ruins of Angerona, 5km west of the town of Artemisa, hide an illicit love story set against the brutal backdrop of slavery. 
Founded in 1813, by a German immigrant named Cornelio Souchay, the farm quickly grew to become the second largest coffee producer in Cuba. At its height in the 1820s and 30s, it used around 450 enslaved people to tend and harvest 750,000 coffee plants.
But Angerona was a plantation with a difference. Testimonies suggest that Souchay was a humanist uncomfortable with the cruelty of the Spanish slave system. His farm was run more benignly than its competitors with workers allowed to live in huts rather than barracks and medical facilities available for pregnant women and children.
Soon after his arrival in Cuba in 1807, Souchay is said to have fallen in love with a free mixed-race Haitian woman called Úrsula Lambert. Their affair, which was strongly at odds with the cultural norms of 19th century Cuba, continued when Lambert came to work at the plantation as an administrator in the 1820s.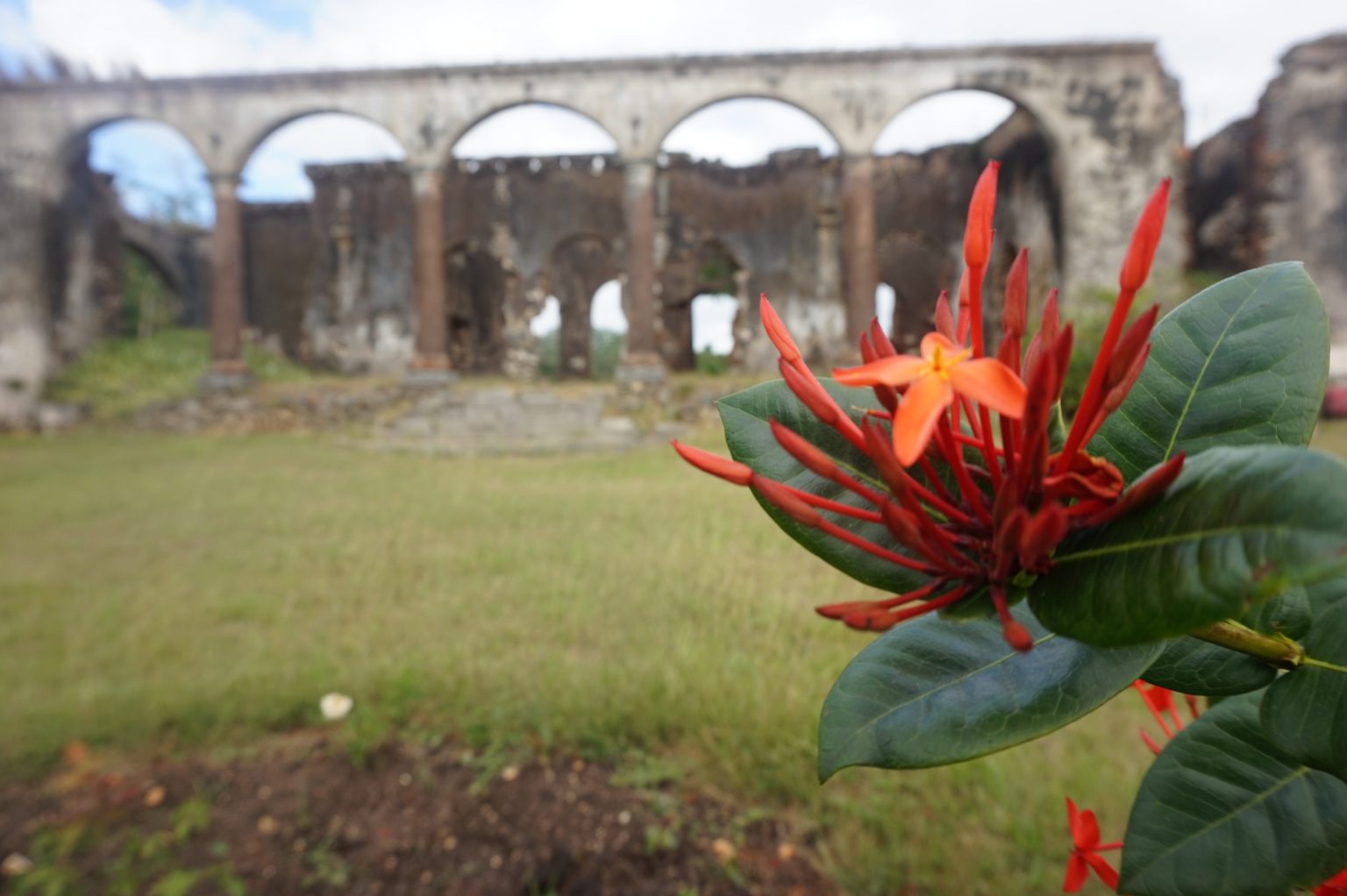 The Angerona's fortunes changed after Souchay's death in 1837. Passed down to his nephew, the plantation was gradually converted to sugar production before being abandoned and largely destroyed during the Independence War in the 1890s. 
Little visited these days, the stone ruins emit a hushed and romantic air. Besides the skeleton of Souchay's original mansion, you can examine the remains of the slave quarters, an old belltower, multiple storage cellars and an arched gateway. A statue of the Roman goddess, Angerona that once guarded the site is kept in Artemisa's municipal museum. 
In 2004, Cuban director, Rigoberto López made a film based on Souchay and Lambert's love story called Roble de Olor, starring Jorge Perugorría. 
Presidio Modelo – La Isla de la Juventud 
The most striking building on La Isla de la Juventud is not a cathedral or an opera house, but an ominous looking 'model' prison. 
Built as part of President Gerardo Machado's public works program between 1926 and 1932, the Presidio Modelo's unique architecture – five circular structures connected by underground tunnels – was based on a panopticon design concept pioneered by British prison reformer, Jeremy Bentham in the late 18th century. The round multi-storey cell blocks were laid out so that 500 inmates could be watched by just one guard. 
German and Japanese 'enemy nationals' were interned at the complex during World War Two, but the Modelo's most famous prisoner was inmate number RN3859, better known as Fidel Castro, who was held here with other Moncada rebels between 1953 and 1955. The Moncadistas were kept separately from the other prisoners in the hospital building at the south end of the complex. 
Despite Castro's contentious association with the prison, it continued to operate after the revolution. Former rebel commander, Huber Matos was incarcerated here in the 1960s.
The prison closed in 1967 when the complex's dilapidated cell blocks were converted into a national monument and museum.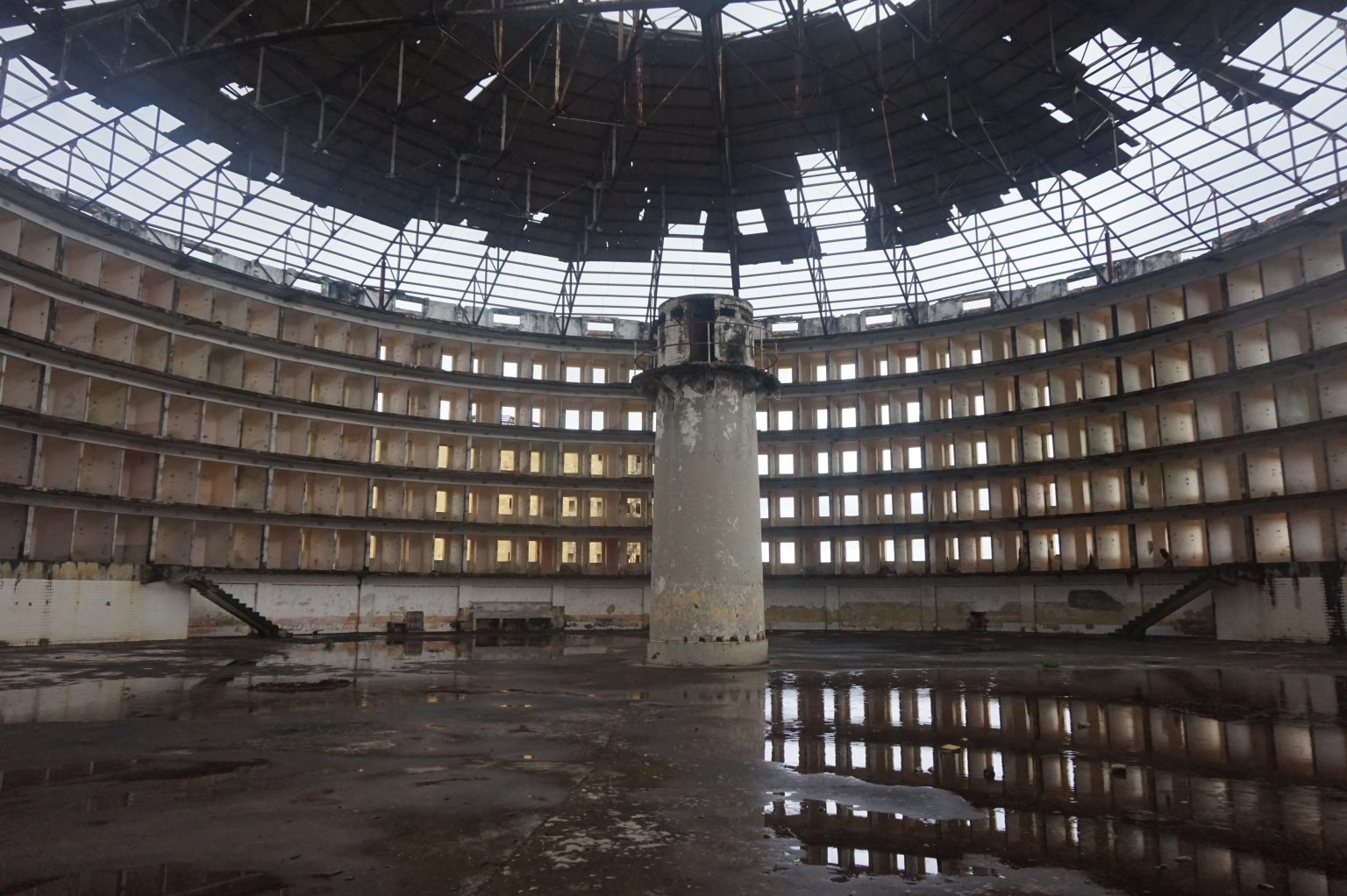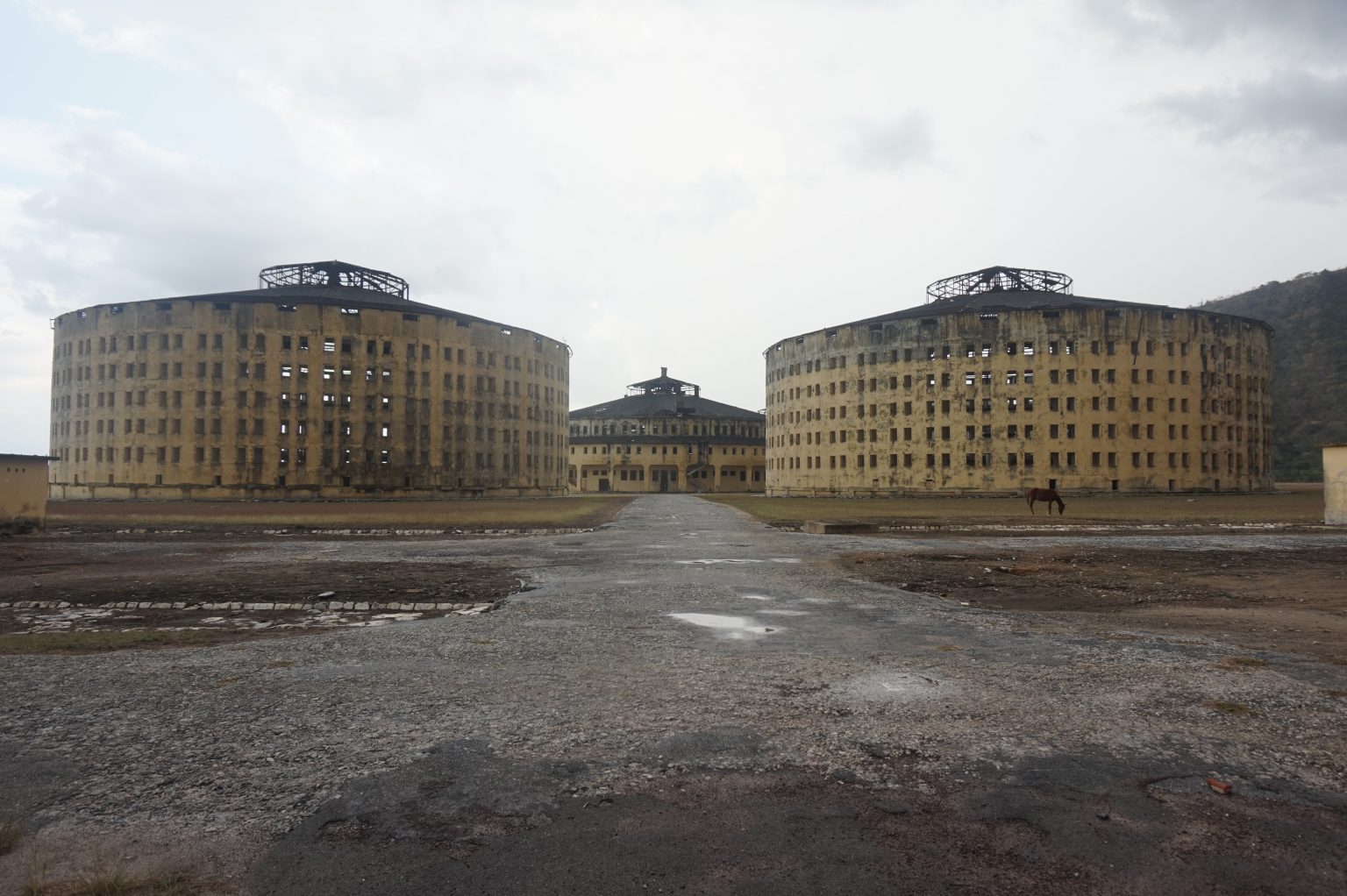 Wandering around the empty, semi-ruined structures today with their broken ceilings and stripped-down furnishings is an eerie and chilling experience.
San Miguel de los Baños – Matanzas 
Hidden amid the rolling hills of Matanzas Province, 45km south of Varadero, San Miguel de los Baños is a small sleepy town with an opulent past. 
Developed as a destination for wealthy socialites seeking soothing medicinal waters that were 'discovered' here in the mid 19th century, San Miguel reached its zenith in the 1920s and 30s when wealthy businesspeople attracted to the area's natural springs built lavish houses, spa resorts and luxury hotels. But the good times were short-lived. In the 1950s, pollution from a local sugar mill seeped into the water supply and the resort quickly fell out of favor. Now the town remains stuck in a time-warp scattered with a mixture of small modest homes and evocative ruins 
The empty, hollowed out Gran Hotel Balenario is the town's most spectacular structure. Opened as a spa-hotel in 1930, it was commissioned by Cuban lawyer and businessman, Manuel Abril Ochoa and designed by Italian engineer, Alfredo Colley who had previously worked on the famous casino in Monte Carlo. 
Although now in ruins, the Gran Hotel retains an air of neglected elegance. Bee-nests have colonized the renaissance-style main building and long grass grows around the neo-Moorish bathhouses in the grounds.
The hotel welcomed many notable guests over the years including Che Guevara who arrived in 1961 to be treated for asthma. The following year, the property was handed over to the Cuban government, but with luxury tourism no longer a priority, it was soon abandoned. Much of the interior metal and fittings were salvaged during the Special Period.
Central Hershey – Mayabeque
Officially known as Central Camilo Cienfuegos, this deactivated sugar mill 50km east of Havana is still universally referred to as 'Hershey' after American chocolate tycoon, Milton S Hershey who founded it in 1916.
In its heyday, Central Hershey was one of the largest and most sophisticated sugar mills in Cuba capable of producing over 6000 tonnes a day. The harvested sugar was transported on a special electric train to ports in Havana and Matanzas from where it was shipped to Hershey's famous chocolate factory in Pennsylvania. Hershey not only built the railway and mill; he also constructed a company town to house the factory workers complete with social club, movie theater and the best ballpark in Cuba. 
Hershey's Cuban empire was sold off after his death in 1945 and in 1959 the factory was nationalized by the Cuban government and renamed Camilo Cienfuegos. 
The Central Camilo Cienfuegos continued operating until being decommissioned along with numerous other Cuban mills when the sugar industry was streamlined in 2002. It still stands, a huge rusting iron skeleton perched on a rise beside the train track. Parts of it are now used for metalwork and tile-marking. The Hershey train – Cuba's only electric railway – remains in (unreliable) service for locals traveling between Havana and Matanzas stopping at over a dozen villages en route.    
Cafetal La Isabelica – Santiago de Cuba
Part of a Unesco World Heritage site known as the 'First Coffee Plantations in the Southeast of Cuba', La Isabelica was one of numerous cafetales (coffee farms) that once flourished in this region of the country.
The handsome two-story stone mansion with its three huge coffee-drying platforms out front was built in around 1812 by Victor Constantin Coussou, a French émigré from Haiti. Today, it has been mostly restored and converted into a museum highlighting the living and working conditions on Cuba's 19th-century coffee plantations. 
Constantin, like many French-Haitian planters, had fled a violent slave rebellion in Saint-Domingue (Haiti) in 1791 bringing his business savoir faire to Cuba where he planted coffee and other crops on steep mountain slopes not far from the city of Santiago de Cuba. The cafetal was supposedly named after Isabel María, a Haitian woman with whom Constantin is said to have shared amorous relations (even though Isabel was counted as one of Constantin's 25 enslaved workers). The cafetal was one of 171 small farms that once existed in the Sierra Maestra. The ruins of around 60 remain.
Coffee production hit a high in Cuba in the 1820s and 30s, but by the mid 19th century it had been replaced by sugar as Cuba's main crop. Nonetheless, La Isabelica struggled on until 1875 when it was razed by mambises in the Ten Years' War.   
Hacienda Cortina – Pinar del Río
Sitting pretty in the Sierra de Güira in Pinar del Río province, Hacienda Cortina is a gracefully ruined country estate guarded by an extravagant turreted entrance gate. Before the revolution, this tropical Xanadu was the property of José Manuel Cortina, a renowned politician who served as Cuba's foreign minister in the 1930s and 40s and was once one of the biggest landowners in the country.  
Cortina acquired his first parcel of land – a mere 133 acres – in 1906 but was soon buying up more properties to add to his growing 'kingdom'. The castle-like entrance gate and villa were added in 1920, along with bridges, statues, paths, ponds, and gazebos. By the eve of the revolution, the estate covered 60,000 acres. It was summarily confiscated by the Cuban government in 1959 when Cortina moved to Miami where he died in 1970.
Although the main house burned down in 1972, most of the other buildings and gardens remain intact. Cortina's fascination with Asian culture is reflected in an artificial lake, pagodas, and themed Chinese and Japanese gardens. Nevertheless, the main landscaping is classical in design and embellished by statues carved from Carrera marble.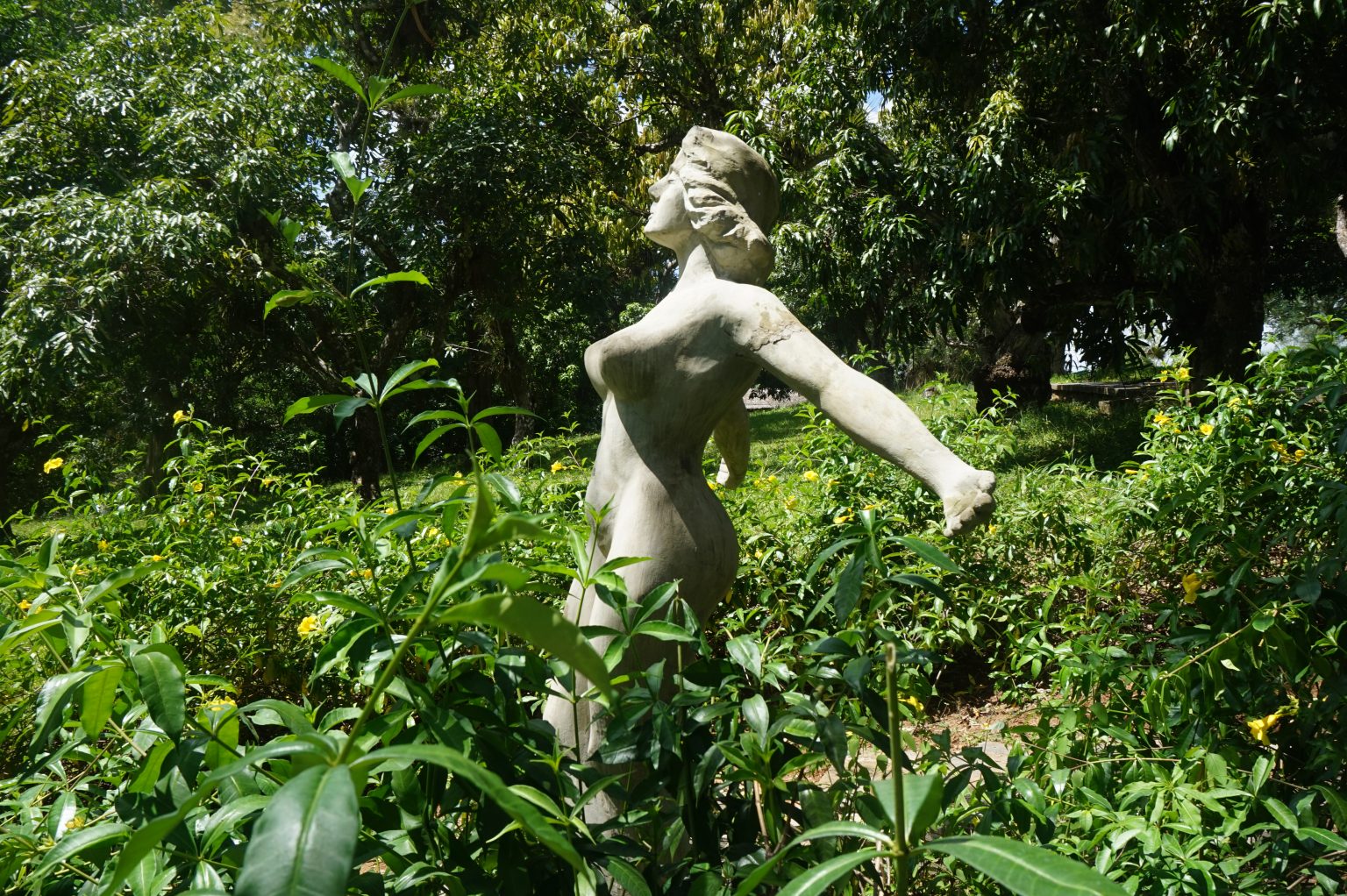 After nearly a century of neglect, the estate was partially restored in 2014. Today it caters to mainly Cuban tourists with a hotel and swimming pool placed incongruously among the flowering plants and lush vegetation.   
Author