Greek-French film director and producer Constantin Costa-Gavras is an accomplished artist. For many years, he has been dubbed as a political filmmaker, something he prides himself on. In his eighties, this cult director of films that are studied in many film schools in the world, still believes in cinema as an art and a means of expression.
His convictions made him one of the first friends of the Cuban Revolution and the cinema it created.
"I've always admired Cubans' desire to make art," he said in an exclusive interview with OnCuba, "This small country emerged from a revolution, and quickly created a national film industry and films that have made history. It is exceptional."
"Cuban filmmakers' will to preserve national cinema should be a model to imitate. It is an expression of their commitment to safeguarding the identity and values of the nation. There is no national cinema without political engagement," he added.
He visited Havana during the French Film Festival to present his latest film, Capital, a 2012 feature film inspired by the excesses of the financial mafia.
What were your expectations about the screening of your movie in Havana?
This film –which has nothing to do with the homonymous book by Karl Marx –, is a film about money and banks. It shows what's happening with the European economy and its problems right now. Money and the economy have become a very strong religion, in which bankers are the priests. They run the world through their economic power, which is more solid than that of politicians´, at least in the case of Europe. I thought it could be interesting for the Cuban public now that the country is in the process of reestablishing bilateral relations with the United States.
How do you think it can contribute to the debate currently underway about the global economic situation?
It's very hard to see how banks increasingly rob the poor to give the rich. It's unscrupulous and cruel, and as a committed filmmaker, my mission is to denounce this. The film talks about how money changes people, making them more cynical every day. I hope it helps the audience reflect on this.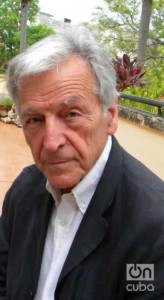 Why did you decide to become a political filmmaker?
Everything is political. In my films, I speak of human beings who are almost always the victims; people who struggle against power and inequality. Those are the conflicts that interest me. The word politics comes from Greek, and it originally made reference to the behavior and control of social beings in a city. It is linked, then, to the relationships that we establish with others, and our ability to live in harmony together. My films draw on all this; they are inspired by these kinds of relations. It´s something I didn´t plan, it just happened and then it became my raison d'être. That's why I consider myself a political filmmaker. I just try to make good movies about what I feel and appreciate around me, films that reflect human issues and society.
Political or not, what should a good film have in your opinion?
The story, of course, should be interesting enough to be shared. It must be moving, and make the public reflect.
Your movies have been characterized as having a strong dramatic discourse. Do you think drama is a good strategy to catch the viewer's attention?
The audience has been exposed to this type of dramatic construction for thousands of years. Cinema and art in general can help bring people together, and help them understand each other. Keeping the audience interested is essential for this, and drama has been one of my basic ingredients. It's always worked for me.
Authors