Danza Contemporánea de Cuba (DCC) is reaping pure applause and praise from critics during its third visit to the United Kingdom, invited by Dance Consortium, a group of major theaters interested in importing international dance to that country.
The Nottingham Post described the Cuban company's presentation in the city's Royal Concert Hall as "exuberant." "A ray of welcome sun in this cold February night…an incredibly agreeable and vibrant night of inspiring dance by the fabulous Danza Contemporánea de Cuba in the first leg of its current national tour."
Meanwhile, The Times classified with four out of five possible stars the proposal of three diverse choreographies with which DCC showed its sensuality, energy, versatility and discipline on stage, concluding the review by describing it as "exhilarating."
The program for Nottingham's Royal Concert Hall comprised "Reversible," by Belgian-Colombian choreographer Annabelle López Ochoa.
"It starts with the metaphorical birth of a man and a woman, each one lifted by separate groups. What follows is an always changing series of duets and dances for nine men wearing grey skirts and eight women wearing grey trousers. A couple unsuccessfully attempts to change clothes, which culminates with the time in which all the dancers are left in their underwear. Although the gender questions that Ochoa is insinuating are not very clear and even stereotyped, the impact of the fleet of dancers, the sensuality of the entire corps cannot be denied," wrote Donald Hutera in The Times.
With "The Listening Room", Theo Clinkard plays with the music and the senses. "The concept for the piece is that the audience is not listening to the same music as the dancers. 'The Listening Room' starts in silence, while we witness the dancers gathered on the front of the stage. It seems they are not moving much and are listening to music through their earphones, until the sound track opens to the audience…. There's a great deal of humor forged from the auditory conflict between the audience and the dancers," commented Phil Lowe in The Nottingham Post.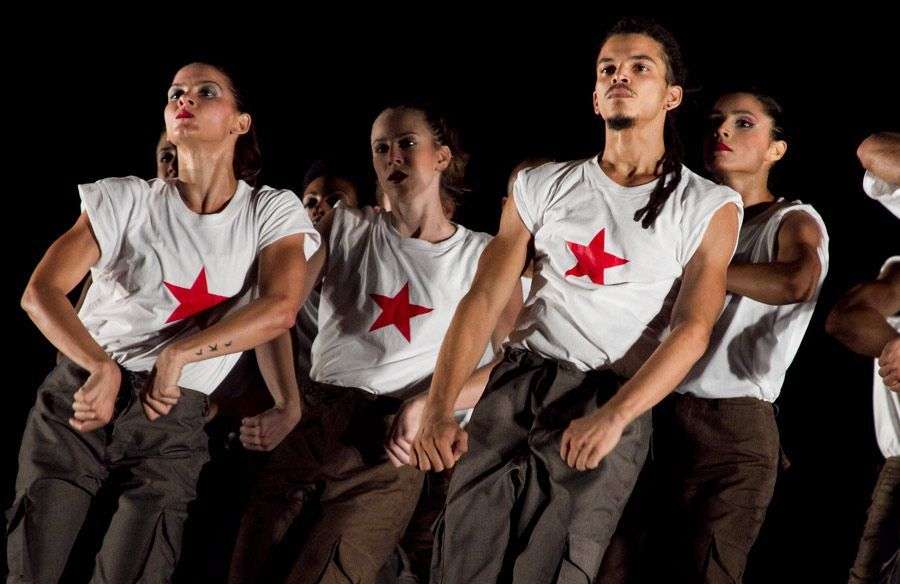 Both dailies agreed in their praise for the technique, histrionics and sensuality of the bodies in "Matria etnocentra," choreographed by talented George Céspedes and premiered in Cuba in May 2015. As Céspedes has himself explained, the piece is a celebration of national identity based on music and dance, which is why it combines the creations of Nacional Electrónica with themes like "Vete de mi," made popular by Ignacio Villa (Bola de Nieve).
The piece has a very strong visual component, with the dancers performing in khaki trousers, which brings to mind military formations, and white T-shirts with a red star on the chest. "They make militarism look sexy," concludes The Times.
DCC's tour of the United Kingdom will take them to 10 major theaters in cities like London, Newcastle, Edinburgh, Cardiff and Brighton, until March 18. Founded in November 1959, the company has developed a unique style that distinguishes it as Cuba's flagship contemporary dance group. Its repertoire includes more than 200 productions, several of them not only worthy of the public's applause but also of national and international prizes. DCC has especially reaped awards in the United Kingdom: Lukas 2011 (Production of the Year), Nomination to the Olivier Award (Best Novel Dance Production for Mambo 3XX1); as well as the Luna 2009 award for the Best Live Show for Carmina Burana, in Me
Authors