Cimafunk has never been patient. The musician did not sit down to wait for luck to knock on his door and he set off to conquer the world after leaving the medical career in Pinar del Río and making a living in different trades when he settled in Havana. He knocked on doors that remained closed and opened others with the will of a long-distance runner.
Erick Iglesias, his real name, got everybody on the island eating out of his hand and in a very short time he has hoisted his flag of stylistic miscegenation in a handful of the main sites that are part of the universal history of music.
On his return to the United States he filled Central Park to capacity this Monday during the summer concerts and put thousands of people dancing to the rhythm of his Terapia.
The public included a large Latino community who knew about the "Cimafunk phenomenon" and others who sat down on the grass of Central Park to witness that kind of rhythmic orgy caused by the drive of these rhythms inherited by the Cuban from his African ancestors and all those stars who have traveled the path of the origins of funk, jazz and other genres with black roots.
While Cimafunk becomes a stage animal in each performance, he feels that each day that goes by is a journey inward, towards himself. A kind of dialogue between all his ancestors, between all the musicians that inhabit it, and that results in that explosion of adrenaline he has accustomed his followers, who are a legion.
Erick fully lived the afternoon of his concert in the middle of The Big Apple. The performance, he says, was a huge surprise and a crucial moment for his career. His voice through the social media still gives off the same bursts of energy with which he previously attacked an audience that saw how the Cuban was transformed during the afternoon into the closest thing to an indomitable whirlwind.
"It was very important for my career to perform in Central Park. I enjoyed it very much. The whole place was full of people and we were very excited. It was an explosive concert. Most of them were people from the Latino and Cuban community. Some knew my songs but many didn't know about our show. In the end, people connected a lot with the themes and the show," Cimafunk said to OnCuba shortly after climbing another step in his career with this concert at one of the U.S. music circuit's most longstanding sites.
Dozens of people approached the musician after the show. Children with their parents and complete families. They wanted to take some pictures with Erick and greet him. That moment again filled him with emotion, still at edge because of the public's warm welcome.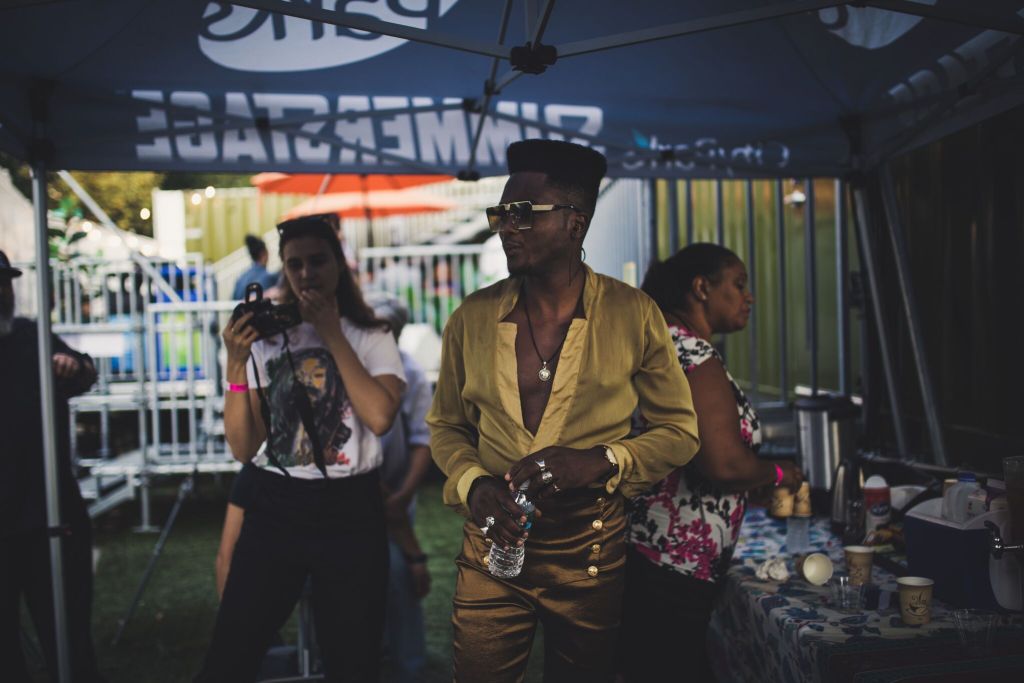 "Some kids came to greet me and asked me to sign some records. Everything flowed as if we were in Havana. It was a very intimate experience and above all very strong."
At the concert, he made use of themes from his debut album Terapia and those authentic battle horses that are "Me voy" and "Paciente," which are now part of the national soundtrack for audiences of the most diverse musical interests. It is even common to hear Cimafunk's voice on the tone of a cell phone or in the middle of those rolling relics on which many Cubans usually travel. And it is already known that classifying on those playlists is not an easy task.
"I sang themes from the Terapia album along with new songs that I'm experimenting with the public to see what has changed and what hasn't, based on people's responses. Later we'll go through the recording process."
Organizers of the concert say there were more than 2,000 people. The line to buy tickets began early until they were forced to place the Sold Out sign.
Music has always been the best language in which Cuba and the United States have communicated. Since those years when the same musicians who have had an influence on Cimafunk formed the Sunday rumba jam sessions in the same Central Park. The tradition is talked about as the interest among the American public for Cuban musicians remains. Erick just confirmed it.
"We had a very healthy and wonderful time. There are many people interested in what is happening in Cuba's artistic scene and they have approached us with much interest. I feel very grateful and happy to be able to give them my music. The shows increasingly become more personal and people connect with what is happening with Cuban music."
Two nights at the Blue Note
After taking Central Park, Cimafunk is performing this Tuesday at the legendary Blue Note. The name of this club, as is known, refers to the same origins of jazz and other genres that became great there before touring the world.
Cimafunk and his group know the legend and lived up to it. The phrase of Sold Out was placed again outside an installation that programs a Cuban concert in the United States. It happened before in Florida and other cities where he has landed with his group, his thrust and his rhythmic force.
https://www.instagram.com/p/B1pvTtPBsYi/?utm_source=ig_embed
The musician comments that his life has been gravitating around emotions that he finds difficult to explain, to describe. He considers his performance in the Blue Note as historical. He comments this while he explodes with emotion when he sees the work done by the award-winning Cuban caricaturist Ramsés Morales. He calls over the members of his group and the jokes and laughter can be heard like a nearby echo through the social media.
"This concert was amazing. In Blue Note everyone has played and it is a unique place in New York. It's an incredible luck to be able to perform here. I'm in a dream."
https://www.instagram.com/p/B1pt85wBEoZ/?utm_source=ig_embed
Cimafunk repeats Tuesday his experience in the Blue Note. For this he has called several Cuban musicians based in New York with whom he would like to share the stage. "I want to put together a jam session, bring all the Cuban music I can and have the possibility of corresponding to this myth that is the Blue Note."
Authors