At the start of the Republic, the island's elite had decided to eliminate the Spanish footprint in architecture, since it did not represent the modern spirit, such as France or the United States. As an expression of the times, one of the works built during the expansion/remodeling process of Prado was the Glorieta, designed by French architect Charles Brun, where the Army 's General Band played for the enjoyment of Havanans, well seated on iron chairs around it or beginning the practice of sitting on the Malecón's wall to take in the sea breeze.
Enrique Loynaz del Castillo (1871-1963) and his wife María de las Mercedes Muñoz Sañudo, a descendant of illustrious military and religious Basques, lived nearby. A man known to Havanans because of his merits during the 1895 War of Independence and for composing the "Himno invasor" hymn. He was, in effect, commander, lieutenant colonel, colonel and brigadier general, ranks won through his own merits, to which we should add the confidence of José Martí and the fact that he had saved Antonio Maceo's life in Costa Rica. According to historians, at the exit of a theater a Spaniard shot Maceo in the back, seriously injuring him. Another Spaniard was advancing, weapon in hand, to finish him off. But when he was going to shoot, a bullet from Loynaz del Castillo's revolver downed him.
Marti wrote from New York: "The murderers can do nothing against the defenders of freedom. The infamous stab does not hurt the Revolution, it hurts the honor of those who pretend to suffocate, with their wicked crime, the aspiration of a people."
He was 21 years old. A budding writer and poet.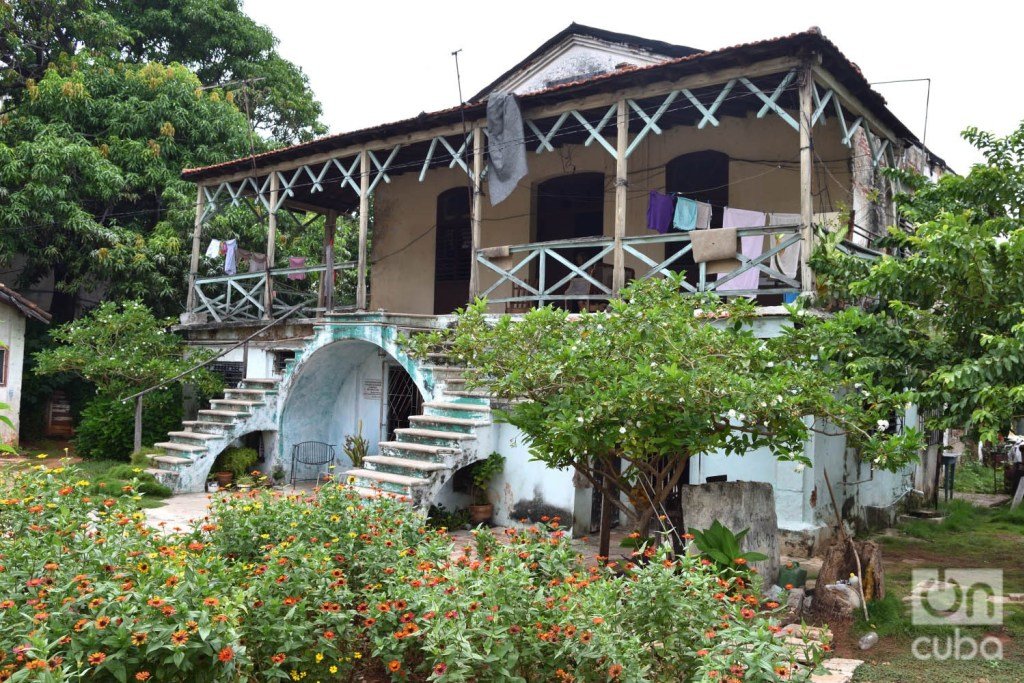 From that house near the Prado, they moved to San Rafael and Amistad, where the children from that young man's marriage took their first steps: Dulce María (1902-1997), Enrique (1904-1966), Carlos Manuel (1906-1977) and Flor (1908-1985). But the author of the hymn was not a straight as a die man and in certain things he used to be quite conservative. The kids had an atypical childhood, even considering the patterns of the time, which would apparently leave traces in all of them. And not precisely because their parents had decided they receive an education at home.
A fellow fighter of his had introduced modern education on the island, one of the bases on which the Cuban school was built. "Let all the work of our teaching be put to rest," said Enrique José Varona, "on a strictly scientific basis so that it is objective, experimental and practical. To make adolescents acquire their knowledge of the world, of man and of society in a mainly direct way and not in the way reflected in books and purely verbal lessons, is to prepare men for the active competition compelled by the multiplicity of relationships of modern life, not spirits for fantastic speculation."
But not with them. The older sister once said:
We had been raised in an environment of great solitude. We were not allowed to have exchanges with friends. There was a very great severity regarding that. But later, when our parents had already divorced and my mother was in charge of the household and of us, she wasn't so hard on us and allowed us to feel at ease at home.
She was referring to the house on Línea and 14, in Vedado, to which they moved in 1908 after Flor was born. Located near La Chorrera River―today Almendares―and the homonymous tower the colonial authorities built to detect pirates close to the coast. Based on the work of the Count of Pozos Dulces, who, as it were, laid the first stone, a process of urbanization had started in the area in 1859, when José Domingo Trigo and Juan Espino asked the president of the Havana City Council to create the district of El Carmelo, a fundamental cell of everything that would come later, including the outline of streets and avenues, including Línea Street, which owes its name to the tram that began operating in 1901. Renée Méndez Capote said:
The Vedado of my childhood was a sea rock over which the seagulls flew confidently and in whose weeds sea grapes grew wildly and abundantly. The fences were of prickly pears, the air was filled with vultures, totíes, sparrows, bijiritas and mockingbirds and in the gigantic depths of the right bank of the Almendares, of what would be 23rd Street and 15th Street, nested iguanas, ferrets and rats…. The only streets worthy of that name, without being interrupted by the deep holes, were Línea, 17 and part of Calzada.
That house was inhabited by rare beings who often received eccentric guests. Alejo Carpentier, who was inspired by what happened there to write a passage from his novel El siglo de las luces, says:
They had reversed the hours of life, that is, they started the day at 5, 5.30, 6 in the afternoon, lived at night and went to bed at dawn. And one of them, who always wore a tuxedo, was the first one I heard playing Schönberg's music on the piano.
Another of the sisters who had been told she would be a spinster (in Spanish it is left to dress saints), had bought some life-size saints and, indeed, she dressed them. Another invariably wore beautiful 1860 costumes. They lived in the world of Cocteau's enfants terribles.
One of those guests was Federico García Lorca, a young poet who had just arrived from New York. After his first foray into those places looking for Enrique, whose poems he knew from Spain, the elective affinities took a turn. Carlos Manuel and, above all, Flor occupied his foreground.
The first, without a doubt, was a tragic character. "Our brother Carlos Manuel, who never graduated with a doctor's degree," Dulce María once said, "was able to acquire one of the most extensive cultures I have ever known, to the extent that he was called, in the inner circle, the Living Encyclopedia…our brother Carlos Manuel was the only one who persisted in that direction; his poetic incursions were brief, strange and sporadic, highly spoken of by the few who knew them, among them Juan Ramón Jiménez and Lorca."
In one of his outbursts he threw almost all his poetry into the fire in that house. The author of Jardín abounds: "the traitorous illness that surprised him in full youth and that exhausted his creative forces. Maybe it was a rope, a bow that was too tight. Almost nothing of his is preserved." Barely photos: "he never went to a photo studio and there are only a few Kodak snapshots."
And not only did he do it with what was his, but also with others'. El público was thrown into the fire when Carlos Manuel turned into "Manolo el Loco" and burned everything. It was a liberating homosexual drama about the anguish and tensions of its author before and after his experience in New York. There is no knowledge of how or why Lorca gave it to him. Dulce María doesn't seem to have ever understood it, if he ever had it in his hands: "Carlos Manuel's work was totally lost; it was lost with a  drama by García Lorca that he had dedicated to him, El público, which is now being talked about so much, but I assure you it was not worth it. The one they claim appeared in New York is probably apocryphal."
The youngest sibling, who they called the Beba, was, no doubt, the star. She contravened norms and conventions about the feminine in a prudish city, starting with her hair. "Hair is a superfluous thing, people are beautiful or ugly, intelligent or stupid without the help of hair." She shaved her head and drank rum in Havana bars, some on the margins and therefore even more politically incorrect. She followed La Macorina driving a last model Fiat and she smoked cigars, the cause of "the small ball" that took her to the cemetery.
Perhaps she and Federico went out together once from that house, to tour Marianao Beach, where by the 1920s sextet and septet ensembles, rumba musicians and in general popular musicians and dancers, many from the provinces, especially from the eastern regions, started gathering. According to Nicolás Guillén, Lorca "liked to go out at night to 'las fritas,' to Marianao's shoddy cafés, which were already frequented by Chori," and there he became friends with third parties. In Cuba he had cast off: "if I get lost," he wrote, "look for me in Andalusia or Havana."
He left with Flor the Yerma manuscript. After his murder, she wrote what can only be written when there is a deep knowledge of the other: "Love barely / touched his fingers… / Life said / goodbye from afar, / waving madly / a dirty handkerchief / and the sky that night / was left without stars / All of them as bullets / are buried in his body!"
"Flor's courage in order to face life," Luis García de la Torre wrote, "was the silence in which she kept everything. She took with her very big silences, because she lived everything. God knows all the prophecies that Flor lived around all those characters. And of many about whom she did not speak about to us."
That house of Línea and 14 seems to be populated by spirits waiting to rise one day on its ruins to revive poetry and music, two attributes of Cuban culture's most unique siblings of all time.
Authors