Her favorite circus is the U.S. Ringling Brothers, and she loves when the audience says: "How is it possible that she do that?"
With no trace of haughtiness, ReimiCaridad Cardona tells you that she simultaneously dances more than 20 hoops on her body, and in her numbers she includes twirls and splits. Then she says that those hoops are actually hoses lined with color papers, a bit heavy and capable of causing a hernia.
This woman in her twenties loves the art of circus. In 2015 she graduated from the National Circus School with a golden diploma. As a child she toured Cuba as part of children's groups and had her first contacts with the public, of which she prefers the most humble because they appreciate more her presentations.
How did you get to the world of the circus?
I started as a child in the Angeles del future project of the Marianao House of Culture. My idea was to prepare myself physically to pass the tests of the National Dance School, but the circus trapped me. When I was in ninth grade I did the tests to enter the National Circus School and to my delight I passed. There I perfected the Hula Hoop number which I already practiced since I was a child. With the help of my professors I increased the complexity and professionalism.
After graduation I immediately joined the project of a Peruvian entrepreneur who invited me to do a tour with other artists through that country and later Ecuador. I loved the connection the Peruvians and Ecuadoreans had with my art, something I did not expect from persons with a different culture.
After the tour I started studying in the Tropicana Cabaret's school to work as a dancer, without setting aside the circus. Today I am part of the chorus and it is a way of increasing my work possibilities because in the circus there aren't too many.
Why is it difficult to find work in the circus?
I belong to the Circuba enterprise which groups together and endorses the artists of the trade, but it has many deficiencies. The new graduates come out with a bunch of dreams and desires to work, but when they get to the enterprise there are no professors to help them perfect their technique, the ballet and the choreographies. It demands a great deal but the resources are few. Neither does it have a fund to create the necessary apparatuses. My hoops are plastic hoes that I bought together with my mother. We assembled them to look like hoops and we covered them with bright color papers. The enterprise has absolutely no financing.
On the other hand, the possibilities of professional work Circuba offers are sporadic. When you have work you can finance some of the implements used in the numbers, but if you get paid 250 pesos a month, the election is between eating or having a stage presence. If you are not in the show you have to wait for the enterprise to notify you of another job. Or it could be that one of your friends calls you to include you in a dance company or in some variety show. There is no steady work.
In the circus it is not enough to train since you can lose the practice on the stage. We have to have a choreographer who varies the choreographies and corrects technical elements. With respect to the wardrobe, supposing you have everything to make it, the designer who will guide you on what to wear according to your physique and the number you are performing is important. We have none of that in Circuba.
The enterprise increasingly demands more and gives less. They dock you to pay more taxes to the National Income Tax Office (ONAT), but no one speaks out for the artists or says they don't have slippers to rehearse, or work materials, or that the instruments break and have to be repaired. On the other hand, all artists want to travel, get to know places and take a small piece of Cuba through the world, but there are no perspectives or incentives.
What does dancing in Tropicana represent for you?
Tropicana is a motivation to continue preparing myself. It strengthens my posture, stage presence, the wardrobe and it contributes having clean arm and leg movements. It is also important for me to belong to such a worldwide prestigious Cuban institution.
What makes your Hula Hoop numbers so spectacular?
The Hula Hoop calls a great deal of attention because it is done with hoops. In my numbers I include varieties with hoops on knees, waist, neck, ankles. I twirl around with the hoops moving and I also do the split with a small accessory to hold another hoop with the mouth. I always close with a spectacular element which is simultaneously dancing with 20 hoops on the body.
In this country there are many talented young people who with few resources are capable of reaching international levels, and even being better than other artists who have all the material resources.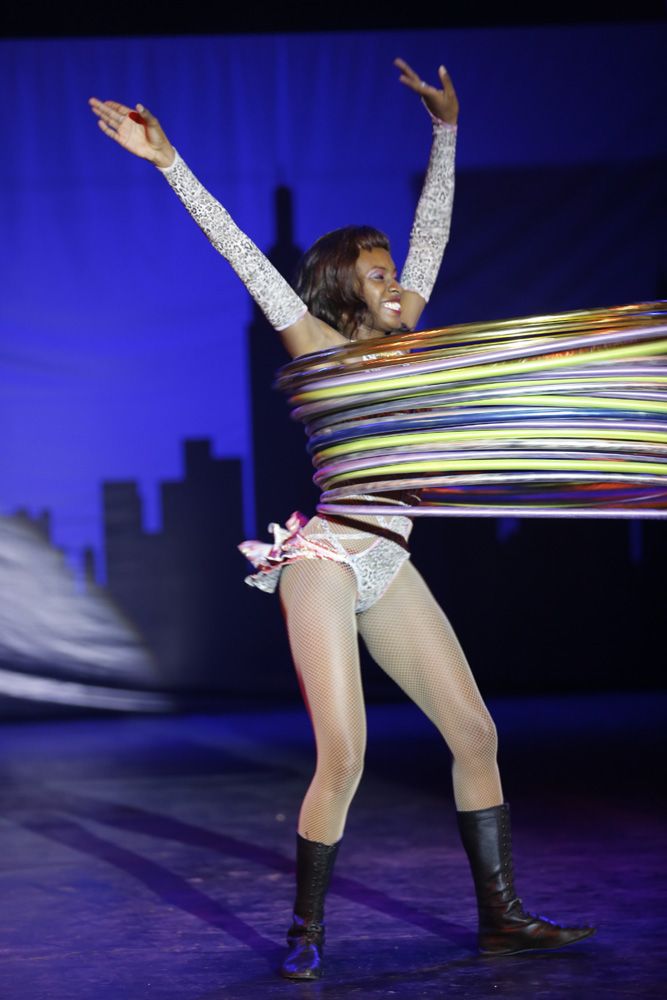 Authors