Under the title of The Map and the Fact, the multidisciplinary fine artist Alexandre Arrechea opened few days ago his latest exhibition in New York.
A large format watercolor and an original installation in which the traditional and experimental merge each other in unison make up the sample that up to mid-October can be seen in Magnan Metz Gallery, a prestigious exhibition enclosure of the cosmopolitan city.
Arrechea once more takes the challenge to show his art to the New Yorker demanding public because that city has become a sort of Mecca of contemporary art.
The study and its importance in the artistic work have had great significance for the creator. The dual existence in the same space is the methodology that expresses the natural process of his work. In this exhibition the artist examines the dual notion from a mathematical, existential and historical perspective, creating a visual metaphor of the Pre-Columbian mapping and shows a continent above another, just as a construction used to illustrate the power.
Alexandre Arrechea was born in Trinidad and graduated from the Higher Institute of Arts in 1994 and was a founding member of Los Carpinteros group until 2003. His work has been exhibited in the United States repeatedly at The Bronx Museum and Lehman College. He recently presented the sample No limits consisting on monumental sculptures also in New York. He talked to OnCuba about this new exhibition:
What new ideas and concepts do you express in The Map and the Fact?
This is my first presentation in New York after having shown last year the project NOLIMITS in Park Avenue. Therefore, it has passed, at least for me, a prudent time to try to bring other ideas of mine that seem appropriate to continue developing. These are focused on the dialogue between landscape fragmentation and the search for the unity of it.
On one hand, I have submitted a large format watercolor (the map), an upside down map of the world, which I confess it costs a lot to see because it is fogged or lost between overlapping lines that remind us the waves in water. So, at some moment we see the role of these waves and sometimes we see the world map made up by more vertical lines, and this is where for me, as an artist, the success of the drawing as an idea lies. That landscape unit is threatened by those other circular lines that interrupt it, so the viewer is constantly trying to correct the look to complete the landscape and define where every place is in it.
The installation (The fact) is the other part, which proposes to speak from the perspective of the fragment. My idea was to design a kind of landscape of plowed field, on which landscape elements such as water lie. This one is represented using pictures of dewdrops that are encapsulated in acrylic circles. I have also placed on this plowed field a kind of mapping tool with shapes that resemble a cross section of land on which it is located . But the interesting thing for me in this installation is the way in which the landscape with these allusions to water and mapping tools suggests a space in formation, the embryo of something that just begins to develop, as it happens in the plowed fields when we are waiting for what will be harvested there. There is an intention to find something new and fresh in the landscape, using traditional elements such as wood and as contemporary as a digital photograph encapsulated in acrylic.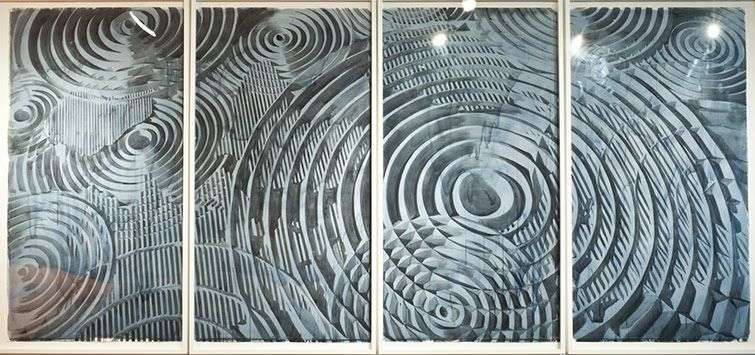 What are the main differences between this and your previous samples in this city?
I would not say that there are big differences with my previous work, except in appearance. In this regard the piece defers something from my previous work. For the first time I make allusions to painting from the installation. I have been seeing many pictures by Vincent Van Gogh to help me deciding the colors I've used, as his wheat fields have that almost golden yellow showing itself captivating. In that sense I wanted to attract attention. On the other hand the discussion on space is something that remains unchanged in my work. I continue developing that awareness to define and name the space in which we live in my eagerness to arrive at new conclusions and continue to question our reality.
What does it mean for a Cuban to share his art with the New York audience?
The New York audience is highly educated and very art enthusiast. This makes the artist can never be in a comfort position, because he is constantly under a critical eye, and therefore each new presentation becomes a challenge. As an artist I really appreciate this, it always helps you to stay awake, which is a blessing.
Do you plan to make a personal exhibition in Cuba soon?
If everything goes seamlessly I could present an exhibition at the next Havana Biennial. For the moment I have entitled it "Abandoned Map", but you know that that can change. Also I'll be releasing shortly my book ¨The inevitable space, ¨published by TURNER (bilingual), in which I have worked with Cristina Vives as editor and an excellent team of designers consisting in Laura Llópiz and Pepe Menéndez.
Authors