Famed Cuban painter Wifredo Lam (1902-1982) is being paid tribute to at the Atlanta's High Museum of Art with an art show titled Imagining New Worlds, which includes works from different periods in his lengthy career, as well as pieces by Brooklyn-based artist Jose Parlá (born 1973), and Atlanta-based artist and scholar Fahamu Pecou (born 1975).
Lam, one of Cuba's greatest visual artists of all times, gained recognition for creating a unique style that brought together the most revolutionary styles of European artistic movements from the 20th century, and Afro-Cuban culture and religion.
His masterpiece, The Jungle (1943), kept at the MoMA in New York, shows a group of figures that, like the trees in a jungle, stand by each other, intertwining, mingling, in a chaotic arrange of body parts and long faces that remind us of African masks.
This exhibition at the Atlanta Museum opens with the academic work from his years in Madrid, and includes later canvases that depict motifs of Santeria religion.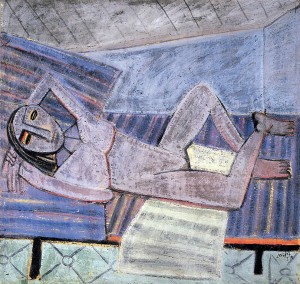 "The works in this exhibition reveal the imprint on Lam's style of cubism, surrealism, magical realism, and other key artistic and philosophical movements of the twentieth century," reads the catalogue of the exhibition.
The art show also includes large-scale abstract paintings by Jose Parlá, a documentarian of urban life, whose work, like that of Lam's, has been influenced by primitivism. "My thought and impulse behind the gesture was as primitive as that of cavemen marking and drawing in their dwellings to assert their existence in a place and time," wrote Parla about his early work, that he created on the walls of the city of Miami, where he grew up.
Parlá, who now lives in Brooklyn, has taken the agitated life of the city of New York as inspiration for his work.
The other artist taking part in this collective exhibition is scholar Fahamu Pecou, who shares with Lam an interest in the authenticity of black identity and Yoruba motifs.