The first pictures that Cubans had with Barry Larkin and Ken Griffey Jr. (Baseball living legends: the first, from the Cincinnati Reds, the second especially, from the Seattle Mariners) in the terminal 2 of the José Martí airport, were apparently quite a flood of unemotional flashes. Someone who knew them – especially Griffey Jr. , of course, ordered to press the shutter button , and from there a host of matrons , guards and safety technicians marched under the aura of former Big Leaguers , because they probably thought, it never hurts to have a photo with a celebrity.
It is the first time the two come to Cuba, with the goal of a clinic on batting at youth level and exchange views, but there is something particularly interests them. "Finding, Larkin says, where the Cubans get their drive from, how they are, what they do, know them from the inside. Cubans are characterized by their deliverance till the end, their focus on the field. "
Someone asks them if they have been aware of the latest Caribbean Series, but they haven't. We do not know Barry Larkin has entertained over the last week , but we know that Griffey Jr. followed more closely the Super Bowl , where right now, if not enough for the Super Bowl itself, two of his sons took part in.
The focus on the ground – I think, without malice, is a feature that Larkin would have reconsidered if he had seen at least one inning in the Caribbean Series. Larkin is very talkative, he allowed himself to answer some questions in Spanish and release the odd joke. He speaks as if scrolling through the grass of the Great American Ball Park, stealing a base, making a double play, hitting the ball above the fences, as he used to do: Hall of Fame since 2012, after two failed attempts.
I wonder what Cuban major league pitcher was more difficult for him and tells me that he was trying to remember a clash with Cuban pitchers, but fails. Either way, he adds, "I tried to forget all the unpleasant moments of my career." Then he laughs. I encourage Griffey Jr. to tell me a name and he tells me that perhaps El Duque, he pitched anything.
"The Kid" is almost a hermit when his gestures are concerned, a circumspect mole whose silence leads necessarily to count seven Silver Sluggers, Ten Gold Gloves, MVP Award in the American League, more than six hundred home runs, leaderships in runs, RBIs, and runs and bases in several campaigns during the nineties, thirteen time All-Star. The question is clear. Why do you need Griffey Jr. speak, if you have already said everything?
Among the great sluggers of his time-Sosa, MgWire, Bonds, Griffey Jr. is perhaps the only one with no implications in steroid scandals or cork bats. What impresses of his anatomy, today, almost four years after his retirement, is the physical pride, muscle symmetry, one body, however, close at hand, on the grounds of what is legitimate.
But Griffey Jr. not only looks like an honest sportsman, an absolute legend, a crack at batting and awesome arm, fielding accuracy and speed, but, freed from the air of a gangster or rapper behind his sunglasses, the eyes of Griffey Jr. were eager, curious, but after patient possess the depth line of people who are silent not for lack of ideas, but because they have plenty of good judgment and may even be of gentleness.
While Larkin reminds Cuban players who influenced him, from Tony Perez (logical, Perez was a member of Cincinnati's Big Red Machine when he was a child) to Luis Tiant, or who agreed with him, since Rey Ordonez to Rafael Palmeiro and Jose Canseco, Griffey Jr. mentions current players who impressed: Puig, Céspedes, Alexei Ramirez, who he played with during a brief season in the White Sox.
When someone asks Griffey Jr. ( a question I would also have done ), with a tone of exceptionality , why Cuba? , "The Kid "with a forcefulness that puts us in place, replies, "Well , why no ? " in Griffey Jr. seems simple, and it is, to a large extent . At least we do not have to complicate their comprehension with all political interpretations of the thousand virgins and we do a simple trip. He comes to Cuba because there is baseball, because baseball is alive, for the love of baseball. "I come for that," says Griffey Jr., with a tone: do you thing is enough?
Hour or so after arrival both landed in Havana's Central Park. Pandemonium. Barry Larkin is, where appropriate, the archetypal man of merit, some media, no one recognized him . If Larkin had his numbers tattooed on the face, if in his actions people could be read three Gold Gloves, one MVP Award , recognizing the best shortstop in the 90s , besides his thirty-thirty home runs and stolen bases in 1996 the talkative fans of the Central Park would have gobbled openly. But Larkin is only the backdrop, the second class actor that occasionally the urban analyst listens to out ofcourtesy . It is the role he plays by getting friends with "The Kid".
"Excuse me, are you Ken Griffey Jr. ? " a young troubled says in funny English, and alarms are triggered . Griffey Jr. nods. "Ken Griffey ? " the young cries, overwhelmed , in reverse. He wants to hug him, but does nothing to fall back, with the appearance of a miracle. "You are my hero," the youngster says. The interlocking of the airport has been left behind. "A camera, fuck," someone from the melee yells, desperate. This lack what is left at the airport and what was missing in the airport floods here. In this chatty, sometimes hilarious wildlife, sometimes trivial, always fractious, unexplained and stubborn; these workers and drunkards, come unless subjects abundance of enthusiasm and lack of technology.
With two or three cell they manage to take some photos while an old dirty beard and matted hair grabs Griffey Jr. by his shoulder and a third clarifies that this man was the greatest major league baseball player , Ted Williams and who – also "The Kid" – said it was the largest in history. This probably is an apocryphal story, but no matter. The old man, gorgeous, says it as if I did you a favor, like Griffey Jr. was a forgotten star who would have not been recognized by his fair value, and it was precisely the old man , with his incomprehensible Hispanic gibberish for the slugger manages to put him in place, where he should never being missed in the select pantheon of the immortals.
The talk runs for a while. That night, both Larkin and Griffey Jr. attend the Mella Theatre, a presentation Danza Contemporanea de Cuba company. In Central Park, they are still discussing the issue, and will be for a long distance. Those who reached any photos, brag it, to show their triumph to those absent from the rock during the afternoon precisely, that simply could not be absent. For heaven's Central Park sometimes transiting stars of this type, but it is essential not to give up the surveillance, keep patience, glasses at ready.
The young Anglo speaking man, the Messiah of the group, who first saw the apparition, while the lightning blinded him and disbelief dulled the senses surely be saying that during his childhood he was hitting Griffey Jr. with the Ultra or Play Station, and now, so generous that is life, bears his signature on the cap, and the heat of Griffey's hand in his hand already immortalized .
Photos & Video: Claudio Pélaez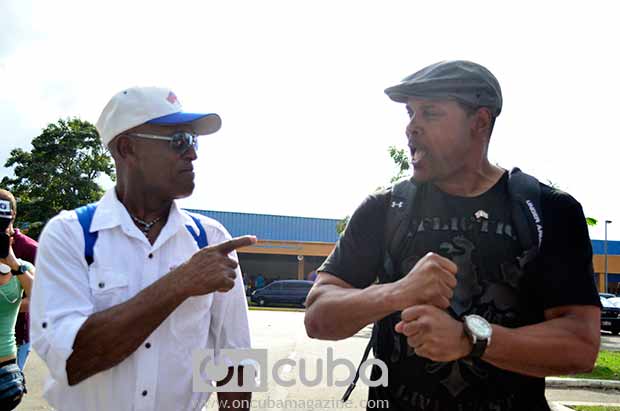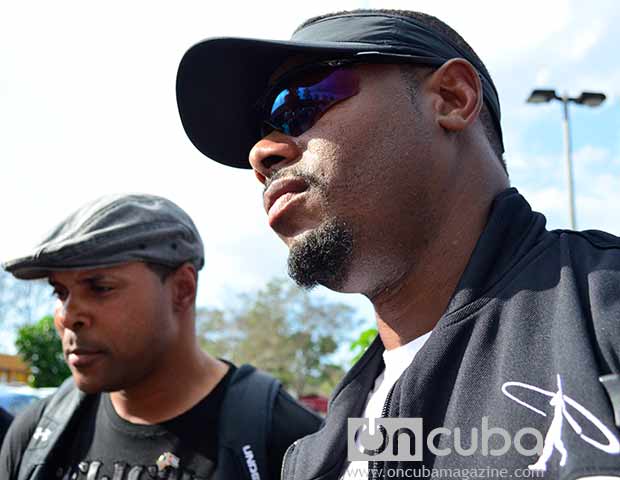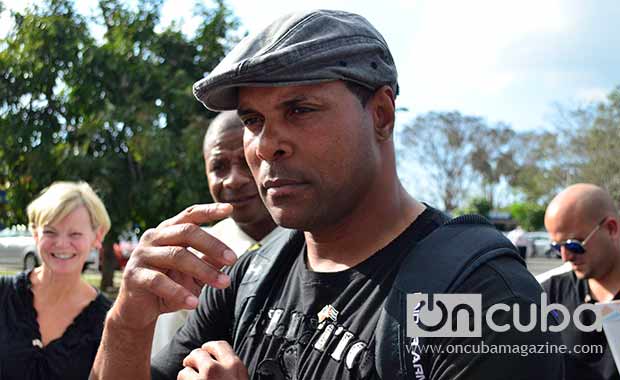 Author